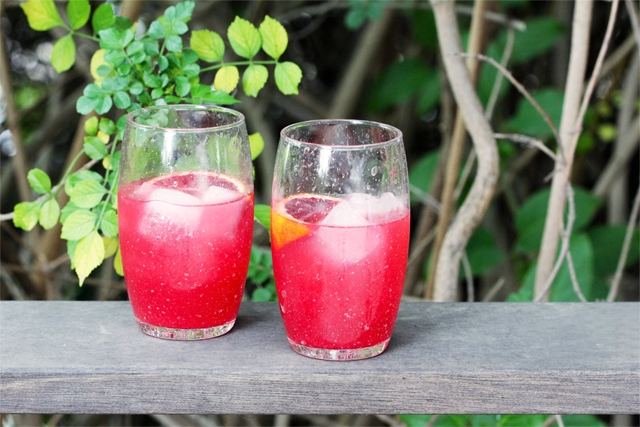 This post may contain affiliate links.
I have some very exciting news to share with all of you!  On Monday, the wonderful folks over at Channel 6 San Diego asked me to a do a segment on the San Diego Living show!  I decided to feature two recipes that would help home cooks build some Konfidence in the kitchen using an ingredient they might be unfamiliar with, the blood orange.  Exploring unfamiliar ingredients is definitely one way to learn and grow in the kitchen.
Several years ago my recipe repertoire consisted of baked chicken, brown rice, tomato sauce and spaghetti, pizza and chili.  For reals.  I distinctly remember the day when I thought to myself, "Gosh, I am so bored with cheese and pepperoni pizzas right now."  To remedy the situation I jumped on the Food Network website looking for some pizza inspiration.  The daring recipe that I found that day was not only a delicious deviation from my norm, it also sparked my curiosity for food and cooking.  Continue reading for the rest of my story, the video and a recipe for the most amazing Blood Orange Gin Sparkler.
As dirty dishes, cutting boards, knives and baking sheets piled up around my kitchen, I gleefully assembled the unfamiliar recipe – Roasted Acorn Squash and Gorgonzola Pizza.  The first bite was heaven.  I had never even cooked an acorn squash before, but somehow I managed to roast it with maple syrup, chili flake and olive oil then pair it with gorgonzola and arugula.  I was hooked.  My passion for food ignited.  I remember thinking to myself, "Well… what else am I missing out on?!"  I continued to explore new ingredients and recipes in the years following, and that spirit of exploration is still alive in me today.  Meyer lemons, figs, kabocha squash, chanterelle mushrooms, fennel, black cardamom, farro, Mexican chocolate and blood oranges are all products that were once unknown to me.  Now, we are all well acquainted.
So if you are looking to gain more Konfidence in the kitchen, I urge you to introduce yourself to an ingredient that you are unfamiliar with.  Try a new recipe.  You may fail.  Actually… you will fail.  I've had many flops over the years.  Simply keep trying.
And here's the video :)!  Kristen Mosteller, one of the hosts of San Diego Living, and I put together this Blood Orange Gin Sparkler, and I also show off my Blood Orange Olive Oil Cake.
A big thanks to the team over at Channel 6!  This was such a fun experience.  I am looking forward to doing some more shows in the future!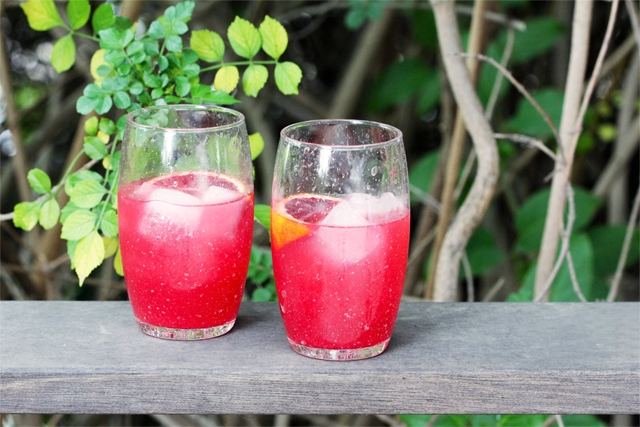 Blood Orange Gin Sparkler
Ingredients
For the rosemary-bay simple syrup:
1

cup

white sugar

2

cups

water

2

teaspoons

fresh rosemary leaves, no stems

1

fresh bay leaf, dried is fine if you can't find a fresh one
For the cocktail:
1 1/2

oz.

freshly squeezed blood orange juice

1 1/2

oz.

gin

1/4

oz

rosemary-bay simple syrup, or to taste

1 1/2

oz.

sparkling water

Small wedges of blood orange, for garnish
Instructions
To make the rosemary-bay simple syrup, add white sugar, water, fresh rosemary leaves and bay leaf to a small, heavy-bottomed pan. Warm over medium heat, stirring until sugar is completely dissolved. Bring mixture to a boil, bubble for 1 minute, then remove from heat. Steep for 10 minutes then strain out the rosemary and bay. Discard solids. Let cool completely before using.

To make the cocktail, fill a short glass with ice then add freshly squeezed blood orange juice, gin and rosemary-bay simple syrup, stirring to chill and combine. Top off with sparkling water. Give the drink one last gentle stir then garnish with a small wedge of blood orange.
Tried this recipe?
Tag @brandiego on Instagram so I can check it out!
9