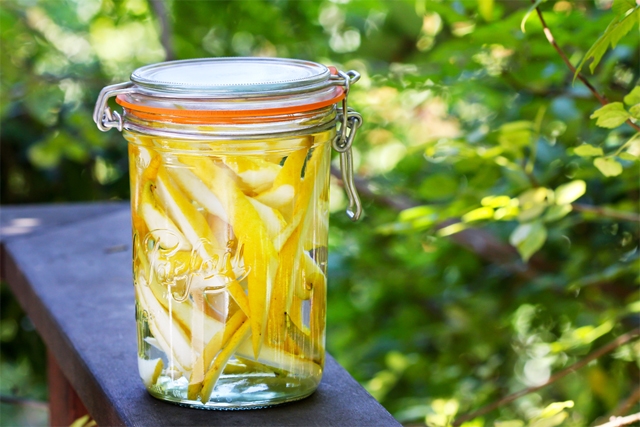 This post may contain affiliate links.
The Buddha's Hand Citron is one of the most gnarly, visually intriguing fruit I have ever seen.  A small mass of vibrant yellow tentacles extending in every which way from a core of solid white pith.  Unlike a regular lemon, the Buddha's Hand Citron does not have juice inside.  The fruit consists of pith, skin and the most wonderfully scented oil.  Seriously.  It's amazing.  The fruit gives off a sweet, lemony fragrance that is sure to induce pure citrus euphoria.
This vodka can be enjoyed on the rocks with a splash of soda water or mixed into a cocktail.  It's absolute heaven in a Meyer Lemon Drop.  To make a Meyer Lemon Drop add 2 oz. Buddha's Hand Citron Infused Vodka, 1 1/2 oz. Meyer Lemon Simple Syrup* and 1 oz. Meyer Lemon Juice to a cocktail shaker with ice.  Shake vigorously then strain into a chilled glass adorned with a sugared rim.  Garnish with a thin slice of meyer lemon.  So. Yum.  Continue reading for the recipe.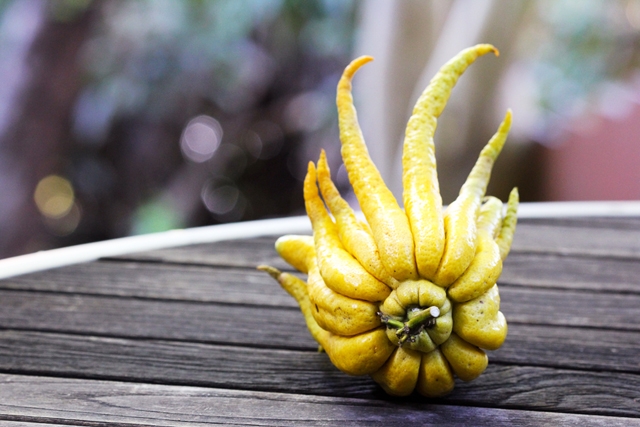 Buddha's Hand Citron Infused Vodka
Ingredients
1

Buddha's Hand Citron

750

ml

vodka
Instructions
Be sure to give the citron a good rinse, wiping away any grit between the fingers (these guys can be quite dirty). Cut the fingers from the core of the hand and carve away any excess white pith. No need to get all crazy cutting away the pith - it's not really bitter like regular lemon pith, so it's fine if you have some remaining.

Slice each finger in half lengthwise and place in a large, airtight jar. Fill the jar with vodka, seal, and store in a cool, dark spot. Steeping time will depend on how big your citron is. The more sliced fingers you have in the jar, the shorter the infusion time. My batch was fragrant and delicious after 7 days. Shake the jar every so often and taste frequently.

Strain the vodka into a clean jar or bottle through a fine mesh basket strainer lined with a layer of cheesecloth.** Discard solids.
Notes
** You want to be certain that you strain out all of the solid materials from the vodka. Any leftover particles will breakdown over time and have an adverse affect on the taste. You should strain our the vodka with a fine-mesh basket strainer or a coffee filter (or both if you are worried!). Store in the refrigerator for up to 2 to 3 months. 
Tried this recipe?
Tag @brandiego on Instagram so I can check it out!
*To make Meyer Lemon Simple Syrup, add 2 cups white sugar to a small saucepan with 2 cups water and the zest of 2 meyer lemons.  Warm over medium heat, stirring to dissolve the sugar.  Bring to a boil, bubble for a minute then take off the heat.  Strain into a clean bowl and let cool completely.  Stir in 3/4 cup freshly squeezed lemon juice.  Store in the refrigerator.
50