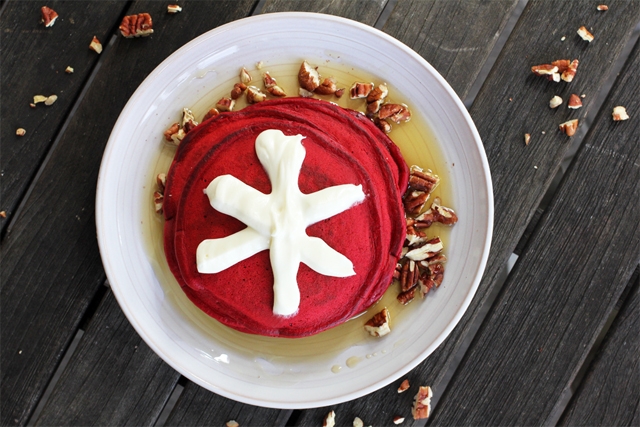 This post may contain affiliate links.
I spent this past weekend testing out some new recipes for Valentine's Day.  Last year, I don't recall focusing so much on this holiday; however, this year I have a great reason to.  I have a very special Valentine 🙂  So first up are these scrumptsh Red Velvet Pancakes.  Radiating the most vibrant hue of red, these pancakes are flavored with unsweetened cocoa powder and tangy buttermilk.  Finished with toasted pecans, warm maple syrup and a cream cheese frosting adornment, Red Velvet Pancakes are the perfect breakfast in bed treat for Valentine's Day morning.  To speed this process up the morning of, I would recommend preparing a few of the components the day before.  The cream cheese frosting can be made in advance and stored in the refrigerator.  Simply bring to room temperature before serving.  You can also measure and mix your dry ingredients the night before.  Cover and keep at room temperature until ready to use.  Continue reading for the recipe.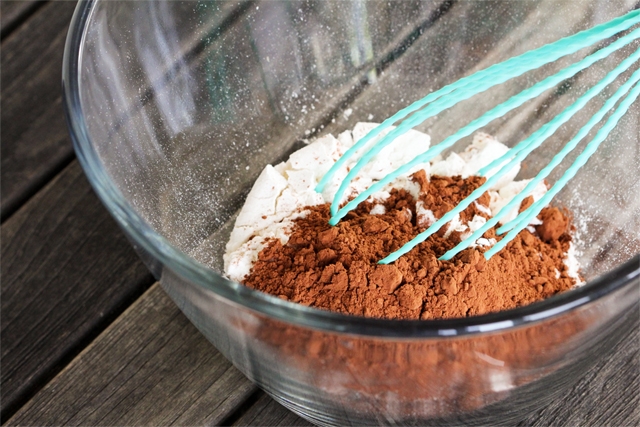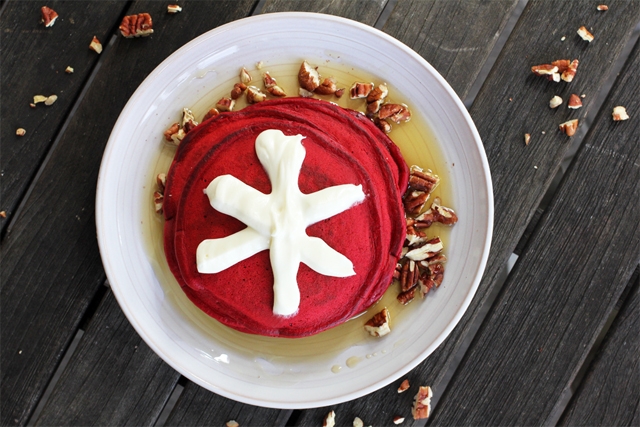 Red Velvet Pancakes
Ingredients
1

cup

all purpose flour

1

teaspoon

baking soda

1/4

teaspoon

baking powder

1/4

teaspoon

fine grain sea salt

2

tablespoons

sugar

2

tablespoons

unsweetened cocoa powder

1

egg

3/4

cup

buttermilk, plus more for thinning (if needed)

1/4

cup

sour cream

1

tablespoon

red food coloring

1

teaspoon

vanilla extract

3

tablespoons

butter, melted

Additional butter for the skillet

Cream cheese frosting, for topping (recipe below)

Toasted chopped pecans, for topping

Warm maple syrup, for topping
Instructions
Preheat oven to 200°F

Add all purpose flour, baking soda, baking powder, sea salt, sugar and cocoa powder to a large bowl, whisking to combine and aerate. To a different larger bowl, add egg, buttermilk, sour cream, red food coloring and vanilla extract, whisking until smooth.

Add the dry mixture to the wet mixture and whisk until just incorporated. Slowly stream in melted butter while whisking. Continue whisking just until all lumps are out. The batter should have a pourable consistency. If it is too thick, stir in a bit more buttermilk.

Warm a large, nonstick skillet over medium heat. Add a small dab of butter to the skillet and swirl around until the surface is evenly coated. Use a paper towel to wipe away any excess butter. Ladle 1/4 cup of the batter on to the skillet. To form a nice, round pancake, pour the batter from the ladle on to one spot of the skillet. Do not move around your ladle. The batter will expand from that spot into a perfect circle.

Flip the pancakes when you see bubbles forming on the top and the bottoms look set. Cook the pancakes for an additional minute or two until cooked all the way through. Keep the pancakes warm in the preheated oven until all batches are cooked.

To serve, decorate your pancake with some cream cheese frosting (see note below). Finish with a spinkling of toasted pecans and a drizzle of warm maple syrup.
Notes
To make cream cheese frosting, beat 5 ounces room temperature, unsalted butter on medium in a stand mixer fitted with the paddle attachment. Once the butter is smooth, beat in 7 ounces room temperature cream cheese, continuing to mix until smooth. Add 2 cups sifted confectioners' sugar and 3/4 teaspoon vanilla extract and mix on low for a few moments. Increase the speed to medium and beat until smooth. To decorate your pancakes, simply spoon some of the frosting into a ziplock bag. Press the frosting to the bottom of the bag then seal the top, forcing out any air in the bag as your seal. Snip one of the bottom corners off the bag to form a piping tip. You can pipe out a star (like I did above) with a larger tip or snip a smaller opening for more precise decorations.
Tried this recipe?
Tag @brandiego on Instagram so I can check it out!
3