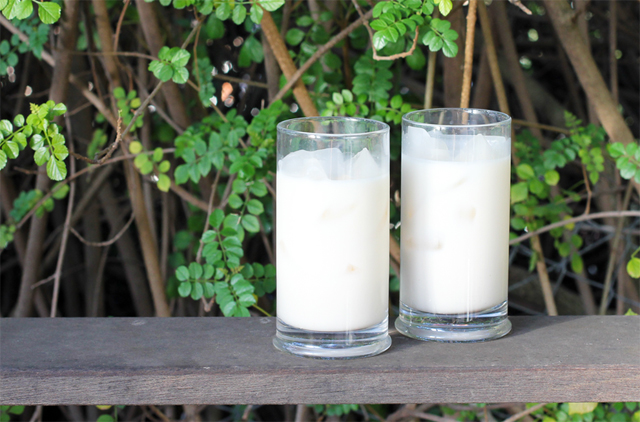 This post may contain affiliate links.
When I first moved to San Diego, I was introduced to many different Mexican eateries throughout the city.  In addition to a regular soda fountain, most casual restaurants also had a fountain that dispensed Mexican beverages such as Tamarindo, Jamaica and Horchata.  After taking a sip of each, I was most intrigued by Horchata, a rice-based drink spiced with cinnamon.  This Almond Horchata is a variation on the Mexican classic.  Rice, almonds and canela are steeped overnight then blended into a creamy concoction.  Almond Horchata is sweet, smooth and incredibly refreshing.  One major advantage to making Horchata at home is that you can easily control the sugar level.  Store-bought or restaurant varieties can often be way too sweet.  Also, the recipe below will serve six to eight people; however, you can easily scale the quantities up to serve a crowd.  Continue reading for the recipe.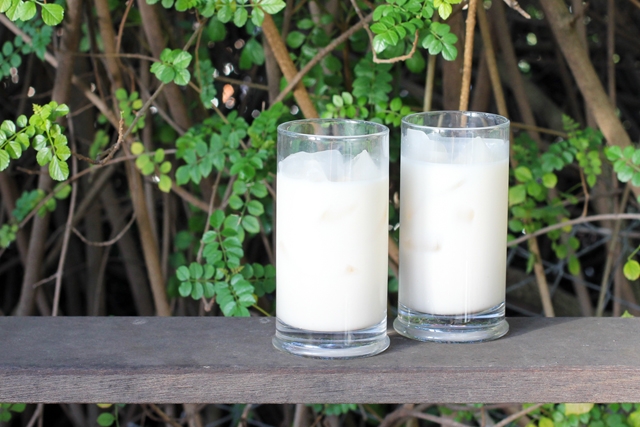 Almond Horchata
Ingredients
6

tablespoons

white rice (just plain rice, nothing fancy here)

6

oz.

blanched almonds

A 2-inch long cinnamon stick (Mexican canela works best here if you can find it)

1

cup

canned evaporated milk

White sugar, to taste

Ice cubes, for serving
Instructions
To a medium bowl, add rice, almonds, cinnamon and 2 1/2 cups water, stirring to combine. Cover with plastic wrap and let stand overnight (at least 8 hours).

Transfer the contents of the bowl (water included) to a blender and process for 3 to 4 minutes. You want to blend until the mixture is smooth and the grit is fairly small. To test, rub a small drop between your fingers. If it feels very gritty, continue blending for another minute or two. Add 2 cups of water, then blend for a minute more. If your blender isn't big enough to accommodate all of the liquid, work in batches.

Set a medium mesh basket strainer over a large bowl then line with 2 layers of dampened cheesecloth. Pour the almond-rice-water mixture through the strainer until it comes about 3/4 of the way up the cheesecloth. Gently stir with a spoon to help the liquids pass through. Continue this process until all liquid from the blender has passed through the strainer. Gather up the corners of the cheesecloth, twist them together to trap the contents inside, then squeeze to extract any remaining liquid. Discard the solids and cheesecloth. Line a fine mesh basket strainer with a layer of dampened cheesecloth then set over another large bowl. Strain the liquid once again to remove any fine grit.

To the almond-rice mixture, add 1 cup of water and evaporated milk. Stir in sugar to taste (I started with a 1/2 cup, tasted, then added an additional 1/8 cup). If the consistency of the drink seems thicker than whole milk, stir in additional water.

Transfer to a pitcher, cover, and refrigerate until ready to use.
To serve, stir up the Horchata then pour into a tall glass filled with ice.
Tried this recipe?
Tag @brandiego on Instagram so I can check it out!
3