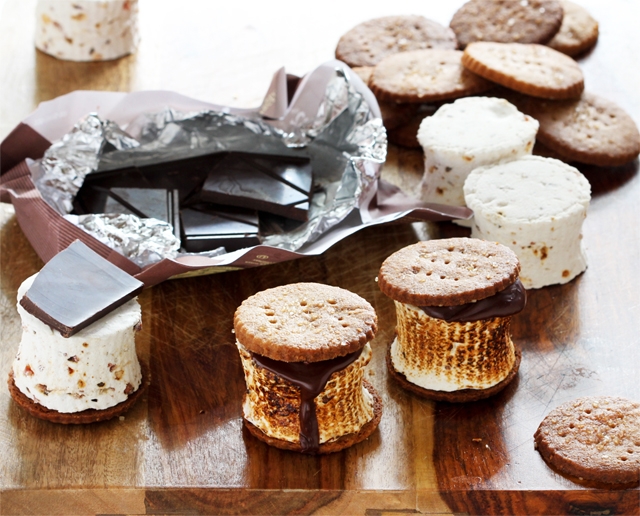 This post may contain affiliate links.
So, I'm not really one to get wrapped up in the whole March Madness thing.  I put together a bracket once in college, but haven't attempted one since.  I guess I'm just not that excited about basketball.  Marsh Madness is an entirely different story.  When Quirk Books asked me if I wanted to compete against 15 other bloggers in a marshmallow making contest, I was like, "Uhhhh… … … Yeah!"  Making homemade marshmallows has been on my foodie to-do list for a while now, so I jumped at the chance to participate in the competition.  I was tasked to prepare some sort of marshmallow creation based upon the original vanilla recipe found in Shauna Sever's Marshmallow Madness.  Continue reading to see what I came up with.  Also, I'm giving away 3 copies of Marshmallow Madness.  Details below.
Of the many variations on vanilla marshmallows found in Shauna's book, one in particular really spoke to me.  Maple.  Bacon.  Yes, that's right.  A maple flavored marshmallow studded with salty-sweet bits of candied bacon.  Yum.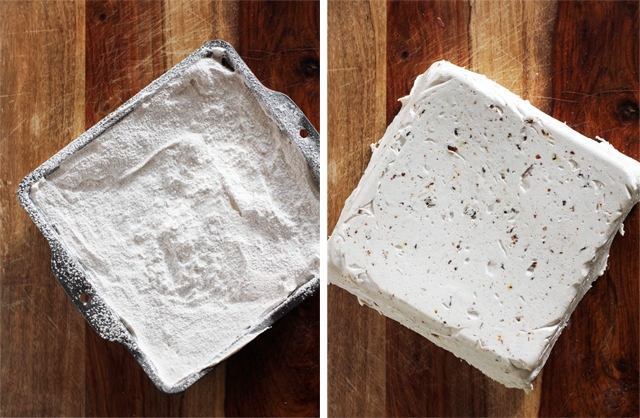 To make this recipe my own, I decided to blow torch the marshmallows till caramelized, top with bittersweet chocolate then sandwich between two honey-sweet, homemade graham crackers.  Aka. Maple Bacon S'mores.  I've always enjoyed the combination of bacon and chocolate, so this pairing seemed natural to me.  Sprinkled with raw sugar and smoked sea salt, my homemade graham crackers accent the flavors of the mallow while providing a most satisfying, buttery crunch.  This project may seem a bit in depth, but I urge to spend some time on a weekend putting together these whimsical confections.  You won't be sorry.
A few notes on making marshmallows.  I found the process fairly easy; however, some special equipment is needed.  Before attempting this recipe, be sure you have a candy thermometer and a stand mixer.    Also, the marshmallows require a 6 hour rest period, so plan your time accordingly.  I prepared my mallows in the evening then finished them off the next morning.
Continue on for the recipe and giveaway.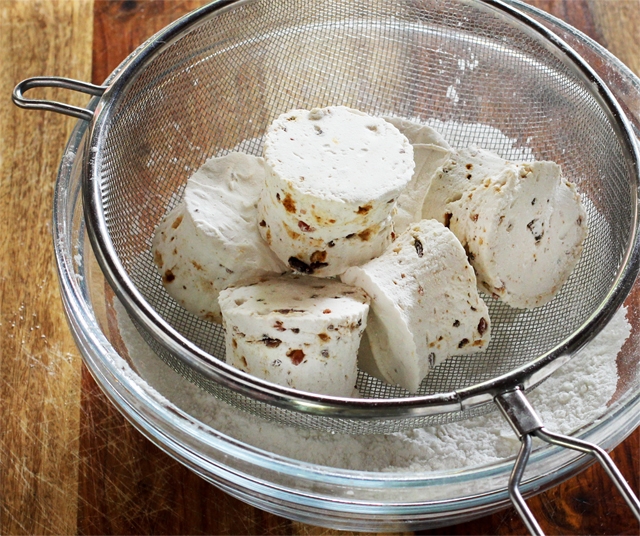 Quirk Books has graciously given me 3 copies of Marshmallow Madness to give away to Kitchen Konfidence readers!
To enter you can do one or all of the following:
1.  Leave me a comment below sharing your favorite treat that has marshmallows in it.
2.  Like Kitchen Konfidence on Facebook. [leave a separate comment below for entry]
3.  Subscribe to the Kitchen Konfidence recipe digest. [leave a separate comment below for entry]
I will be collecting entries until 11:59pm on February 26, 2012.  Winners will be selected and announced shortly after.  For US residents only.  Good luck!  Continue on for the recipe.
I couldn't resist taking a bite.  So, so delicious.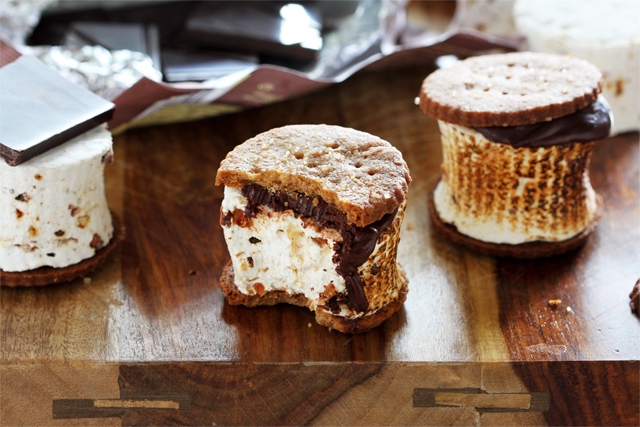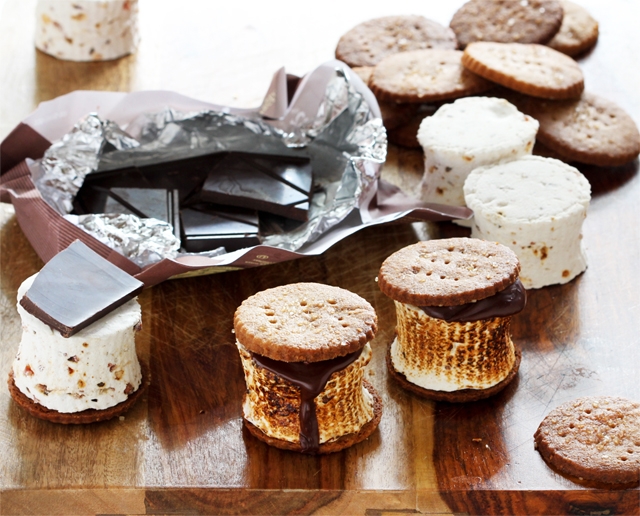 Maple Bacon S'mores
Ingredients
1/4

cup

packed light brown sugar

1/4

teaspoon

cinnamon, divided (1/8 for bacon, 1/8 for marshmallows)

6

slices

hickory smoked bacon

Unflavored cooking spray

4 1/2

teaspoons

unflavored powdered gelatin

1/2

cup

cold water

2/3

cup

white sugar

1/2

cup

maple syrup (use the high quality stuff here)

1/4

cup

light corn syrup

1/4

cup

water (filtered or bottled preferably)

1/3

teaspoon

fine grain sea salt

1/2

cup

confectioners' sugar

1/3

cup

corn starch

Graham crackers, for serving

(preferably homemade)

Bittersweet chocolate, for serving
Instructions
Start by making candied bacon. Preheat your oven to 350°F and place a rack in the center of the oven. Combine light brown sugar and 1/8 teaspoon cinnamon on a plate, using your hands to mix. Rub each slice of bacon with cinnamon sugar until evenly coated. Lay strips of bacon on a cooling rack set over a baking sheet. Bake for 30 to 35 minutes until deeply caramelized. Let cool then finely chop. Measure out 1/2 cup (1 1/2 oz.) for the marshmallows and set aside. Save remainder for snacking.

Lightly coat a 8 by 8 inch baking pan with cooking spray. Use a paper towel to wipe away any excess spray.

Combine gelatin and cold water in a small bowl, whisking to combine. Let stand for at least 5 minutes.

In a medium saucepan, combine white sugar, maple syrup, corn syrup, water and sea salt, stirring to combine. Bring to a boil over high heat, stirring occasionally. Continue to boil until the mixture reaches 240°F. If the mixture starts to bubble up too much, lower the heat. Once the mixture reaches 240°F, take it off the heat.

Microwave the gelatin on high for 30 seconds. Pour into the bowl of a stand mixer fitted with the whisk attachment. Whisk on low for a moment then slowly pour in the hot syrup mixture. Increase the speed to medium (number six on my mixer) and beat for 5 minutes. Increase the speed to medium-high (number eight) and beat for 3 minutes. Add 1/8 teaspoon cinnamon then beat on the highest speed possible (number ten) for 1 minute.

Using a silicon spatula, quickly fold in the candied bacon bits. Pour the marshmallow into the prepared pan and smooth out the top. In a small bowl, combine confectioner's sugar and corn starch, whisking to combine. Sift a few spoonfuls of the sugar-starch mixture evenly over the marshmallow. Set aside the rest of the sugar-starch mixture to use once the marshmallows are cut.

Let the marshmallow set for at least 6 hours in a cool, dry place. Run a sharp knife along the edges of the pan to release the marshmallow. Invert onto a cutting board. Use a cookie cutter to cut out shapes from the slab (I used a 2 1/2 inch round) or use a sharp knife to cut the slab into even pieces. Finish by dusting each piece with the sugar-starch mixture. I found the easiest way to do this was to put the cut marshmallows in a medium mesh basket strainer (see picture above) set over the bowl containing the sugar-starch mixture. Sprinkle with the pieces with the mixture then use your hands to toss. Repeated until marshmallows are evenly coated.

To serve, roast marshmallows over an open flame or carefully caramelize with a blow torch. Top with a piece of bittersweet chocolate then sandwich between two graham crackers.
Tried this recipe?
Tag @brandiego on Instagram so I can check it out!
6