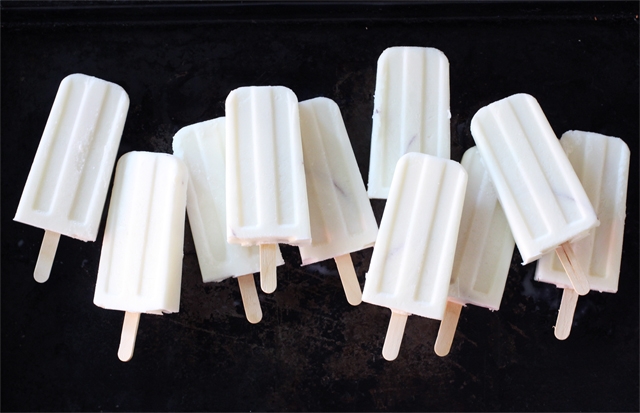 This post may contain affiliate links.
Growing up in New Jersey, I spent many summers on Long Beach Island (yes… the Jersey Shore).  I would wake up early each morning, have breakfast then walk several blocks from my Aunt's house to the beach before any of my other family members.  I would seriously spend all day at the beach reading, listening to music, tanning, walking along the coast, bodysurfing, etc.  My family would arrive late morning carrying a cooler packed with Italian sandwiches, fresh fruit and cold sodas.  One of my favorite beach traditions occurred later in the afternoon.  Amidst the quiet chatter of family and the sound of crashing waves, I would hear a faint ringing in the distance.  My eyes darted to the dunes behind me to see the ice cream man vigorously shaking a leather strap studded with clunky jingle bells.  In a matter of moments, I was up and running full speed towards the ice cream truck parked on the street, desperately trying to be first in line before the hoards of other children running in the same direction.  Awkwardly dancing about to avoid burning my feet on the hot pavement, I ordered my favorite cold confection.  The Coconut Ice Pop.  Nothing felt better than walking past the line of envious onlookers gleefully enjoying each bite of cool, refreshing coconut.
This recipe for Coconut Ice Pops is not an exact copy of the typical ones found in an ice cream truck.  I decided to put a San Diego spin on the classic with the addition of Mexican cinnamon.  These pops are essentially frozen coconut horchata.  The flavor is pure, light and oh so delicious.  You can make "adult" versions of these pops by adding a little dark or spiced rum.  Continue reading for the recipe below.  Also, I have included an Instagram collage of my recent trip back to the East Coast.
Here is a collection of Instagram photos from my recent trip to the East Coast.  I started in my hometown of Hillsborough, NJ then visited Poughkeepsie, New York City, Princeton and Gettysburg connecting with old friends, family and memories.  If you are on Instagram please come find me here.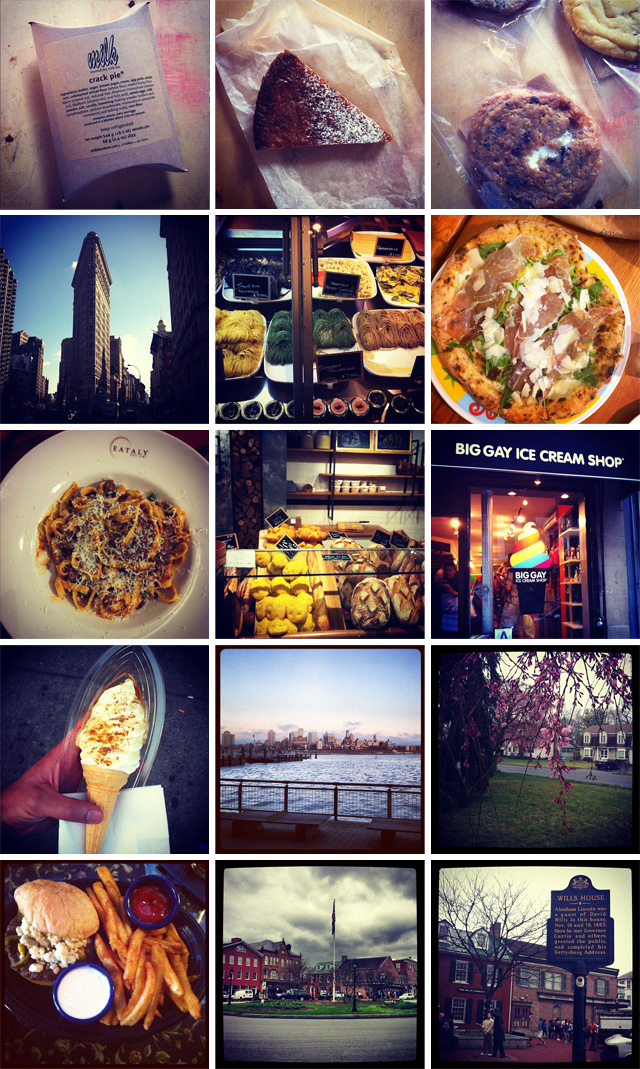 Well that's it for my vacation photos.  Before we get to the recipe, I wanted to share a quick tip on preparing coconut.  I made several batches of these Coconut Ice Pops and found a super simple way to remove the brown skin from the coconut flesh.  The secret?  A vegetable peeler!  After baking the coconut and removing the outer shell, easily cut away the skin with a peeler without wasting too much of the beautiful coconut meat.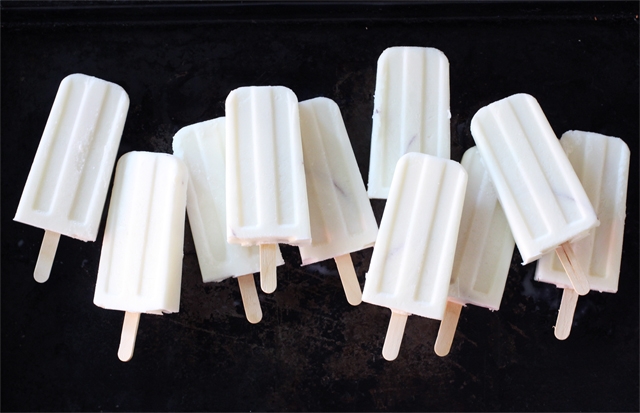 Coconut Ice Pops
Ingredients
1

coconut

Kosher salt

2

cups

boiling water

3

cups

whole milk

3/4

cup

white sugar, plus more to taste

1

small piece of cinnamon (preferably Mexican canela)

1/4

cup

spiced rum, optional
Instructions
Preheat an oven to 325°F. Using a hammer and screwdriver, carefully pierce the three eyes of the coconut. Empty the coconut water into a glass or pitcher and save for another use. Be sure to get as much liquid out as possible.

Place the coconut on a rimmed baking sheet and cook until it begins to crack (35 - 40 minutes). Remove from the oven and let cool. Using a hammer, smash open the coconut. Separate the flesh from the outer brown shell with your hands (or carefully pry with a knife). Using a vegetable peeler, cut about 16 long, thin strips from the largest piece of coconut flesh you have. Place the strips in a small bowl and toss with a small pinch of kosher salt. Set aside. Peel the thin brown skin from remaining coconut. Shred cleaned coconut using a hand grater or food processor.

Place shredded coconut in a blender with boiling water (work in batches if needed) then blend until smooth. While the coconut is blending, set a basket strainer over a medium bowl and line with a layer of cheesecloth. Once smooth, pour the mixture through the strainer. Fold up the sides of the cheesecloth around the solids and squeeze out as much juice as possible. Discard solids.

In a large saucepan combine strained coconut liquid, milk, sugar and cinnamon, stirring to combine and dissolve sugar. Bring to a simmer over medium-low heat then reduce heat to low and cook for 15 minutes, stirring occasionally. Taste for sweetness and add more sugar if needed. Let cool to room temperature then pour through a fine mesh basket strainer into a large measuring cup or pitcher. Stir in the spiced rum if using.

Place one strip of salted coconut into each ice pop mold. Pour in coconut mixture and freeze according to the manufacturer's instructions. My pops froze in approximately 4 hours.
Tried this recipe?
Tag @brandiego on Instagram so I can check it out!
8