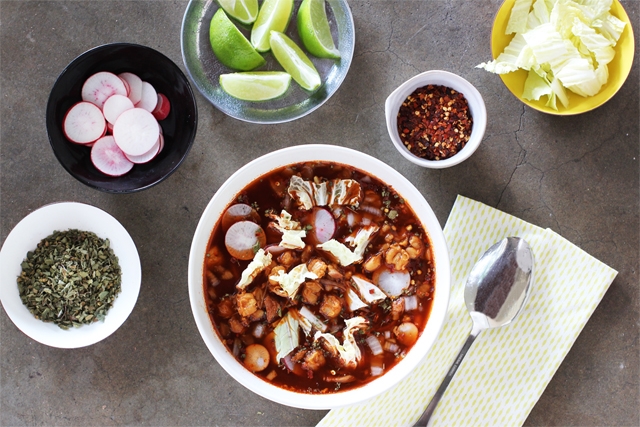 This post may contain affiliate links.
Red Pozole is a flavorful Mexican stew made of pork, ancho chiles and hominy (corn).  Pozole recipes can vary greatly throughout Mexico.  This version is similar to the ones found in central Mexico.  The base of this stew is a slow simmered broth made of pork shanks, trotters and shoulder.  The broth is then added to simmering nixtamal corn with a bold blend of pureed ancho chiles.  The finished stew is hearty, aromatic and so flavorful.  My favorite part?  The toppings.  Served with Red Pozole are these traditional accoutrements: sliced cabbage, chopped onions, crisp radishes, bright lime, fiery red chile flake, dried Mexican oregano and crunchy tostadas.  I just looove the smell of crumbled oregano as it hits the surface of the hot stew.  This recipe may not be quick and easy; however, it is a fun weekend project with amazingly satisfying results.  The recipe below will make a very large quantity of Red Pozole.  Feed an entire party of people or freeze the leftovers for later consumption.  Continue reading for the recipe.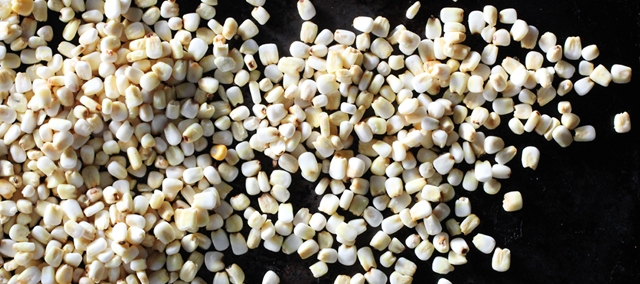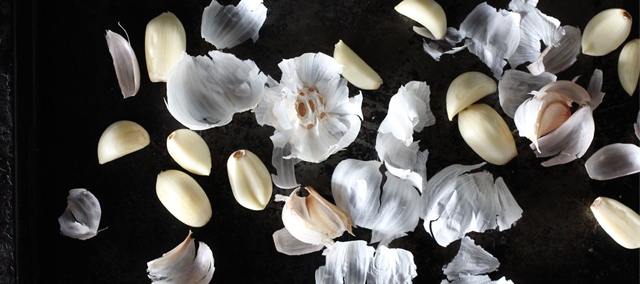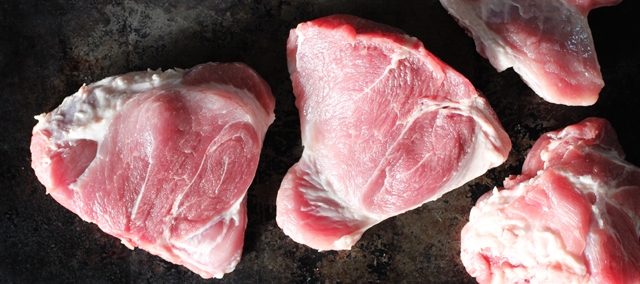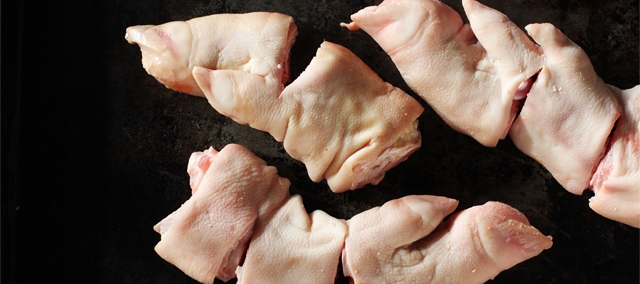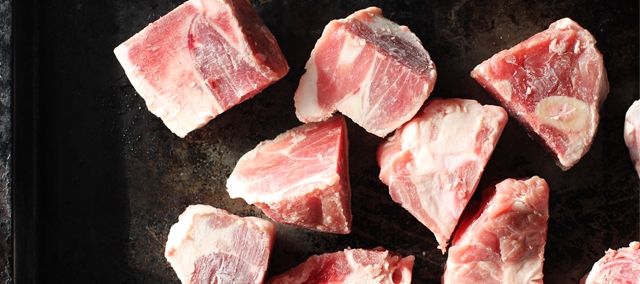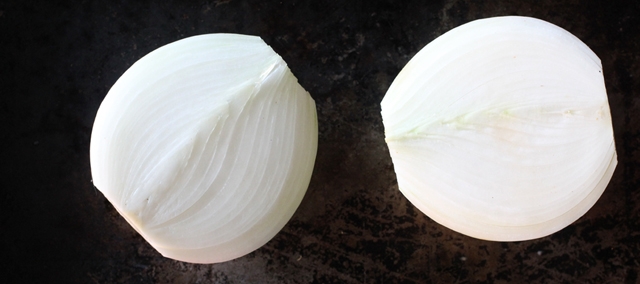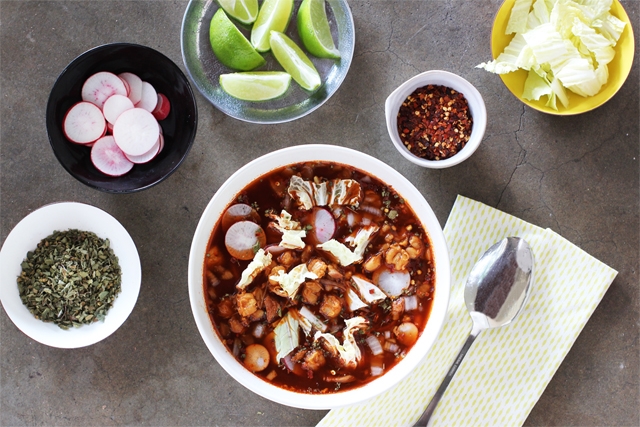 Red Pozole
Ingredients
2

pounds

fresh or frozen nixtamal corn*

1

head garlic, broken into cloves, peeled and halved

3

pounds

pork shanks, cut into 1 1/2 inch thick pieces**

1 1/2

pounds

pork trotters, cut lengthwise in half**

2

pounds

pork shoulder, cut into large pieces**

Kosher salt

2

large white onions, finely chopped and divided (1 onion for the pork broth, 1 for topping)

4

ounces

dried ancho chiles, about 8 chiles, stemmed and seeded
Toppings:
Lime wedges

Sliced Napa cabbage

Thinly sliced radishes

Dried Mexican oregano

Crushed red pepper flake

Tostadas
Instructions
Start be prepping the corn. Defrost if frozen. Give the corn a good rinse to remove all of the slime. If you want to bother with aesthetics, remove the hard, pointy end (the germ) of each corn kernel using the tip of a small knife. This will allow the kernel to burst into a flower shape when cooked. Done alone, this task can take 2 to 3 hours. This does not affect the flavor of your soup, so skip if you don't care what your what your corn looks like in the end!

In a large pot (10 quarts +), add 6 quarts of water, prepped corn and garlic. Bring to a boil over high heat. Once boiling, drop the heat down to medium-low and simmer, partially covered, until the corn is tender (at least 2 to 3 hours). You want to keep the water level in the pot consistent during the cooking process, so add more as the corn cooks (I added water twice while my corn cooked).

While the corn cooks, prepare the pork. In another large pot, combine pork shanks, trotters, shoulder, 2 tablespoons salt and 4 quarts of water. Bring to a boil over high heat. In the first several minutes of cooking, skim off any gray foam that floats to the top. Add 1 chopped onion to the pot, reduce heat to medium-low and simmer, partially covered, until all meat is tender (about 2 hours). If you have the time, let the meat cool in the broth, then remove it. If you are pressed for time, remove the meat from the broth and let cool.

Skim the fat floating atop the broth. You'll be left with just over 2 quarts of pork broth.

Shred the pork shoulder into large pieces and pull the meat from the pork shanks. Cut the bones and knuckles from the trotters and discard. Roughly chop what remains into 1/2 inch bits (mostly fatty bits). You should have approximately 6 cups of meat. Cover and refrigerate if you are not using within an hour.

While the corn and meat are cooking, prepare the chiles. Place ancho chiles in a large bowl and cover with boiling water. Set a plate on top of the chiles to keep them submerged in the water. Rehydrate for at least 20 minutes. Blend up ancho chiles with steeping liquid (in batches if needed) until smooth. Once the corn is tender, uncover and pour chile mixture through a medium mesh basket strainer into the simmering water. Extract as much flavor as possible by pushing on the remaining solids with a spoon. Add the pork broth and 1 tablespoon of kosher salt, stirring to combine. Simmer, partially covered, for 1 hour.

Add the meat to the simmering soup and let warm through. Check for consistency and taste. The consistency should be hearty but still soupy (not too thick). Add more water if needed. Season to taste with additional kosher salt.

Serve pozole with lime wedges, sliced Napa cabbage, radishes, chopped onion, dried Mexican oregano, crushed red pepper flake and tostadas.
Notes
* I was able to find fresh nixtamal corn at a tortilleria in a local Mexican grocery store. If you can't find this, I would recommend getting dried Southwestern pozole corn. This product is readily available online. If you use the dried corn, you will need to simmer it for a longer period of time (approximately 5 hours). Try not to use canned hominy. The texture pales in comparison to the fresh or dried products.
** Ask your butcher to cut the pork shanks, trotters and shoulder into pieces. This is much easier than doing it at home!
Tried this recipe?
Tag @brandiego on Instagram so I can check it out!
48