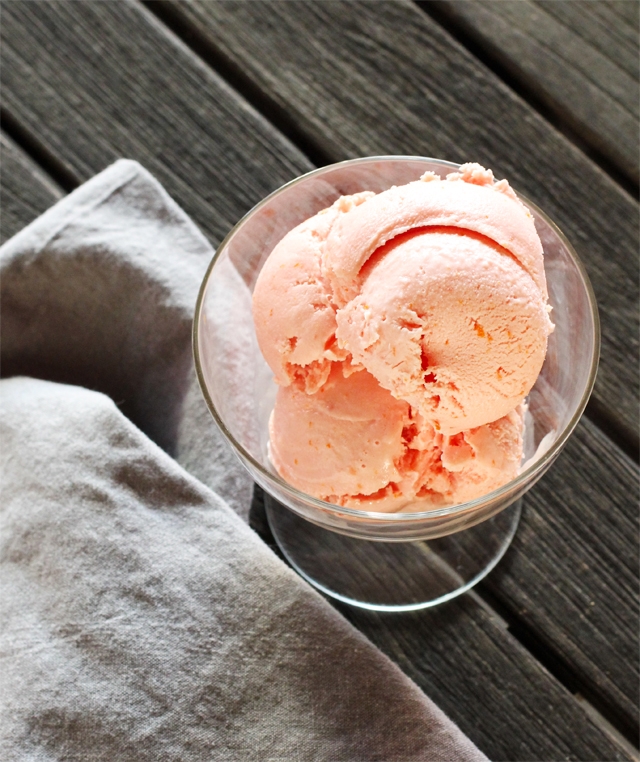 This post may contain affiliate links.
I still remember the sweet smell of crisp, white citrus blossoms the afternoon I went blood orange picking.  Standing amongst a small collection of blood orange, lime, lemon and Valencia orange trees, I stopped for a moment to enjoy the warm sun and heady fragrance.  After a brief zen moment, I continued on with the task at hand.  Nimbly darting throughout the limbs, I eagerly plucked ripe citrus from the trees while trying to avoid the sharp thorns dotting the surface of each branch.  The massive bowl of oranges pictured below is just a small fraction of the bounty I brought home that afternoon.  As I organized each fruit into different bowls around my kitchen, I couldn't help but smile at the collection.
Over the past few weeks, I've prepared a number of recipes utilizing my winter citrus.  This Blood Orange Frozen Yogurt is one of my favorites 🙂  Made with blood orange zest and juice, this luscious fro yo is tart, creamy and complex.  Orange liqueur bumps up the oranginess of the dish while honey lends a sweet, floral note reminiscent of those wonderfully fragrant citrus blossoms.  If you can't find blood oranges at your local market, you could certainly make this recipe with regular oranges.  Continue reading for the recipe.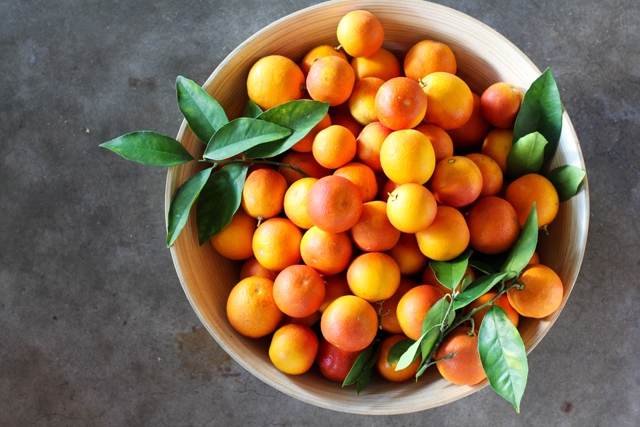 Blood Orange Frozen Yogurt
Ingredients
1

cup

blood orange juice (from about 10 blood oranges)

1/3

cup

plus 2 tablespoons white sugar

1 1/2

cups

plain Greek yogurt (full fat)

Zest of 2 blood oranges

2

teaspoons

orange liqueur (triple sec or Cointreau)

Fresh lemon juice

Honey
Instructions
In a small saucepan, warm blood orange juice and sugar over medium-high heat, stirring to dissolve sugar. Bring mixture to a boil and cook until reduce by 1/2. Remove from heat and let cool completely.

In a large bowl, whisk together reduced blood orange juice and Greek yogurt until smooth and fully incorporated. Add zest and liqueur, whisking to combine. Add a few drops of fresh lemon juice and a small squidge of honey, then whisk and taste. If the mixture is too tart, add a bit more honey. If the mixture is too sweet, add a bit more lemon juice.

Refrigerate mixture for at least 4 hours (preferably overnight). Freeze the yogurt base in an ice cream maker according to the manufacturer's instructions. Finish by freezing the yogurt until hard or enjoy soft immediately.
Tried this recipe?
Tag @brandiego on Instagram so I can check it out!
16