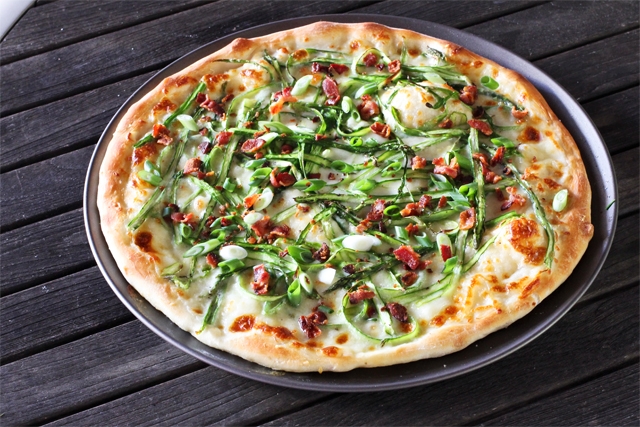 This post may contain affiliate links.
I find the few minutes between bringing a hot, fresh pizza from the oven and the moment when the pizza is cool enough to eat absolutely excruciating.  The sizzling toppings taunt me as I eagerly await that first taste of melty mozzarella and crunchy, golden crust.  It takes every shred of willpower I have to keep me from diving in right away.  It's a challenge I face almost every week when making homemade pizza.  Aside from that first glorious bite of a freshly baked pie, I just love creating toppings.  Sometimes I enjoy meat pizzas (hot salami, Italian sausage, roasted chicken).  Other weeks I go the seasonal veggie route (shiitake mushrooms, red bell pepper, Tuscan kale).  Really, olive oil, salt and dough (that I purchase at a local pizzeria) are the only constants from week to week.  I recently decided to experiment with the classic combination of asparagus and bacon.  A coiled nest of long, green asparagus tendrils are piled high onto a bed of freshly grated mozzarella and Parmesan.  Finished with a sprinkling of sliced scallion and crumbled bacon, this Shaved Asparagus and Bacon Pizza is well-balanced and packed with mouth-watering flavor.  The freshness of the asparagus balances the smoky richness of the bacon, creating quite the harmonious bite.  Continue reading for the recipe.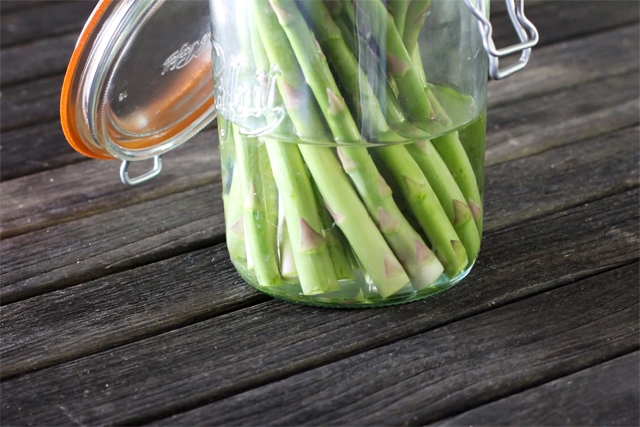 Before we get to the pizza, I wanted to share a quick asparagus tip (no pun intended).  To my dismay, I opened up my refrigerator on Friday evening to find my asparagus bunch limp and wilted.  To revive the asparagus, I simply cut 1/4 inch off the woody end of each stalk, then submerged the freshly cut ends in a jar partially filled with water.  After an overnight in the fridge, the asparagus stalks came back to life!  One thing to keep in mind: don't try this trick with asparagus that are slimy, smelly or rotten.  Asparagus displaying those characteristics are past their prime and should be discarded.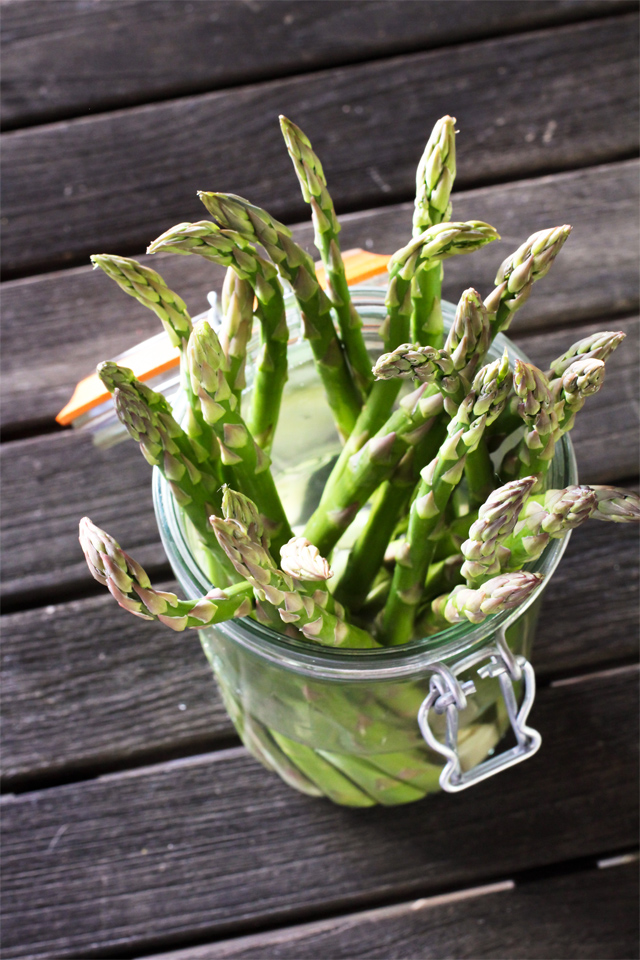 Now… back to the pizza 🙂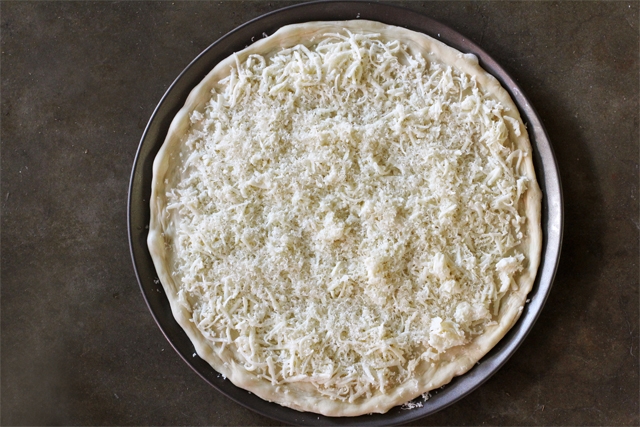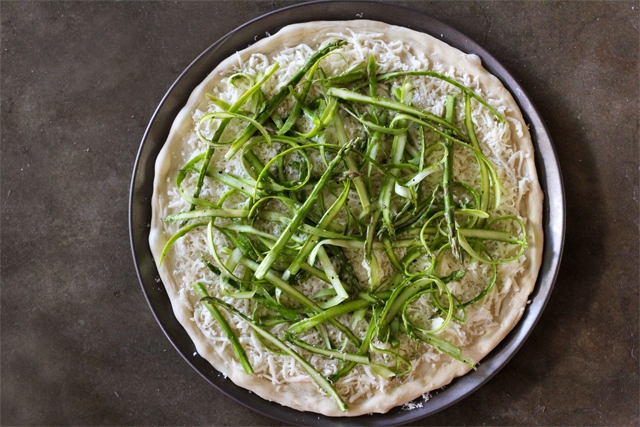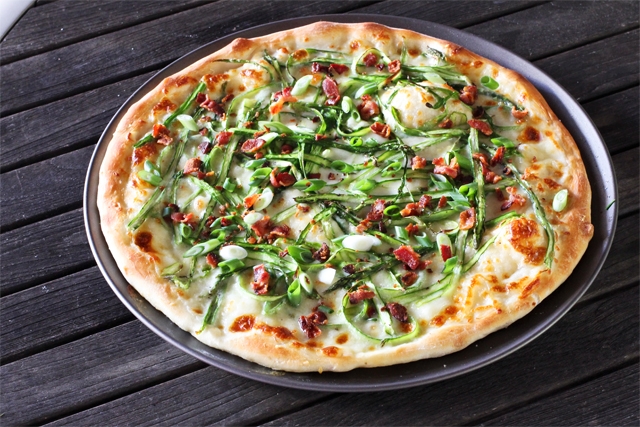 Shaved Asparagus and Bacon Pizza
Please note that I did not include specific measurements for the basic pizza ingredients. I find my pizzas turn out better when I am not worrying about measurements. Simply add ingredients to taste (a sprinkling of this or a drizzle of that).
Ingredients
1/2

pound

asparagus (do not snap the woody ends)

Olive oil

Kosher salt

Freshly ground black pepper

1

ball pizza dough*

Fresh mozzarella cheese, grated (this is to taste, I used about 9 oz.)

Parmesan cheese (avoid the pre-grated stuff)

4

slices

bacon, cooked and crumbled

1

scallion, trimmed and sliced on a bias
Instructions
Preheat an oven to 500°F.

Using a vegetable peeler, shave asparagus into long, thin ribbons. The best way to do this is to lay the asparagus flat on a cutting board. Hold the woody end of the asparagus to stabilize. Start peeling the asparagus just above the woody end (about 1 inch up). Run the peeler from the bottom to the tip several times (until you can't do it any longer) with each stalk. Some ribbons will be very thin and others a bit thick. This is fine.

Place ribbons in a medium bowl and drizzle with a little olive oil (1 - 2 teaspoons), tossing to coat. They should be glistening and coated, not swimming in oil. Season with a pinch of kosher salt and several turns of black pepper, tossing once again.

Spray a pizza pan or baking sheet with unflavored, nonstick spray. Stretch pizza dough into a round large enough to fit your pizza pan. Very lightly drizzle the dough with olive oil, using your hands to evenly spread the oil around. Sprinkle dough with a small pinch of kosher salt.

Top pizza with grated mozzarella cheese then an even dusting of Parmesan cheese. Pile on shaved asparagus. Transfer pizza to preheated oven and cook until the crust is golden brown (bottom and crust) and the cheese is nice and bubbly (10 - 13 minutes).

Sprinkle with crumbled bacon and scallions then slice and serve.
Notes
I don't bother with making my own pizza dough. I purchase top quality dough from my favorite pizzeria for cheap! Check with your local pizzeria to see if they will sell their dough. It should cost $1 - 2. Anything more and you're getting ripped off.
Tried this recipe?
Tag @brandiego on Instagram so I can check it out!
9