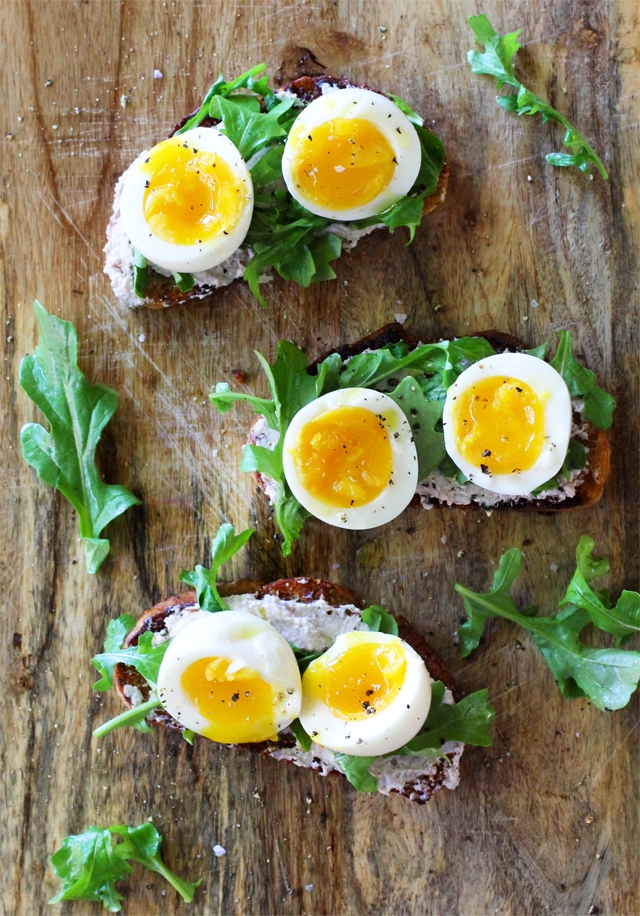 This post may contain affiliate links.
For the past five days, I've been in Palm Springs and Indio for the 2012 Coachella Music Festival, a three day marathon packed with concerts, artwork, and overall craziness.  This is my first year going to Coachella and I was completely blown away.  Normally, I go to one concert every three years, so to see so many of my favorite bands and DJs in such a short period of time was a real treat.  To best describe this experience, I've shared a small collection of Instagram photos and concert videos below.
I wish I had a good connection between Coachella and this Walnut Ricotta Crostini with Arugula and Soft-Boiled Eggs; however, I don't.  All I can really say is that this appetizer is super tasty.  Sitting atop a layer of earthy walnut ricotta is small handful of arugula leaves simply dressed in lemon juice, and a rich, soft-boiled egg.  Each bite is well-balanced with a satisfying contrast in textures.  The toasted bread and arugula provide crunch while the ricotta and eggs lend a creamy smoothness.  Be sure to serve these bites up with a fork and knife as they can be a bit messy to eat with just your hands.  I've got the recipe for you after the Coachella recap.
Here are some photos and videos from my trip.  I've borrowed a few of them from my amazing boyfriend 🙂  All photos and videos taken with iPhones.
Neon Indian – Polish Girl
Feist – My Moon My Man
Feist – The Bad in Each Other [my favorite of the day]
Madness – Our House
M83 – Midnight City
M83 – Fall
Kaskade –  Ivan Gough – In My Mind [Axwell Remix]
Florence + The Machine – Shake It Off
Florence + The Machine – What the Water Gave Me
Gotye – Somebody That I Used to Know
And now for the recipe.  I hope you enjoyed 🙂
Walnut Ricotta Crostini with Arugula and Soft-Boiled Eggs
Ingredients
4

tablespoons

unsalted butter, divided (3 tbsp for the bread, 1 for the walnuts)

Whole whole bread, cut into 6 even slices (a little larger than 1/4-inch thickness)

1/2

cup

walnut pieces

1/2

cup

ricotta cheese, preferably homemade

2

tablespoons

lemon juice, divided (1 tbsp for the ricotta, 1 for the arugula)

Kosher salt

Freshly ground black pepper

6

cold eggs

2

cups

arugula

Extra-virgin olive oil, for drizzling

Flaky sea salt, for topping
Instructions
Warm 3 tablespoons butter in a large skillet over medium heat. Add sliced bread and toast until golden brown, flipping occasionally (about 3 minutes). Take the bread from the skillet and add the walnuts with additional 1 tablespoon of butter. Once the butter has melted, stir the walnuts to coat. Cook until lightly brown and fragrant (about 3 minutes), stirring occasionally. Set walnuts aside to cool.

In a food processor, combine cooled walnuts, ricotta cheese, 1 tablespoon lemon juice, 1/4 teaspoon kosher salt and 1/2 teaspoon freshly ground black pepper. Pulse until just smooth. Season to taste with additional kosher salt (you may need about 1/4 teaspoon more if your ricotta is unsalted).

Place eggs in a small saucepan and cover with lukewarm water. Place the saucepan over high heat and bring the water to a boil. As soon as the water starts to boil, turn the heat off and cover the saucepan. Let sit for 1 minute then transfer to the sink. Run cold water over the eggs while tipping the pan to let the hot water drain for about 30 seconds. Peel eggs under cold, running water.

Toss arugula with remaining 1 tablespoon lemon juice and a small pinch of kosher salt.

To serve, spread walnut-ricotta mixture on the whole wheat crostini. Divide arugula amongst the slices. Place a soft-boiled egg on each slice then gently cut in half to break the yolk. Finish each crostini with a very light drizzle of extra-virgin olive oil, black pepper and a few flakes of sea salt.
Tried this recipe?
Tag @brandiego on Instagram so I can check it out!
3