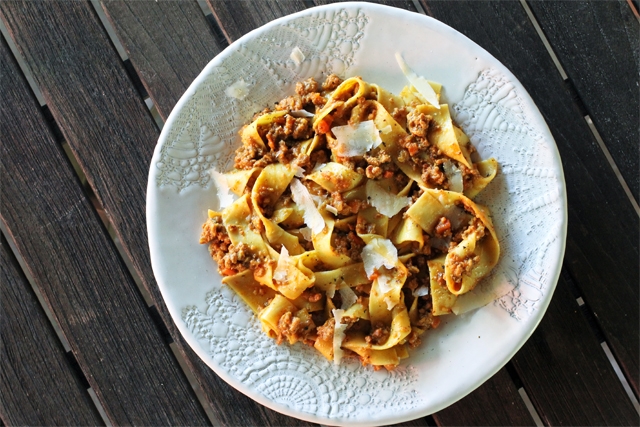 This post may contain affiliate links.
Up until this year, my method for making Bolognese Sauce called for adding cooked, seasoned beef to my Homemade Tomato Sauce, simmering for a bit, then finishing with fresh herbs.  It wasn't until I saw this video that I realized I wasn't really making Bolognese Sauce at all!  After experimenting a bit with Mario's recipe, I found a method that I really love.  This slow cooked Bolognese Sauce pairs a number of classic aromatics with ground beef, pork and bacon.  The mixture is then simmered in tomato paste, whole milk and wine.  Thick, rich and luscious, the finished sauce has the most amazing depth of flavor.  The recipe below definitely takes some time to make.  But I urge you to give it a try.  You won't be sorry.  Continue reading for the recipe.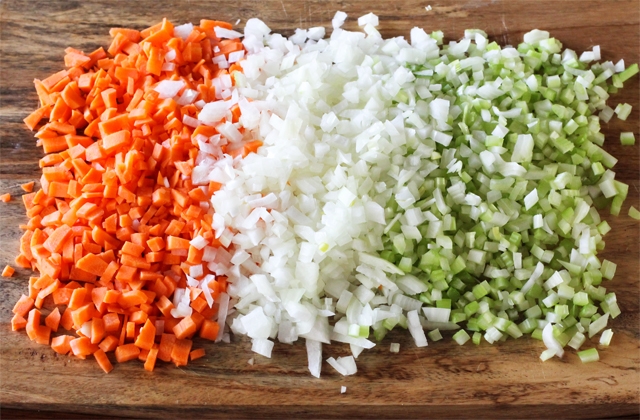 Several weeks ago, my mother came to visit from New Jersey.  In addition to this Bolognese Sauce, I served up some Arugula Mojitos, an arugula salad with pear vinaigrette, Shaved Asparagus and Bacon Pizza, and Blood Orange Frozen Yogurt for dessert.  I only get to cook for my mom once every few years, so I wanted to make sure the dinner was special.  She ended up loving every bite!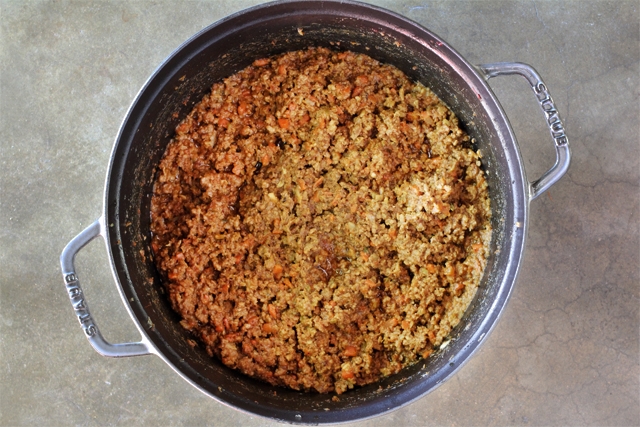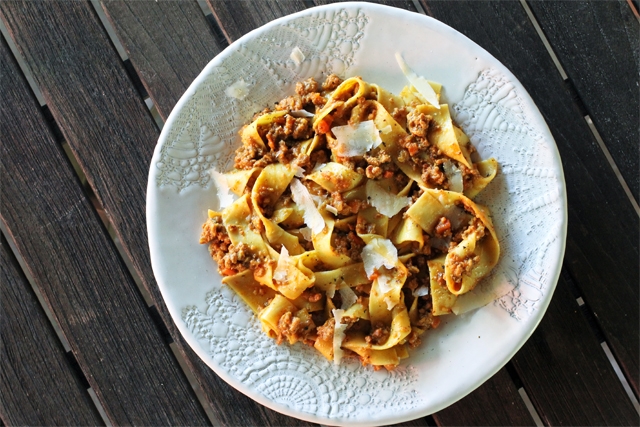 Bolognese Sauce
Ingredients
1/4

cup

extra virgin olive oil

2

medium onions, finely chopped

4

celery ribs, finely chopped

2

medium carrots, peeled and finely chopped

5

garlic cloves, thinly sliced

1/4

pound

bacon, pulsed in food processor until finely chopped

1

pound

ground beef

1

pound

ground pork

1 6

oz.

can tomato paste

1

cup

whole milk

1

cup

dry white wine (such as sauvignon blanc)

1

cup

water

1

teaspoon

fresh thyme, chopped

Kosher salt

Freshly ground black pepper

Pasta, for serving

Parmesan cheese, for serving
Instructions
Warm olive oil in a large, heavy-bottomed pot over medium heat. Add onion, celery, carrots and garlic, stirring to coat in the oil. Cook until soft (but not browned), stirring occasionally (8 to 10 minutes).

Increase heat to medium-high, then add bacon, beef and pork, stirring to break up clumps. Cook until all meat is browned (15 - 20 minutes). Add tomato paste, stir to combine and cook for 30 minutes. Be sure you stir occasionally to keep the bottom from burning.

Add milk and cook for 30 minutes, stirring occasionally. Increase heat to high, add wine, bring mixture to a boil and cook until the liquid has evaporated (about 5 minutes). Scrape up any bits that may be stuck to the bottom of the pot. Add water and thyme, bring mixture to a boil, reduce heat to low and cook for 1 hour, stirring occasionally. The mixture should not be liquidy. Season to taste with kosher salt and freshly ground black pepper.

This recipe makes enough sauce for 2 to 3 pounds of pasta. You'll need 4 cups of the mixture above for 1 pound of pasta. Once I finished cooking the sauce, I transferred everything to large bowl, then scooped out 4 cups into a smaller, heavy-bottomed pot. Cover the remaining sauce and store in the refrigerator.

To serve, cook pasta (pappardelle pictured above) in large pot of salted water. While the pasta is cooking, warm sauce over medium-low heat, stirring occasionally. 1 minute before the pasta reaches al dente, drain and transfer to the pot with the sauce, reserving 1 cup of cooking water. Gently stir the pasta to combine with the sauce. Stir in about 1/2 cup of the cooking water to thin out the sauce, adding more if needed. Stir in 1/3 cup freshly grated Parmesan cheese.

Divide pasta amongst dinner plates and finish with extra Parmesan cheese and freshly ground black pepper.
Tried this recipe?
Tag @brandiego on Instagram so I can check it out!
16