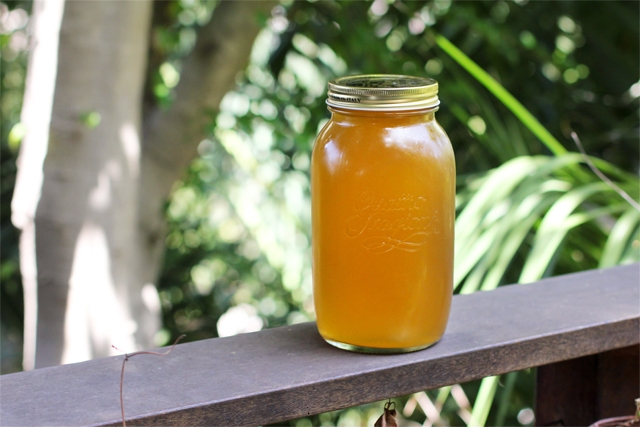 This post may contain affiliate links.
Spending a Sunday afternoon beside a simmering pot of stock has become a monthly ritual of mine this past year.  Engulfed in an array of comforting aromas, I just love sitting in my kitchen with a warm mug of coffee and my eReader.  Pleasant hits of parsley, bay and thyme briefly interrupt my casual page-turning.  If you are not making stock at home already, I would highly recommend starting now.  The process of making Homemade Vegetable Stock is fairly easy and the results are cheaper and tastier than store-bought versions.  All you have to do is brown some vegetables, add herbs and spices, cover with water and simmer!  It's really that simple.  The ingredient list is also pretty flexible.  Taste will not be compromised if you only have 4 carrots rather than 5.  And if you have a stray leek or handful of mushrooms leftover from a previous recipe, this pot of Homemade Vegetable Stock would gladly welcome them with open arms.  So I urge you to block out some time this Sunday afternoon, and give this recipe a try.  Continue reading for the recipe, tips on making a perfect batch of flavorful stock and ideas on how you can use this stock.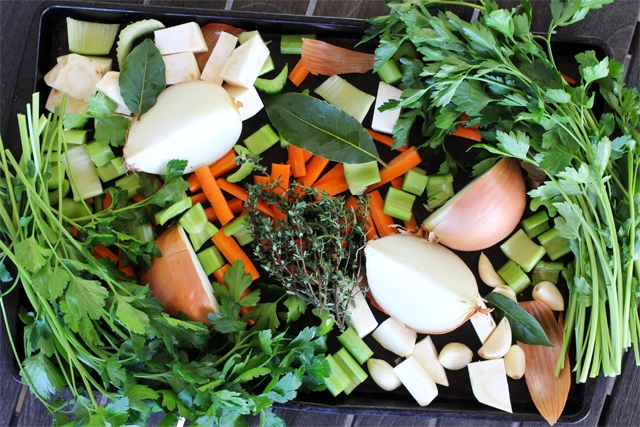 Tips & Techniques:
Caramelizing the vegetables before adding water will give your stock a big boost of flavor.
Onion skins give the stock a nice, brown color.
Adding prunes to the stock provides an amazing depth of flavor.  If you don't have prunes on hand, try dried mushrooms.
As soon as your stock comes to a gentle boil, drop the heat down low.  If the water simmers too aggressively, the vegetables will start to break down and cloud your stock.
Do not stir.  Once again, this will cause the vegetables to break down and affect the clarity of your stock.
Store stock in the refrigerator for up to 1 week or in the freezer for up to 6 months.
So you've just finished straining your perfect batch of Homemade Vegetable Stock and you're wondering, "what should I make?" Try adding this stock to risotto or soup. Or you could use stock to thin out sauce without sacrificing flavor. I love using homemade stock when cooking rice, quinoa, farro or cous cous. An easy way to boost flavor without adding extra calories.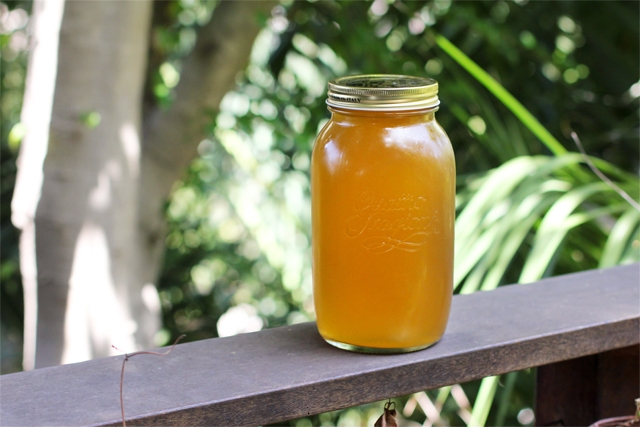 Homemade Vegetable Stock
Ingredients
2

tablespoons

unsalted butter

1

tablespoon

olive oil

3

carrots, peeled and cut into sticks

5

celery stalks, sliced thick

1

large brown onion, unpeeled and quartered

1

small celery root, peeled and chopped in big chunks

7

garlic cloves, peeled

2

small bunches of parsley

5

sprigs thyme

12

black peppercorns

3

bay leaves, preferably fresh

8

prunes
Instructions
Warm butter and olive oil in a large stock pot over medium heat. Add carrots, celery, onion, celery root and garlic, stirring to coat in the butter/oil. Sauté the vegetables, stirring occasionally, until golden brown, about 10 minutes.

Wrap bay leaves and thyme sprigs within the parsley bunches then secure the entire bundle with a string (see picture above). Add the bundle to the pot with peppercorns and prunes. Add enough cold water to cover everything (about 16 cups).

Bring mixture to a gentle boil. As soon as the boil begins, drop heat to very low and simmer for 1 1/2 hours. The stock should not bubble away during this time period. It should remain fairly still with just a few bubbles coming to the top occasionally. Do not stir. Stirring will cause the vegetables to break down and cloud your stock.

Double strain the mixture into a large bowl. Start with a medium mesh strainer to remove all of the large particles then strain again with a fine mesh strainer to remove any tiny bits. Strained vegetables can be saved for later consumption (but will need some salt!).

To chill rapidly, place the bowl in a sink filled with ice and water. Gently stir until the stock chills. Cover and store in the refrigerator for up to 1 week or in the freezer for 6 months. I like to measure out 2 cups worth of the stock into small ziplock bags. I then freeze these bags for future use.
Tried this recipe?
Tag @brandiego on Instagram so I can check it out!
19