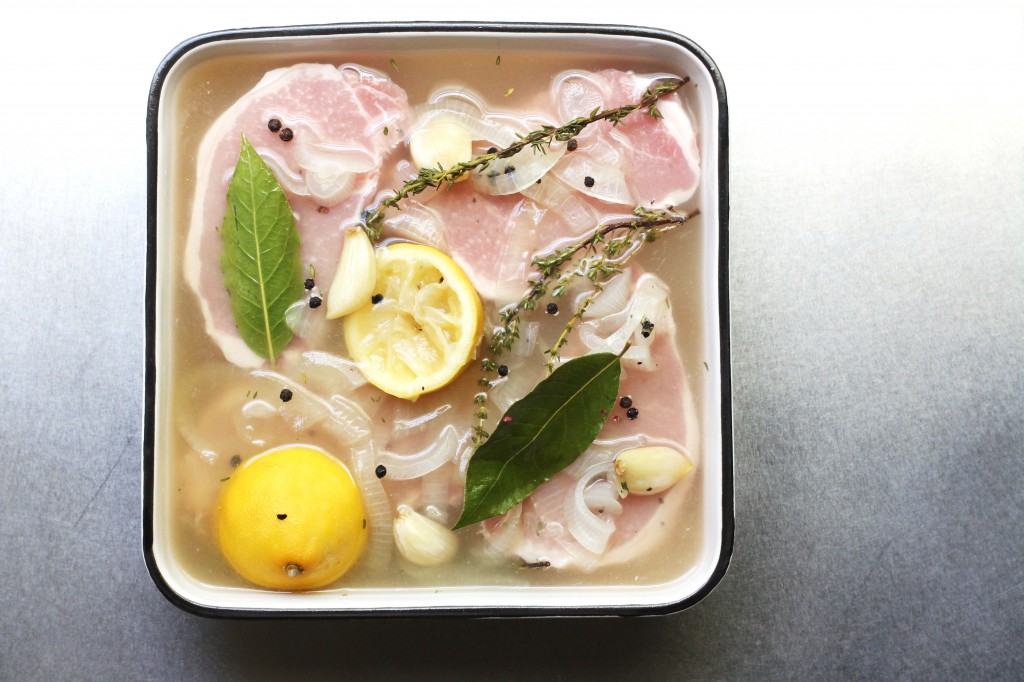 Do you know what I really hate?  Dry pork.  And dry chicken.  I always find it so disappointing when I slice into a beautifully golden piece of meat to find an abrasive assault of coarse saw dust.  I'm sure we've all been there.  So the question is, what's a fool-proof way to prepare tender pork or chicken?  The answer… this brine 🙂  A brine is essentially a solution made of salt and water.  Meat is soaked in the brine for several hours allowing salt to penetrate throughout.  Brining both seasons the meat and causes it to absorb water, ensuring that the final result is both flavorful and juicy.
Made with kosher salt, onion, garlic, thyme, bay, lemon and black pepper, this Brine Recipe infuses some major flavor and moisture into any cut of pork, chicken or turkey.  Also, the process really couldn't be easier.  Prepare the brine in under 15 minutes, let the meat soak for 2 to 3 hours, dry, rest, then cook any way you like (roast, fry, grill, saute).  Seriously give this a try.  It's life changing.  Continue reading for the recipe.  Also, I've announced the winners of the Bella Sun Luci Sun-Dried Tomato prize packs giveaway.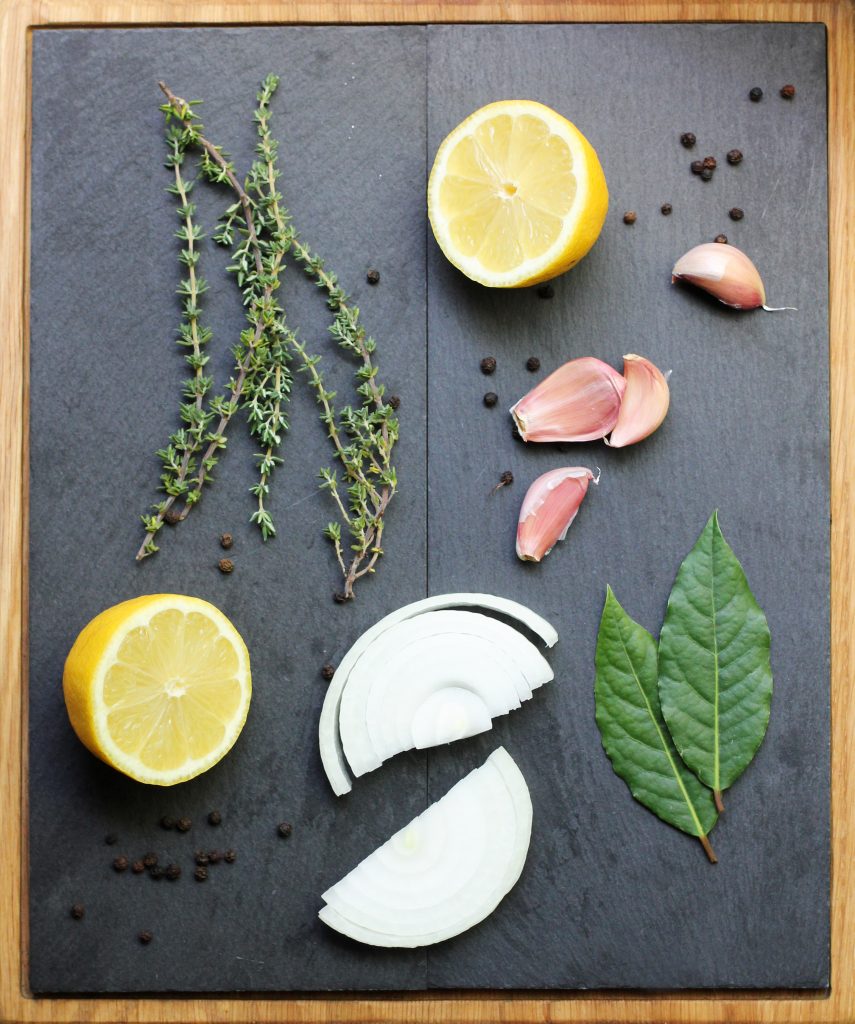 Here are the winning comments:
Tim [Comment 101]
Amy F [Comment 65]
Congratulations!  I will be contacting you via email to coordinate sending out the prize packs.  If you have not responded by 11:59pm on Sunday, July 1, I will need to select another winner.  Thanks to all who participated!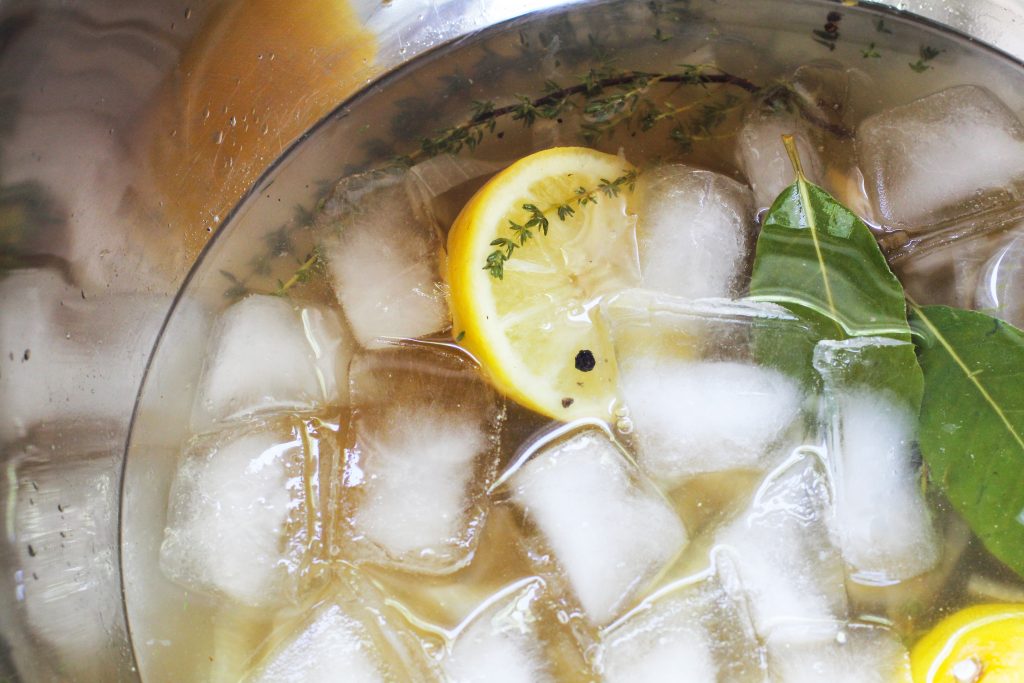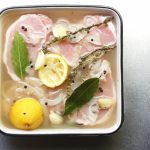 Brine Recipe
Ingredients
Scant 2 cups (15 oz.) water

6

tablespoons

(3 oz.) kosher salt

1

small brown or white onion, sliced

4

cloves

garlic, whole but peeled

4

sprigs thyme (you could also use rosemary or sage)

2

bay leaves

2

teaspoons

whole black peppercorns, roughly cracked

1

lemon, halved

18

ice cubes (15 oz.)

Pork, chicken or turkey (4 boneless pork chops pictured above)
Instructions
In a medium saucepan, combine water, salt, onion, garlic, thyme, bay, peppercorns and lemon. Bring mixture to a boil over high heat, stirring until the salt has dissolved. Take mixture off of the heat, cover and let steep for 10 minutes.

Add ice to a large bowl. Pour over hot brine and stir until the ice has melted.

I've depicted the brine above in a baking dish, but I'll have to admit, this was just for aesthetics. Normally, I use a large freezer bag. Place pork chops (or chicken or turkey) into a large freezer bag. Add brine and seal tightly. Let sit for 3 hours at room temperature.

Rinse pork chops under cold, running water, pat dry then set aside. Discard brine. Let pork chops rest for 1 hour before cooking or transfer to the refrigerator to use later.

If I want to throw together a quick dinner, I like to sear these chops in a cast iron skillet over high heat. Once each side is nice and golden, I'll transfer to a 350 oven and cook until the internal temperature reaches 140 - 145 (10 to 15 minutes longer depending on thickness of chops). Keep in mind, no additional seasoning is needed. If you salt again, the chops will be too salty.

If I have a little more time in the kitchen, I like to bread and fry the pork. Set out 3 plates - one with flour, one with an egg beaten with a little water, one with panko breadcrumbs. Coat each chop with flour, shaking off the excess. Dip in the egg then coat with panko breadcrumbs. Shallow fry in a skillet until outside is golden brown. Finish in the oven (same as above) if needed.
117