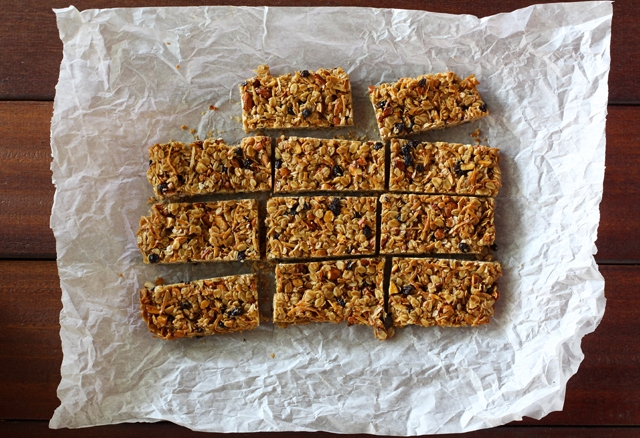 This post may contain affiliate links.
After several long days of packing, organizing, cleaning and moving, I am officially living in my new home in San Diego.  I'll have to say the the most difficult part of this move was not having access to my cookware and kitchen gadgets.  I was condemned to eat fast food many days in a row.  Don't get me wrong.  I enjoy a good Doritos Taco every now and then, but after a while, I just need a home cooked meal.
On Friday evening, I was unpacking a sizable mound of boxes when I finally unearthed my pots, pans, knives and utensils.  Amidst tufts of crumpled newspaper, broken down boxes and bit and pieces of my life strewn about, I began cooking dinner.  First, I cleaned up two fat chicken breasts and seasoned them with kosher salt, garlic powder and freshly ground black pepper.  After turning the oven to 350, I set a small cast-iron pot filled with homemade vegetable stock, butter and gray salt over a medium flame.  I finely chopped an orphaned leek and several cloves of garlic, then prepped a beautiful collection of wild mushrooms.  King trumpet, shiitake and oyster mushrooms reduced to bite-sizes chunks. Continue reading for the rest of my story plus a recipe for super tasty granola bars.
Surrounded by utter chaos, I stopped what I was doing to enjoy the moment.  Orchestrating three dishes at a time, I finally had complete control of one thing in my life, fully aware of how it would turn out in the end.  18 minutes for the chicken.  15 minutes for the quinoa.  10 minutes for the mushrooms.  Pure comfort.  My moment was over and it was time for some action.  Upon closing the oven door on two unsuspecting chicken breasts, I dropped a few tablespoons of butter into a hot Staub, listening for the satisfying sizzle of a well-heated pan.  Quinoa into the small pot of stock and leeks and garlic into the large Staub.  I just love the smell of onions, garlic and butter.  Shortly after, I tumbled the mushroom medley into the leek-garlic mixture, tossing until each earthy morsel was glistening with butter.  As the mushrooms cooked, hits of caramelization wafted up from the pot telling me it was time to stir.  Once satisfied with the color of the mushrooms, I add a few glugs of vermouth then clamped on the lid.  The rest was simply an assembly job.  After placing a hot chicken breast a top a mound of quinoa, I scattered the sauteed mushrooms around the plate.  Finished with freshly chopped parsley, this dinner was done.  And so delicious.
Unfortunately, the only picture I have of this meal is on Instagram, so I decided not to dedicate an official post to the recipe.  Instead, I am sharing these Granola Bars with Coconut, Currants and Almonds.  I made a batch of these before my move and enjoyed one each morning.  Made with golden oats, shredded coconut, toasted almonds, dried currants, honey and spices, these granola bars are crunchy, sticky and completely addicting.  After tasting these yummy snacks, you'll never buy them from the grocery store again.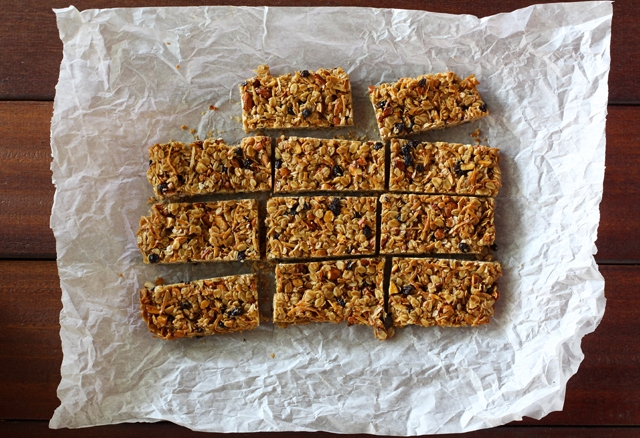 Granola Bars with Coconut, Currants and Almonds
Ingredients
1/4

cup

canola oil, plus additional for the greasing pan

2

cups

rolled oats (not instant oatmeal)

1

cup

shredded unsweetened coconut

1/2

teaspoon

cinnamon

1/4

teaspoon

freshly grated nutmeg

1/4

teaspoon

fine grain sea salt

1

cup

almonds, lightly toasted

1/3

cup

currants (or raisins)

1/2

cup

honey

1

teaspoon

vanilla extract
Instructions
Preheat oven to 325°F. Line a baking sheet with parchment paper or a silpat and set aside. Lightly oil a 9 by 13 baking dish (rub oil all around), line with parchment paper, then lightly oil the parchment paper. Set aside.

In a medium bowl, combine canola oil and rolled oats, tossing until all oats are coated and glistening. Spread the oats out on the prepared baking sheet in an even layer. Toast in the oven for about 20 minutes, stirring at 10 minutes. You will know the oats are done when they darken a bit and become aromatic.

Return the toasted oats to the same bowl and add coconut, cinnamon, nutmeg, sea salt, almonds and currants, stirring to combine. Reduce oven to 300°F.

In a large pot, add honey and vanilla, and bring to a boil over medium heat. Reduce heat to low and simmer for 5 minutes. Remove from heat and stir in oat mixture until everything is well coated in the honey.

Scrape the oat mixture into the prepared baking dish and spread into an even layer. I found the best way to do this was with my hands and a piece of parchment paper. Bake for about 25 minutes in the oven or until just golden. If the bars bake for too long, they will become too crunchy, so start checking for doneness around 20 minutes.

Cut the granola into 12 bars. Store in an airtight container for about 1 week on the counter (if they last that long!).
Tried this recipe?
Tag @brandiego on Instagram so I can check it out!
4