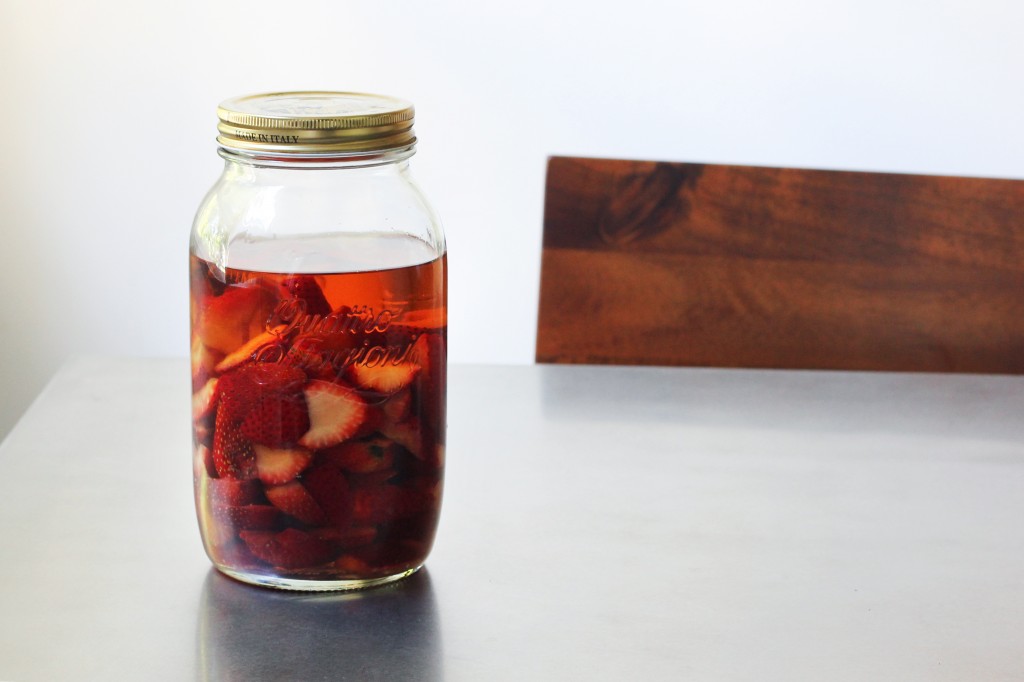 This post may contain affiliate links.
So this is my first official post featuring photography in my new space 🙂  With most of my boxes unpacked, I've reached the "buy new stuff" phase of my move, trying to fill in bare spots in my living room and kitchen.  After assembling the dining table shown above, I almost immediately felt compelled to use it as the setting for my next photo shoot.  I just love how the stainless steel surface gleams in the light flooding in from my kitchen window.
To my dismay, I opened my fridge earlier in the day to notice a bounty of ruby red strawberries looking all sorts of bruised and battered.  After a quick scalping, I popped a small, slightly soft strawberry into my mouth.  Sweet, tart and perfectly ripe.  With no chance of winning the prettiest produce award, the rest of the strawberries were promptly sliced and tumbled into a large mason jar.  You see the great thing about alcohol infusions is that prettiness is not required.  Everything looks good after a healthy dose of bourbon 🙂  Continue reading for the recipe.
Try using this Strawberry Infused Bourbon to put a twist on some classic cocktails:
Strawberry Old Fashioned (in a glass, dissolve 1 tsp. sugar in 3 dashes Angostura bitters and a few drops of water, add 2 oz. infused bourbon, stir to combine, finish with ice, garnish with a strawberry)
Strawberry Mint Julep (muddle 2 tsp. simple syrup and 8 mint leaves in a cocktail shaker, add 2 oz. infused bourbon and ice, shake until chilled, strain into a glass piled high with finely crushed ice, garnish with mint)
Strawberry Manhattan (add 2 oz. infused bourbon to a cocktail shaker with 1 oz. sweet vermouth, 2 dashes Angostura bitters and ice, stir until well chilled, strain into a chilled martini glass, garnish with a lemon twist)
Strawberry Sour (combine 1 1/2 oz. infused bourbon, 3/4 oz. simple syrup, and 3/4 oz. lemon juice in a cocktail shaker with ice, shake until well chilled, strain into a glass with ice, garnish with lemon wedge)
Enjoy 🙂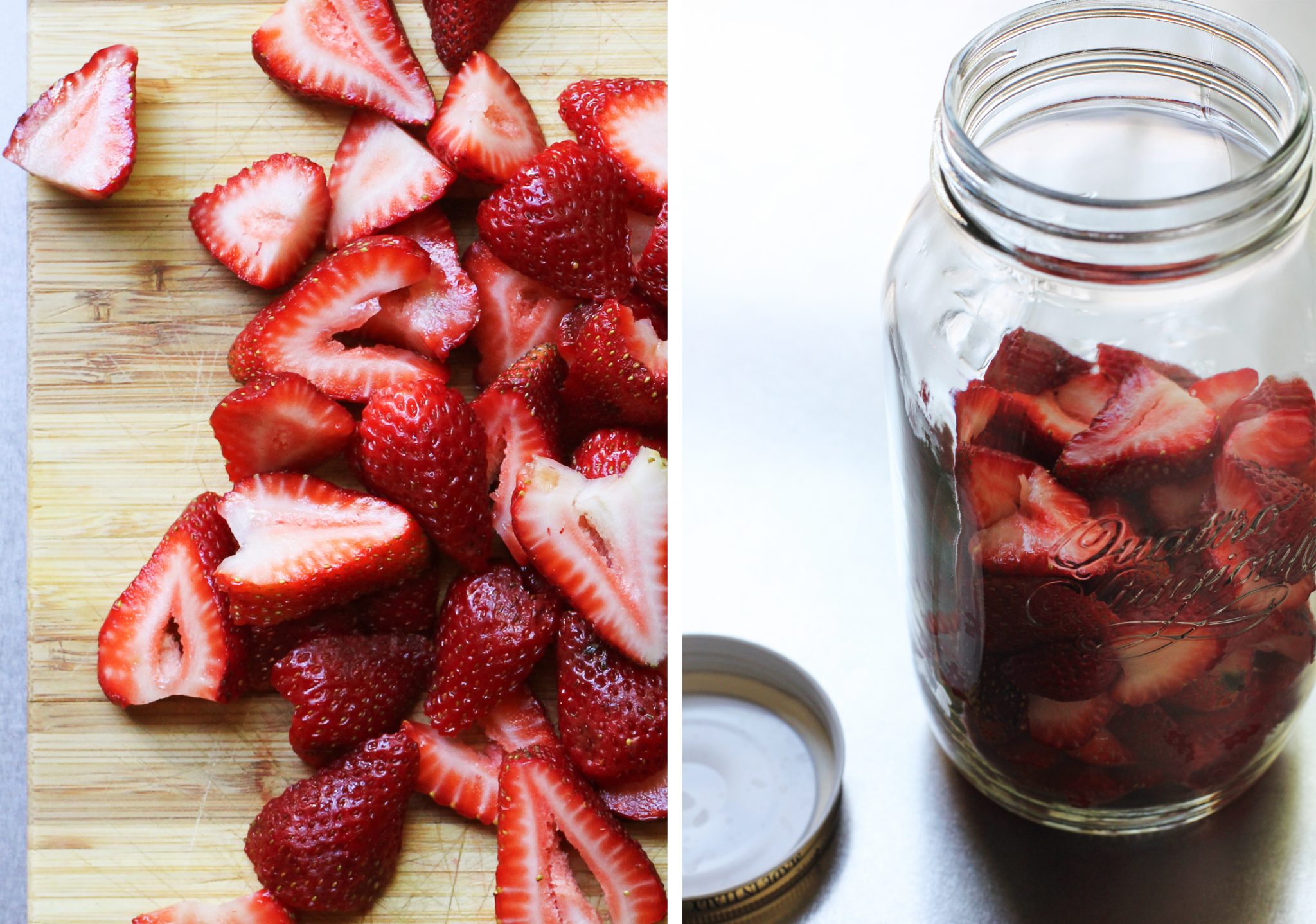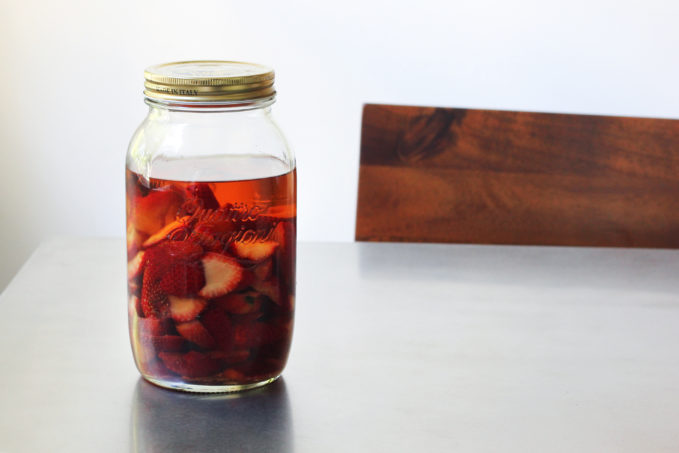 Strawberry Infused Bourbon
Ingredients
Ripe organic strawberries (I used just over a pound)

750

ml

good bourbon*
Instructions
Wash, dry, hull and slice all strawberries. Place in a large, airtight jar then cover with bourbon. Seal the jar and let steep for 7 days in a cool, dark spot. Give the jar a good shake every two days.

Strain the bourbon into a clean jar or bottle through a fine mesh basket strainer lined with a layer of cheesecloth.** Discard solids.
Notes
*No need to bust out your small-batch, ultra-aged, super-special bourbon for this recipe. Just make sure you don't use anything from the bottom shelf.
** You want to be certain that you strain out all of the solid materials from the bourbon. Any leftover particles will breakdown over time and have an adverse affect on the taste. You should strain out the bourbon with a fine-mesh basket strainer or a coffee filter. Store in the refrigerator for up to 2 to 3 months.
Tried this recipe?
Tag @brandiego on Instagram so I can check it out!
22