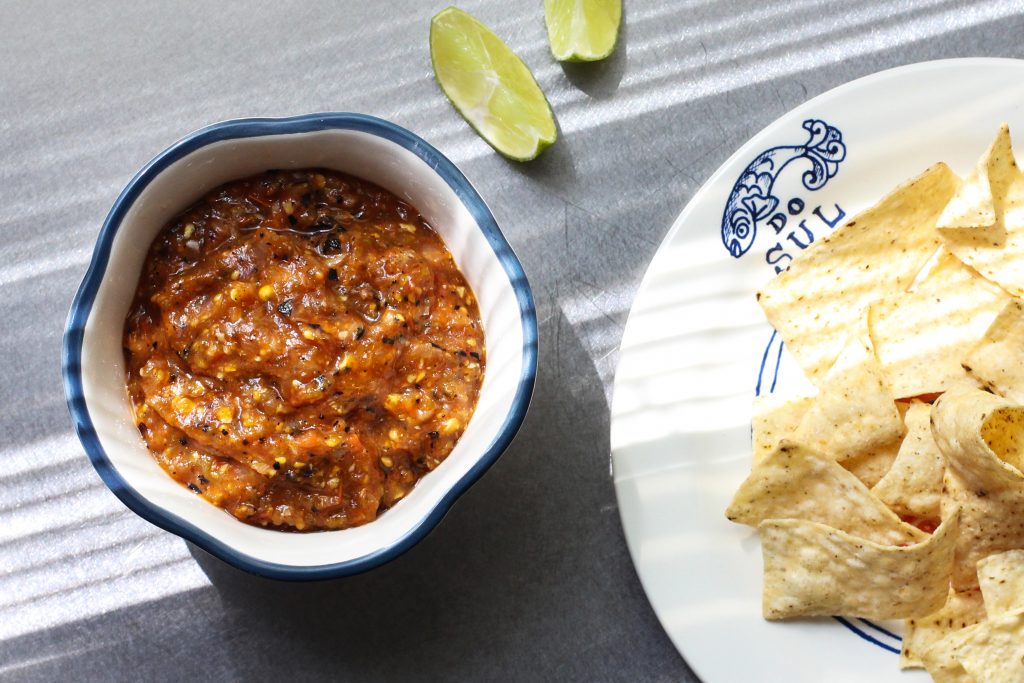 This post may contain affiliate links.
Flecks of charred chile, shallot and tomato dot the surface of this vibrant, full-flavored sauce.  Sweet.  Spicy.  So aromatic.  The star attraction of my Blackened Salsa?  Hatch chiles.  Hailing from Hatch, New Mexico, these chiles are one of my favorite seasonal ingredients.  Available from mid August to late September, hatch chiles are a spicy-sweet capsicum that truly have a distinct flavor.  It's similar to an Anaheim chile, but with the volume turned up.  Hatch chiles benefit from a good fire-roasting as the smoke rounds out the chile's sweet heat.  Plus, your kitchen will be filled with the most intoxicating aroma while the chiles blister and blacken under the broiler.  It's soooooo good.  Continue reading for the recipe.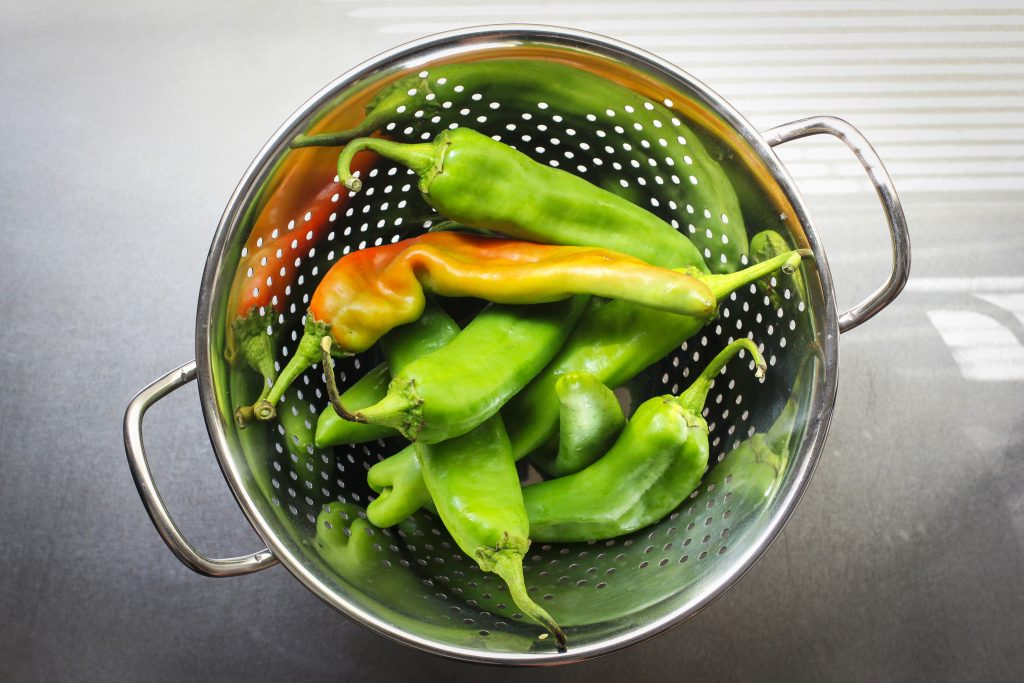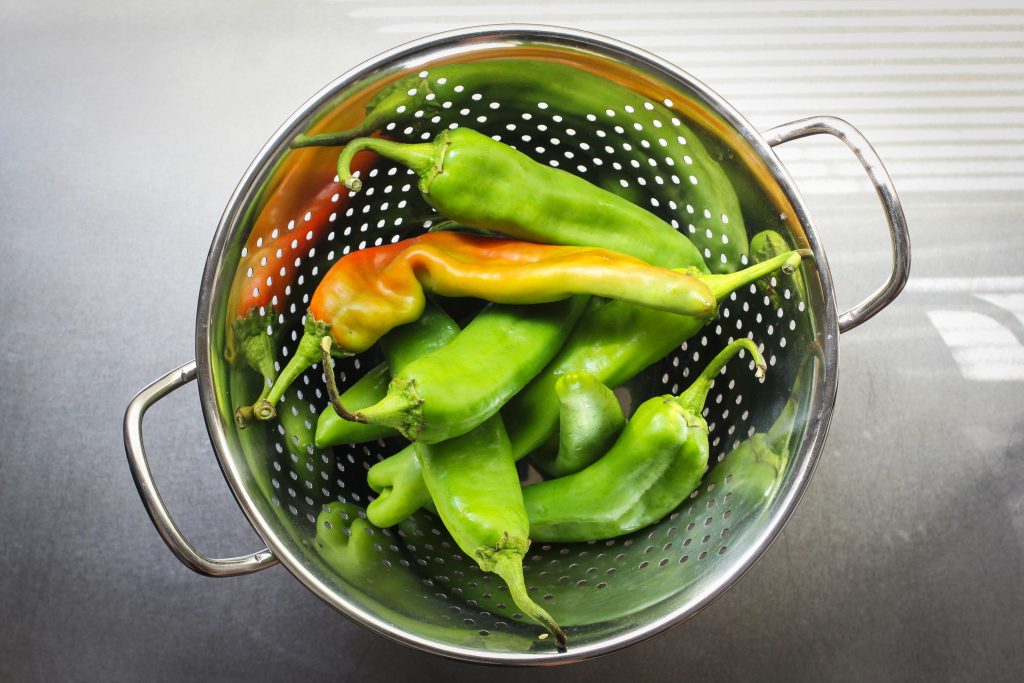 I first started experimenting with hatch chiles two years ago.  I roasted a number of chiles over an open flame, then coarsely chopped with onions and garlic to create a bold burger topping.  The results?  Absolutely scrumptious.  I was hooked.  Now, when hatch chile season comes around, I buy a huge bag of them from the market, and use them in as many ways possible.  This year… Blackened Salsa.
If you can't find hatch chiles at your local market (Whole Food for sure has them), you can use jalapenos or Anaheims for this recipe (or a combination of the two!).  Leftover hatch chiles can be roasted, peeled and frozen for future use.  This is exactly what I'll be doing this weekend 🙂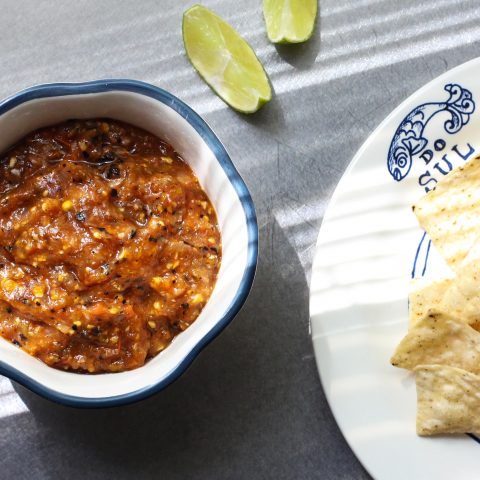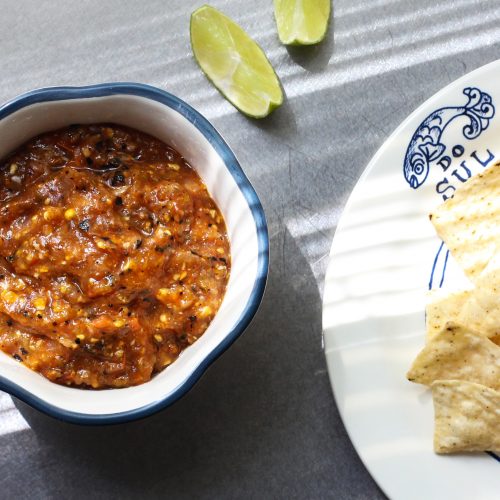 Blackened Salsa
Ingredients
2

hatch chiles (you can use jalapeños or anaheim chiles instead)

2

medium shallots, peeled but left whole

6

cloves

garlic, unpeeled

1

pound

cherry tomatoes

2

teaspoons

sherry vinegar (red wine vinegar works well here too)

2

teaspoons

freshly squeezed lime juice, plus more to taste

3/4

teaspoon

kosher salt, plus more to taste

1/4

cup

water, plus more for thinning
Instructions
Set a rack in the oven as close as possible to the broiler. Preheat broiler on high.

Place hatch chiles, shallots, garlic, and cherry tomatoes on a rimmed baking sheet. Set the baking sheet under the broiler and cook until everything is nicely blackened all over. Take the pan out occasionally and flip the vegetables to ensure even blackening. This process took me almost 20 minutes.

Take the pan from the broiler and set aside the hatch chiles and garlic. Place remaining vegetables in a food processor and let cool. Once the chiles and garlic are cool enough to handle, remove the stems from the chiles and slice open. Scrape out seeds and set them aside. Place the chiles in the food processor. Peel the skins from the garlic. Discard skins and place garlic in with the rest of the vegetables.

Once cooled, pulse the vegetables a few times, then add sherry vinegar, lime juice, kosher salt and water. Continue pulsing until everything is well combined. The mixture should be chunky.

Next, taste for seasoning. If you feel that the flavors need a little lift, add more salt (I added a few more pinches) and lime juice. If you want to bump up the heat level of the salsa, gradually add hatch chile seeds (I added about 3/4 of the reserved seeds). If you find that your salsa is too thick, thin out with a little water. Store salsa in the refrigerator for 2 to 3 weeks.
Tried this recipe?
Tag @brandiego on Instagram so I can check it out!
Related articles and recipes:
Green Chile and Pepperoni Pizza
7