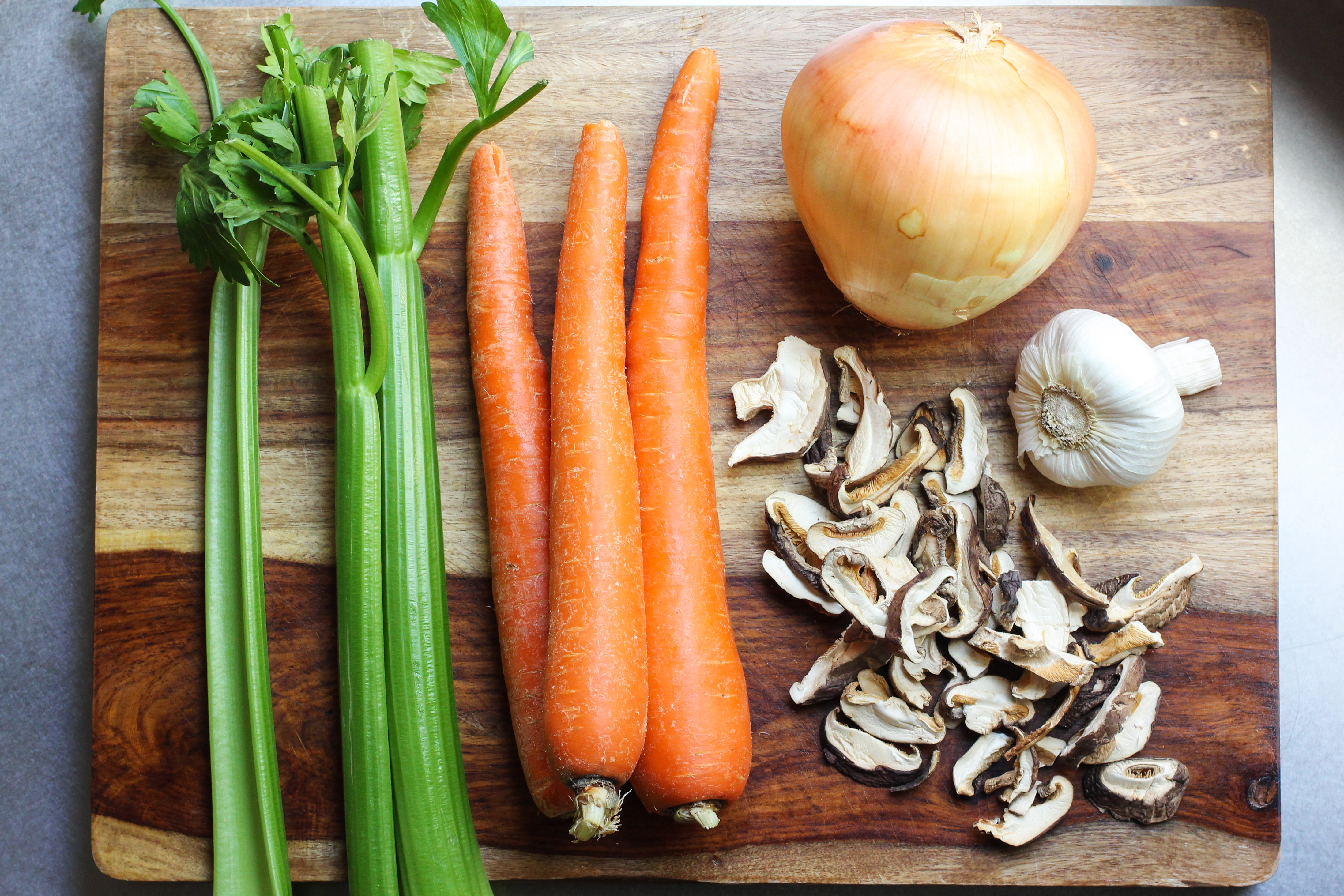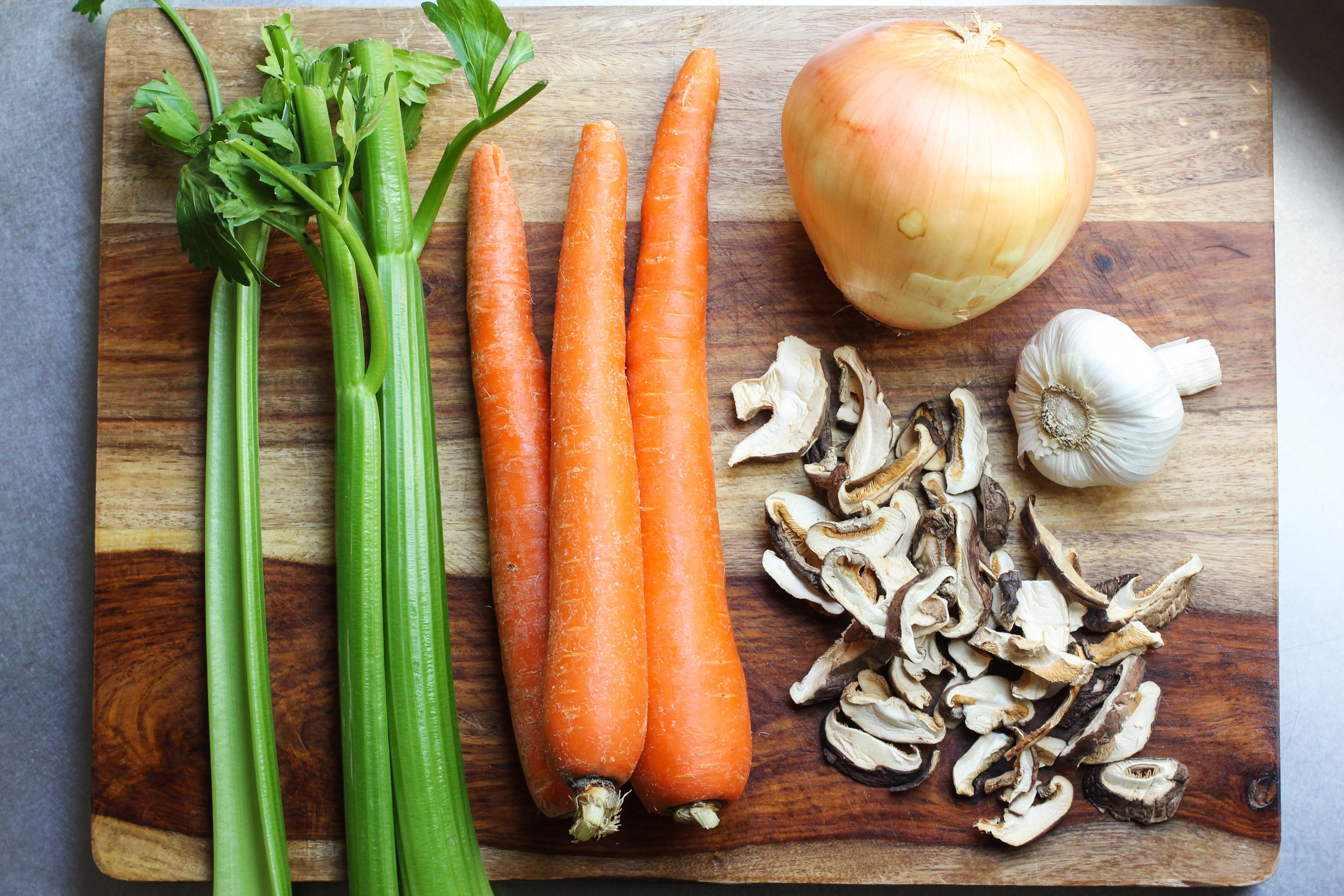 This post may contain affiliate links.
Today I'm going to share illustrated step-by-step instructions on how to make the most amazing chicken stock you'll ever have.  I decided to go into great detail with this recipe because it really is a game-changer.  I made the transition from canned stock to homemade last year and I'll never turn back.  Use stock as a flavorful base to soups, sauces, risottos and grains (just to name a few).  If you start with a super tasty stock, your end result is almost guaranteed to be delicious.
A few notes about this recipe:  The amount of steps may seem a bit daunting, but really, the process breaks down into four easy techniques – prep, caramelize, simmer, strain.  Simply spend a few hours (mainly unattended) on a Sunday afternoon making this recipe and you'll have flavorful stock at your fingertips for a month.  I should also mention that I don't add salt to my stock.  I prefer to salt whatever the stock is going into.  Continue reading for a comprehensive guide to my homemade chicken stock.
Start by peeling 3 carrots and removing the skin from 1 onion.  Also trim root and leafy ends from 3 stalks of celery.  Roughly chop carrot, celery and onion.  Precision is not needed here.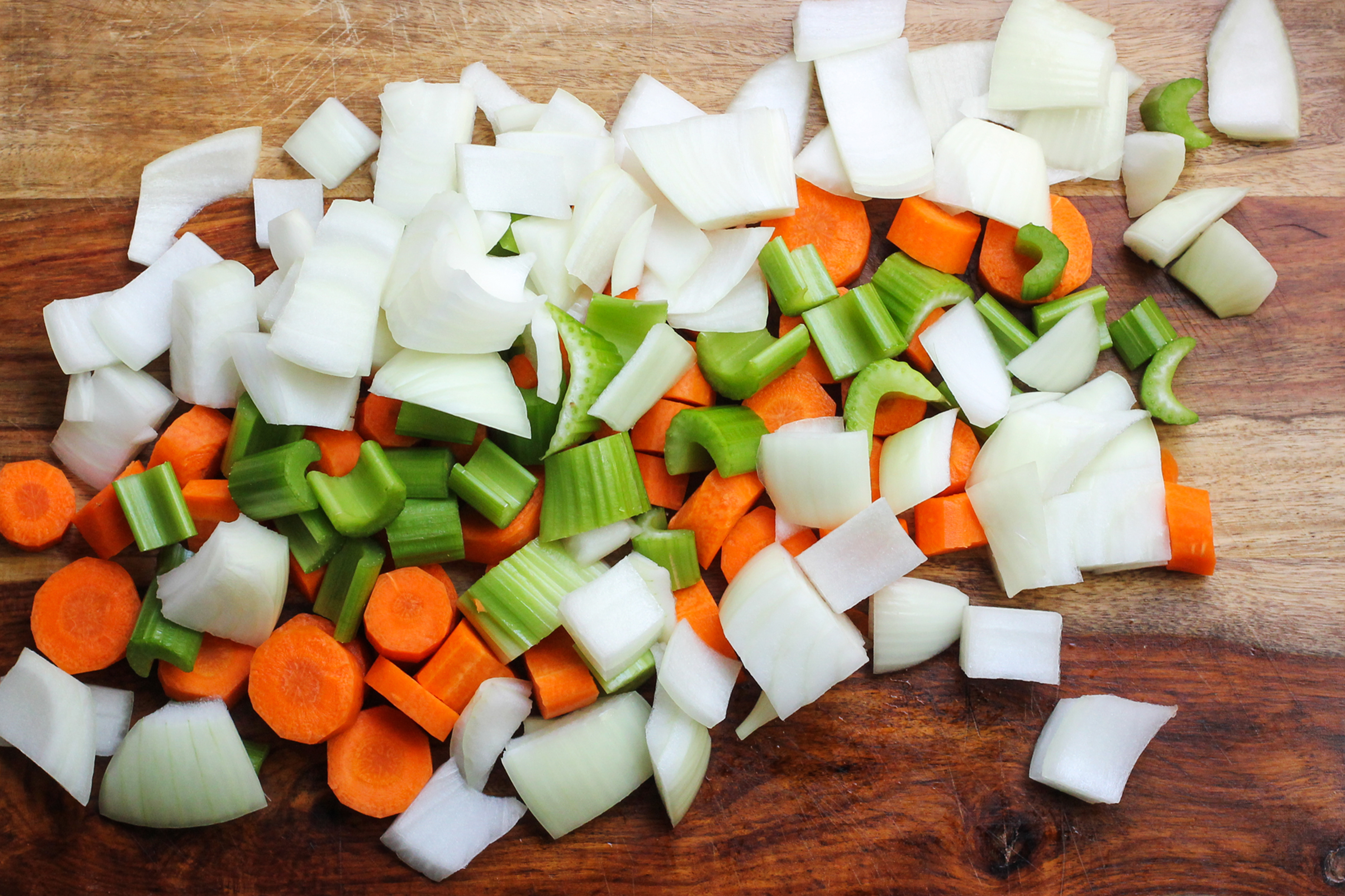 Next, cut the entire head of garlic in half widthwise.  Keep the skin on the garlic, but discard any loose bits that may fall off.  Quickly rinse any grit off 1 ounce of dried mushrooms (I used shiitake), then shake off excess water.  These vegetables provide a flavorful base for the stock.  The mushrooms will add a distinct savoriness (umami).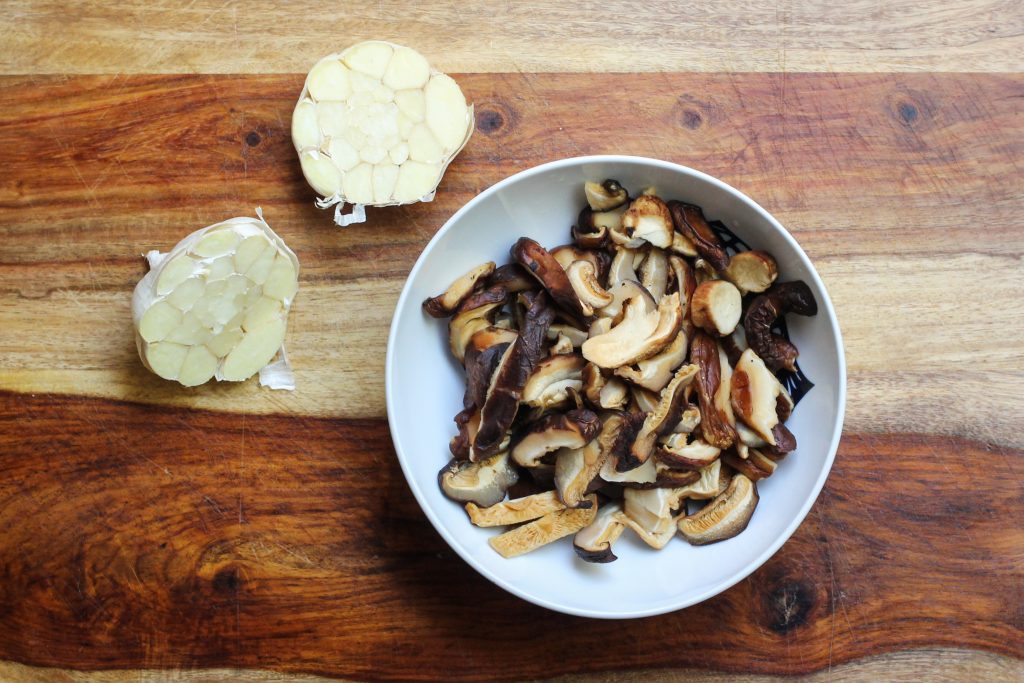 Rinse fresh herbs including 6 sprigs of parsley, 6 sprigs of thyme, 3 fresh bay leaves and a handful of basil leaves.  Herbs will add a little complexity without overpowering the chicken flavor.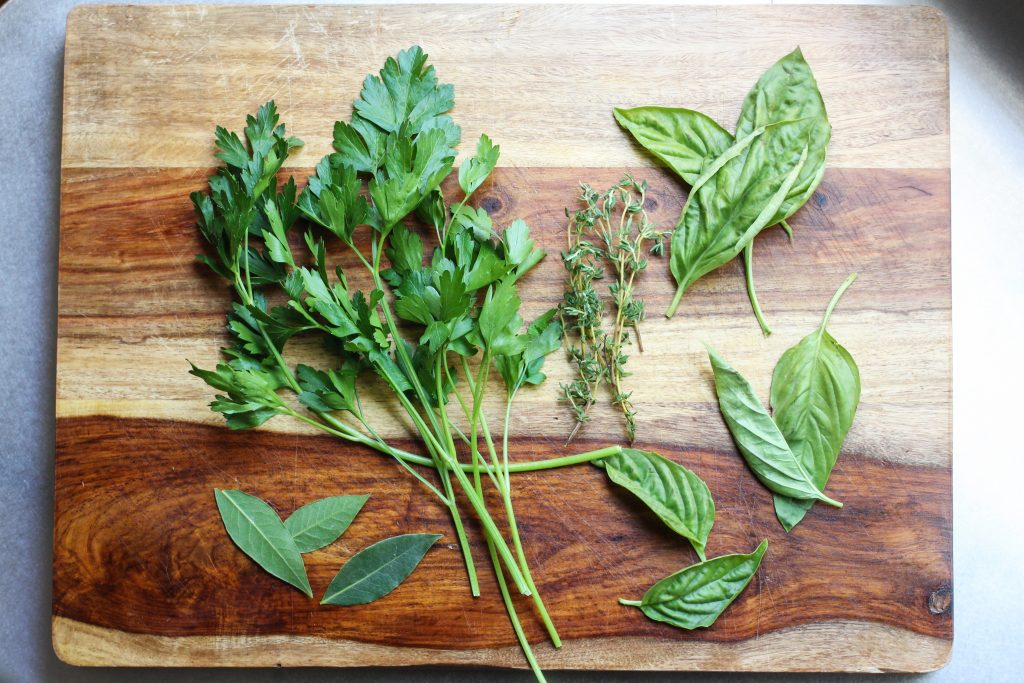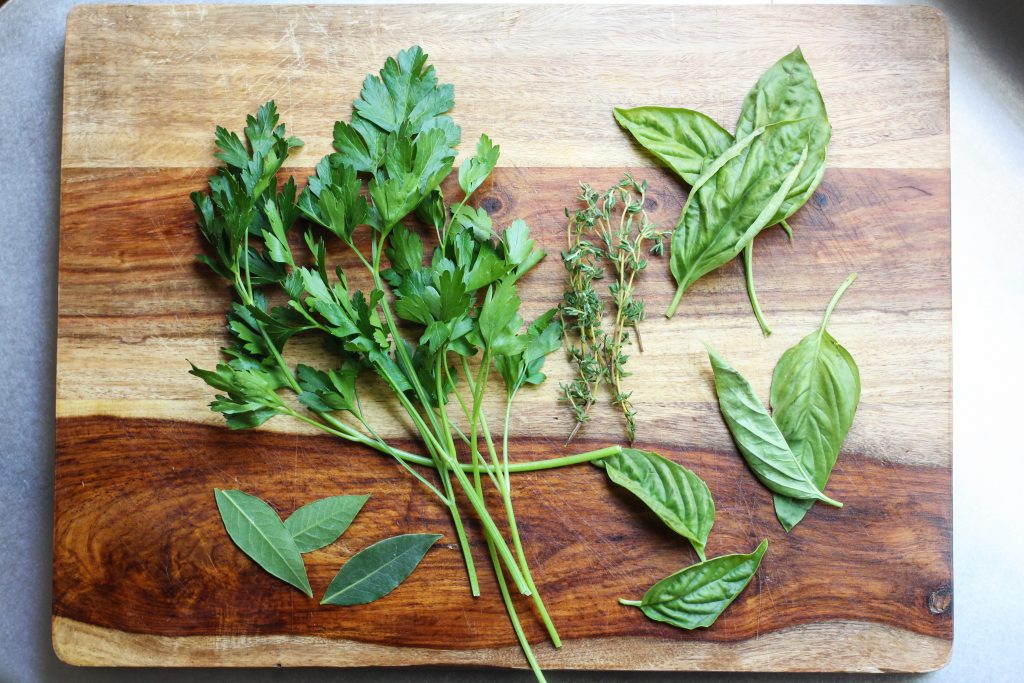 Warm 3 tablespoons of unsalted butter and 1 tablespoon of olive oil over medium heat in a large stock pot (mine is 16 quarts).  The olive oil will keep the butter from burning.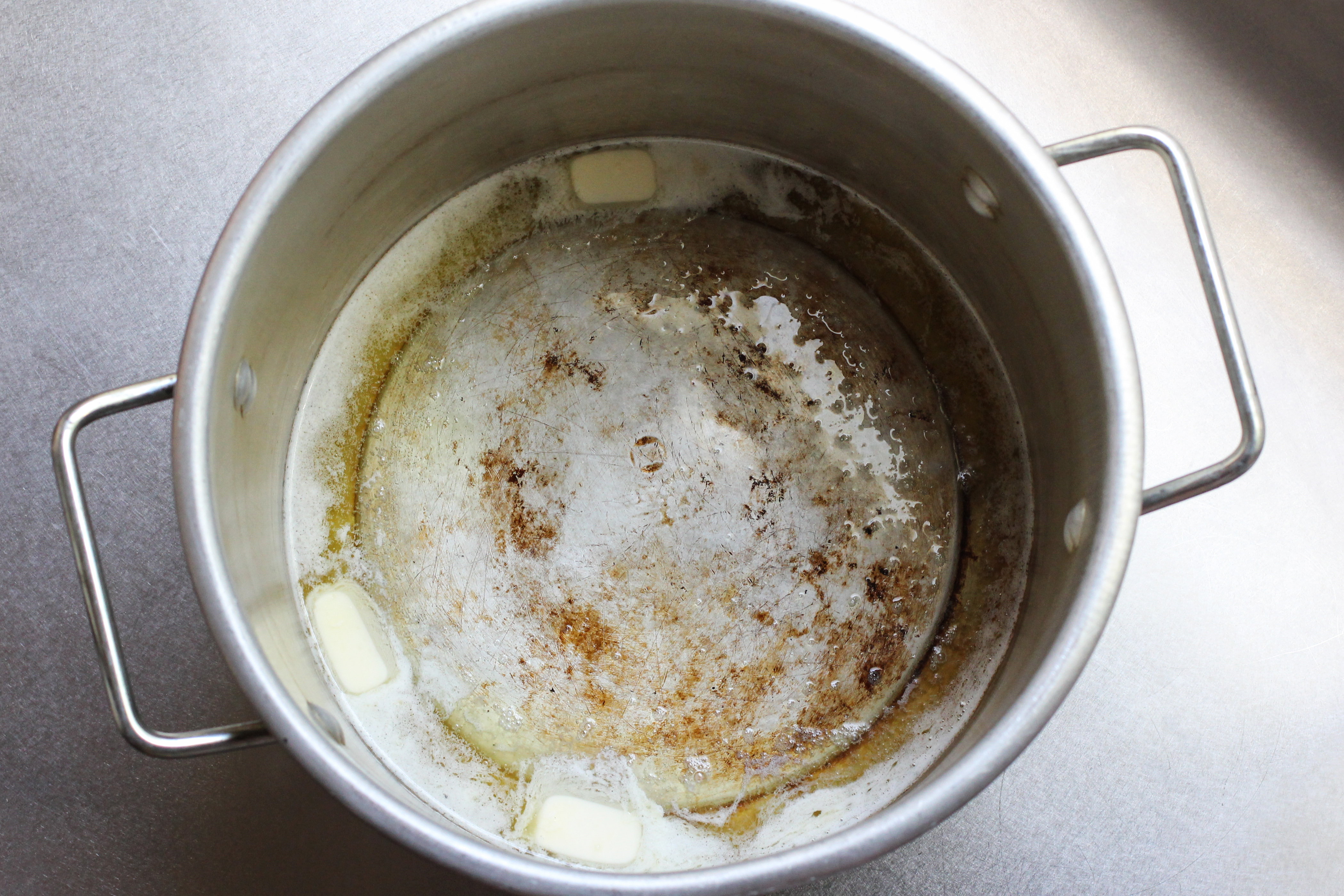 Once the butter starts foaming, add the carrot, celery, onion, garlic and mushrooms, stirring to coat vegetables in the fat.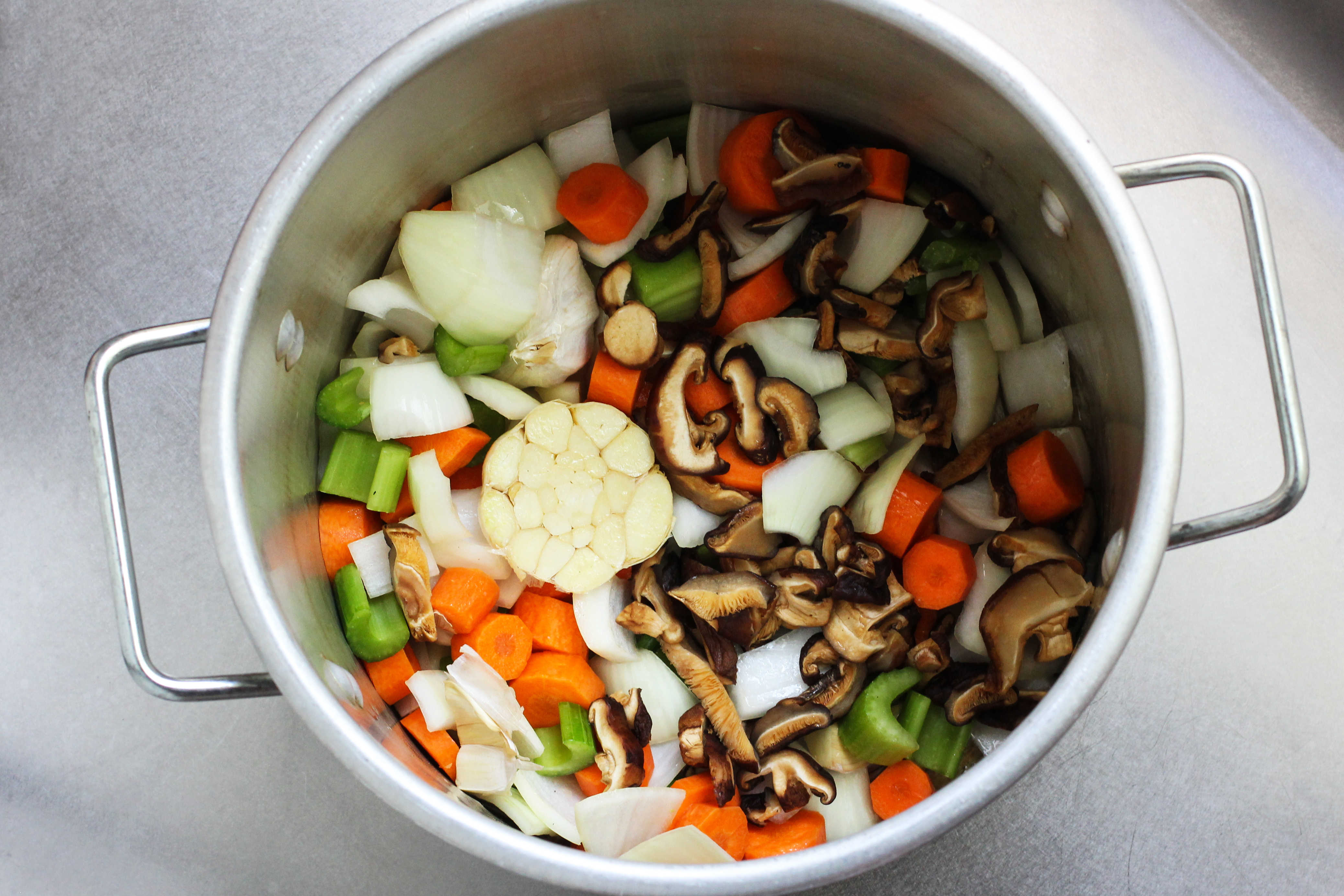 Let the vegetables cook for a few minutes without moving them.  Eventually the vegetables will release water, the water will cook off and then the vegetables can start caramelizing.  While the veg is cooking, wrap the herbs up in a bundle and secure with cooking string.
Also, place 1 tablespoon black peppercorns in a small, dry skillet (no oil).  Warm over medium heat until fragrant (about 2 – 3 minutes).  Once toasted, transfer to a small bowl.  Toasting whole spices is an easy way to bump up flavor.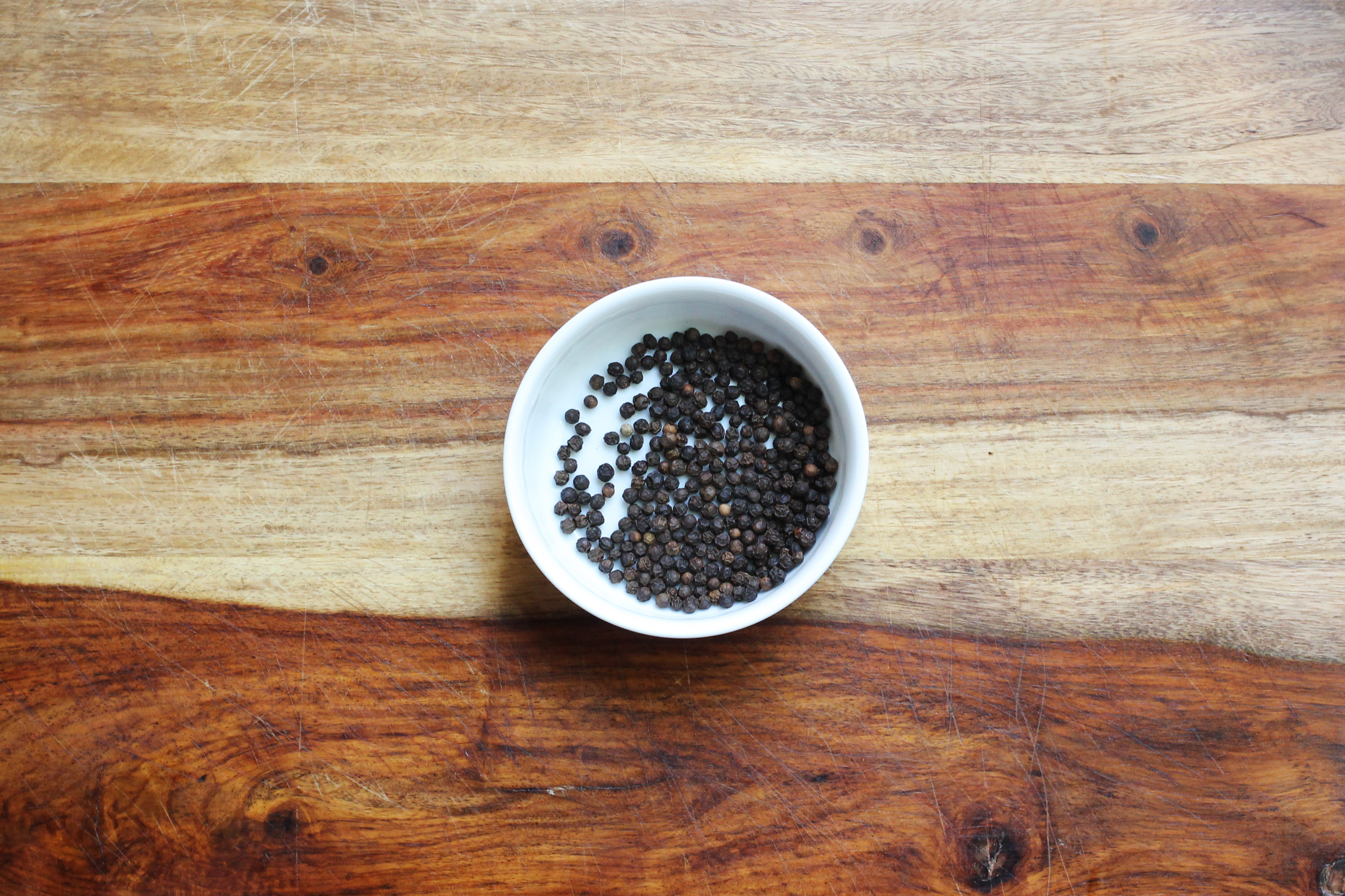 Once the vegetables start caramelizing (turning golden brown), stir every few minutes.  Caramelization = flavor.  If you are constantly stirring, the caramelization process can take a while, so resist the urge.  You probably won't be able to caramelize all the bits and pieces, but try to get some color on most of them.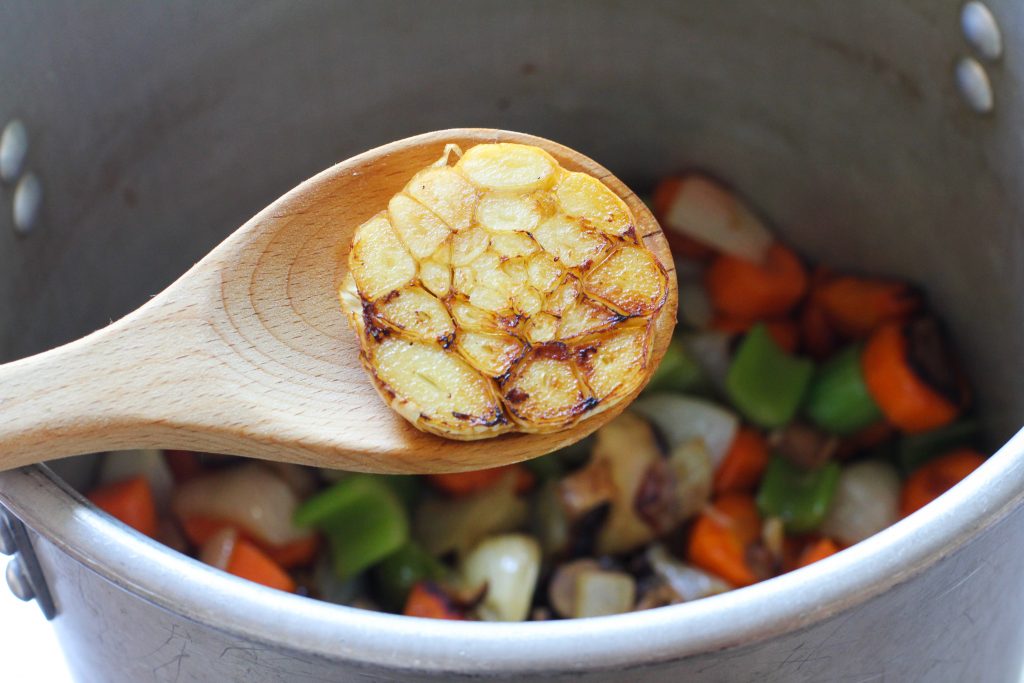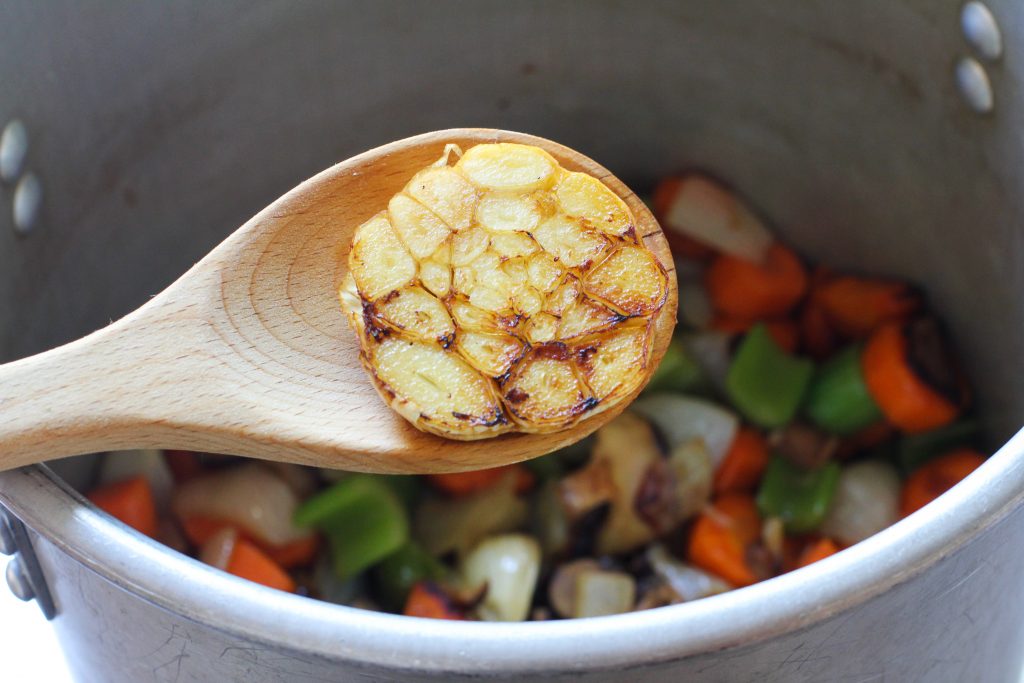 If you notice that your vegetables are burning quickly, you probably have the heat too high.  Drop the heat a bit and continue cooking.  I move on to the next step once I start feeling the vegetables stick to the bottom more frequently (10 – 15 minutes).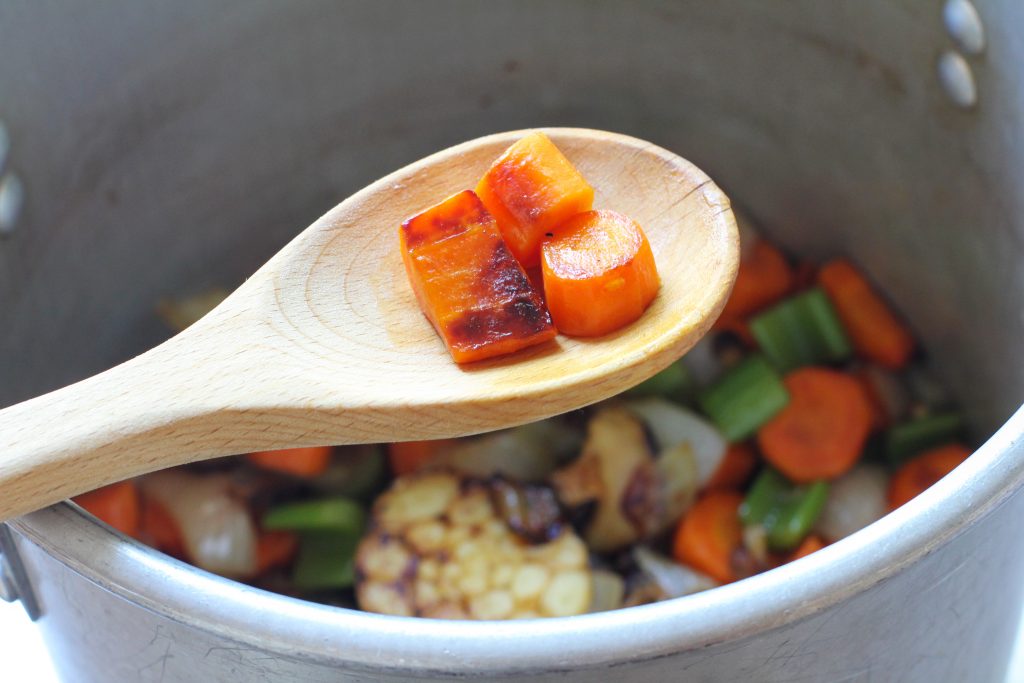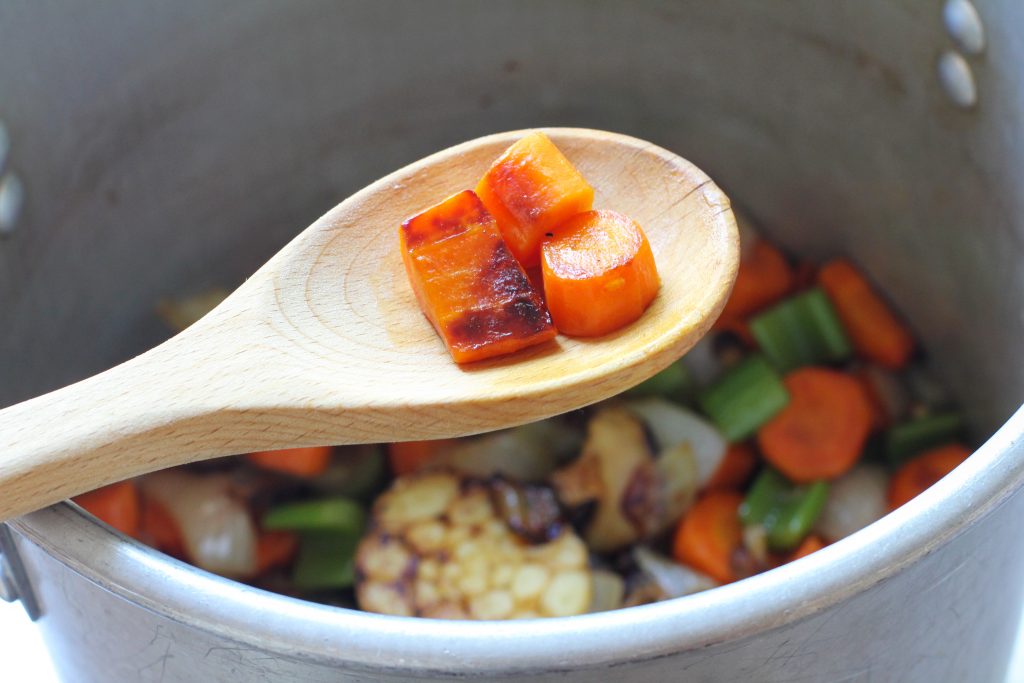 This is how my pot looks by the end of the caramelization process.  The bottom may look burnt, but it's not.  Those brown bits are pure flavor.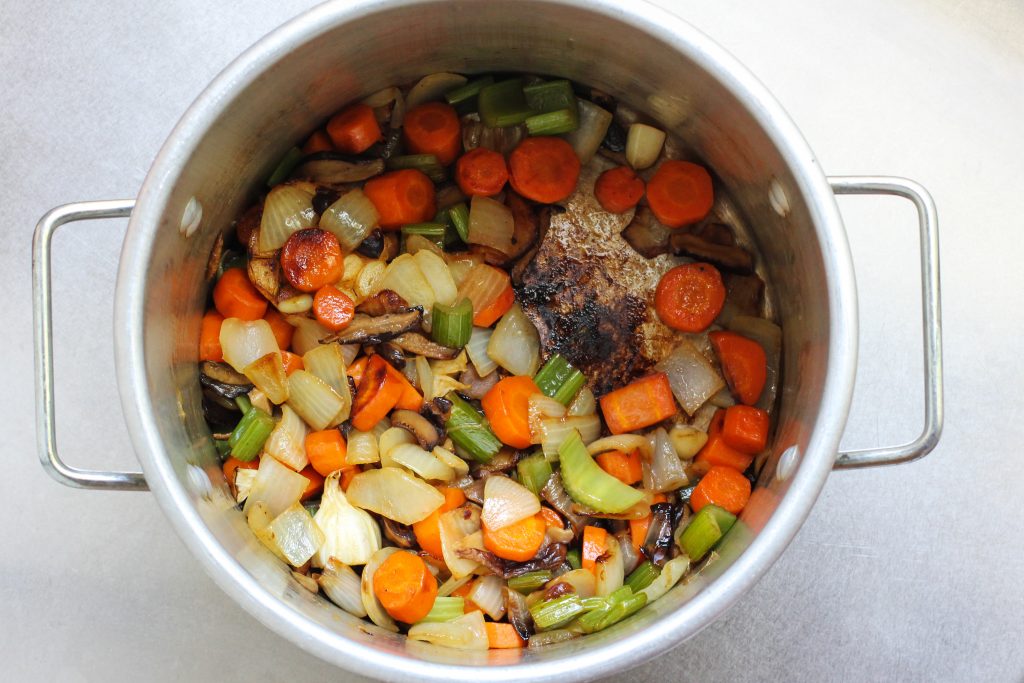 Next, deglaze the pan with 1 cup of dry white wine (I use sauvignon blanc).  This means, pour the wine into the pot and scrape the bottom with a wooden spoon, releasing all of the brown bits from the bottom.  Stir then cook until most of the liquid has cooked off.
Now add herb bundle and toasted peppercorns.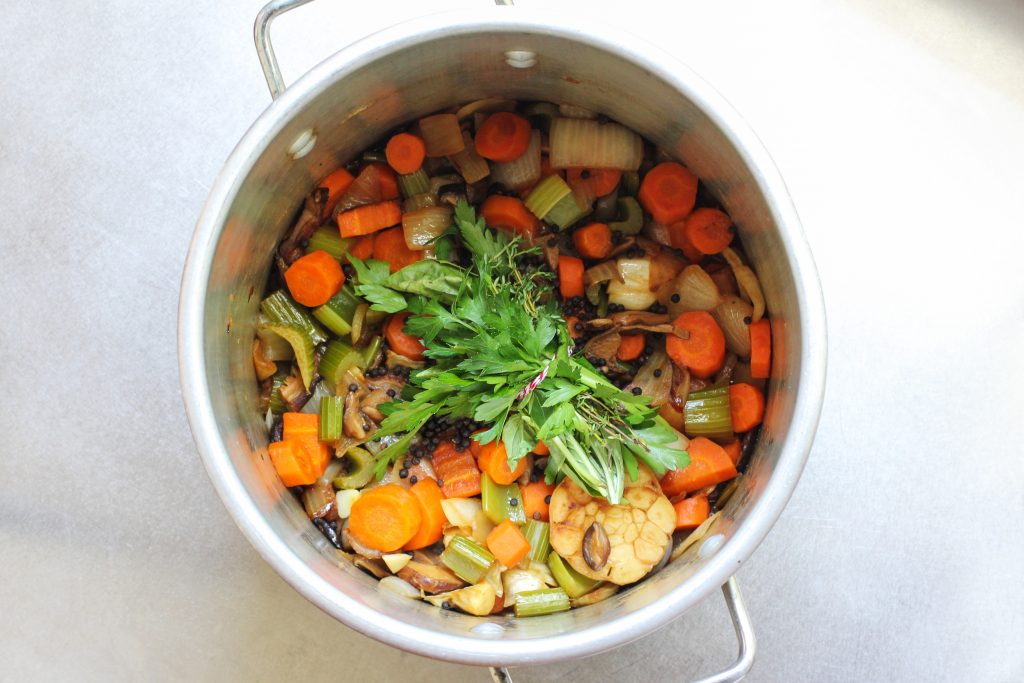 Top with two chicken carcasses.  When I make roast chicken, I save all of the bones in a large plastic bag.  I then store that bag in the freezer.  Once I have collected bones from two chickens, I make chicken stock!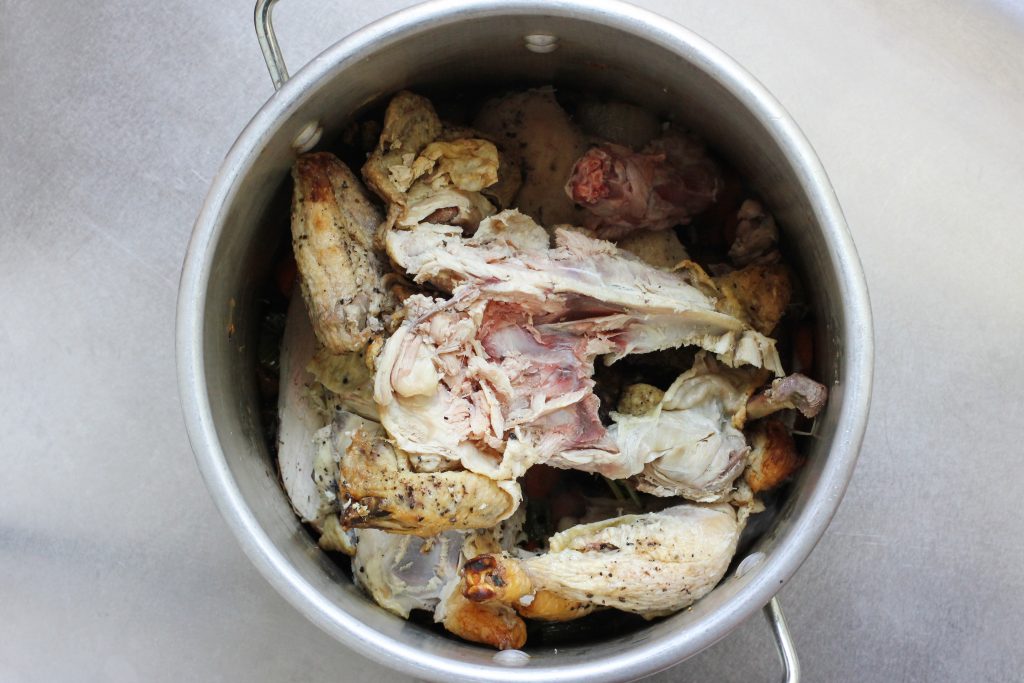 Pour over water to cover everything.  I usually use 16 to 18 cups of water.  If you use too much water, you can dilute the flavor of your stock.  So just fill up the pot until it reaches the top of the carcasses.
Increase heat to medium-high and cook until small bubbles start coming to the surface (this can take about 10 minutes).  Do not bring the mixture to a boil.  If you cook the stock violently, the water movement will cause the vegetables and chicken to break down.  These small bits are difficult to strain and will cloud your stock.  Once you start to see bubbles coming to the surface, drop the heat to low and simmer for 2 1/2 hours.  Do not stir the stock.  This will also cloud your finished product.  During the first 10 minutes of cooking, skim off any gray bubbles that float to the surface.  You don't have to stress and skim everything.  Just try to remove most of it.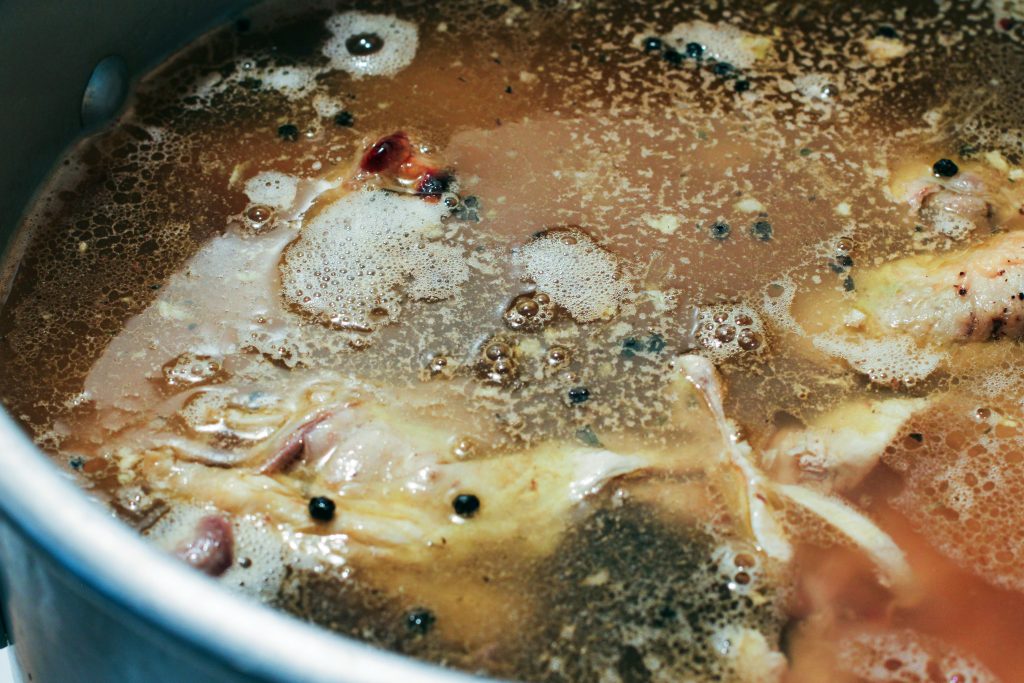 After the stock has simmered for 2 1/2 hours, remove it from the heat.  Next, strain the stock once with medium-mesh strainer then again with a fine-mesh strainer.  There are many ways to do this.  I'll walk you through my process.  I like to start by scooping the large solids into a medium-mesh strainer set over a large bowl with a pour spout.  I gently press on the solids to extract all liquid.  I then discard the solids.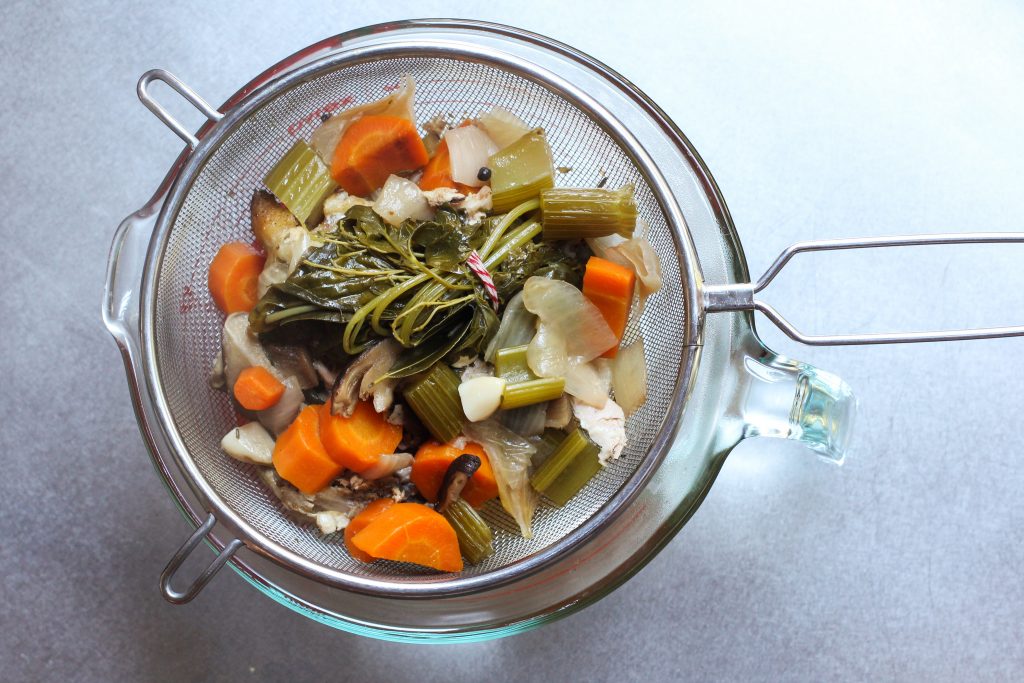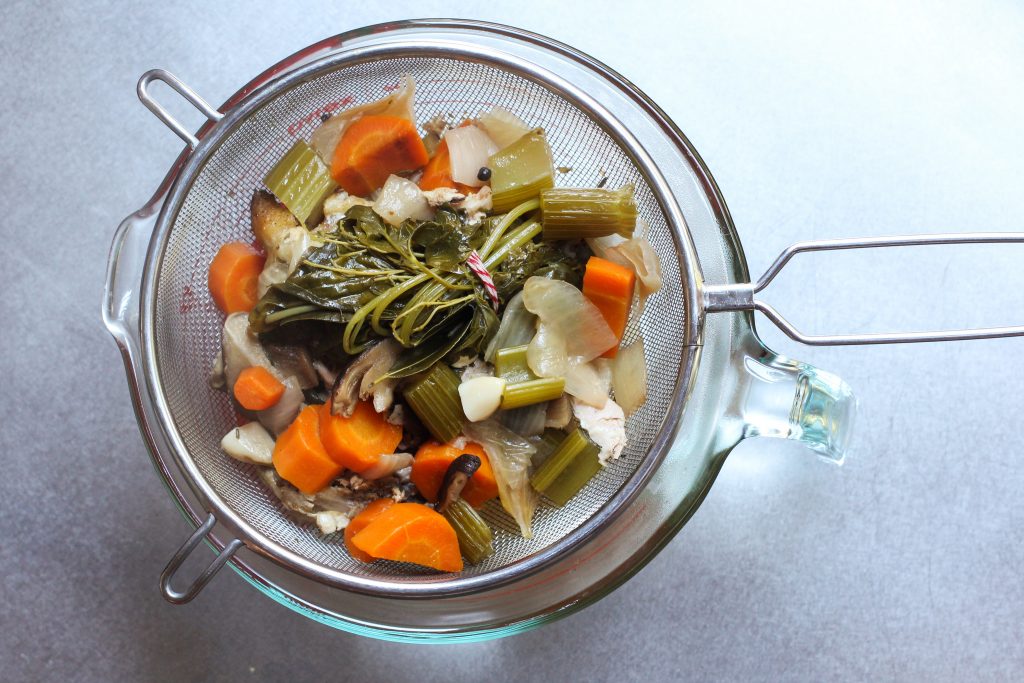 Once most of the large solids have been strained, I pour the stock through the medium-mesh strainer into the big bowl with pour spout until 3/4 full.  Then, I pour the liquids through a fine-mesh strainer into a large metal bowl.  I repeat this process until all stock is double strained.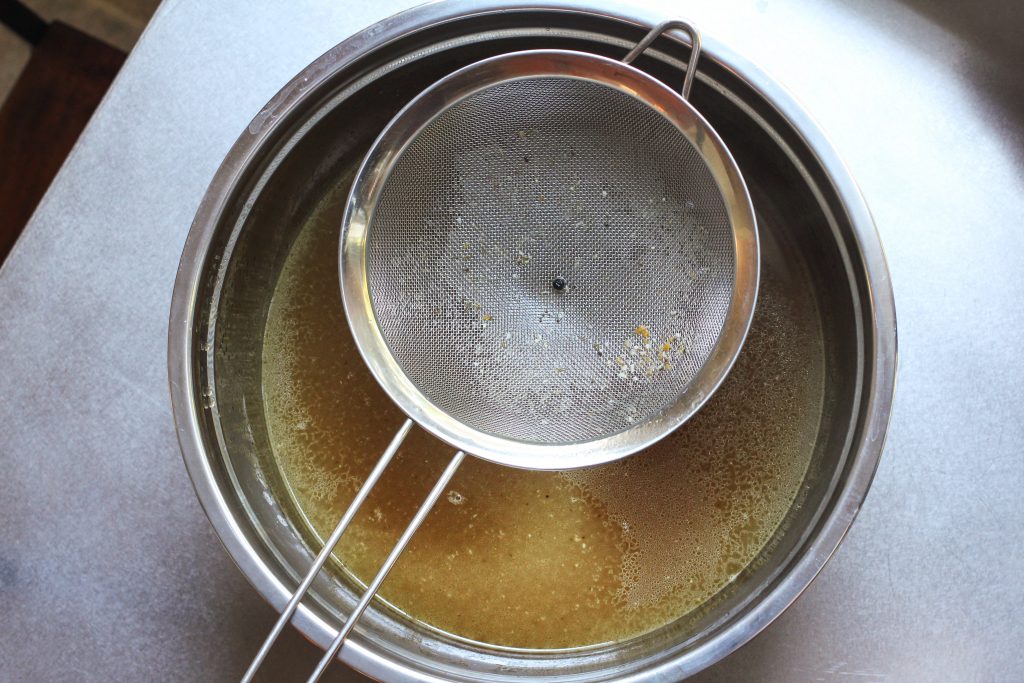 At this point, you have two options.  You can let the stock cool on your counter for a few hours or rapidly chill in an ice bath.  You don't want to put the hot stock directly into your refrigerator.  This can cause harmful bacteria to grow and also drop the temperature inside your refrigerator (potentially harming other contents).  If you want to rapidly chill your stock, fill up your sink with cold water and a lot of ice.  Float the metal bowl in the ice bath. Stir occasionally until stock is chilled.  Once stock is cooled, cover and refrigerate overnight.  This will cause the fat to rise to the surface and congeal (for easy removal).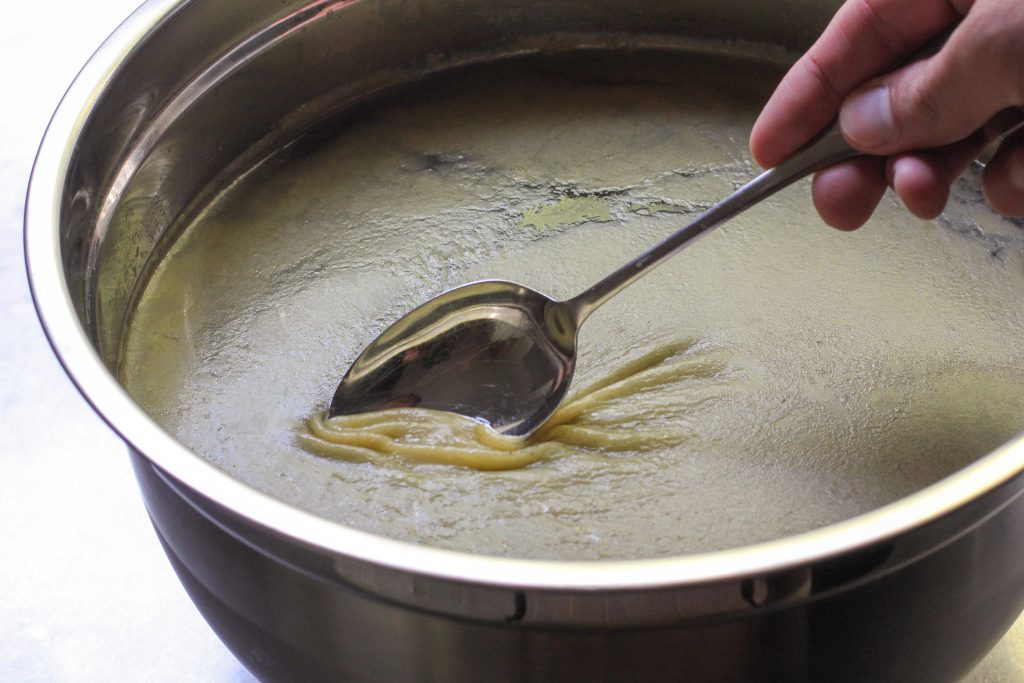 Using a large spoon, skim off congealed fat and discard.  It's not the end of the world if you don't skim off all of the fat.
At this point, I like to measure out 2 cups of stock and pour into ziplock bags.  I then transfer these bags to the freezer for later use.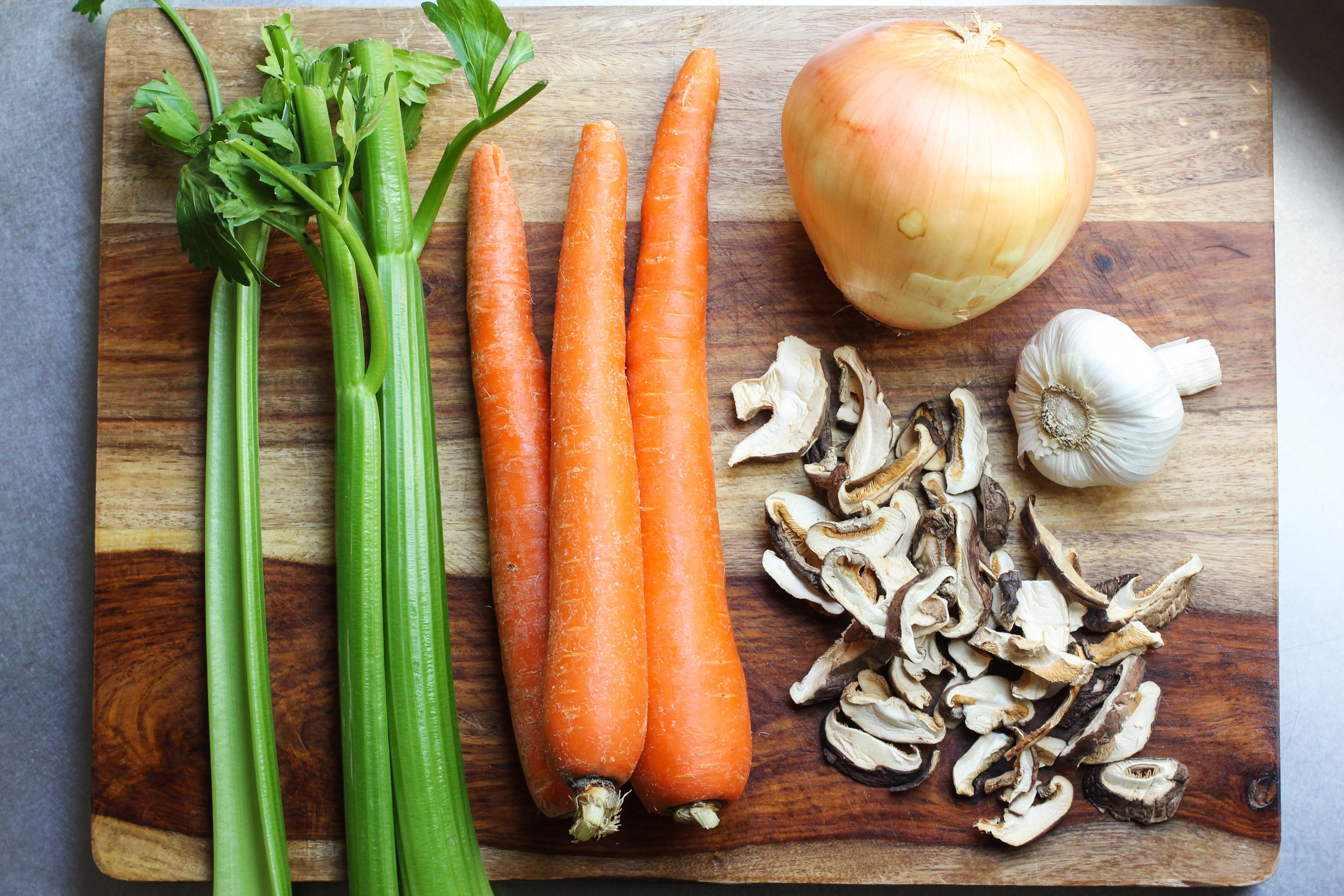 Chicken Stock Recipe
Ingredients
3

tablespoons

unsalted butter

1

tablespoon

olive oil

3

large carrots, peeled and roughly chopped

1

large onion, peeled and roughly chopped

3

large celery stalks, roughly chopped

1

head garlic, cut in half widthwise

1

ounce

dried mushrooms (I used shiitakes, lightly rinsed)

6

sprigs thyme

6

sprigs flat leaf parsley

A handful of basil leaves

3

fresh bay leaves

1

cup

dry white wine (such as sauvignon blanc)

1

tablespoon

black peppercorns, toasted

2

chicken carcasses

16 to 18

cups

water (or enough to cover)
Instructions
Warm butter and oil over medium heat in a large (16 quart) stock pot. Once the butter starts foaming, add carrots, onion, celery, garlic and mushrooms, stirring to coat in fat.

Let the vegetables cook for a few minutes until they start to caramelize (no stirring!). Once you see the vegetables getting some color, stir. Repeat this process until a good portion of the vegetables are caramelized (10 to 15 minutes).

While the vegetables are cooking, bundle up thyme, parsley, basil and bay, securing with kitchen string.

Add white wine to the stock pot and scrape up any brown bits stuck to the bottom. Let simmer until most of the liquid cooks off.

Add herb bundle, toasted peppercorns, chicken carcasses and water. Increase heat to medium-high and cook until you start seeing bubbles rise to the surface (10 to 15 minutes). Do not boil! Drop heat to low and cook for 2 and 1/2 hours without stirring. Skim off any foam that may rise to the surface during the first 10 minutes of cooking.

Carefully strain the stock through a medium-mesh strainer to remove all of the big solids. Discard solids. Strain again through a fine-mesh strainer to remove all of the small particles.

Let mixture cool before transferring to the refrigerator. You can rapidly chill the stock by floating the bowl in a sink filled with ice and cold water. Stir the stock occasionally until chilled.

Refrigerate the stock for several hours (or overnight) then skim any fat that congeals on the surface. Store in the refrigerator for up to 5 days or the freezer for several months.
Tried this recipe?
Tag @brandiego on Instagram so I can check it out!
Related recipes and articles:
Turkey Noodle Soup, and Homemade Stock
Roasted Tomato Soup with Broiled Cheddar
62