This post may contain affiliate links.
Of the many infusions I've made over the years, I'll have to say that Red Bell Pepper Infused Rum is definitely a favorite.  First, the infusion only takes 24 hours and requires minimal chopping.  How easy is that?  Second, the aroma that wafts up out of the jar post-infusion is un. real.  Bell pepper and rum really are a match made in culinary heaven.  I've already made one killer cocktail with this rum (coming soon on KK), and I'm looking forward to experimenting more over the next few weeks.  Bell Pepper Rum and Diet Coke?  Bell Pepper Daiquiris?  Bell Pepper Dark and Stormy?  The possibilities!!  What are some of your favorite rum drinks?  Share below plus get the recipe for Red Bell Pepper Infused Rum.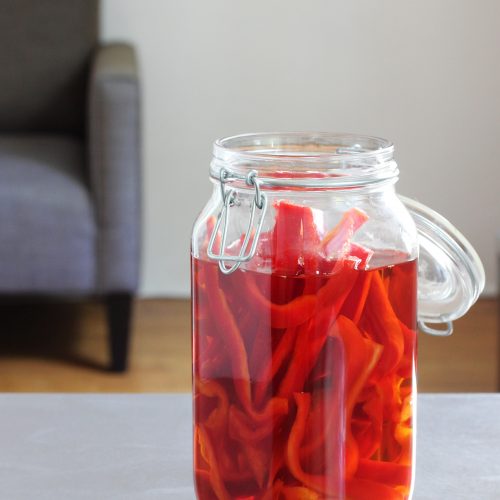 Red Bell Pepper Infused Rum
This recipe is courtesy of Josh Sullivan of Post Prohibition, a Baltimore-based movement that celebrates the craft of the cocktail. Josh enjoys creating well-balanced, artistic cocktails often featuring fresh, seasonal ingredients. If you have enjoyed this recipe, be sure to visit
Post Prohibition
for more cocktail inspiration.
Ingredients
2

red bell peppers

1

liter

golden rum (I used Flor de Cana)
Instructions
Remove the stem, seeds and ribs from red bell peppers and discard. Slice bell peppers into long, thin strips. Place sliced peppers in a large, airtight container then pour in the rum. Seal the lid and store in a cool, dark spot for 24 hours.

After 24 hours, strain infused rum through a medium mesh basket strainer into a clean bottle or container. Discard solids. Store in the refrigerator.
Tried this recipe?
Tag @brandiego on Instagram so I can check it out!
Related recipes and articles:
How to core a pepper in about a second and a half
5