This post may contain affiliate links.
I was in New York City earlier this year and I had the most amazing ice cream flavor combination at the Big Gay Ice Cream Shop — soft vanilla ice cream floating in a shallow pool of spicy ginger syrup and aromatic curry powder.  Each bite was unreal.  I couldn't put my spoon down!  The sweet vanilla cream was a perfect counter to the bold ginger syrup and curry, creating a harmonious bite nothing short of pure heaven.  I recreated this sundae at home and to be honest… I couldn't believe how easy it was.  You can buy ginger syrup or make it at home.  The rest is just an assembly job.  Continue reading for the recipe.
Start with vanilla ice cream, ginger syrup and fresh curry powder.  There are only three ingredients to this recipe, so make sure they are all good.  You wouldn't want to use curry powder that's been sitting in your cupboard for 3 years!  Scoop ice cream into a bowl.
Next, pour on the ginger syrup and finish with a sprinkling of curry powder.  Easy as that. Unbelievably delicious.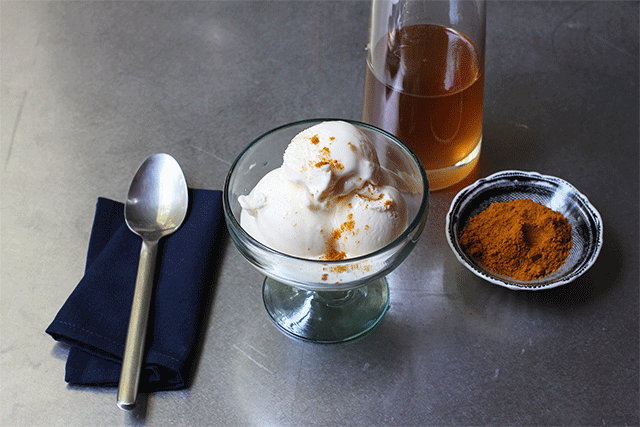 Vanilla Ice Cream with Ginger Syrup and Curry Powder
Ingredients
Vanilla ice cream

Curry powder
Instructions
Place several scoops of vanilla ice cream in a bowl. Pour over ginger syrup. You'll want about 1 to 2 tablespoon depending on how many scoops you're going to eat. Finish with a sprinkling of curry powder.
Tried this recipe?
Tag @brandiego on Instagram so I can check it out!
Related recipes and articles:
Coconut-Curry Ice Cream with Honey-Salted Cashews
6