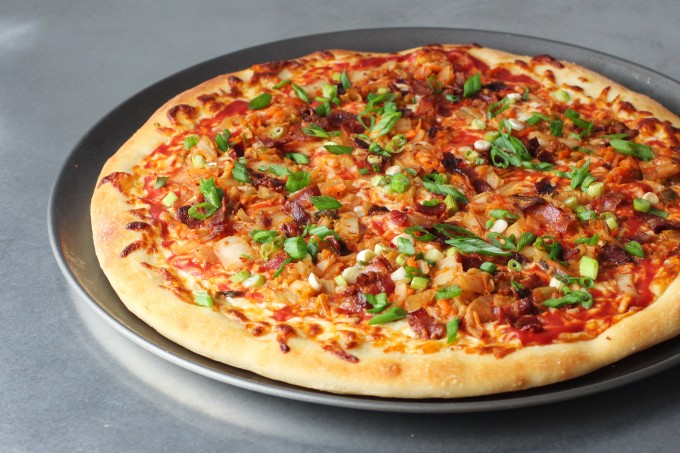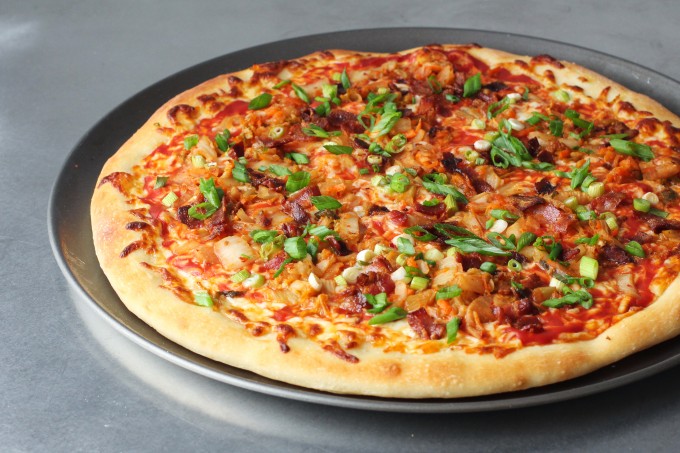 This post may contain affiliate links.
Last week, I shared my recipe for a BLT with Avocado Spread, a sammich I like to make when my schedule gets super busy.  This Kimchi and Bacon Pizza is another quick and easy recipe perfect after a long work day.  The secret to whipping up a delicious pizza in a matter of moments?  Pre-made dough.  Making dough from scratch is simple; however, I find all of the kneading and rising and waiting and resting quite off-putting.  Especially when I've been working 50 – 60 hour weeks!  Instead, I purchase dough from a local pizzeria for a buck or two.  I urge you to call around to your local pizza parlors (not Papa John's or Dominoes), and ask them if they sell dough.  You'd be surprised at how many say yes!
Topped with smokey bacon and salty-sour kimchi, this pizza is bold, fragrant and packed with mouth-watering flavor.  After just one bite, you won't be able to stop eating (I know I couldn't!).  Kimchi, usually an acquired taste, can vary greatly based on where you buy it.  Don't be afraid of it though 🙂  I found a delicious organic kimchi at a local farmer's market.  If you don't like the first one you taste, try another brand!  When cooked in the oven, the kimchi mellows out a bit, and melts into the cheese and tomato sauce, creating something quite harmonious.  Continue reading for the recipe.
I always buy my pizza dough from a local pizzeria.  Cheap, easy and so delicious.
Kimchi, a spicy Korean condiment made with fermented vegetables, is the star attraction of this dish. Readily available at Whole Foods, Zion Market or a number of farmer's markets, kimchi lends a salty-sharp bite that fuses with the tomato sauce as the pizza cooks in the oven.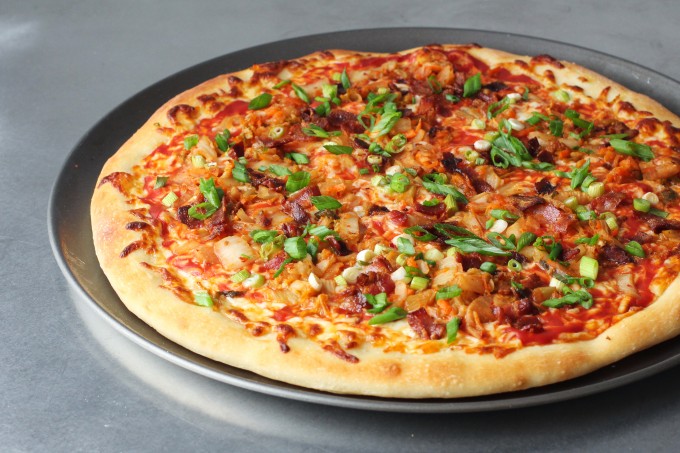 Kimchi and Bacon Pizza
Ingredients
1

ball store-bought pizza dough

Olive oil

Kosher salt

Freshly grated low-moisture mozzarella cheese (about 2 cups)

Organic tomato sauce (about ½ of a 15 oz. can)

1

cup

kimchi, coarsely chopped

4

strips crispy cooked bacon, crumbled

3

scallions, root ends trimmed
Instructions
Preheat oven to 500°F and place a rack in the lowest possible position. Lightly grease a pizza pan or rimmed baking sheet with non-stick spray or olive oil.

Stretch pizza dough into a round shape large enough to fit your pizza pan. Very lightly drizzle the dough with olive oil, using your hands to spread the oil evenly. Sprinkle dough with a small pinch of kosher salt.

Start with an even layer of mozzarella cheese, and then spoon the tomato sauce. Using the back of the spoon, spread the tomato sauce evenly over the cheese. (Less is more when it comes to tomato sauce.) Next, sprinkle chopped kimchi and crumbled bacon over the pizza. Thinly slice white and light green parts of each scallion and scatter on the pizza. Thinly slice remaining dark green stalks on a bias and reserve.

Transfer pizza to the preheated oven and cook until the crust is golden brown (about 11 – 13 minutes). Remove pizza from the oven and let cool for a few moments before serving.

Finish with a sprinkling of sliced scallion greens. Cut pizza into even slices and serve hot.
Tried this recipe?
Tag @brandiego on Instagram so I can check it out!
Related recipes and articles:
Kimchi Fried Brown Rice with Fried Egg
Shaved Asparagus and Bacon Pizza
10