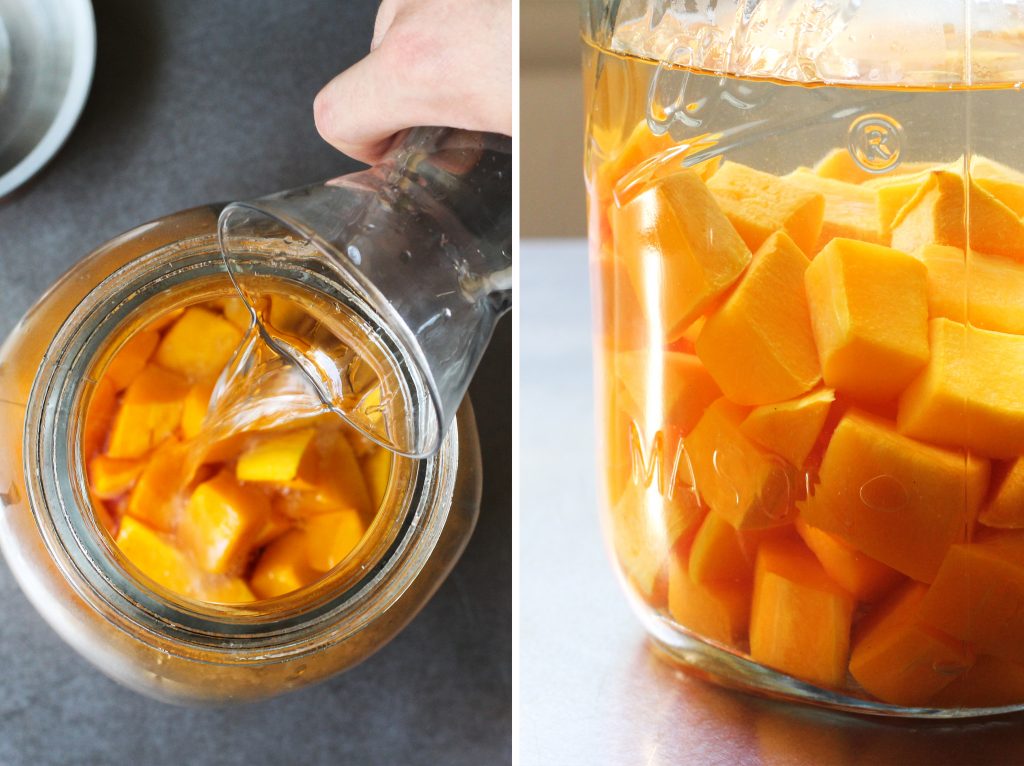 This post may contain affiliate links.
Recently featured on Food52, my Butternut Squash Five-Spice Liqueur is a festive libation perfect for holiday celebrations.  I've actually consumed this liqueur a number of times over the past several weeks.  On November 18, I was gleefully sipping on a frosty glass of this liqueur to celebrate the completion of a major grand opening event that had come to a close the evening before (more details below).  Then again on November 23, I was toasting to the end of another successful Thanksgiving dinner and Black Friday (once again, more below).  In this recipe, tender butternut squash is steeped in vodka until fragrant.  The infusion vodka is then sweetened with a homemade syrup spiced with cinnamon, clove, black pepper, fennel and star anise.  The finished liqueur is warm, complex and SO delicious.  Continue reading for the recipe.
When I'm not cooking and making photos of my food, I do marketing for Westfield UTC, a shopping center here in San Diego.  Over the past year, the mall went through a $180 million dollar renovation.  I've been working at the property for almost 5 years now, so I find the transformation quite amazing.  We recently had two major Grand Opening events on November 15 and November 17.  The first featured a fashion show hosted by Giuliana Rancic and a live performance by Natasha Bedingfield.  I had a chance to meet Natasha before the show, and she was really sweet!  Here's a photo from that evening (more photos here).
The second event was a Holiday kickoff headlined by San Diego's Idol, Jessica Sanchez (photos here).  Jessica was SO amazing.  Shivers!  Both events were packed with attendees, and considered to be very successful.  One of the major projects I was leading up in the weeks before Grand Opening was a life-sized Pinterest Board.
The board features a number of prizes from Westfield UTC retailers ($5,000 in prizes total).  The contest is actually still going on right now!  Recently, Mashable did a short feature on the program.  So exciting!   After many, many months of hard work and planning, the Grand Opening was finished and I was ready for a drink 🙂  This Butternut Squash Five-Spice Liqueur was the perfect solution.
Shortly after the events ended at Westfield UTC, I jumped right into Thanksgiving preparations.  Hosting dinner for 12, I cooked many of my favorite recipes from last year. Really, the only new item I served this year was Pickled Quince.  Made with cider vinegar, juniper berries, black peppercorns and bay, these pickles were a bright accompaniment to the many cheeses served during the appetizer hour.  So delicious!  Here are some iPhone photos from the evening – the first is the outdoor dinner table, the second is the appetizer table and the last is a picture of the man and me prepping harvest salads.
The day after Thanksgiving, I sipped on another celebratory glass of liqueur.  My guests loved the meal.  I was able to enjoy the dinner.  My boyfriend graciously did the dishes!  So much to be thankful for 🙂  Now… on to the recipe (and an animated GIF).  Cheers!
Butternut Squash 5-Spice Liqueur
Ingredients
3 to 4

pound

butternut squash

Good quality vodka

1

cup

white sugar

1

cup

packed light brown sugar

5

whole star anise

1

cinnamon stick, broken into smaller pieces

1

tablespoon

fennel seeds

1

tablespoon

black peppercorns

1

teaspoon

whole cloves

2

cups

water
Instructions
Preheat oven to 350 degrees F.

Peel butternut squash, cut in half lengthwise, then clean out seeds and guts. Discard skin, seeds and guts. Cut the squash up into 1.5-inch chunks. Spread out in an even layer on a parchment-lined baking sheet. Bake until just tender (test by inserting the tip of a knife), 20 – 30 minutes. Do not overcook here. The squash should be tender, but not falling apart. Let the squash cool to room temperature, then transfer to a large mason jar.

Add vodka to the jar until it covers the squash by 1 inch (I used between 750 ml and 1 L). Seal the jar and store in a cool, dark spot.

Give the jar a gentle shake every few days. Start tasting the vodka after 1 week. The finished infusion should taste very strongly of butternut squash. I was pleased with the flavor after 2 weeks; however, this can vary based on taste.

Once you are satisfied with the butternut squash flavor, pour the mixture through a medium-mesh basket strainer into a clean bowl or jar. Discard the solids. Strain again through a fine-mesh strainer into another clean bowl or jar. Set aside while you prepare the 5-Spice Syrup.

In small saucepan, combine sugars, spices and water. Bring mixture to a boil over medium-high heat, stirring to dissolve the sugar. Once the mixture comes to a boil, drop the heat to low, and simmer for 5 minutes. Let the mixture cool completely, then strain out all of the spices. Discard spices.

Pour syrup into the infused vodka, stirring to combine. Cover and let rest for 1 more day before serving.
Tried this recipe?
Tag @brandiego on Instagram so I can check it out!
Related recipes and articles:
Roasted Pumpkin Five-Spice Ice Cream
Night Market Five-Spice Chicken
Roasted Butternut Squash with Sweet Spices, Chile and Lime
Chinese Five-Spice Shrimp Stir Fry
Pinterest and Westfield UTC photos by Joel Jordan.
5