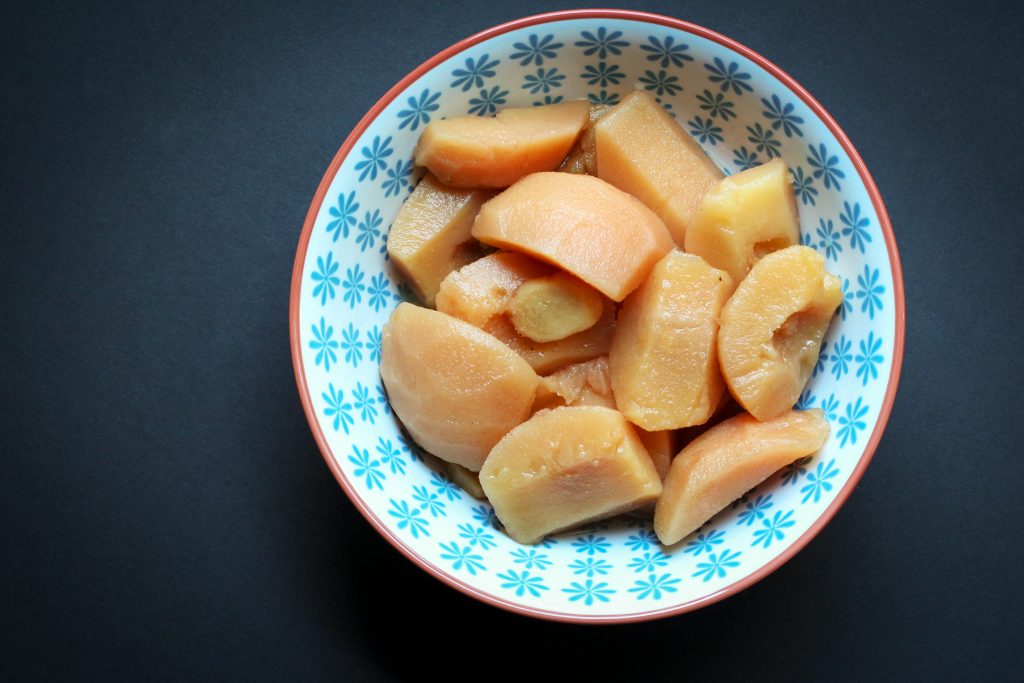 This post may contain affiliate links.
Last year, during the height of my soda-making obsession, I first discovered the beauty of the quince.  I was experimenting with a new flavor profile (quince and star anise), and after a few hours of simmering, I was left with a delicious soda syrup and melt-in-your-mouth Poached Quince.  After just one bite, I knew I had stumbled upon a new seasonal favorite.  In its raw form, quince is quite inedible.  Sour and astringent, raw quince looks like an apple or a pear, but seriously… don't take a bite.  When cooked, quince transforms into a wonderfully fragrant delicacy nothing short of pure heaven.  The fragrance is like apple and pear mixed with heady floral notes.  In this recipe, I've added vanilla, cardamom and ginger to the poaching liquid.  Each of those flavors compliments the quince; however, you can omit any or all of them if you're not a fan.  Quince are ripe when firm, yellow and fragrant.  Continue reading for the recipe.
After peeling quince, you're left with an off-white fruit that browns easily.  Be sure to get the prepped fruit in the poaching liquid as soon as possible to avoid discoloration.  When cooked, the fruit takes on a beautiful blushing pink.  This pink will deepen in color as the days go on.
Poached Quince can be enjoyed for breakfast, dessert or as a sweet snack.  I love to slice and pair with vanilla ice cream or tart Greek yogurt.  Drizzle the poaching liquid over top or use as a soda syrup.
Poached Quince
Ingredients
7

cups

water

1

cup

sugar

1/2

cup

honey

1

lemon, cut in half

1

vanilla bean, split lengthwise

5

green cardamom pods

6

slices

of peeled fresh ginger

6

large quince
Instructions
In a large pot, combine water, sugar, honey, lemon, vanilla, cardamom and ginger. Bring mixture to a boil over medium-high heat, stirring to dissolve sugar.

While the mixture is coming to a boil, peel, quarter and core each quince. As you finish prepping each quince, add quarters to the pot with the poaching liquid. When exposed to air, peeled quince can turn brown quickly, so get them into the water right away.

Cut a round of parchment paper the size as your pot. Also cut a small hole in the middle of the parchment round. Once you've added all quarters to the pot, cover with the parchment round.

As soon as the mixture comes to a boil, drop heat to low and simmer until the quince are knife-tender. To test, insert the tip of a knife into one of the quarters. If it meets no resistance, they are done. This can take 1 to 1.5 hours.
Store poached quince in their liquid in the refrigerator for 1 to 2 weeks.
Tried this recipe?
Tag @brandiego on Instagram so I can check it out!
Related links and recipes:
There's a new taste for quince
Got Quince?  Make Quince Paste!
Quince Recipes by Nigel Slater
Sweet and savory ways to use the quintessential quince
9