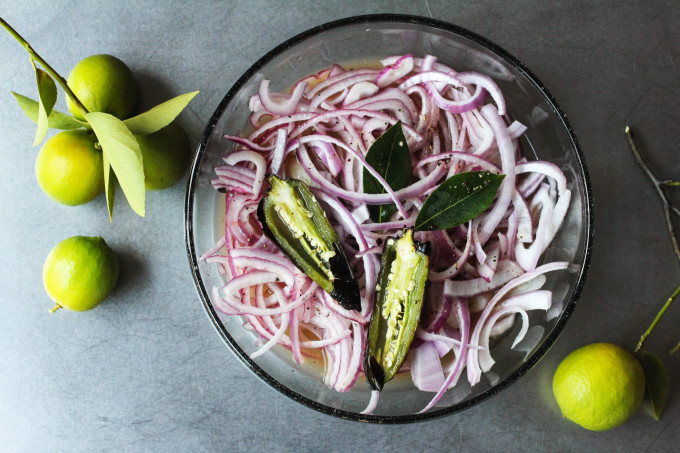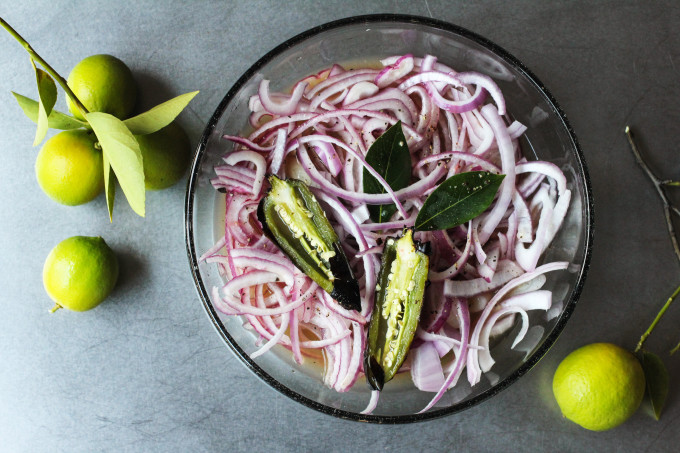 This post may contain affiliate links.
Each winter, when all manner of citrus is in season, I make these Citrus Pickled Onions.  Crisp slices of red onion are marinated in a mixture of citrus juice, white wine vinegar, salt, pepper and allspice until tart and tender.  Charred jalapeño and bay leaves are added to the mix to bump up the savory spice factor.  Two of the things that I love the most about this recipe are its ease and versatility.  This quick pickle requires just 10 minutes (if that) of prep time, and 3 to 6 hours of unattended marinating time.  Also, you can vary the types of citrus used in the pickling liquid.  For this batch, I used grapefruit, lime (from my backyard) and orange.  In previous batches, I've substituted in lemons, blood oranges and pomelos.  You can use these pickled onions as a accompaniment to burgers, braised or grilled meats, and tacos.  Continue reading for the recipe.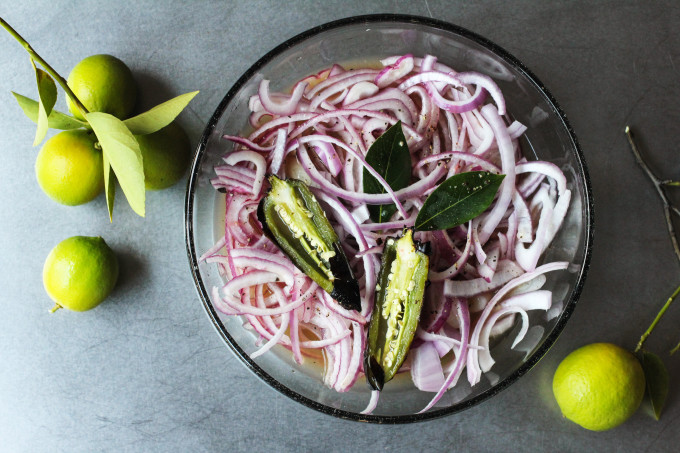 Citrus Pickled Onions
Ingredients
1

fat jalapeño

Half of a jumbo red onion, sliced thin (2 cups)

2

fresh bay leaves, dried works as well

3/4

cup

freshly squeezed citrus juice (I used equal parts lime, orange and grapefruit)

1/4

cup

white wine vinegar

1/2

teaspoon

kosher salt, plus more to taste

1/4

teaspoon

freshly ground black pepper

1/4

teaspoon

ground allspice
Instructions
Preheat broiler to high. Place jalapeño on a foil-lined baking sheet. Broil the jalapeño until blackened on all sides (5 to 6 minutes). Cut jalapeño open lengthwise and place in a large bowl.

To the bowl with the jalapeño, add the sliced red onion and bay leaves.

In a small bowl, combine citrus juice, vinegar, salt, pepper and allspice, whisking to combine. Pour the pickling liquid over the sliced red onion, jalapeño and bay leaves, tossing to combine.

Let the mixture sit at room temperature for 6 hours, tossing the ingredients every 2 hours. If you like a crunchier pickle, you can reduce the time to 3 hours. Season to taste with additional salt. Transfer pickled onions to a jar, cover tightly, and store in the refrigerator.
Tried this recipe?
Tag @brandiego on Instagram so I can check it out!
Related articles and recipes:
Sesame & Orange Marinated Kale Salad
Pickled Carrots with Dill and Serrano
Greek-Style Chicken with Pickled Onions, Tomatoes, and Tzatziki
63