I've reached that point in the new year where my body is just craving something healthy. Cake, ice cream, burgers and Chinese food have recently been added to the list of things I don't want to eat at the moment. This list is, of course, only temporary. But as for right now, I am officially on a health kick. Morning meals include homemade granola, scrambled eggs sans butter, and variety of delicious smoothies. My Spiced Oatmeal Smoothie is a standard, but recently, I've been ob. sessed. with this Pear and Arugula Smoothie. Peppery arugula is blended with orange juice, pine nuts, yogurt, ginger and fresh pear. The finished smoothie is light, bright and packed with flavor. It's seriously the easiest way to down a cup of greens in the morning. Continue reading for the recipe (with animated GIF!).
This post may contain affiliate links.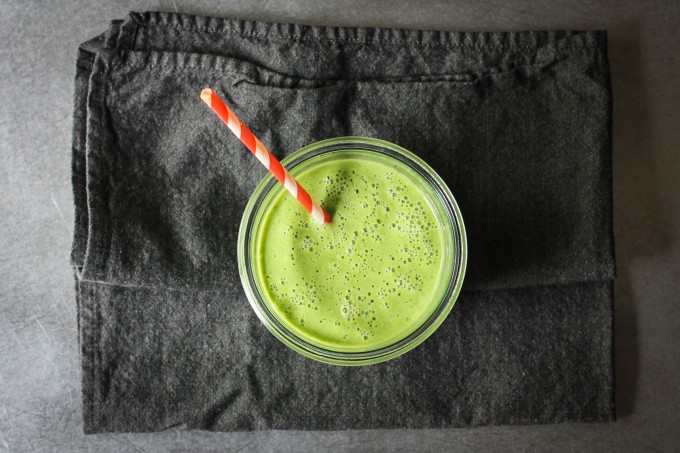 Pear and Arugula Smoothie
Ingredients
1/2

cup

freshly squeezed orange juice

1

tablespoon

pine nuts, almonds or walnuts would work as well

1/4

cup

Greek yogurt (I used fat free)

1/2

ripe pear, cored

1 1/4-

inch

slice fresh ginger, peeled

1

cup

arugula, tightly packed

3 – 4

ice cubes
Instructions
Combine all ingredients in a blender and process until smooth (about 1 minute). Enjoy immediately!
Tried this recipe?
Tag @brandiego on Instagram so I can check it out!
Related recipes and articles:
Green Apple + Spinach Smoothie
Spinach, Kiwi & Chia Seed Smoothie
5