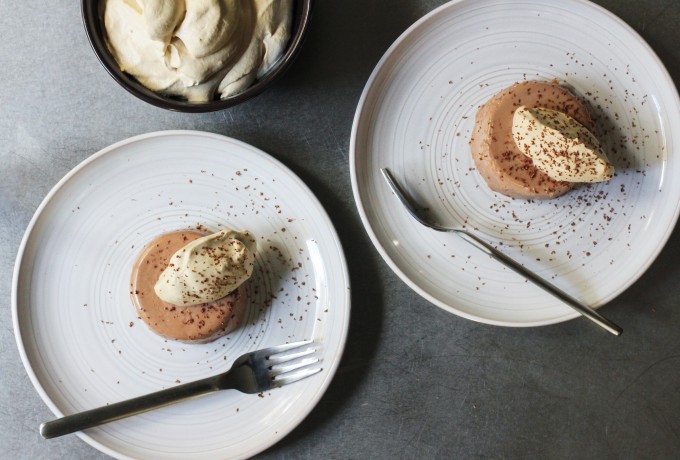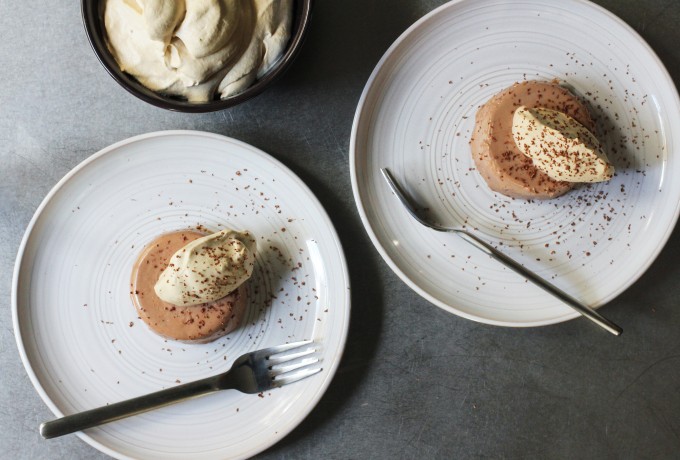 This post may contain affiliate links.
Today is the last day to vote for me for Best Food Photography on a Blog.  Please vote for Kitchen Konfidence!!  A big thanks to all who have already voted.  Now on to this scrumptsh Chocolate Panna Cotta with Espresso Whipped Cream.  Topped with a cool dollop of flavored fluff, this silky chocolate custard is a perfect dessert for a special home cooked dinner.  Particularly, Valentine's Day.  And i'll have to say that panna cotta really is an easy dessert to prepare.  Simply simmer cream with flavorings, then firm up with powdered gelatin.  The three hour chill time guarantees that you'll avoid any last minute scramble.  And you're significant other will surely be impressed when you serve this seemingly fancy dessert with minimal effort.  Continue reading for the recipe.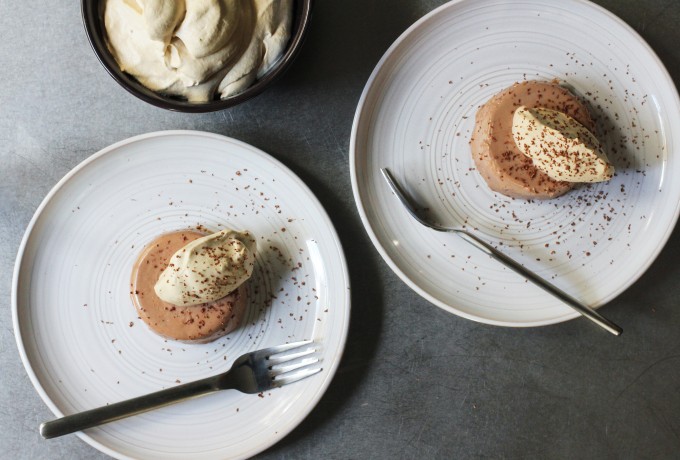 Chocolate Panna Cotta with Espresso Whipped Cream
Ingredients
For the panna cotta:
Flavorless oil (such as vegetable or canola)

1 3/4

cups

heavy cream

1 1/4

teaspoons

powdered gelatin

2

tablespoons

white sugar

Kosher salt

2

ounces

high-quality bittersweet chocolate, finely chopped (such as Valrhona, Scharffen Berger, or Ghirardelli), plus more for shaving
For the whipped cream:
1

cup

chilled heavy cream

2

tablespoons

light brown sugar

1

teaspoon

vanilla extract

1

teaspoon

instant espresso powder
Instructions
Lightly grease four 5-ounce ramekins (or similar oven-proof vessels) with flavorless oil. Set ramekins in a baking dish.

In a small heatproof bowl, combine 1/4 cup heavy cream and gelatin, whisking to combine. Let stand until softened (about 10 minutes). Place small bowl inside a larger bowl with hot tap water at the bottom. You want enough water to come about 1/2 way up the sides of the small bowl. Carefully whisk until the gelatin is dissolved and the mixture becomes liquid again.

Meanwhile, combine remaining 1 1/2 cups heavy cream, sugar and a pinch of salt in a medium saucepan set over medium heat. Bring just to a boil stirring until the sugar is dissolved. You'll know the mixture has come to the right temperature when you see steam rising from the surface and small bubbles forming around the edges. Remove the saucepan from the heat, add the chocolate, and whisk until smooth.

Using a spatula, scrape the gelatin mixture into the chocolate mixture, and stir until well combined. Pour the mixture through a fine-mesh strainer into a large measuring cup or bowl with a pour spout. Divide the mixture evenly between the prepared ramekins. Let cool to room temperature, cover loosely with plastic wrap, and transfer to the refrigerator to chill for at least 3 hours.

While the panna cotta is chilling, prepare the Espresso Whipped Cream. Add heavy cream, light brown sugar, vanilla extract and espresso powder to the bowl of stand mixer fitted with the whisk attachment. If you don't have a stand mixer, you can also whip the cream with a whisk or hand mixer. Beat until soft peaks form. To test for soft peaks, simply pull the whisk from the whipped cream and turn it so the whisk end is facing up. The peak on tip of the whisk should fall over on itself.

To serve, rotate the bottom of each ramekin under hot, tap water for 5 seconds, then carefully run a small knife around the edges of the panna cotta. Invert onto a chilled serving plate, then top with a dollop of Espresso Whipped Cream and chocolate shavings.
Tried this recipe?
Tag @brandiego on Instagram so I can check it out!
Similar articles and recipes:
Pomegranate White Wine Panna Cotta
Spinach and Garlic Scented Panna Cotta
5