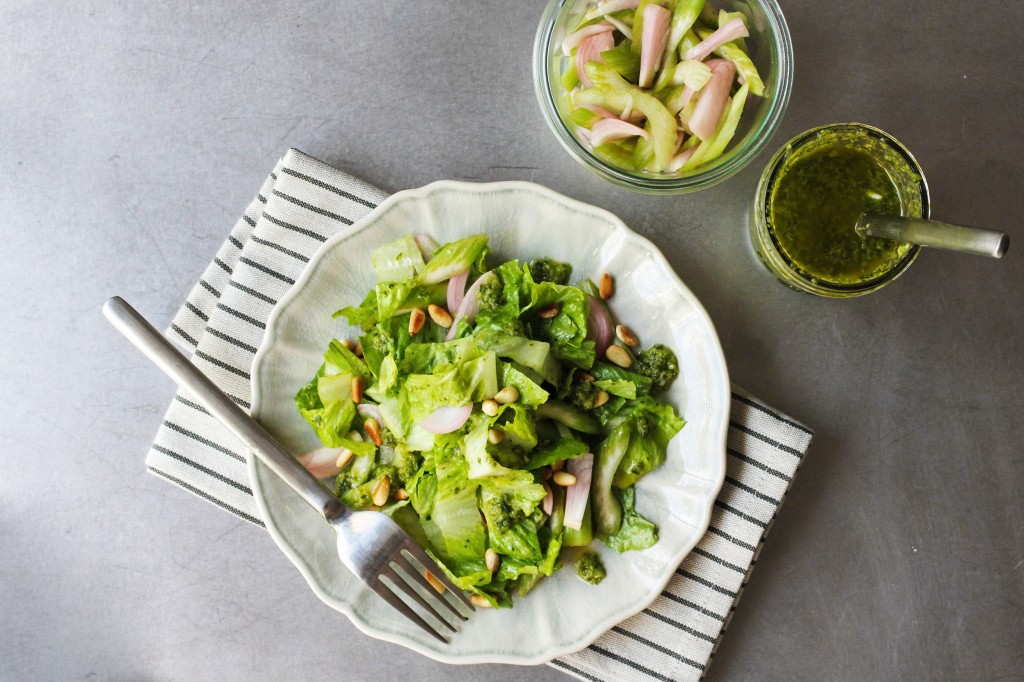 This post may contain affiliate links.
Ok so you may be looking at the title of this article and scratching your head a bit.  Paleo?!  What is that?  Well last week I had mentioned that I was just finishing up a 5 day Paleo challenge.  Paleo (short for Paleolithic) is a newer diet out right now that mimics the diet of a caveman.  This doesn't mean that I was chewing on raw raptor steaks for 5 days.  Instead, I enjoyed meals mainly made of meat, seafood, nuts, fruits and vegetables.  I'll get more into the details below.
Diet is a four letter word I usually don't use around here, but I've been wanting to improve my eating habits during the work week, and I'm also looking drop a few lbs, so I decided to give the Paleo Diet a try.  Results?  I lost 6 pounds in 1 week!  So crazy.  Continue reading below for more details plus three tasty recipes.
Now I should really start by saying that I'm not an expert on the Paleo Diet.  I spent a week researching the diet on the Internets, and a weekend stocking my fridge and pantry with Paleo-approved foods.  Some of the meals I prepared were based off of Paleo recipes, while others were Paleo adaptations of cookbook recipes.  But I mainly relied on my own cooking skills and knowledge to get me through the week.  I should also note that I ate Paleo Monday through Friday, and allowed myself non-Paleo foods (like ice cream and cupcakes) on Saturday and Sunday.  Now, on to the diet guidelines.
Here's what you can eat:
Meat

Fish
Fruit
Vegetables
Nuts and seeds
Eggs
Healthy oils
Coffee
Here's what you can't eat:
Dairy
Refined sugar
Processed foods
Grains
Legumes
Potatoes
Corn
Alcohol
At first, I was thinking that these guidelines would be too restrictive; however, after cooking Paleo for a week, I found that I could definitely follow the rules, and eat well at the same time.  I should mention that Paleo does not mean you have to eat raw food.  As long as you start with ingredients that fall within the guidelines above, you can cook them any way you like.  Now on to the recipes.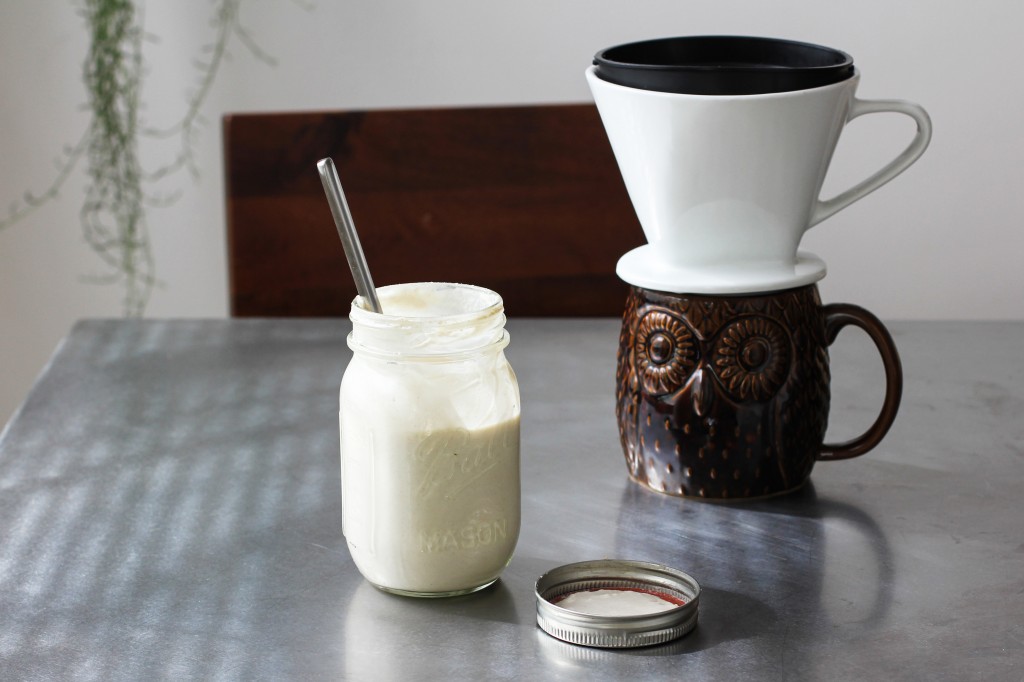 Let's start with breakfast.  Actually… let's start with coffee.  For the past 4 years, I've enjoyed a cup of freshly brewed coffee flavored with vanilla creamer each morning.  With my favorite non-dairy creamer recently banished from the fridge, I needed a new solution. A combination of several recipes for Paleo creamer, this Date Creamer is sweet, fragrant and wonderfully unctuous.  A coconut milk base is sweetened with musky dates, then flavored with rich vanilla.  Coconut oil and an egg are added for heft.  I found that it's best to add this creamer to your coffee after it's had a chance to cool a bit.  If your coffee is searing hot, the creamer will curdle.  Another interesting note is that the creamer will thicken in the jar as the week goes on (mine only lasted for one week).  One evening, I spooned some of the thick cream in a shallow bowl and topped cara cara orange segments and chopped toasted almonds.  An unexpectedly delicious dessert.  Here's the recipe for Date Creamer.
With my morning coffee ritual under control, I moved on to breakfast.  Eggs and bacon are crucial.  Throughout the week, I enjoyed a number of omelets and frittatas made with fresh vegetables, herbs and bacon.  I'll share more specific recipes in the weeks to come.
During my first two days of eating Paleo, I found that I was quite foggy, and I would have minor headaches from time to time.  My amazingly smart boyfriend informed me that I was probably experiencing ketosis, a condition where the body is being fueled by fat rather than carbs.  I had eliminated most carbs from my diet a little too quickly, and my body was not happy.  To counteract the negative side effects, I simply needed to eat more green veggies!
Which brings us to my next recipe:  Chopped Romaine with Pickled Vegetables, Toasted Pine Nuts and Cilantro Green Garlic Vinaigrette.  Cool salad greens are tossed in a bright dressing made with spicy serrano, pressed lemon, citrusy cilantro and pungent green garlic.  The plate is then finished with quick pickled celery and shallot, and a scattering of toasted pine nuts.  These flavors are big, bold and acidic.  The nuts are a creamy counter to all of the acid.  After just one of these salads, my headaches disappeared.  So yum.  Get the recipe for Chopped Romaine with Pickled Vegetables, Toasted Pine Nuts and Cilantro Green Garlic Vinaigrette here.
Aside from hearty green salads, I also consumed various dinner leftovers during my lunch breaks.  Soups, stews and curries are perfect midday eats when kitchen equipment is limited to just a microwave.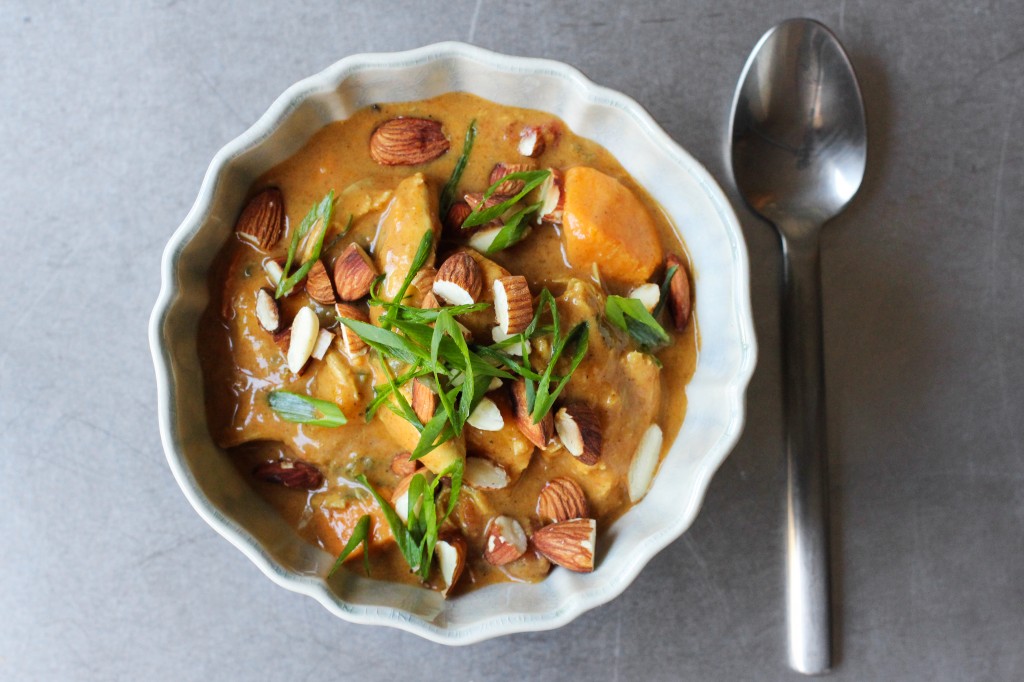 This Curried Chicken Soup is a great example.  I prepared a huge batch for dinner one evening, and was able to enjoy a number of times for lunch afterwards.  Tender pulled chicken is simmered in an aromatic sauce with sweet potatoes and butternut squash.  The sauce is made with curry powder, onions, tomatoes, coconut milk, ginger, garlic, thyme, Worcestershire, chicken stock, almond butter, cilantro, scallions and red wine vinegar.  In other words… packed with flavor.  Get the recipe for Curried Chicken Soup here.
On nights when I wasn't eating soup, I would prepare baked chicken breasts with various vegetable sides.  I'm sure you can tell that this isn't a comprehensive Paleo meal plan.  Instead, I'll be sharing a few recipes each week that I particularly enjoyed.  If you are looking to try the Paleo Diet, my best advice is to be prepared.  Make sure you have plenty of snacks around (nuts, fruit, veg).  They will help you to keep your mind off that cheeseburger you just saw on Serious Eats!
My 5 day challenge results were so motivating that I've decided continue on with the Paleo Diet.  This week I'm also planning on hitting the gym at leas two times to engage in some rigorous calisthenics.  Check back next week for more delicious Paleo recipes!
Related recipes and articles:
4