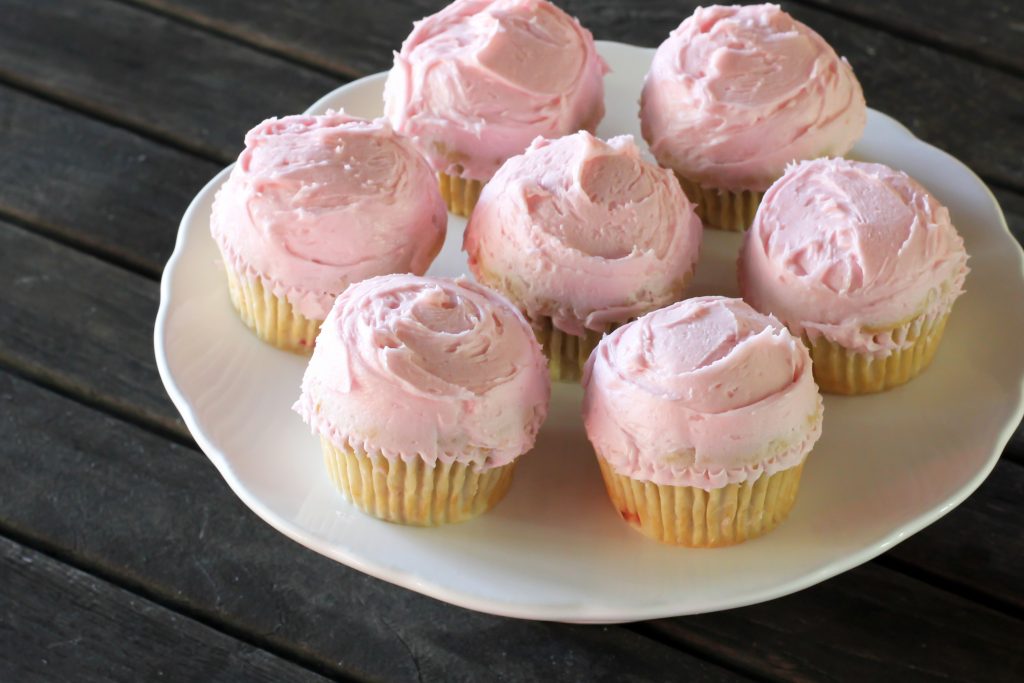 This post may contain affiliate links.
Looking at this plate of rosy-hued Rhubarb Cupcakes is 100% torture right now.  Ok I know I'm being a bit dramatic, but I'm on day 5 of a 5 day Paleo challenge, and I have not had a drop of sugar or dairy all week long (more details coming soon).  As I was searching through my picture archives a few days ago, I unearthed this recipe, and realized that I never shared it on KK.  Rude!  So here it is.  Studded with flecks of stewed rhubarb, these ginger-scented cakes are topped with vibrant rhubarb-lemon buttercream frosting.  When I say this frosting is vibrant, I mean that it really does have a snap.  The rhubarb stewing liquid is reduced to a thick syrup then mixed with lemon into a creamy buttercream base.  So.  Yum.
I'm taking a break from eating Paleo on Saturday and Sunday, and I already have several stalks of bright rhubarb sitting in my fridge destined for these cupcakes.  I deserve a little treat after completing such a rigorous challenge, right?  Continue reading for the recipe.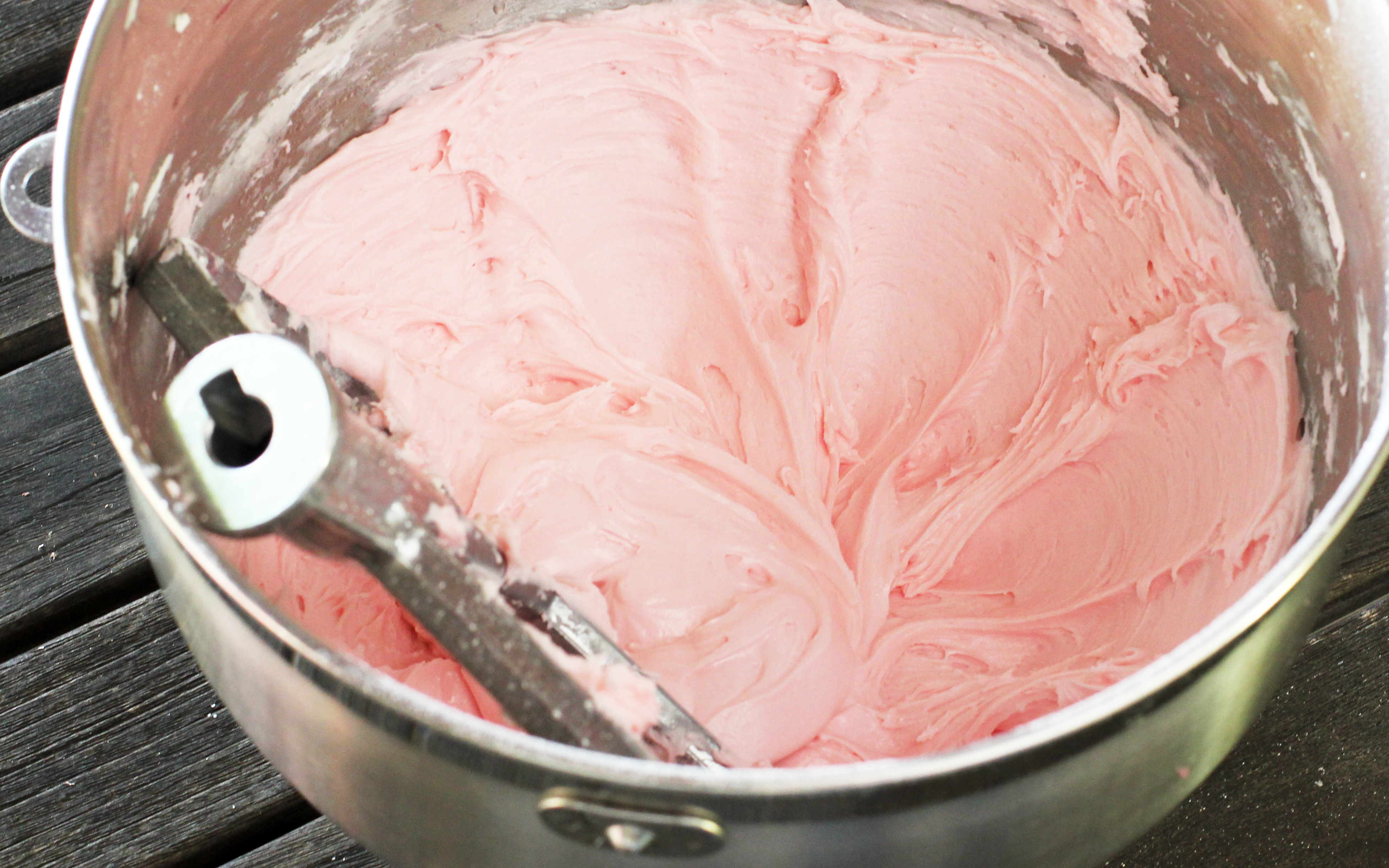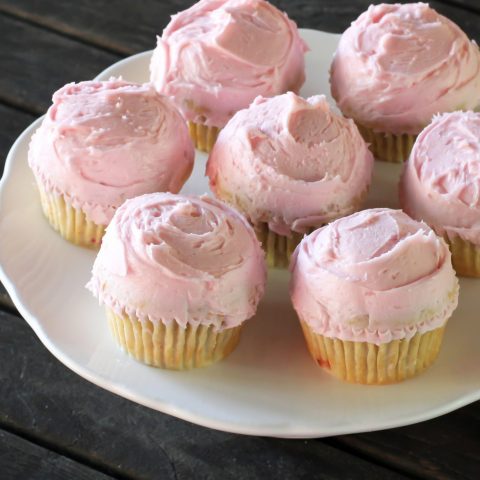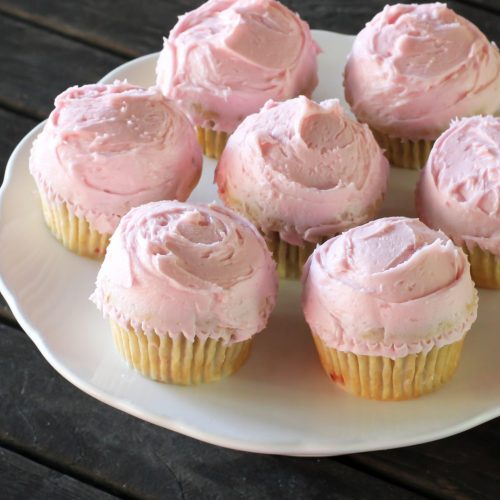 Rhubarb Cupcakes
Adapted from the Primrose Bakery.
Ingredients
For the stewed rhubarb:
11

oz.

rhubarb, rough ends trimmed

1

cup

water

3

tablespoons

white sugar
For the cupcakes:
1

stick (1/2 cup) unsalted butter, room temperature

1

cup

plus 2 tablespoons white sugar

2

large eggs

1

cup

all-purpose flour*

1

cup

plus 1 tbsp. self-rising flour*

1

teaspoon

ground ginger

1/3

cup

milk
For the rhubarb-lemon frosting:
1

stick (1/2 cup) unsalted butter, room temperature

5

cups

powdered sugar*

Juice of half a small lemon
Instructions
Slice rhubarb widthwise, then place in a medium-sized saucepan with water and 3 tablespoons white sugar. Cook over medium heat until the rhubarb starts to soften and break up, stirring occasionally (6 – 8 minutes). Pour the mixture through a fine-mesh strainer into a clean bowl. Reserve the stewed rhubarb for the cupcakes. Return the stewing liquid to the saucepan and increase the heat to medium-high. Reduce mixture to just under 1/4 cup liquid (9 – 11 minutes). Reserve liquid for the frosting.

Preheat oven to 350°F and place a rack in the center of the oven. In the bowl of a stand mixer fitted with the paddle attachment, cream butter and white sugar on medium until pale and smooth (about 5 minutes). Add one egg, mixing until incorporated. Repeat with the other egg.

Sift all-purpose flour, self-rising flour and ground ginger into a clean bowl. With the mixer off, add half of the dry ingredients to the bowl with the wet ingredients. Mix on low speed for a few moments then increase to medium and mix until just incorporated. Mix in half of the milk. Repeat with remaining dry ingredients and milk, mixing until well combined. Do not over-mix here.

Using a spatula, gently fold in the stewed rhubarb. Line a cupcake tin with twelve cupcake wrappers. Spoon the batter into the wrappers, making them about 2/3 full. Bake in the preheated oven until golden (22 – 24 minutes). Let the cupcakes cool for 10 minutes then transfer to a cooling rack.

While the cupcakes are cooling, prepare the frosting. In the bowl of a stand mixer fitted with the paddle attachment, combine butter and half of the powdered sugar. Beat on low for a few moments then increase to medium and mix until smooth. Add the reserved rhubarb juice and mix until incorporated. Mix in remaining sugar on low at first then medium until smooth. Add lemon juice then beat on medium until smooth and fluffy. Add more lemon juice to taste. Frost cooled cupcakes with an offset spatula or butter knife.

Enjoy! Store cupcakes in an airtight container at room temperature for up to four days.
Notes
*Measure these ingredients using the spoon and level method: spoon ingredient into the measuring cup, then level with the back of a knife.
Tried this recipe?
Tag @brandiego on Instagram so I can check it out!
Related articles and recipes:
33