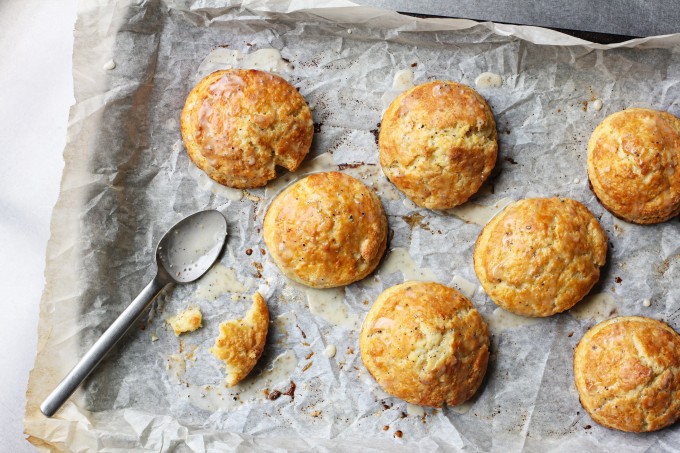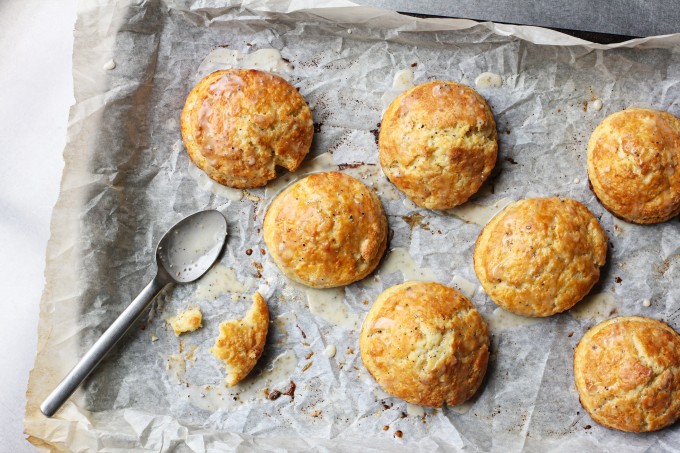 This post may contain affiliate links.
Last week, I mentioned that I recently started eating Paleo Monday – Friday.  So when my non-Paleo weekend arrived, I thought to myself, "What do I miss the most?  What am I really craving?"  Two things came to mind.  First, ice cream.  On Saturday evening, I treated myself to a sundae made with lemon cream ice cream, toasted pine nuts and sugar-plumped cherry sauce.  Second?  Pastry.  Flaky layers of tender, buttery pastry.  To satisfy this craving, I made a batch of these Orange Cardamom Scones on Sunday morning.  Golden rounds of orange and cardamom scented pastry are drizzled with a glaze made of orange juice, confectioners' sugar and freshly ground cardamom seed.  So fragrant and so delicious.
Over the years, I've made many batches of scones, and I've learned a number of key techniques along the way.  I still remember taking a bite of my first scone only to discover it was a dense mass of flour, butter and sugar filled with disappointed.  I'll have to say I've come a long way since then.  It was around this time last year, that I tested out a new method for incorporating butter into the flour.  This method has a 100% success rate in creating pastry that is wonderfully light and flaky.  And the best part?  No special kitchen appliances needed!  Continue reading for the recipe and technique.
The key to a perfect scone (and other flaky pastries) is in the butter.  Ice cold butter is incorporated into the dough, and as the scones cook, this butter melts and steams up.  The steam creates tiny pockets of air, providing a light and flaky texture.
For many years, I utilized my food processor to make scones.  The blade did a fairly good job at cutting the butter evenly into the flour, but my finished product often varied in texture.  Last year, I thought to myself, "What if I grate the butter?"
Hovering over a bowl filled with dry ingredients, I took a solid block of butter, and started grating.  As the tiny curls of butter accumulated in the bowl, I quickly give the contents a stir to incorporate.  I repeated this process a number of times until all butter had been grated into the flour.  Results?  Spectacular.  You can actually see the layers of tender, flaky pastry in the animated GIF below.
I've been making scones this way ever since.  With no special kitchen appliances needed, this method is easy and dependable.  Grating the butter ensures even size and distribution throughout the dough.  Gentle stirring is a safeguard against over-mixing (another cause of tough scones).  You need to try this method out.
If you look really closely, you can see flecks of butter throughout the dough.  This means the scones will be the light and flaky.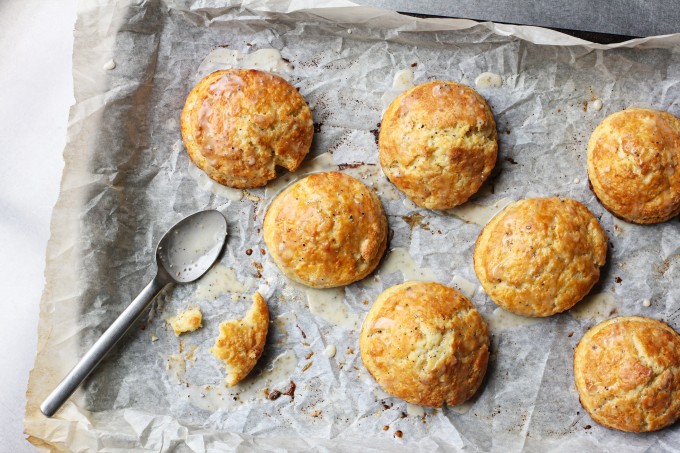 Orange Cardamom Scones
Ingredients
For the scones:
4

cups

all-purpose flour

1/4

cup

sugar, plus additional for sprinkling

2

tablespoons

baking powder

2

teaspoons

kosher salt

1

teaspoon

ground cardamom*

1

tablespoon

grated orange zest

3/4

pound

cold unsalted butter, preferably frozen solid

4

eggs, lightly beaten

1

cup

cold heavy cream

1

egg beaten with 2 tablespoons water, for the egg wash
For the glaze:
1/2

cup

plus 2 tablespoons confectioners' sugar

3/4

teaspoon

ground cardamom

4

teaspoons

freshly squeezed orange juice
Instructions
Preheat your oven to 400°F. Line a baking sheet with parchment paper or a silpat and set aside. Combine flour, 1/4 cup sugar, baking powder, kosher salt, ground cardamom and orange zest in a large bowl, whisking to combine and aerate. Using the large holes on a box grater, grate butter, one stick at a time, into the dry ingredients. Stir frequently to incorporate the butter shavings into the dry mixture.

Whisk together eggs and heavy cream, then slowly pour into the bowl with the butter-flour mixture. You'll want to stir as you're pouring. I would recommend using a sturdy wooden spoon. Stir just until blended. The dough will be sticky.

Turn dough out on to a well-floured surface, and knead it into a ball. Before kneading, I like to lightly dust the top of the dough and my hands with flour to keep the dough from sticking. Flour a rolling pin and roll the dough to a 3/4-inch thickness. As you are rolling, turn the dough occasionally to keep it from sticking. Dip a 3-inch cookie cutter into flour and cut out circles of dough. Place scones on the prepared baking sheet (8 – 9 at a time). Reroll any scraps and cut as many circles as possible.

Brush the top of each scone with egg wash and sprinkle with sugar. Bake each batch of scones for 20 – 22 minutes until the scones are golden on top. Allow scones to cool for 15 minutes before glazing. While the scones are cooling, prepare the glaze. Combine confectioners' sugar, cardamom and orange juice in a medium bowl, whisking until smooth. Drizzle over scones.
Notes
*Freshly ground cardamom has the best flavor. Place green cardamom pods into a mortar and pestle, and pound until the pods crack open and release the seeds within. Pick out pod shells, then finely grind seeds. If you don't want to go through the trouble, you can certainly use pre ground cardamom.
Tried this recipe?
Tag @brandiego on Instagram so I can check it out!
15