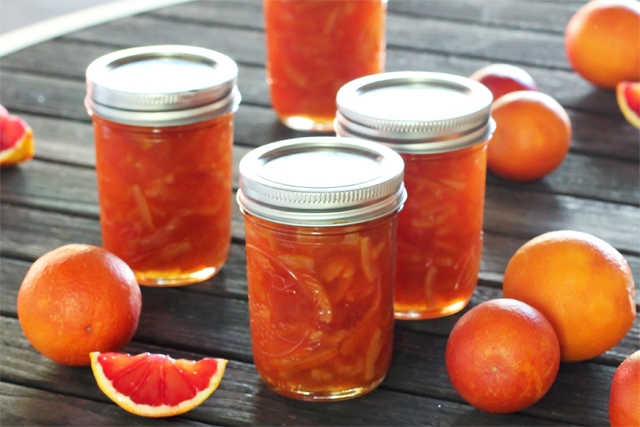 This post may contain affiliate links.
So I think I might have a new obsession: Orange Cardamom Scones + Blood Orange Marmalade + Mascarpone Cheese.  Sweet, tart, creamy, flaky, and buttery.  Does it get any better than that?  Not just for scones, this sunset-hued spread can liven up any slice of buttered toast or cream-cheesed bagel.  Typically thought of as a breakfast food, marmalade can actually be used in many other applications.  Try spooning a dollop over vanilla ice cream to brighten up your late night dessert.  This marmalade can also be shaken into a seasonal cocktail or be used as the base of a fruit vinaigrette.
I'm already one paragraph in, and I have yet to mention the best part of this recipe.  It only requires 3 ingredients.  And 1 of them is water!!  If you've never made marmalade before, don't be intimidated and give this recipe a try.  I'm sure you'll be surprised at how easy it is.  Continue reading for the recipe.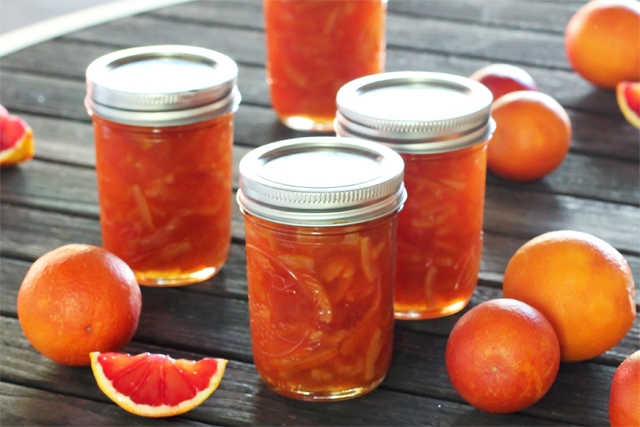 Blood Orange Marmalade
Ingredients
2

pounds

blood oranges (9 to 10)

6

cups

water

5

cups

white sugar
Instructions
Thoroughly wash the outside of each blood orange. Top and tail the oranges (remove the ends) then slice in half. Trim away the core of each orange and remove any seeds. Reserve core and seeds. Thinly slice each half widthwise then slice in half lengthwise.

Place chopped oranges in a large bowl and cover with water. Bundle up all cores and seeds in a small square of cheesecloth. Be sure to tie the ends tightly so nothing comes out. Submerge the bundle into the bowl of slices and water. Cover the bowl and refrigerate overnight.

Remove the cheesecloth bundle and discard. Pour blood orange slices and water into a large pot. Add sugar, stirring to combine. Bring mixture to a boil over medium-high heat then reduce to low and let simmer until reduce by more than half, stirring occasionally. Test the consistency of the marmalade by placing 1 tablespoon of the mixture on small plate. Place the plate in the refrigerator for 10 minutes. If you find the marmalade is a bit too runny after 10 minutes, return the saucepan to the heat and simmer away for another 5 – 10 minutes. Repeat this process until desired consistency is achieved.

Transfer hot marmalade to sterilized jars (pour boiling water over the jars and lids) and seal. Once the jars have cooled, store in the refrigerator.
Tried this recipe?
Tag @brandiego on Instagram so I can check it out!
Related recipes and articles:
71