Learn how to make Homemade Olive Oil Mayonnaise with just 5 ingredients and minimal effort. This mayo comes together in a matter of minutes with the use of an immersion blender (no whisking required!).
This post may contain affiliate links.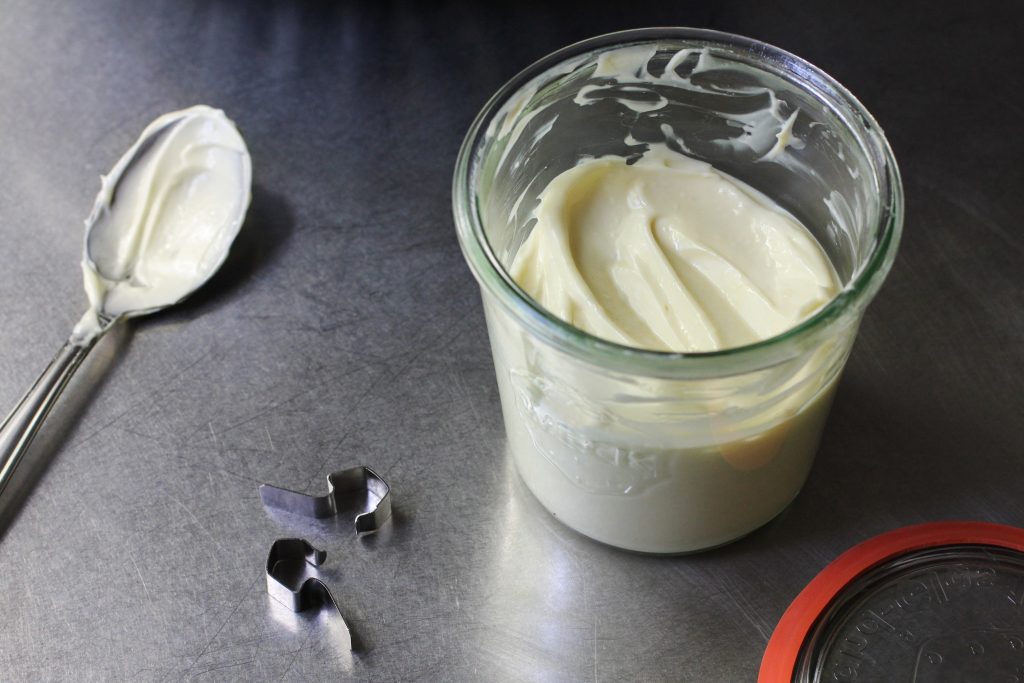 I've been quite busy over the past two weeks tying up loose ends before I go on vacation with the man.  We are leaving tomorrow evening for New York City!!!  So I'm going to keep this quick.  As quick as this recipe for Homemade Olive Oil Mayonnaise.  Seriously, this comes together in a matter of moments.  And I've got a video below to prove it!!  Continue reading for the recipe.
Mayo in 30 seconds.  I told you it was quick 🙂
How long does homemade mayonnaise last?
The recommended shelf life of homemade mayonnaise is 5 days if stored covered in the fridge. But to be honest, I've kept a jar of homemade mayo in the fridge for over a week. I will usually toss homemade mayo after 2 weeks, because the flavor will start to go off.
What oil is best for homemade mayo?
I would recommend using either regular olive oil or a neutral oil like canola or vegetable. These oils can stand up to blending without turning bitter.
I do not recommend using extra virgin olive oil here. EVOO can turn bitter if blended too much, resulting in bad-tasting mayonnaise.
Is mayonnaise made with olive oil better for you?
I'm not a nutritionist, so I can't give you any official advice on the health benefits of olive oil mayonnaise. However, I do love using homemade olive oil mayo, because olive oil is a great source of healthy fats, and I know that there are no added chemicals or preservatives when I make mayo at home.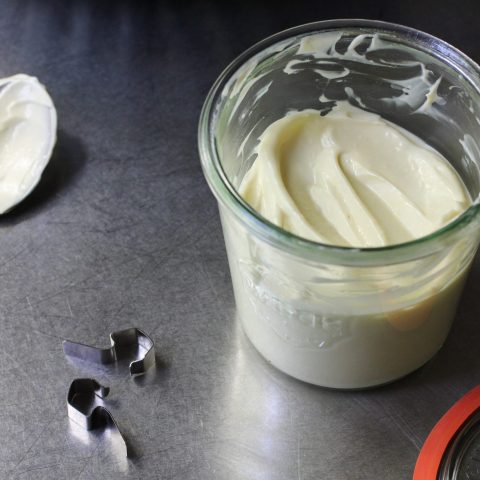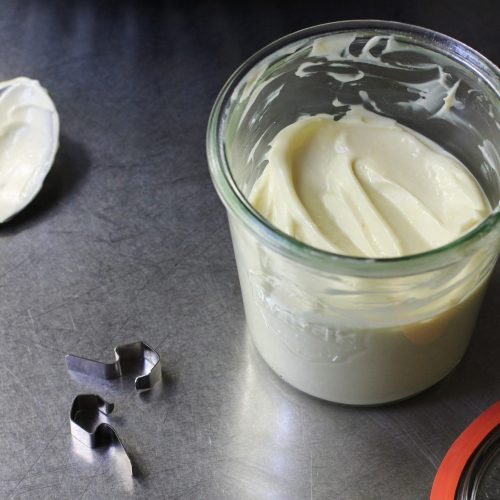 Homemade Olive Oil Mayonnaise
Ingredients
1

egg yolk

1

tablespoon

freshly squeezed lemon juice

1

tablespoon

water

1

teaspoon

Dijon mustard

1

cup

olive oil (not extra virgin)

Kosher salt, to taste
Instructions
Place egg yolk, lemon juice, water and mustard in a narrow, tall container. I used a Weck jar. Pour over olive oil, then let the contents settle for a moment.

Using an immersion blender, process until the mayo starts to form. Once you start seeing mayo, gently move the blender up and down. Continue until all oil is emulsified. The texture will be thick.

Season to taste with kosher salt and store in the refrigerator for up to several weeks.
Tried this recipe?
Tag @brandiego on Instagram so I can check it out!
12