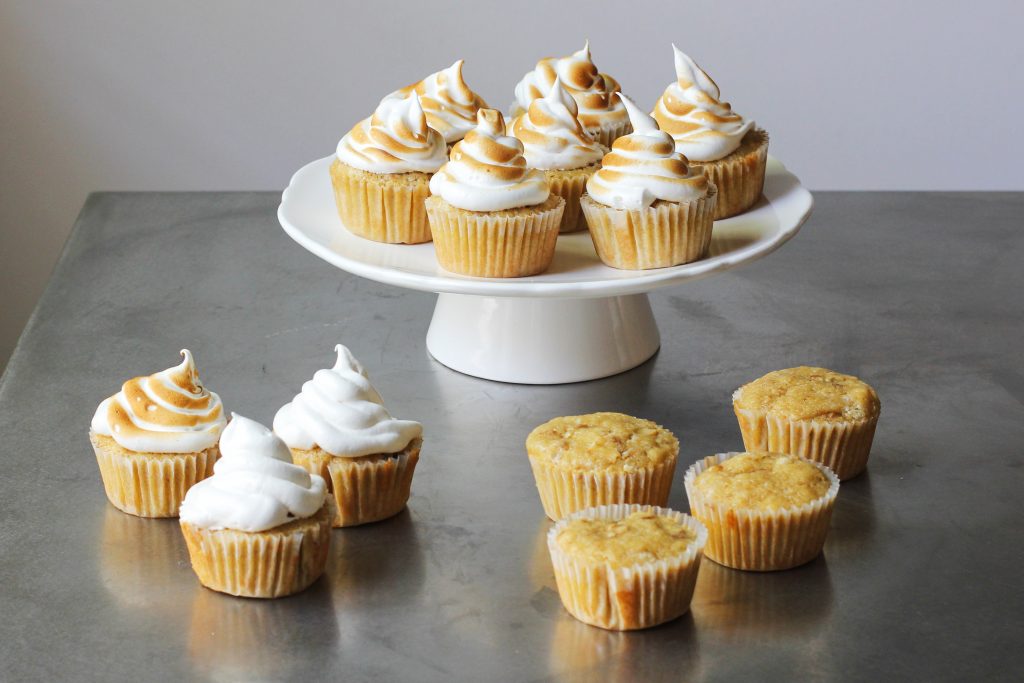 This post may contain affiliate links.
Baby shower time!!! My friend Krystal is having baby #2 soon, and a group of us food bloggers are throwing her a Virtual Baby Shower! Krystal and I first met at a food photography/styling workshop hosted by Matt Armendariz and Adam Pearson. Since then, we've kept in contact with each other in the digital space. Sadly, I wasn't able to participate in Krystal's first VBS for baby Elena (whose Instagram pictures slay me – so adorable!). So I jumped at the chance to participate in VBS #2. Especially when I heard it was cupcake themed.
Let me tell you about these Maple Cupcakes with Toasted Marshmallow Frosting. Imagine a stack of pancakes that's been doused with a substantial amount of butter and maple syrup, then topped with a melty, ooey gooey, toasted marshmallow. Yeah, that's what these cupcakes taste like. They're quite addicting. I actually sat down and ate three of them shortly after photographing the picture above. Continue reading for the recipe.
The cake portion of these cupcakes is sweetened with pure maple syrup. No additional sugar added. So you can image the intense maple flavor and aroma present with each bite.
Maple Cupcakes with Toasted Marshmallow Frosting
Adapted from Baked Explorations and Martha.
Ingredients
For the cupcakes:
3

cups

all purpose flour

3

teaspoons

baking powder

1

teaspoon

salt

1/2

cup

(1 stick) butter, slightly softened, cut into pads

2

tablespoons

vegetable shortening, at room temperature

2

cups

pure maple syrup (do NOT use imitation here)

3

egg yolks

1

large egg

1 1/2

cups

whole milk

1

cup

walnuts, toasted and coarsely chopped
For the frosting:
8

egg whites

2

cups

sugar

1/2

teaspoon

cream of tartar

2

teaspoons

vanilla extract
Instructions
Preheat oven to 325°F and set a rack in the middle of the oven. Line 2 12-cup cupcake pans with paper liners.

Sift together flour, baking powder and salt into a medium bowl and set aside. Add butter and shortening to the bowl of a stand mixer fitted with the paddle attachment. Beat on medium speed until well-combined and fluffy (1 - 2 minutes). Turn the mixer to low, and slowly pour in maple syrup. Increase speed to medium-high and beat for 3 minutes. The mixture will look a bit chunky - that's ok.

Reduce the speed to low and add the eggs (yolks and whole) one at a time. Wait until the egg is fully mixed in before adding the next. Turn the mixer off, scrape down the sides and add half of the flour mixture. Beat on low until just incorporated. Stream in all of the milk, then turn the mixer off again. Add the remaining flour mixture, and beat on low until just combined. Don't over-mix here!

Take the bowl from the mixer, scrape down the sides, and gently fold in chopped walnuts. Scoop the batter into the prepared cupcake liners. You'll want to fill them 3/4 of the way full. Bake for 20 to 25 minutes (one pan at a time) until an inserted toothpick comes out clean. Let the cupcakes cool for 15 minutes before frosting.

To make the frosting, combine egg whites, sugar and cream of tartar in the bowl of a stand mixer. Set the bowl over a medium saucepan filled with simmering water. The water should not touch the bottom of the bowl. Whisk until the sugar dissolves into the egg whites and the mixture looks frothy ( 3 to 4 minutes).

Transfer the bowl a stand mixer fitted with the whisk attachment. Beat for 5 - 7 minutes until stiff, glossy peaks form. You'll want to start on a low speed and gradually work your way to high. Add vanilla extract and whisk until fully incorporated (just a few moments more).

Using a piping bag, swirl the frosting on to the cooled cupcakes. Fire up a blow torch and lightly caramelize the swirls. Store cupcakes covered at room temperature for up to 3 days.
Tried this recipe?
Tag @brandiego on Instagram so I can check it out!
With that, I'll finish by saying Happy Virtual Baby Shower to Krystal!! I can't wait to see more adorable pictures on Instagram 🙂
For a full list of all Virtual Baby Shower cupcakes, please visit Eva Bakes.
3