This post may contain affiliate links.
Several days ago, temperatures in San Diego shot up to the mid 80's and 90's, causing an almost instantaneous craving for summer flavors.  Fresh berries, sweet corn, juicy tomatoes, grilled meats and gloriously green herbs.  I immediately got in my car to do some grocery shopping.  Windows down.  A warm breeze blowing.  Spotify on full blast.  Pulled Pork Tamales with Corn Salsa in mind.
This recipe captures the essence of summer.  Smoky, succulent pulled pork is encased in corn masa, then steamed until light and tender.  Accompanying the tamal is a corn salsa spiked with red onion, serrano chile and chopped cilantro.  This salsa is fresh, fresh, fresh.  A perfect counter to the richness of the tamal.  Summer, I am ready for you.  Continue reading for the recipe.
For this recipe, I used some leftover Slow Cooker Pulled Pork.  This method is easy, and the finished pork tastes like it sat in a smoker all day long.
In the San Diego area, I usually get most of my Mexican groceries (like the cornhusks and corn masa) at Pancho Villa's Farmer's Market.  If you don't have access to a Mexican market in your area, you can purchase these types of items online.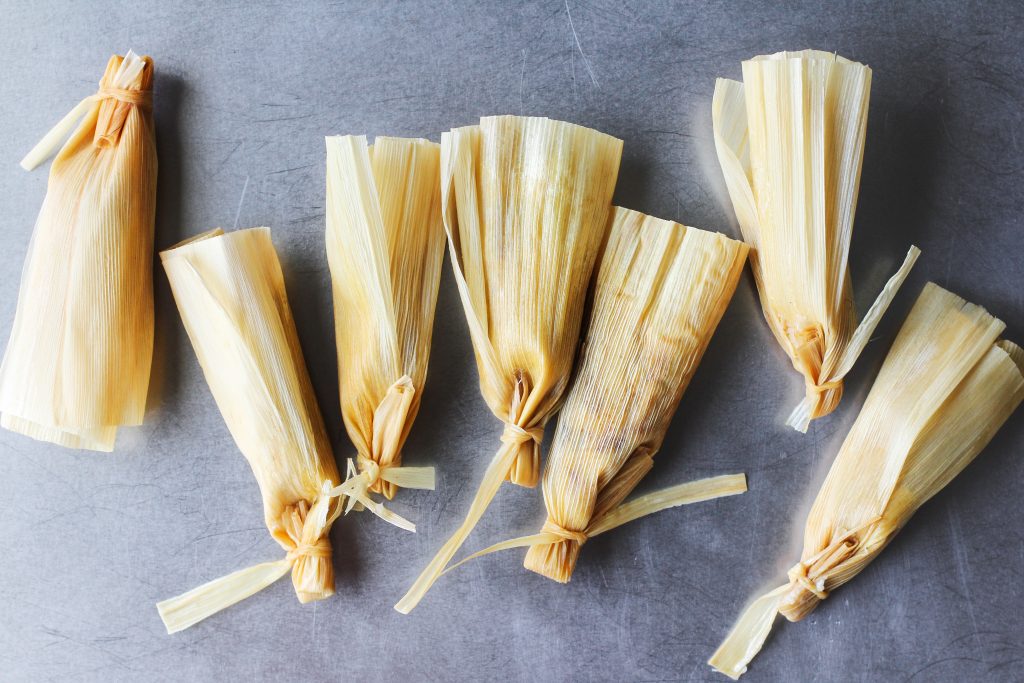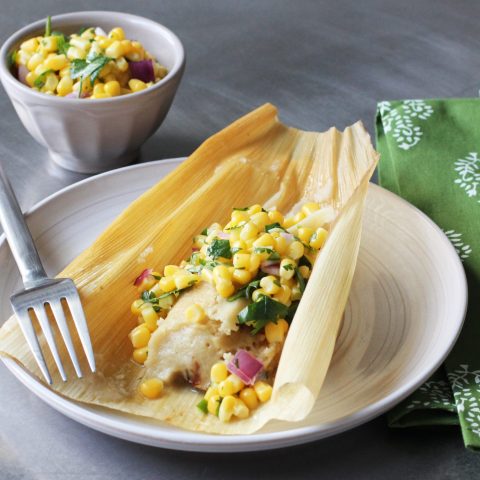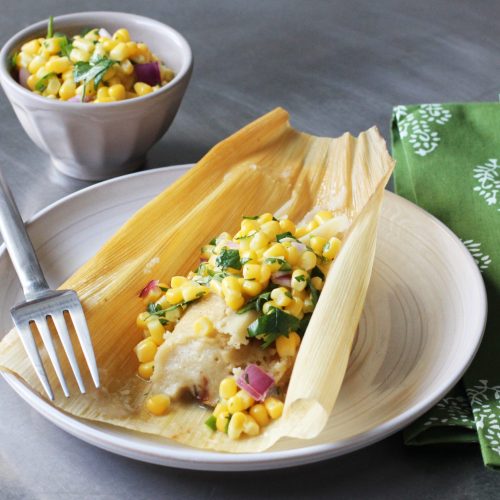 Pulled Pork Tamales with Corn Salsa
Ingredients
To make the tamales:
1

(8-ounce)

package dried cornhusks

1 1/3

cups

pork lard, room temperature

2

teaspoons

fine grain sea salt, plus more for seasoning

1 1/2

teaspoons

baking powder

2

pounds

about 4 cups fresh coarse-ground corn masa

1 to 1 1/2

cups

chicken stock

4 - 5

cups

pulled pork dressed in bbq sauce
To make the salsa:
1 12

oz.

bag of frozen yellow corn, defrosted, drained and dried

2

serrano chiles, ribs and seeds removed, finely chopped

1/3

cup

chopped red onion

1/2

cup

coarsely chopped cilantro

Juice of 2 limes

1

tablespoon

extra virgin olive oil

1/2

teaspoon

kosher salt

plus more to taste

1/2

teaspoon

sugar

plus more to taste
Instructions
Bring a large pot of water to a boil. Place cornhusks in a large roasting pan (I used a 15" pan). Carefully pour the boiling water over the cornhusks. You'll want to fill the pan up about half way. Place a smaller baking dish (9 x 13) on top of the cornhusks to keep them submerged in the water. Let soak for 2 hours until pliable.

After 2 hours, go through the cornhusks and find 24 of the largest and most pliable husks. They should be at least 6 inches across on the wider end and at least 6 inches long. If you can't find ones that large, you can overlap two to make a large enough surface. Pat the selected corn husks dry with a towel. Tear some of the remaining cornhusks into 1/4 inch strips. Keep these strips in the water until you are ready to form the tamales.

To the bowl of a stand mixer fitted with the paddle attachment, add lard, salt and baking powder. Beat on medium-high speed until light and fluffy (about 3 minutes). Add masa in three additions, beating on medium-high until fully incorporated. Reduce speed to medium-low, then add 1 cup of chicken stock. Beat for another minute then do the float test. If a 1/2 teaspoon of the batter floats in a cup of cold water, then it's ready. If your batter doesn't float, beat for a little while longer and test again. Beat in additional chicken stock to give the mixture the consistency of soft cake batter. The batter should hold its shape in a spoon. You don't want a runny mixture.

I cooked my tamales in a tamal steamer. Place several coffee mugs in the bottom of the steamer. Set a wire rack on top of the mugs. Fill the bottom of the steamer with water. The water should come about 1/2 to 3/4 of the way up the mugs. Line the rack with some of the leftover cornhusks. If you don't have a tamal steamer, use the largest pot that you have. You'll need enough room to stand all of the tamales up inside with space in between each tamal. If you don't have a wire rack, you can also use a collapsible vegetable steamer insert.

Lay out one of the chosen cornhusks with the narrow end towards you. Spoon about 1/4 cup of batter on to the middle of the husk then spread into a 4 inch square. This does not have to be exact. Just make sure you don't spread the batter all the way to the edges. Place a small spoonful of BBQ pork down the middle of the batter. Don't overfill! Bring the two long sides of the cornhusk up so the ends meet and the batter surrounds the BBQ pork filling. Roll both sides in the same direction around the tamal. Fold up the bottom tip then tie with a strip of cornhusk (see images for process). Stand the tamal up tied end down in the prepared steamer (the top end remains open). Repeat with remaining cornhusks. Be sure to leave a little space between the tamales in the steamer. They will expand a bit.

Once all tamales are standing in the steamer, cover with a clean kitchen towel. Cover the kitchen towel with a plastic bag and then clamp on the lid. Steam over constant medium heat for about 1 1/4 hours, adding boiling water to the pot if needed. Tamales are done when the husk peels away from the masa easily. Let the tamales stand in the steamer off the heat for a few minutes to firm up.

Combine all salsa ingredients in a large bowl, stirring to combine. Season to taste with additional salt and sugar.

Place a tamal on a small plate and peel back the cornhusk. Spoon corn salsa over the tamal, and dive in!
Tried this recipe?
Tag @brandiego on Instagram so I can check it out!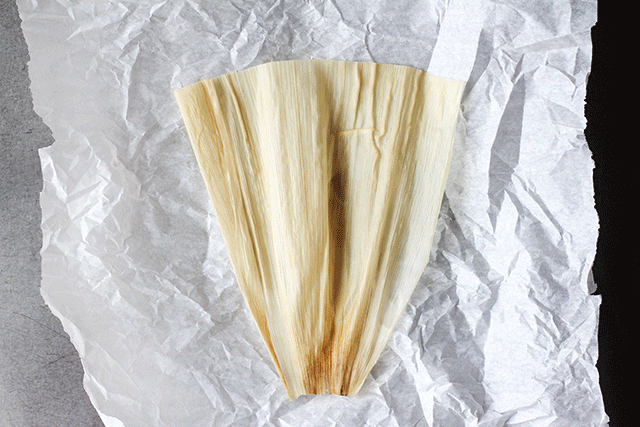 Related recipes and articles:
Roasted Pineapple Tamales with Riesling Poached Raisins
Pulled Pork, for Crowds Large or Small
Chipotle Cherry Barbecue Sauce
10