This post may contain affiliate links.
San Diego Magazine's Best of San Diego party is coming up this Friday, and I've got a special offer for all of you on tickets.  But first, let me tell you a little about this party.  Each year in their August edition, SD Mag features the best restaurants, businesses and activities in San Diego.  Categories include Food & Drink, Arts & Culture, Beauty & Style, Kids, Things to Do, and Best of the City.  The Best of San Diego Party is a celebration for the winners in each category.  These winners then sample their food, beverage, activity, etc. at the party.  To summarize, a party packed with all of the best things in San Diego.  Plus live entertainment.  It's unreal.
I've gone to the Best of Party each year since 2009, and I've never been disappointed.  So this year, I thought I'd gladly help promote the event.  It's a great opportunity to sample food from restaurants around San Diego.  Continue reading for some photos from last year plus a special offer on tickets!!
Here's the video of last year's party:
Cray!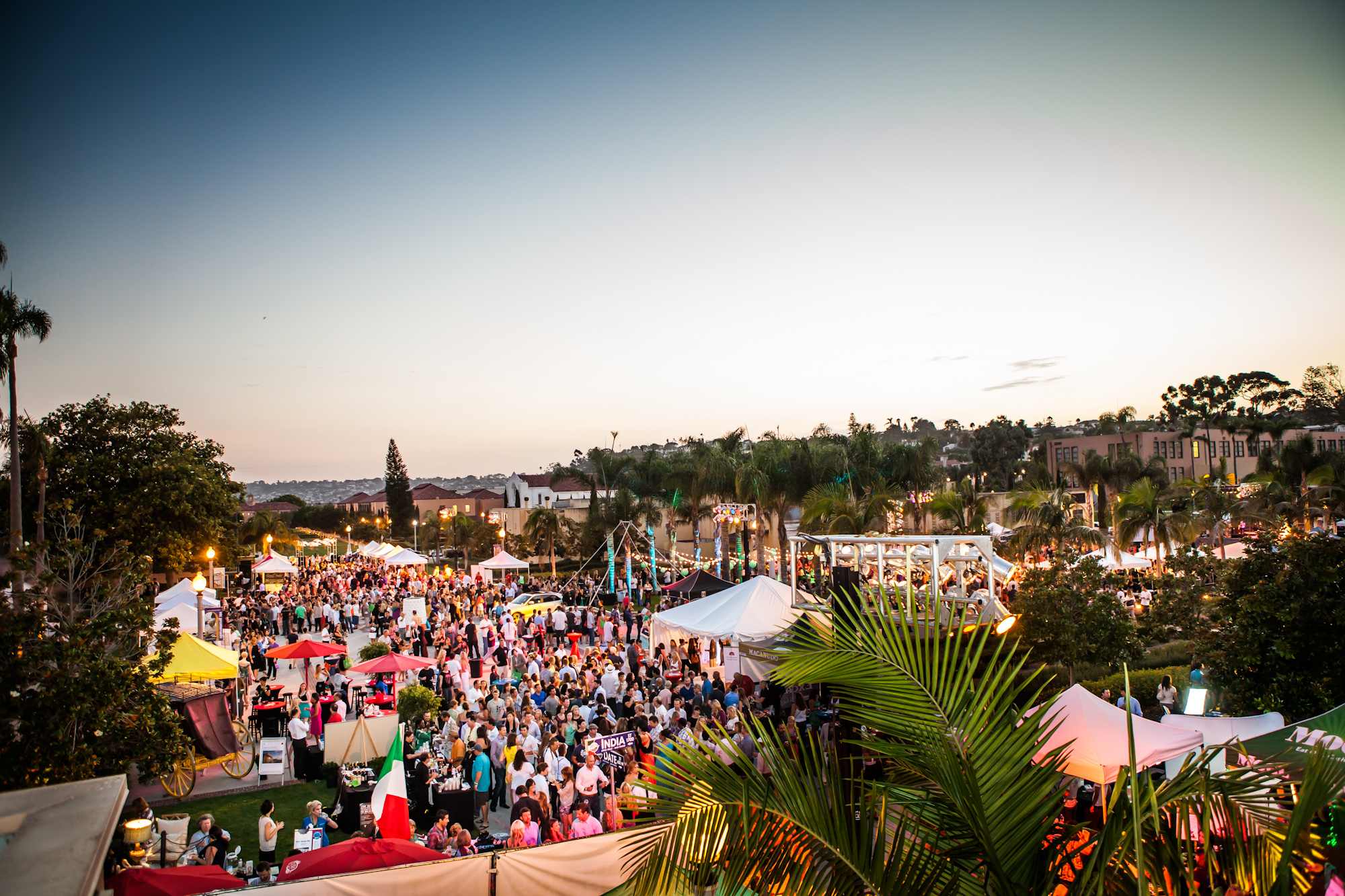 Looks like fun, doesn't it ;)?  So let's get to the special offer.  San Diego Magazine has agreed to give all Kitchen Konfidence readers $10 off each ticket for the Best of San Diego Party 2013!!
To take advantage of this offer, go here http://sdmag.us/bestofsd then click on the link that says "Enter promotional code" and type in KONFIDENCE.  $10 off.  Boom.
I will be attending this year's event again, so if you are planning on going, let me know in the comments below and we can meet up!  I'll be there with the man 🙂
Here's a photo of me from the 2010 party, kicking back a scrumptsh oyster with strawberry mignonette.  This photo is mine.  All others are courtesy of San Diego Magazine.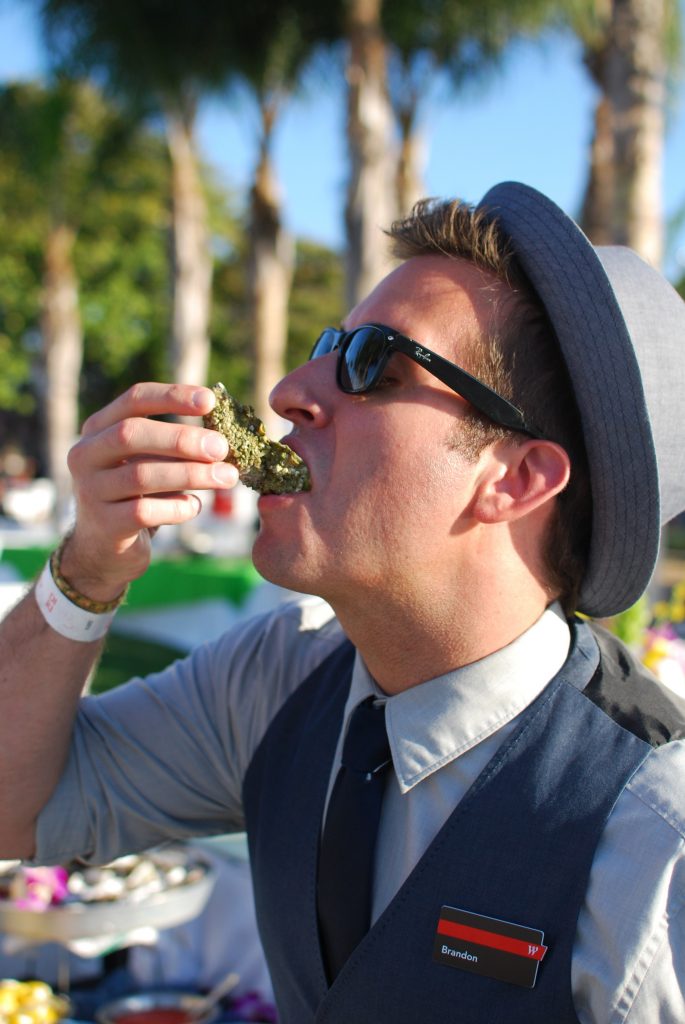 And here's a list of everyone else who will be attending this year's party [with my comments in bold]:
Acid Groove
Addison at The Grand Del Mar
Audi
Badunkachunk [some of the craziest damn cookies you'll ever have.  amazing]
Ballast Point Brewing and Spirits
Bencotto Italian Kitchen [one of my fav Italian restaurants]
BlueFire Grill at Omni La Costa Resort & Spa
Café Coyote
Cafe Secret
Cooking 4 Life
Cowboy Star
Dale Diego
Donovan's Steak & Chop House La Jolla
Edible Arrangements
Energy 103.7
Falkner Winery
Flagship Cruises & Events
General Cigar
Great Maple [we celebrated Jorge's birthday here this year, another awesome restaurant]
Green Flash Brewing Co. [craft beer, yay!]
Guyaki Yerba Mate
Hacienda de la Flor
Holiday Wine Cellar
Jackson Design
Karl Strauss Brewing Company
KyXy/ Energy
La Salsa Chilena
Larabar
Latin Food Fest
Latitude 33 Brewing Company
Little Italy Association [hopefully the Teagan Taylor Trio will be performing here this year]
Lucha Libre Taco Shop [only my favorite Mexican spot in SD!!]
Magnolia Tap & Kitchen
Massage Envy
Monte De Oro Winery
NBC San Diego
Nothing Bundt Cakes [looooove]
Palm Springs Board of Tourism
Paul Cannon Band
Phil's BBQ [best BBQ hands down]
Pizza Port Brewing Co.
Popchips
Prepkitchen [I've eaten here a few times, and it's always tasty]
PRP Wine International
Puesto [uhhh yeah I kindof like this place, great micheladas]
Republic Photo Booth
Romesco Mex Med
Roppongi Restaurant & Sushi Bar
Royal India
Rubio's Mexican Grill
Sadie Rose Baking Co.
San Diego Bay Wine & Food Festival
Sara Elizabeth Skincare
Shelter to Soldier
Slater's 50/50 [burgers made with 50% bacon, 'nuff said]
Smirnoff
Solar Rain
Stella Artois
Tailgate Beer
Talavera Azul
The Commons Bar
The Foto Box
The Fuzzy Rankin Trio
The Oceanaire Seafood Room [the oyster spot]
The Tractor Room [little sister to Hash House.  one of my fav brunch spots]
Truluck's Seafood, Steak, & Crab House
Uber San Diego
URBN Coal Fired Pizza [yuuuum pizza]
Valley View Casino & Hotel
Welk Resorts
Whisknladle [the more sophisticated version of PrepKitchen.  have yet to try this place out]
White Labs, Inc.
ZipCar
0