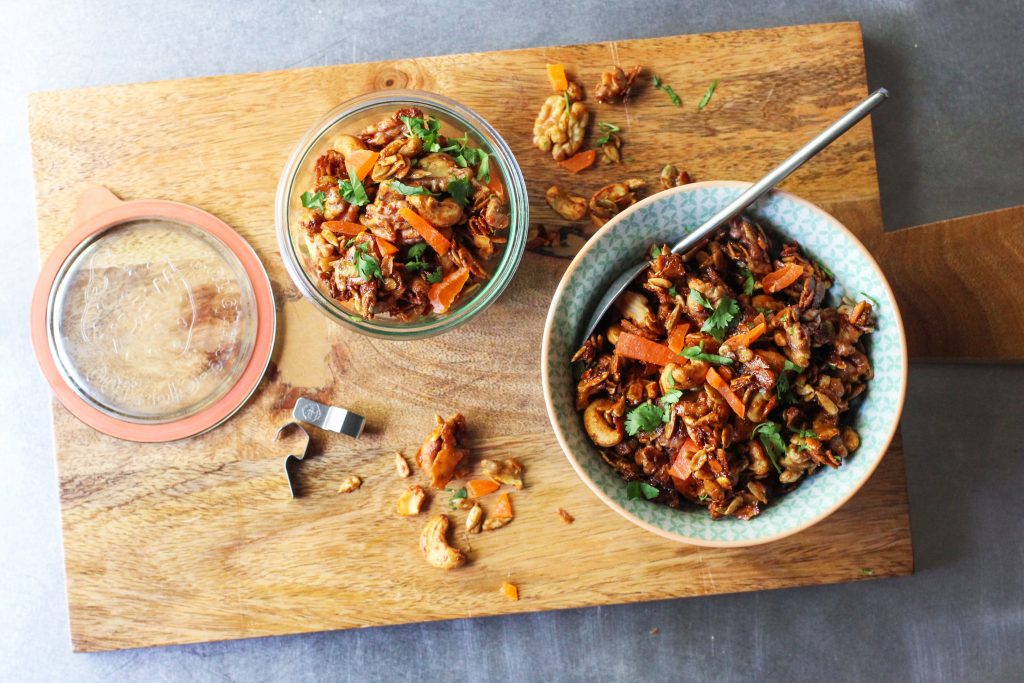 This post may contain affiliate links.
Jorge and I are headed off for Portland and Seattle in several days, and I'm currently in the process of preparing for this 9 day trip.  Today will be spent doing laundry, and purchasing any last minute items like my cologne that's just about to run out (Jo Malone Assam & Grapefruit), hiking shoes, new jeans and a gift for a friend's wedding we'll be attending on Saturday.  Tomorrow, I'll be organizing my belongings and starting the packing process.  I'm one of those people who packs waaaaay too much stuff for vacation.  Whatever, I like outfit options!  On Thursday, I'll be baking another batch of this Tamarind Trail Mix.  Traveling without substantially delicious snacks is something I rarely do.  Airport food is typically the worst.  Hi, $11 sandwich that tastes moderate at best.  And don't even get me started on airplane food.
Sweet, salty and wonderfully complex, this Tamarind Trail Mix is flavored with cayenne pepper, cumin, coriander, honey, brown sugar, tomato and tamarind.  Roasted nuts, seeds and coconut are then tossed with sweet dried mango and citrusy chopped cilantro.  The finished mix is incredibly savory and undeniably addictive.  I like to pack up my travel trail mixes in mason jars to keep the contents from getting crushed in my bag.  I should note that I'll be making most of the trail mix in advance.  On Saturday, right before we leave for the airport, I'll add the chopped cilantro.  Continue reading for the recipe.
Tamarind Trail Mix
Ingredients
1

pound

mixed nuts and seeds (I used walnut halves, cashews, pepitas and sunflower seeds)

1

cup

unsweetened coconut flakes

Large pinch ground cayenne pepper

1

teaspoon

ground cumin

1

teaspoon

ground coriander

1 1/4

teaspoons

kosher salt, plus more for sprinkling

4

tablespoons

unsalted butter

3

tablespoons

honey

2

tablespoons

light brown sugar

1

teaspoon

tomato paste

1 1/2

teaspoons

tamarind paste*

1/2

cup

coarsely chopped dried mango
Chopped fresh cilantro, for serving
Instructions
Preheat oven to 300 °F. Line a baking sheet with parchment paper. Place nuts, coconut, cayenne, cumin, coriander and kosher salt in a large bowl and have a medium-mesh strainer ready.

In a medium saucepan, warm butter, honey, brown sugar, tomato paste and tamarind paste over medium heat, stirring until smooth. Don't worry about any seed particles from the tamarind. They will be strained out. Pour the butter-tamarind mixture through the medium-mesh strainer into the bowl with the nuts. Toss until everything is evenly coated.

Spread nuts on the prepared baking sheet. Bake the nuts for 25 - 27 minutes, stirring occasionally. The nuts will gradually get darker in color as the sugars caramelize. Take the nuts from the oven and sprinkle with a pinch of kosher salt. Let cool completely then toss with dried mango and a sprinkling of chopped fresh cilantro.
Notes
*If your tamarind paste has seed particles in it, be sure to strain them out before adding to the nut mixture. You can also use tamarind concentrate here. Simply substitute 1 1/2 teaspoons of tamarind concentrate for the tamarind paste.
Tried this recipe?
Tag @brandiego on Instagram so I can check it out!
I've been experiencing some technical difficulties over the past two days with Kitchen Konfidence, so I apologize if you've had any issues accessing my content.  I am pretty sure that I've got everything straightened out, but if you notice something strange, please message me at brandon [at] kitchenkonfidence [dot] com.  You can also find me on Facebook and Twitter.  Thank you!!
Related recipes and articles:
Trail Mix Cookie Ice Cream Sandwiches
Granola Bars with Coconut, Currants and Almonds
2