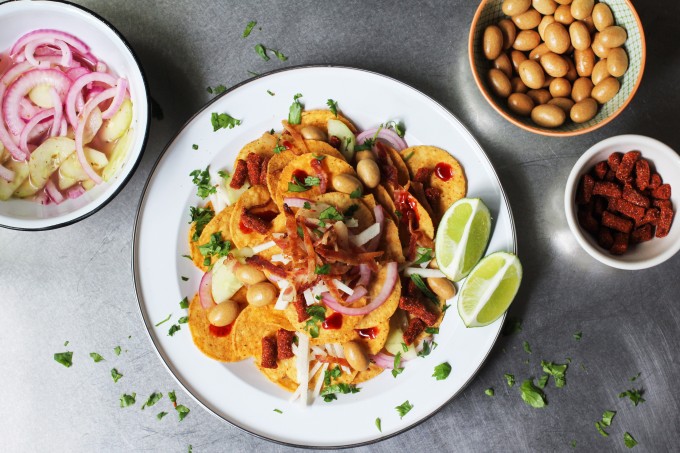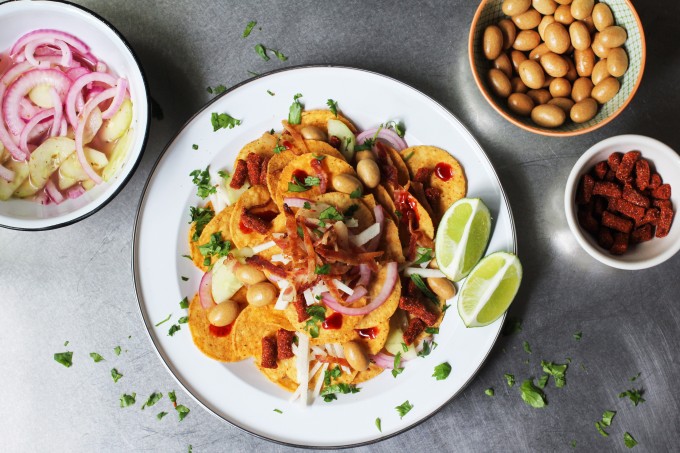 This post may contain affiliate links.
Oh man do I have a fun recipe for you today!  Tostilocos, a Mexican street food specialty, are typically made by cutting open a bag of flavored corn chips and piling on toppings such as pickled pig skin, tamarind candies, Japanese peanuts, jicama, cucumber, lime juice, chamoy and hot sauce.  I first had Tostilocos last year at our San Diego LGBT Pride festival.  Jorge and I had been walking around all day, and I was getting huuuungry.  We stopped to sit for a moment in the shade, when Jorge hopped up and said, "I'll be right back."  Several minutes later, he returned with a bag of Tostilocos.  After just one bite my taste buds were all like, "Whaaaaaaat???"  Such a crazy combination of flavors that just completely work well together.  Sweet.  Salt.  Sour.  Crunch.  I'll have to say the one element I'm still not completely sold on is the pickled pig skin.  It's like savory gummy worms.  But wet and slippery.  Not my fav.  So when I was coming up with a homemade version of Tostilocos, I decided to substituted thin strips of smoky bacon for the pickled pig skin.  I also included some quick pickled cucumber and red onion to add another note of sweet, sour and salt.  You can easily make these pickles at home in just one hour (mainly inactive wait time).  Jorge and I will still get Tostilocos each year at the festival, but now I can easily satisfy cravings in between with my bacon version!
If you don't live in San Diego (or any other City bordering Mexico), some of these ingredients may look very foreign to you.  Try to find a Mexican market in town.  They should have everything you need.  Or you can easily purchase these items online.  I purchased everything at Pancho Villa's Farmer's Market here in SD.  Continue reading for the recipe.
Bacon Tostilocos
Ingredients
For the quick pickles:
1/4

cup

freshly squeezed lime juice

1/2

teaspoon

dried oregano, preferably Mexican

1/2

teaspoon

kosher salt

3/4

teaspoon

sugar

Half of 1 small red onion, peeled and thinly sliced

Half of 1 cucumber, peeled and cut into half moons
For the Tostilocos:
1

small bag (3.7 oz) salsa verde flavored chips

1

heaping tablespoon tamarind candies, plus more to taste

1

heaping tablespoon Japanese peanuts, plus more to taste

3

slices

of bacon (cooked through but still pliable), thinly sliced

Quarter of 1 small jicama, peeled and sliced into thin sticks
Hot sauce, for serving (like Tapatio)
Chopped fresh cilantro, for serving
Instructions
To make the quick pickles, add lime juice, oregano, salt, and sugar to a small bowl, whisking to combine. Add sliced onion and cucumber, tossing in the pickling liquid. Let sit for 1 – 3 hours at room temperature, tossing every 20 minutes for the first hour. Store in the refrigerator for up to 1 month.

Arrange a layer of chips on a large plate. Scatter some of the pickled onion and cucumber, candies, peanuts, bacon and jicama over top. Add another layer of chips and toppings. Dress the entire plate with freshly squeezed lime juice, chamoy and hot sauce to taste. Finish with a sprinkling of chopped fresh cilantro.

To enjoy these Tostilocos on the go, open the bag of chips by slitting through one of the long sides. Add toppings and flavorings directly to the bag. Be sure to bring some extra napkins!
Tried this recipe?
Tag @brandiego on Instagram so I can check it out!
Related recipes and articles:
20