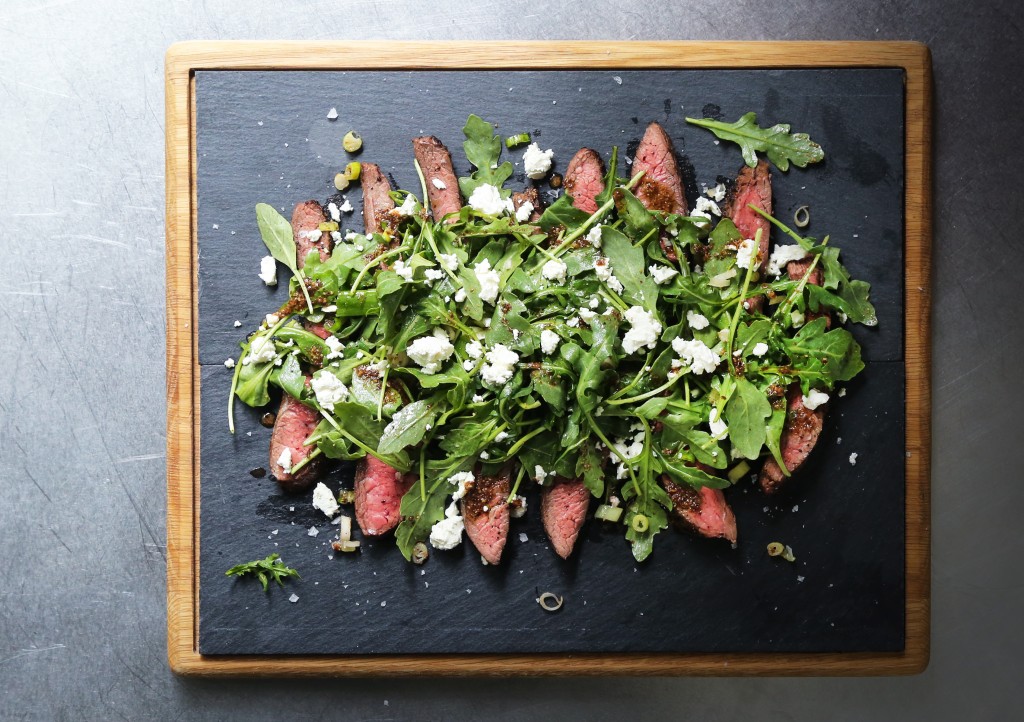 This post may contain affiliate links.
I love a good flank steak salad.  First, flank steak is fairly inexpensive.  You can get a pound of meat without breaking the bank.  Second, flank steak cooks sooooo quickly.  8 to 9 minutes under the broiler, and you have a beautifully rare slab of meat.  Finally, flank steak is easy to master.  Just know that when cooking flank steak, it's best to leave it rare or medium rare.  And when slicing flank steak, you need to cut across the grain.  Both of these practices will result in a juicy, tender steak (vs. a chewy piece of shoe leather).
I like to test the doneness of my steak by using the poke method.  Start by gently poking the top of the steak (at the thickest point) with your index finger.  If the act of poking leaves an indent in the steak that doesn't spring back to place, it is too rare.  If the indent springs back, it is rare to medium-rare.  If the steak feels firm, then it is medium-well to well (aka overcooked).  This method takes a little time to get down, but just keep practicing.  By the way, if you are one of those people who likes their steak well-done, I wouldn't recommend cooking flank steak.
In this recipe, flank steak is quickly marinated in olive oil, lemon, garlic, cumin, and sumac, then broiled until the surface is slightly charred.  Slices of tender pink meat are then arranged on a platter, and topped with arugula, scallion, parsley and chunks of salty feta, dressed in the tangy marinade.  This is a perfect weeknight meal that also holds up well for lunch the next day.  Continue reading for the recipe.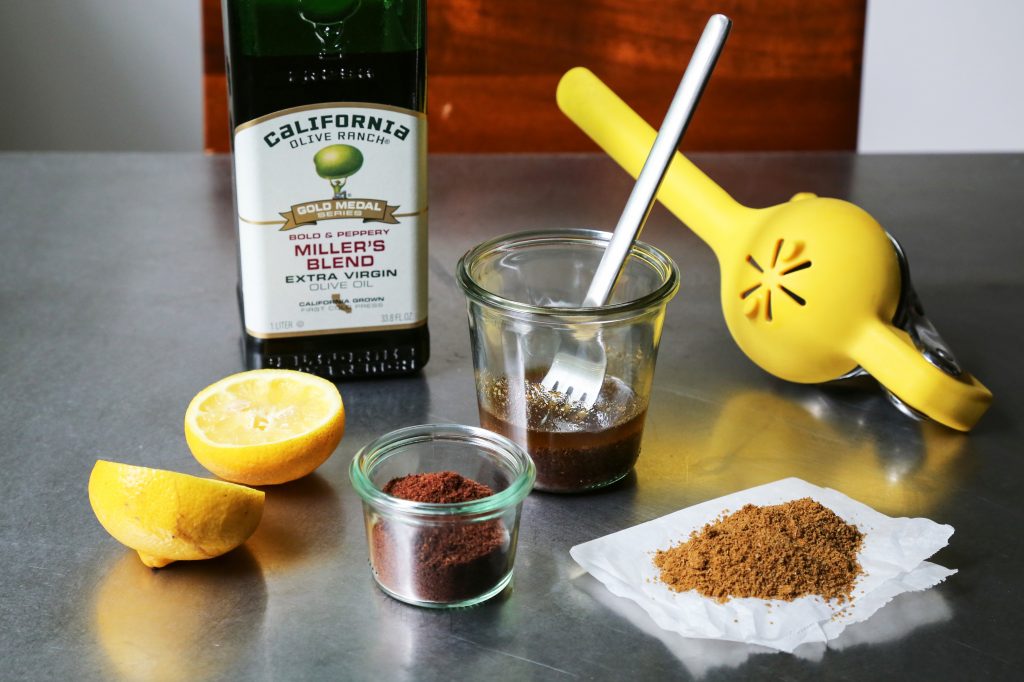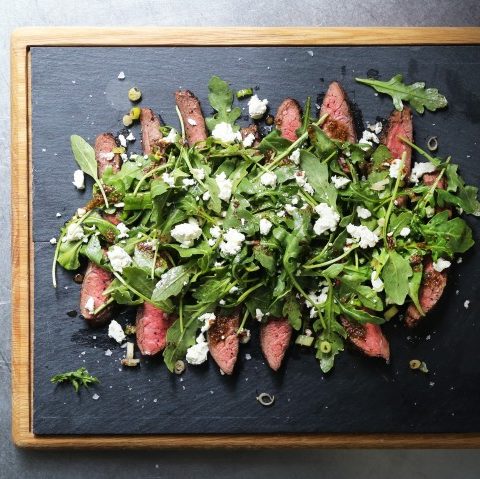 Marinated Flank Steak Salad with Feta and Arugula
Ingredients
2

tablespoons

extra-virgin olive oil

2

tablespoons

fresh lemon juice

2

garlic cloves, minced

2

teaspoon

ground cumin

2

teaspoon

ground sumac

1

pound

flank steak

Kosher salt

Freshly ground black pepper

2

cups

arugula leaves

2

scallions, root end trimmed, whole scallion thinly sliced

2

tablespoons

fresh flat leaf parsley leaves

1/2

cup

crumbled feta cheese
Instructions
To a small jar, add extra-virgin olive oil, lemon juice, garlic, cumin and sumac. Secure the lid on the jar, and shake until the marinade/dressing is well combined. Spoon half of the marinade/dressing over both sides of the steak (reserve the rest for the salad that goes on top). Season both sides of the steak generously with kosher salt and black pepper. Let the steak sit at room temperature for 30 minutes (or in the refrigerator overnight).

Preheat your broiler to high. Take the steak from the marinade and lay it flat on a rimmed baking sheet. Broil for 5 minutes on one side, then flip and broil for 4 to 5 minutes more. Timing will depend on personal preference (how rare you like it) and thickness of steak. I like my steak rare. Overcooked flank steak is very tough and chewy.

Transfer the steak to a cutting board and let rest for 10 minutes. In a bowl, combine the arugula, green onion, and parsley, and drizzle the reserved dressing over the top. Toss to combine. Season to taste with kosher salt and black pepper.

Slice the steak against the grain (this will keep your steak from being chewy), and arrange on a large cutting board or platter. Season steak with a little kosher salt. Top the steak with the arugula salad, then dot the plate with crumbled feta.
Tried this recipe?
Tag @brandiego on Instagram so I can check it out!
Related recipes and articles:
Grilled Flank Steak with Balsamic Fig and Mint Salsa
Thai Steak Salad with Roasted Chili Mango Vinaigrette
Grilled Herb Skirt Steak With Lemon-Feta Potatoes
8