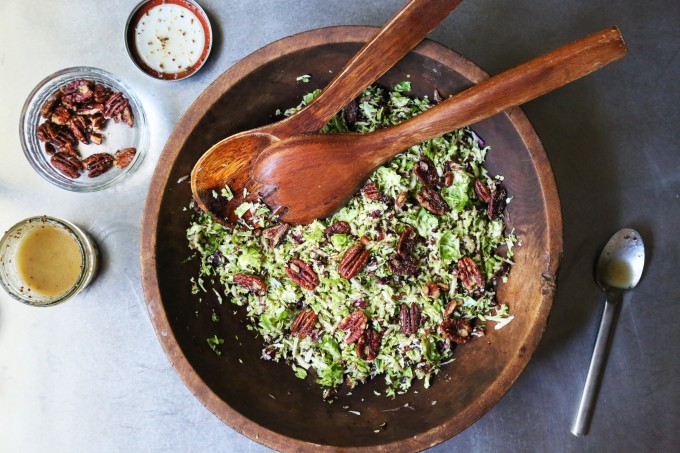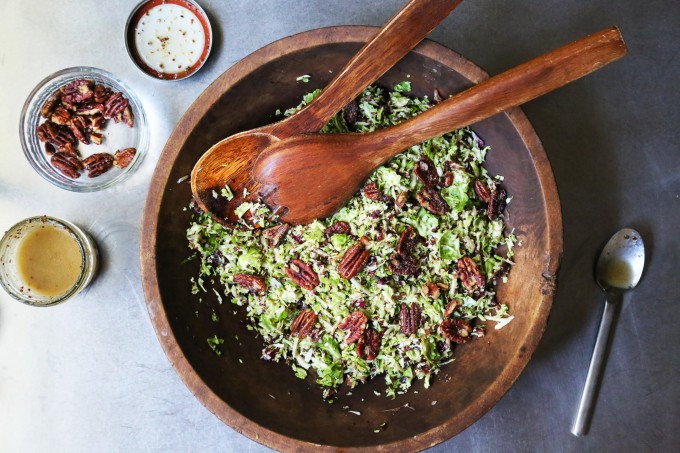 This post may contain affiliate links.
Often, my Thanksgiving side dishes can be quite involved.  And to be honest, I like them that way.  There's just something about an over-the-top casserole packed with layers and layers of flavor that makes me swoon each and every time.  Maybe it's the butter.  Maybe it's the cream.  Or maybe it's the cheese.  I don't know.  I just love them 🙂
But sometimes, I do crave a simple and healthy side dish during the holiday season.  When one of these cravings comes along, I make this easy Brussels Sprout Slaw.  A colorful mix of shredded brussels sprout and radicchio is tossed with a sweet-tart dressing made of apple cider vinegar, maple syrup, lemon juice, and whole grain mustard.  The slaw is then finished with homemade spiced pecans.  Bitter yet balanced, this seasonal salad can be prepared in advance and requires minimal cook time.  Continue reading for the recipe.
In the recipe, I shred raw brussels sprouts and radicchio in a food processor.  If you don't have a food processor, you could certainly use a hand grater.  I'm sure you could make this recipe with a pre-packaged slaw mix, but I don't think it would be as tasty.
If you are looking to prepare this side dish in advance, you can make the dressing and spiced pecans up to 3 days in advance.  Store the dressing the refrigerator, and the pecans in an airtight container on the counter.  Shred the brussels sprouts and radicchio the day of, and store in the refrigerator.  Toss the salad with the dressing according the the recipe below 15 minutes before you plan on serving it.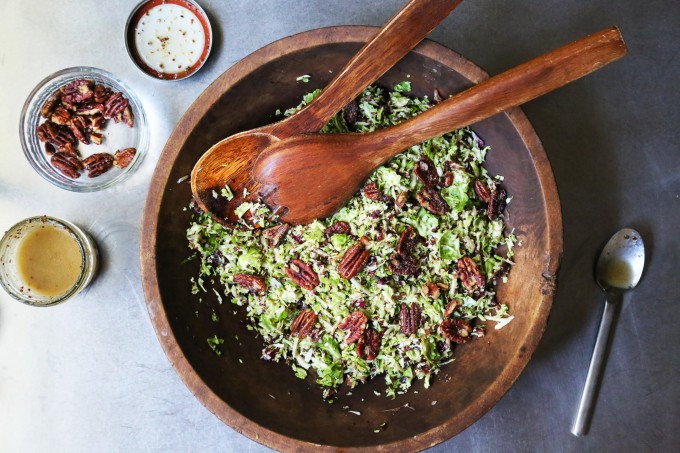 Brussels Sprout Slaw
Ingredients
To make the spiced pecans:
1/2

cup

pecan halves

1 1/2

teaspoons

olive oil

1/4

teaspoon

kosher salt

1

teaspoon

sugar

Pinch

of cayenne pepper
To make the slaw:
1/4

cup

olive oil

2

tablespoons

apple cider vinegar

1

tablespoon

freshly squeezed lemon juice

2

tablespoons

whole grain dijon mustard

3

tablespoons

pure maple syrup

Kosher salt

Freshly ground black pepper

2

pounds

brussels sprouts, bottoms trimmed

1

small radicchio head, quartered and cored
Instructions
Start by making the spiced pecans. Preheat oven to 350°F.

Add pecan halves to a small bowl and drizzle with 1 1/2 teaspoons olive oil. Sprinkle pecans evenly with the kosher salt, sugar, and cayenne. I like to sprinkle a little bit, then toss. Sprinkle, then toss. Sprinkle, then toss. You get the idea ????

Spread pecans out over a rimmed baking sheet, and toast in the oven until browned and fragrant (10 - 12 minutes). Definitely check the pecans at 9 or 10 minutes to make sure they aren't burning. Let cool.

Next, prepare the slaw dressing. Combine 1/4 cup olive oil, apple cider vinegar, lemon juice, mustard, and maple syrup in a mason jar. Season with 3 pinches of salt and several turns of black pepper. Cap the jar, and shake until combined. Taste for seasoning. I like to season my vinaigrettes aggressively, so I don't have to add any additional seasoning later. This means that the vinaigrette should taste a bit too salty on its own.

Using the grater attachment of a food processor, shred the brussels sprouts and radicchio. You can certainly do this by hand if you don't have a food processor. Transfer to a large bowl, and drizzle with half of the vinaigrette, tossing to combine. Add more vinaigrette if needed. You want to coat the shreds, not drown them (no dressing pooling at the bottom).

Let stand for 15 minutes to "cook" the sprouts. Top with spiced pecans and serve immediately.
Tried this recipe?
Tag @brandiego on Instagram so I can check it out!
6