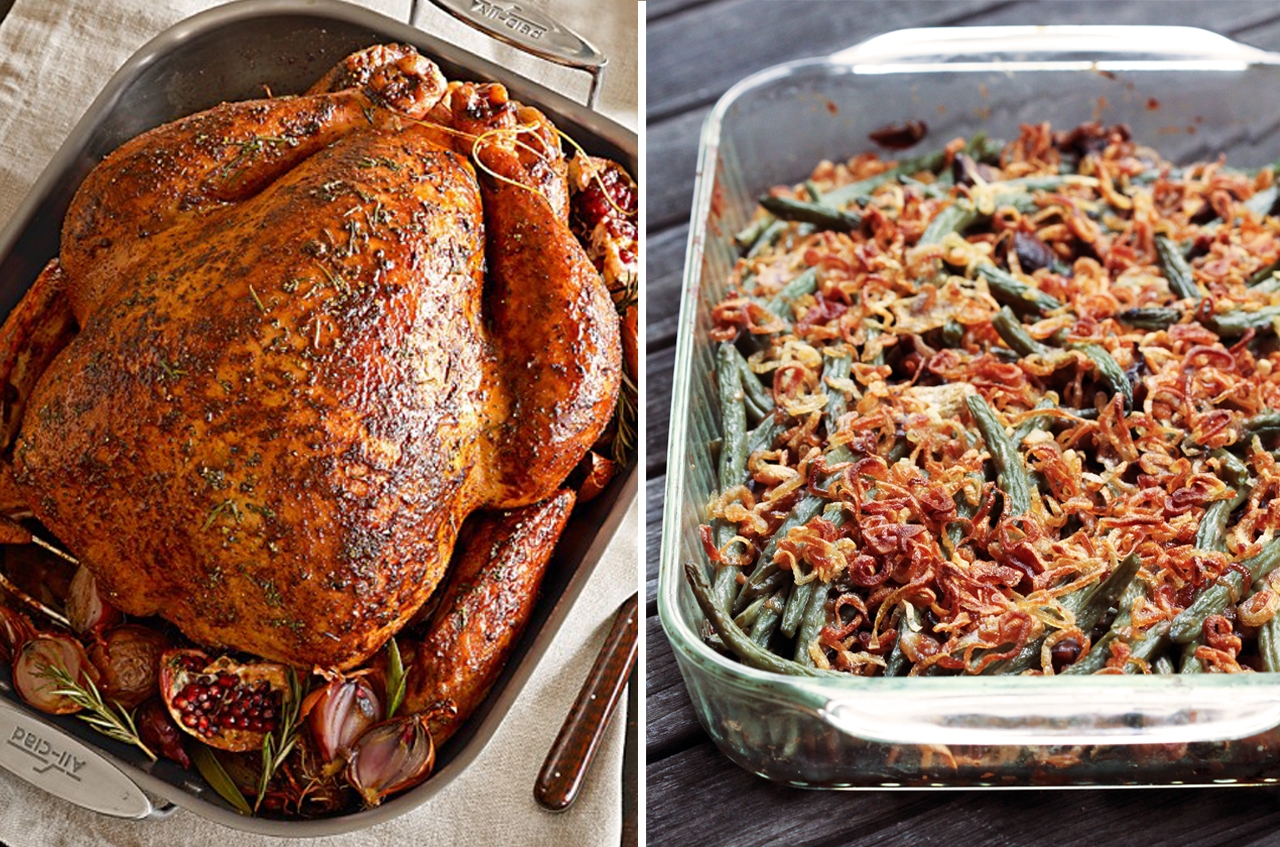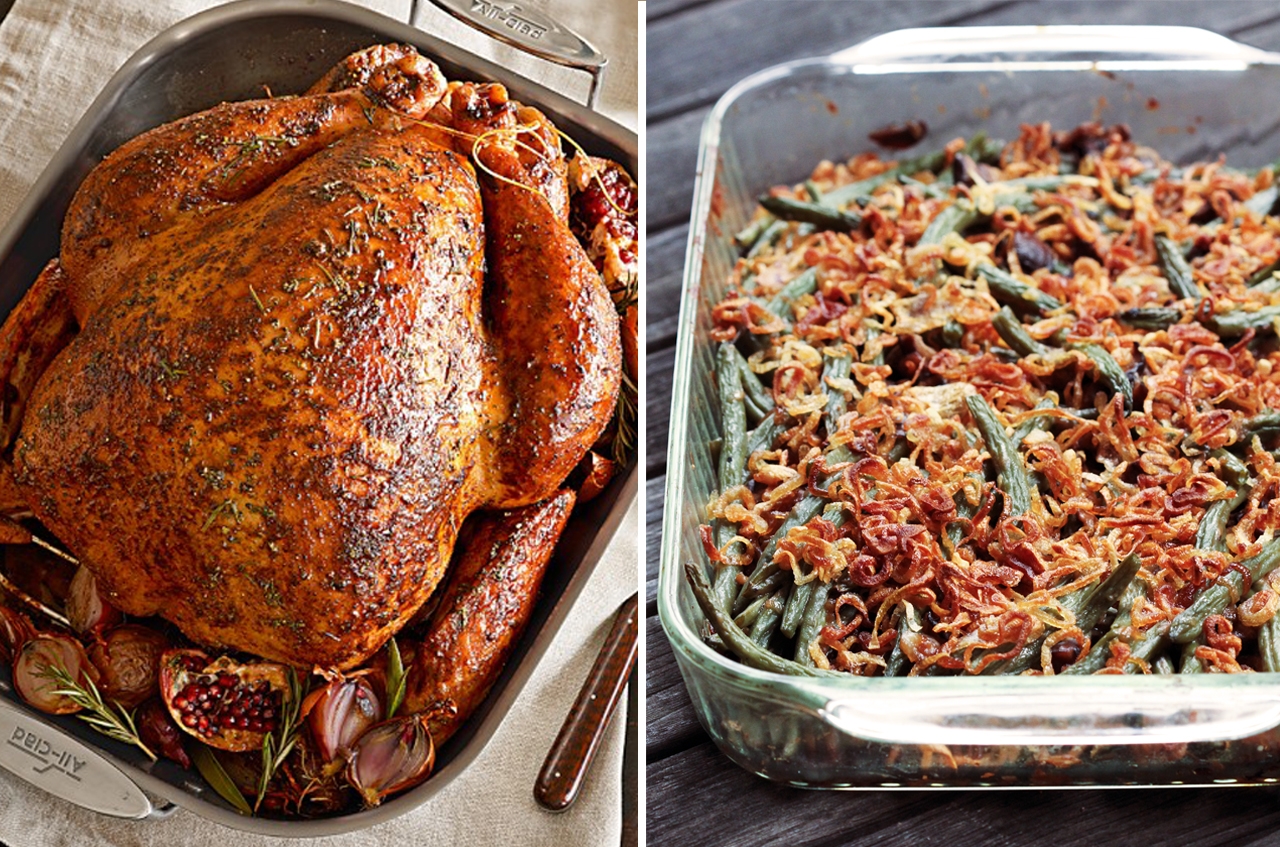 This post may contain affiliate links.
As many of you may already know, Thanksgiving is my thing.  Each year, I put on a 5 course meal for a group of 18 – 20 of my close friends, and I absolutely love every bit of it.  Well almost every bit.  Over the years, I've developed an almost comical arch-rivalry with the dreaded turkey.  I've brined it.  I've cooked it in parts.  I've slathered it with truffle butter.  And guess what?  It never turns out well.
At first I was thinking to myself, "Do I lack the skills to cook a really good turkey?  What's missing here?"  I mean, I know how to cook the smaller version.  But then I realized that for me, Thanksgiving is all about the sides.  I put so much thought and effort into creating a tasty landscape of potatoes, yams, green beans, brussels sprouts, cranberries and stuffing, that I usually neglect the turkey.  I love the excitement and variety that comes with having a sizable spread of side dishes.  A dab of this.  A spoonful of that.  A plate brimming with bold flavors.  How could a slice of dry, bland turkey even compete?  The only way would be if the turkey was completely made of crispy skin.
Now I understand that these inflammatory comments may be insulting to those of you who love turkey.  The group of you who gets a rush as that perfect bird comes out of the oven.  Crispy, golden skin.  Juicy, tender meat.  Flavorful drippings transformed into a rich gravy.  A big smile across your face as you set this edible centerpiece on the table, releasing a chorus of ooos and ahhs from impressed house guests.  That proud moment when you carve the first slice.  The group of you who thinks that Thanksgiving is all about the turkey.  Although this perfect turkey scenario described above is one I've never experienced myself, I totally understand it's a reality for many.  And I can respect that.
So which camp are you in?  Turkey or sides?  Please share below!  Continue reading for a video that pretty much sums up my relationship with turkey, plus several recipes for my favorite side dishes.
Watch this:
So here are some of my favorite sides.  Let's start with Stuffed Savoy Cabbage with Rosemary Brown Butter.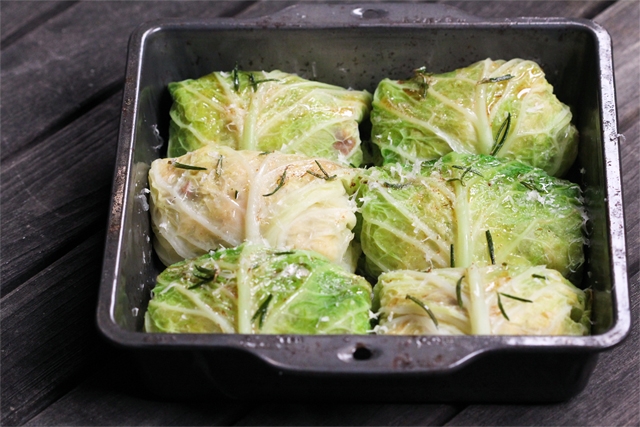 Shredded cabbage is cooked with bacon and garlic, then wrapped in a whole savoy cabbage leave.  These green-hued packets are finished with a nutty rosemary brown butter sauce.  They're unreal and can be easily prepared in advance.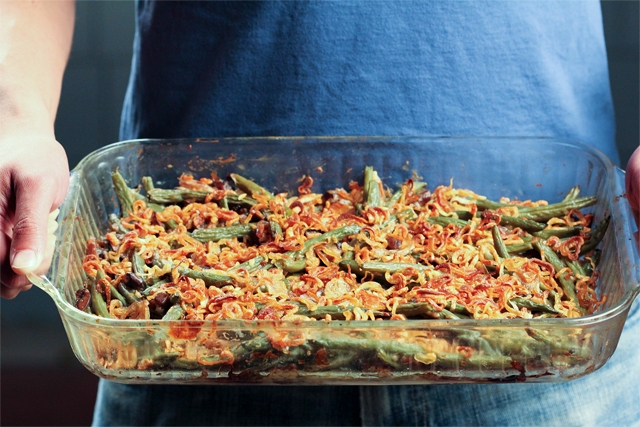 The Green Bean Casserole that 75% of America loves is one that's been banned from my Thanksgiving table.  That's the one with canned cream of mushroom soup, canned green beans and processed crispy onions.  Instead, I make this Green Bean Casserole.  In my recipe, fresh green beans are cooked in a homemade soup flavored with earthy dried mushrooms and butter-caramelized creminis.  The dish is finished with crisp, flash-fried shallots.  So yum.
Finally, everyone's favorite Brussels Sprout and Caramelized Shallot Gratin.  Each year, I rotate in some new side dishes to see if they can dethrone this gratin.  They never can.  Blanched Brussels are mixed with melting caramelized shallots, nutty Gruyère, and sharp Parmesan, then topped with a fresh mix of bread crumb, lemon zest and parsley.  The casserole is then baked until golden and bubbly.  This side dish may seem a bit involved, but it can be made a day in advance.  And seriously, everyone will go crazy for it.
What are some of your favorite Thanksgiving sides?  Or if you are in camp turkey, what is your method for cooking that perfect bird?  I could always use the advice!
PS. I've totally thought about doing away with the turkey completely.  But it's tradition.  And it's a tradition I just don't want to mess with.  It's also a tradition I've never photographed, so I borrowed the image at the top from Williams-Sonoma.  All other images are my own.
0