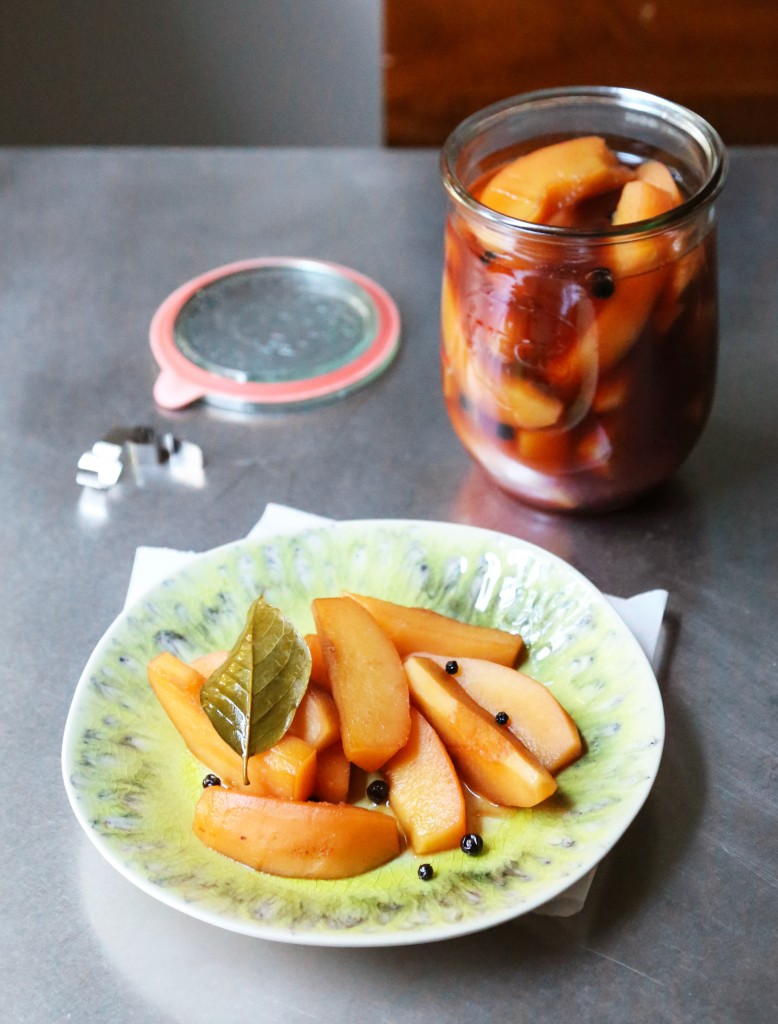 This post may contain affiliate links.
Last year, I had mentioned that quince was one of my new seasonal favorites, and this year, I've been even more enamored with it. During my 2-Year Anniversary celebration, I served champagne poached quince with Greek yogurt and honey for dessert. And for Thanksgiving, I served Pickled Quince at the appetizer table beside a wedge of creamy brie and an assortment of salty crackers. Quince is so versatile, easy to prepare, and completely unexpected. If you've never given it a try, you simply must.
Similar in appearance to a pear or apple, the quince is a pome fruit that is fairly inedible in it's raw form. Quince must be cooked to reach their full flavor potential. The fruit is hard when it is ripe and unripe, so you must use your nose to gauge ripeness. Bring the tail end (not the stem end) of the quince to your nose. If it smells fresh and floral, it is ripe.
In this recipe for Pickled Quince, slices of peeled quince are simmered in a bath of apple cider vinegar, cane sugar, juniper, black peppercorn and fresh bay leaf. The resulting pickle is incredibly tart and fragrant with a hint of sweet and spice. Pickle Quince would be perfectly at home on any cheese and salumi board, or pair well with any rich, fatty meat (especially pork). Continue reading for the recipe.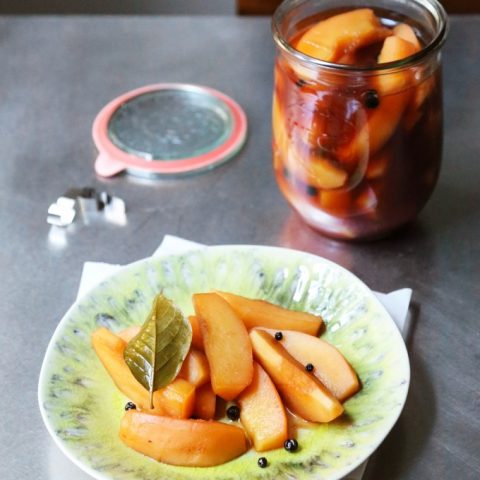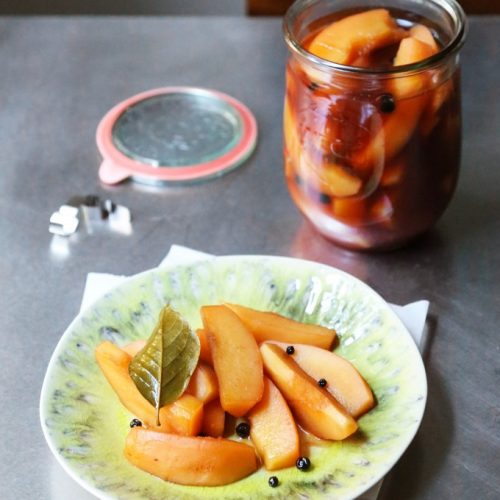 Pickled Quince
Ingredients
3

cups

plus scant 1/4 cup (750 ml) organic apple cider vinegar

2

cups

(400 g) fine grain natural cane sugar

12

dried juniper berries

10

black peppercorns

1

fresh bay leaf

3

medium quince*
Instructions
Add apple cider vinegar, sugar, juniper, black peppercorns and bay to a medium, non-reactive (not aluminum) pan set over medium-high heat, stirring until the sugar dissolves. Bring mixture to a boil, then reduce heat to medium-low.

Peel, quarter and core each quince, then cut each quarter into 3 slices. Carefully drop the slices into the simmering vinegar, and cook until tender (20 - 30 minutes). An inserted fork should meet no resistance.

Using a slotted spoon, transfer quince to a large, clean jar (or several small ones), then pour the pickled liquid over top. The fruit should be submerged in the liquid. Let the fruit cool to room temperature, seal the jar, and store in the refrigerator (for up to a month).
Notes
*See notes above for selecting a ripe quince.
Tried this recipe?
Tag @brandiego on Instagram so I can check it out!
31