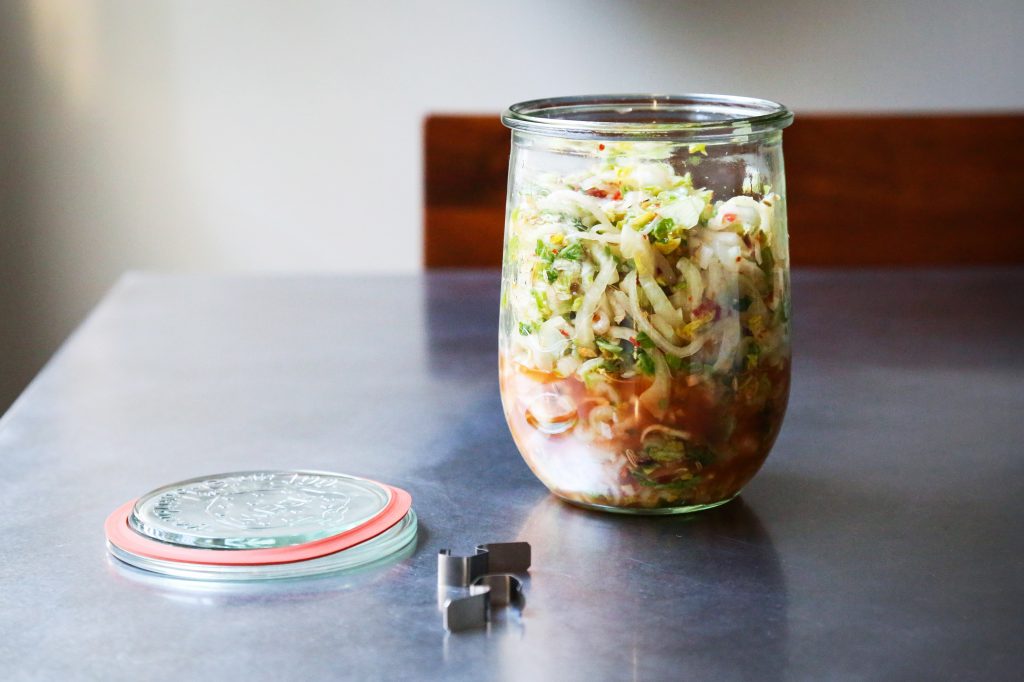 This post may contain affiliate links.
Growing up in a family that was half Italian and half Eastern European (Polish, Czech and Hungarian), never would I have thought that kimchi, Korean fermented cabbage, would become such a widely-used ingredient in my kitchen.  But it is.  There's something about kimchi's salty, sour and spicy notes that can transform the flavors of a dish into something so unique.  For example, when you add it to pizza, the sour notes of the cabbage cut through the richness of the mozzarella cheese while the salt and spice amp up the tomato sauce.  I also love mixing chopped kimchi into my morning scramble, adding it to deviled eggs, or stirring it into a hot bowl of broth.
The key to really enjoying kimchi is to find a particular brand that suits your taste.  There are many varieties of kimchi available for purchase, and not all of them taste good.  Some can be too mushy.  Others overly funky or fishy.  Don't give up on your kimchi hunt after your first bite of bad kimchi!  Keep searching.  Here in San Diego, my boyfriend discovered a suuuuuper tasty kimchi sold at our local farmer's markets called Happy Pantry Kimchi.  It's got a nice spicy fermented flavor without the fishiness that can be found in traditional varieties.  I also enjoy the kimchi available at Trader Joe's.
The other option is to make a kimchi recipe at home.  This will allow you to control each flavor, adding more or less of something to taste.  Which brings us to this Quick Fennel and Cabbage Kimchi.  Continue reading for the recipe.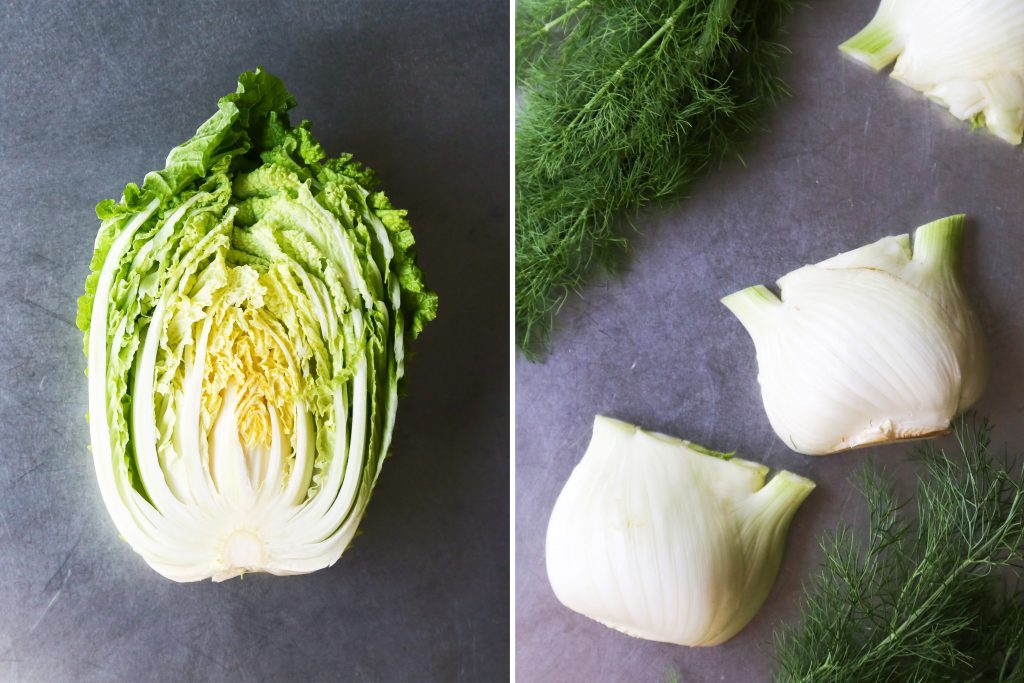 This easy kimchi recipe starts with napa cabbage and fresh fennel.  Fennel is completely untraditional, but Jorge and I had this amazing fennel kimchi at Revel in Seattle, so now I like to add fennel into my own kimchi.  The flavors just work.  Cabbage and fennel are then sliced thin and salted to release water (also known as weeping).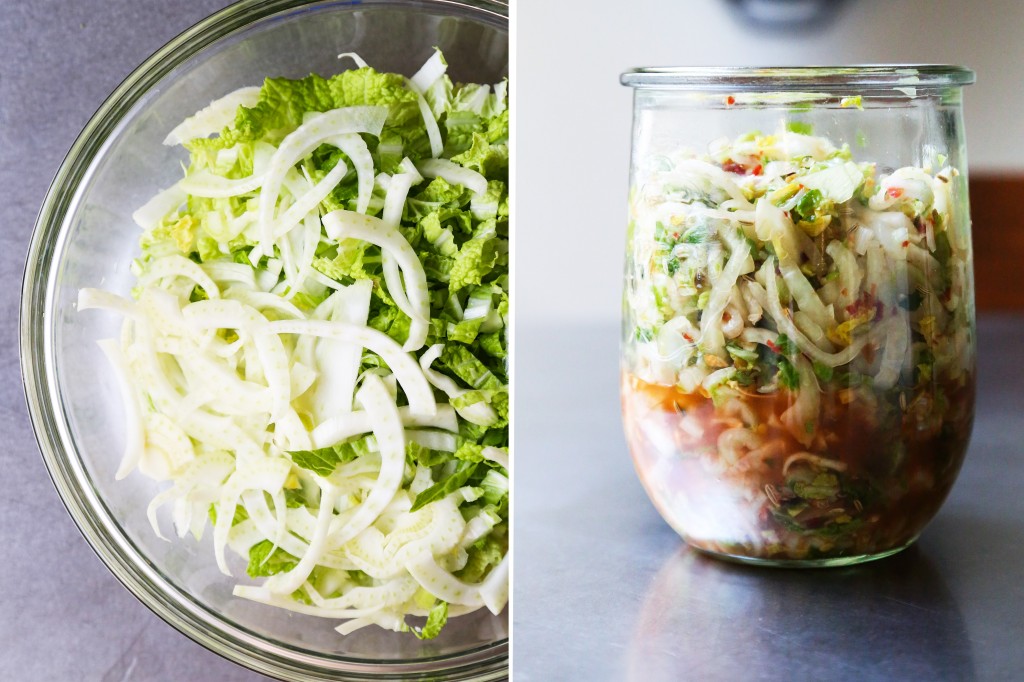 After the sliced veg are squeezed (this is a fun task) of excess water, they are then flavored with green onion, garlic, ginger, chile paste, fennel seed, sugar and rice vinegar. It's at this point when kimchi purists may say "HOLD UP."  Traditional kimchi recipes do not contain vinegar.  Instead, kimchi gets its sour flavor from the process of fermentation.  This process can take days or weeks, and sometimes I just can't wait that long.  Instead, I make this quick kimchi.  Start to finish, this recipe can be prepared in about 45 minutes (or up to 2 hours if you want to let the flavors hang out a bit).  Most of the time is inactive wait time.
Despite the deviation from tradition, this quick kimchi tastes very similar to the real thing.  It definitely hits the spot when I've got a kimchi craving.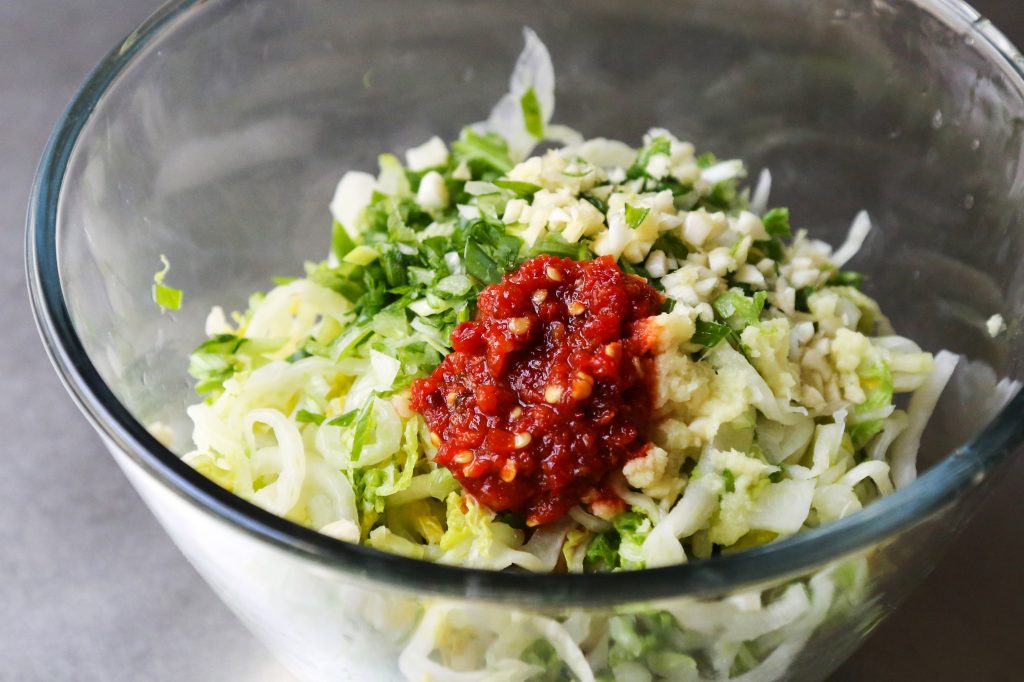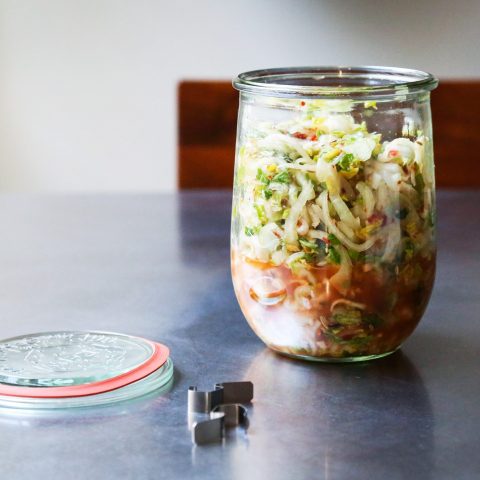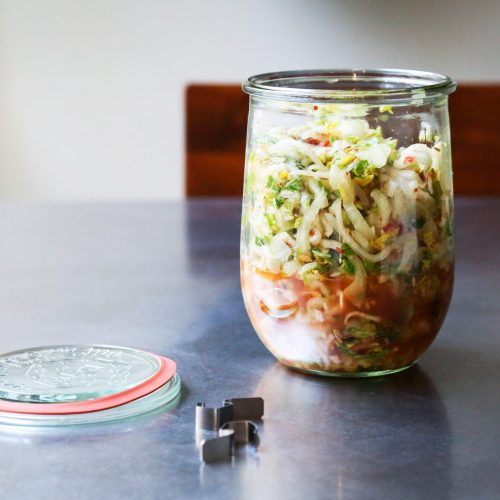 Quick Fennel and Cabbage Kimchi
Ingredients
1/2

head (1.25 pounds) napa cabbage

2

fennel bulbs, stalks and fronds removed

4

tablespoons

kosher salt

2

green onions, root ends trimmed, chopped

2

cloves

garlic, minced

1

teaspoon

grated fresh ginger

2

tablespoons

hot chile paste (I used sambal olek)

1

tablespoon

toasted fennel seeds

2

teaspoons

sugar

1/2

cup

rice vinegar, unseasoned
Instructions
Remove any tough outer leaves from the cabbage, and remove the core. Shred remaining cabbage leaves. Slice each fennel bulb in half lengthwise, and remove the core. Thinly slice fennel widthwise (against the grain). Place shredded cabbage and sliced fennel in a large bowl, then sprinkle with kosher salt. Let sit at room temperature for 15 minutes.

Squeeze the liquid from the cabbage and fennel, then place in a medium bowl. You can do this with your hands or a kitchen towel (I used my hands - it's kindof fun). Discard the liquid.

Add the green onion, garlic, ginger, chile paste, fennel seeds, sugar and rice vinegar to the bowl with the cabbage and fennel, tossing to combine. You can enjoy immediately, but I let the mixture sit at room temperature for 2 hours to let the flavors mingle a bit more. Store up to 1 month in the refrigerator.
Tried this recipe?
Tag @brandiego on Instagram so I can check it out!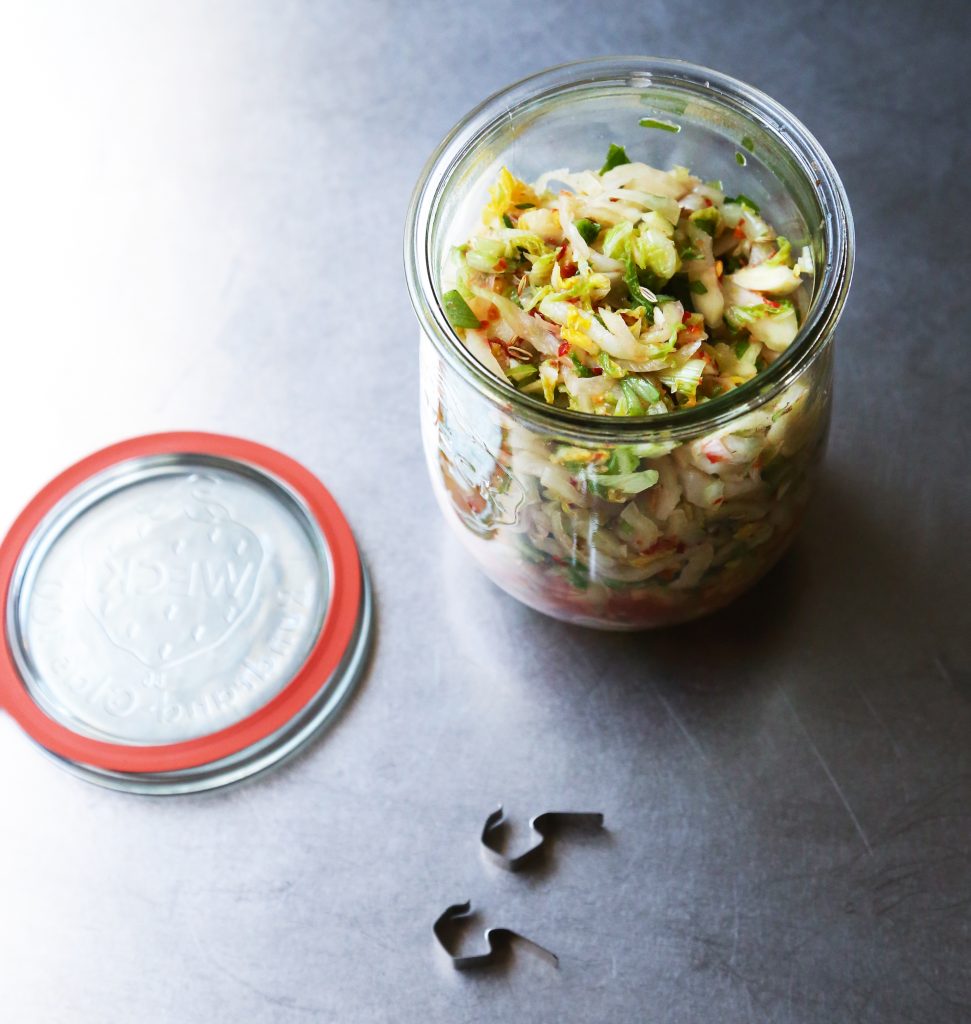 21