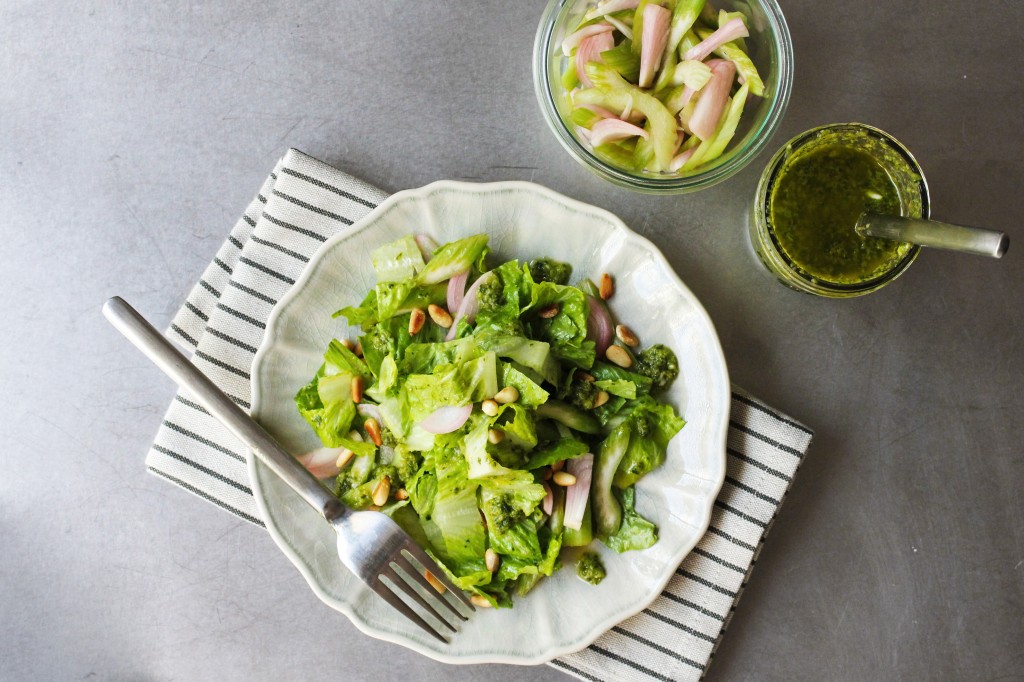 This post may contain affiliate links.
It's salad season.  You know that time of the year when everyone's got the "I really want to lose 3 pounds" New Year's resolution, resulting in a diet of juices, smoothies and (most of all) healthy salads.  Working in the retail industry, I am constantly keeping up with sales trends and consumer behavior.  I can confidently confirm that January is the most popular month for kale, spinach and all other manner of leafy green vegetables.
During my work week, I like to prepare a more simple salad for lunch (similar to the one pictured above).  This salad is made with tender greens, something crunchy (nuts or seeds), something pickled, and an acidic vinaigrette.  I'll often serve a protein on the side (chicken breast, shrimp, pork chop).  A tart vinaigrette is one that I almost always like the most.  Usually made with sherry vinegar (recipe below).  There's just something about a salad with big, bright flavors that fills me up and keeps me satisfied while at work.
On the weekends, I like to prepare salads that are a bit more involved.  These salads can include roasted vegetables, homemade croutons, broiled meats and/or various shaved or crumbled cheeses.  Sometimes I'll let loose, and make a creamy salad dressing.  I mean it's the weekend, so it's totally allowed 😉
Since salad is going to be on my daily menu for the next 3 months, I am on the hunt for some new inspiration, so please share your favorite salad recipe in the comment section below.  Continue reading for some of my favorite salad recipes plus a recipe for my Sherry Vinaigrette.
Here are some examples of my weekend salads:
Roasted Beet Salad with Creamy Caraway Dressing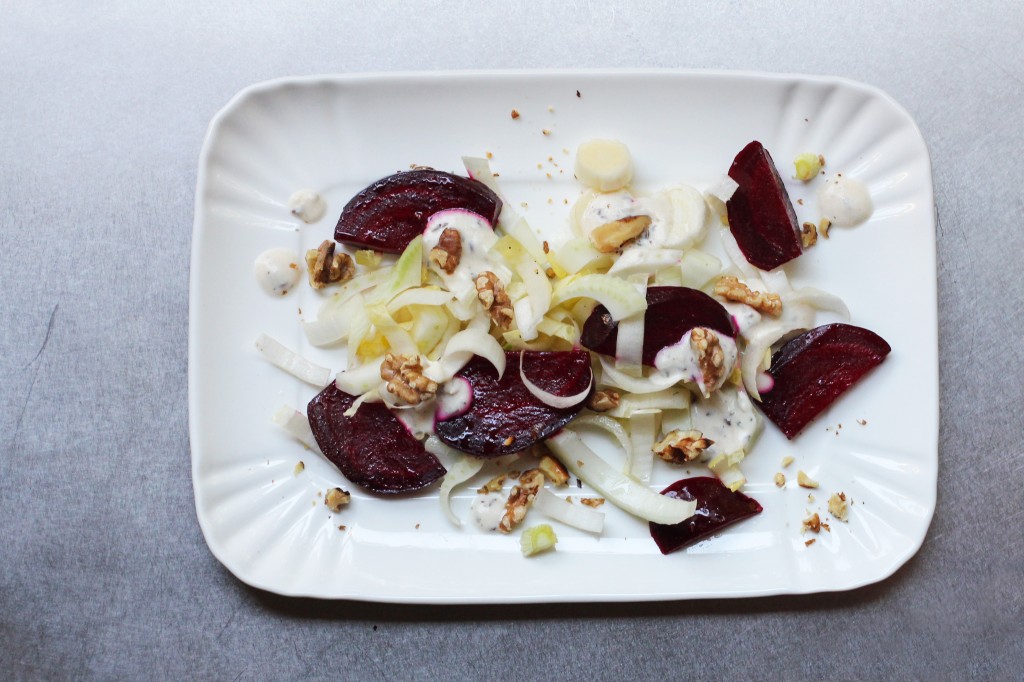 Marinated Flank Steak Salad with Feta and Arugula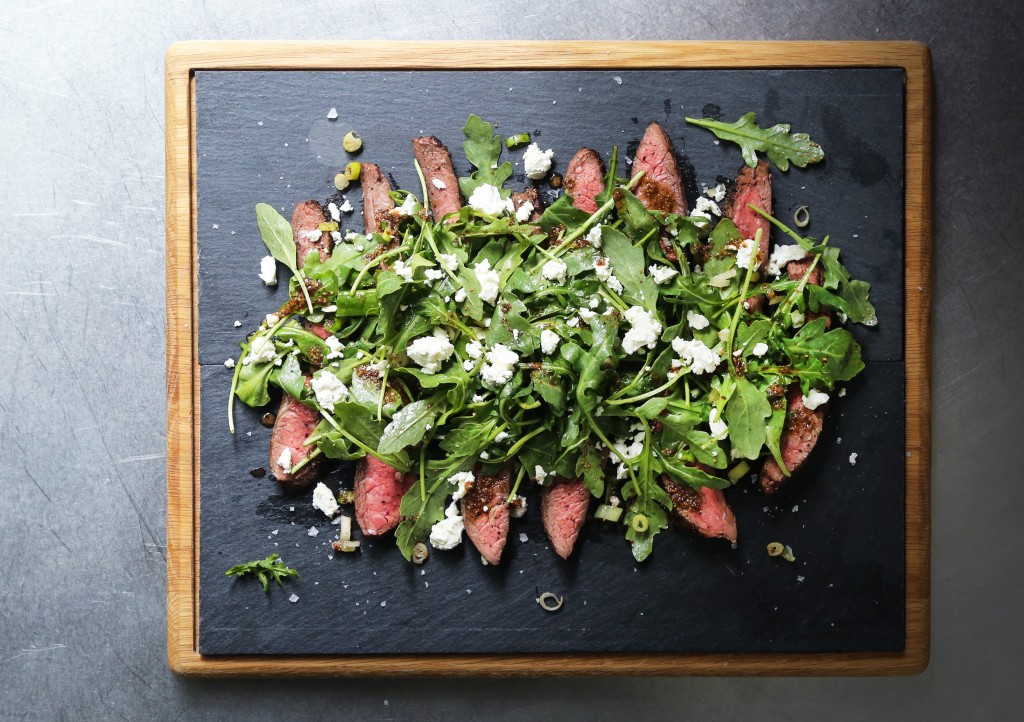 And here's my simple recipe for a Sherry Vinaigrette: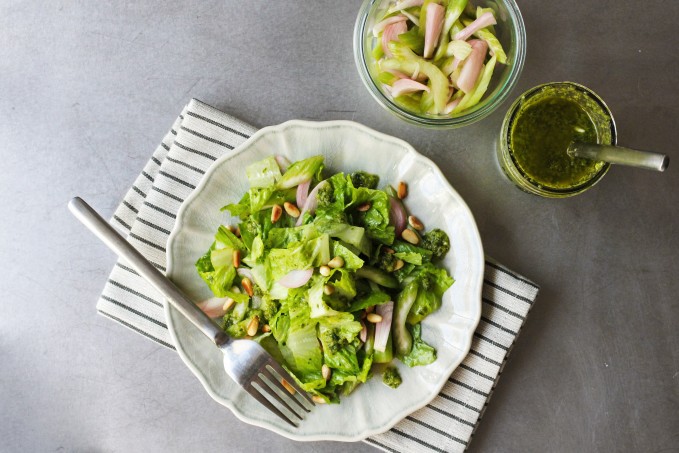 Sherry Vinaigrette
Ingredients
2

tablespoons

extra virgin olive oil

1

scant tablespoon sherry vinegar

1

teaspoon

dijon mustard

1

dab of honey (about an 1/8 of a teaspoon)

Kosher salt

Freshly ground black pepper
Optional add-ins: 1/2 garlic clove minced, chopped fresh herbs
Instructions
Add oil, vinegar, mustard and honey to a small mason jar. Season with 2 pinches of salt and several turns of black pepper. I like to over-season this vinaigrette, so I don't have to add any additional salt to the salad greens. Also add any of the optional add-ins here. Secure the lid on the mason jar, and shake until well-combined. Season to taste with additional kosher salt and black pepper.
Tried this recipe?
Tag @brandiego on Instagram so I can check it out!
Now it's your turn!  What's your favorite salad recipe?
4