Beets and turnips for Valentine's Day?  Who would have thought?
This post may contain affiliate links.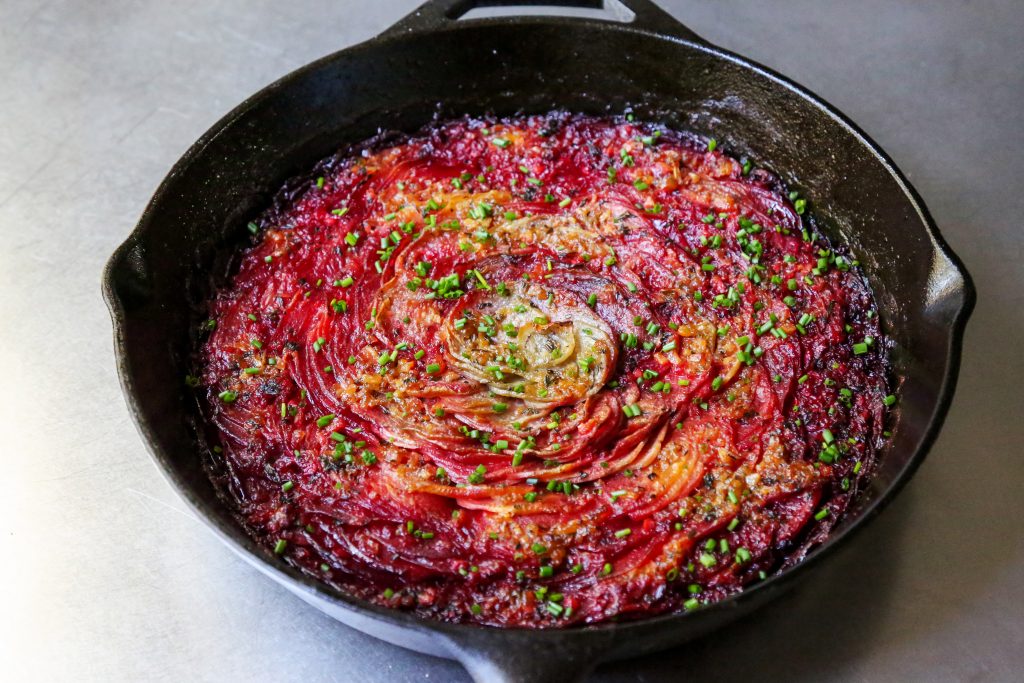 To be honest, not me.  I had originally tested this recipe out as a new side dish for my Thanksgiving extravaganza.  It didn't make the cut, because I already had so many other side dishes in the works, and there wasn't enough space in the oven to prepare this blushing beauty.
My Beet and Turnip Gratin sat dormant in my photo archives until this past weekend when I was menu planning for Valentine's Day.  Sitting at my computer struggling to find a VDay side dish, I suddenly remembered.  A vibrant mix of red, pink and yellow, this Beet and Turnip Gratin is equally tasty and beautiful.  Rich and earthy, the gratin is made with a variety of beets, turnips, shallots, garlic, thyme and chicken stock.  The skillet cooks covered until the vegetables start to soften, then uncovered until the top is just crisp and golden.  Finished with a flurry of chopped chive, my Beet and Turnip Gratin would pair nicely with beef, chicken, pork or fish.  Continue reading for the recipe.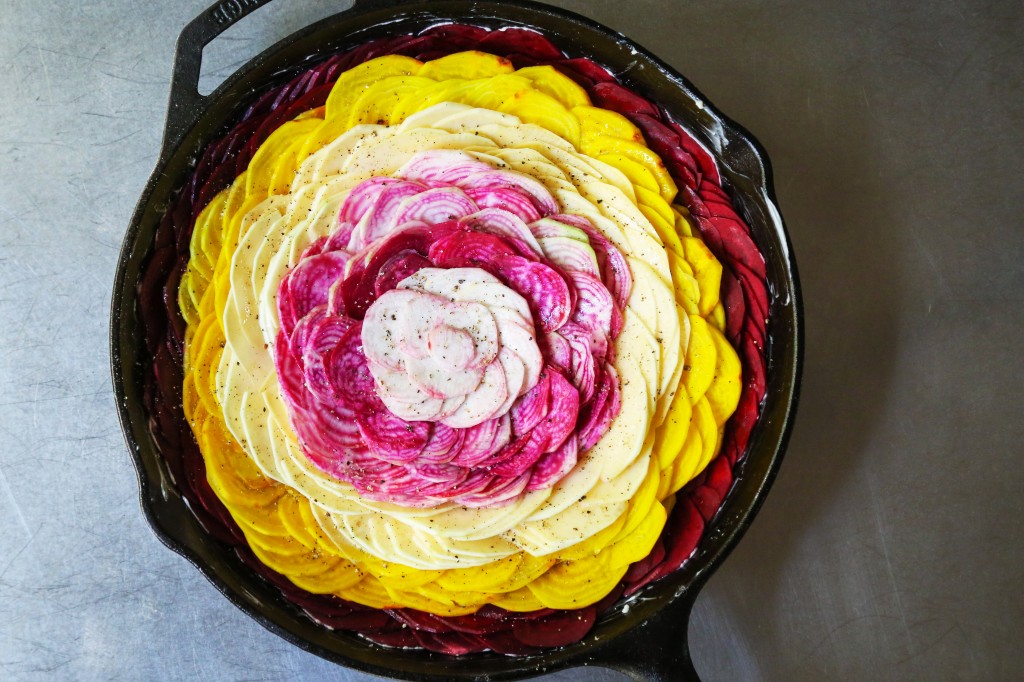 In addition to turnips, I used a mix of red, golden and candy cane (chioggia) beets here.  Layering the dish like this definitely takes some time to complete.  Luckily, this step can be done a day in advance.  Simply cover and store in the refrigerator until you are ready to bake.  If you don't really care that much about aesthetics, you can certainly make this recipe with just one type of beet and turnips.  You can also lay the slices flat rather than tiling them into the rosette pattern pictured above.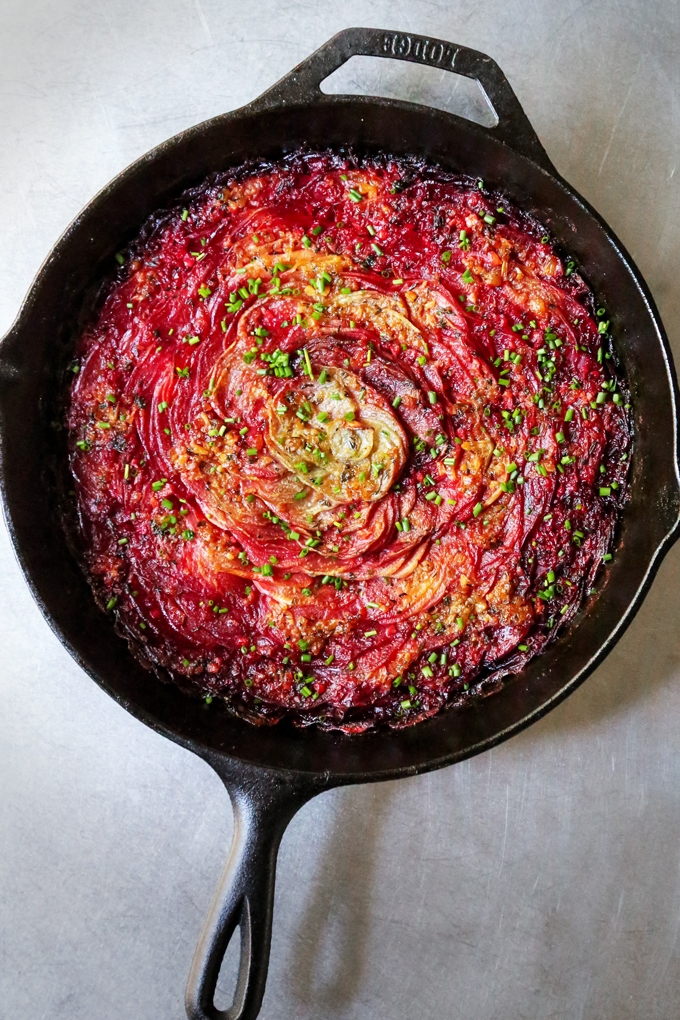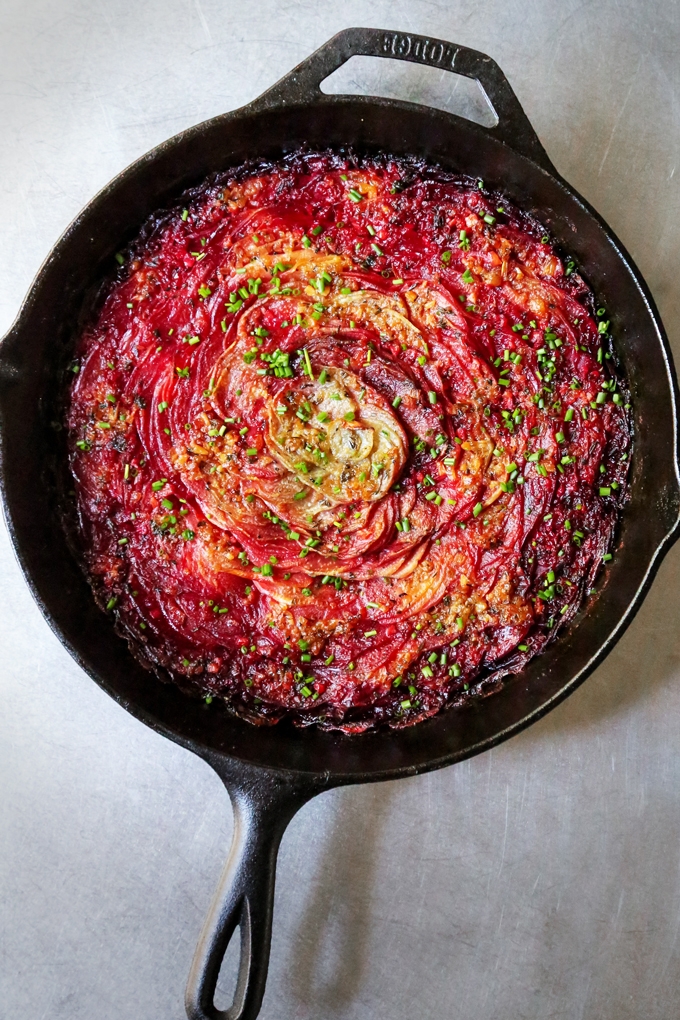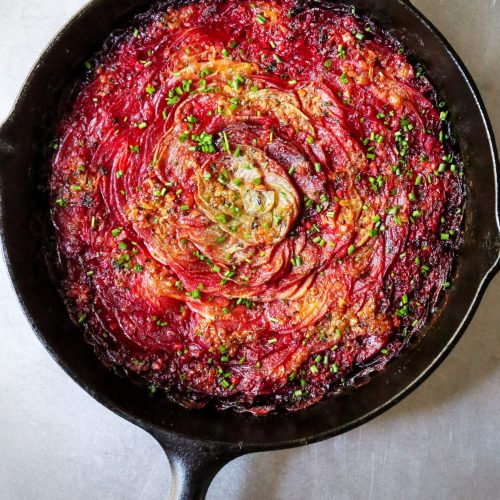 Beet and Turnip Gratin
Barely adapted from
here
.
Ingredients
9

tablespoons

unsalted butter, divided (1 for the skillet, 8 for the sauce)

4 1/2

pounds

mixed beets and turnips (I used red, gold and chioggia beets, peeled and sliced thin crosswise (I used an mandolin)

3/4

cup

finely chopped shallots

2

teaspoons

minced garlic

2

teaspoons

chopped fresh thyme

Kosher salt

Freshly ground black pepper

1

tablespoon

chopped fresh chives
Instructions
Preheat the oven to 400°F. Grease a 12-inch cast iron skillet with 1 tablespoon of butter.

Working from the outside in, tile sliced beets and turnips in a rosette pattern. I started with red beets on the outer edge, then gold, turnips, and chioggia. If you don't want to fuss with all of that, check out the note above.

Warm 3 tablespoons of butter in a small skillet set over medium heat. Add shallots and cook until soft, stirring frequently (about 4 minutes). Add the garlic and thyme and cook, stirring constantly, for 1 minute more. Take the pan off the heat, and stir in the remaining 5 tablespoons of butter. Once the butter is melted and incorporated, season to taste with kosher salt and freshly ground black pepper.

Pour the butter-garlic mixture evenly over the prepared beets and turnips, then pour over the chicken stock. Cover the skillet tightly with foil, then bake in the oven for 45 minutes. Remove the foil and cook until the top of the gratin is just starting to brown and get crispy (about 30 minutes). Let the gratin cool for 30 minutes. Sprinkle with chopped chive just before serving.
Tried this recipe?
Tag @brandiego on Instagram so I can check it out!
Looking for some other Valentine's Day recipe ideas?  Here are some of my favorites: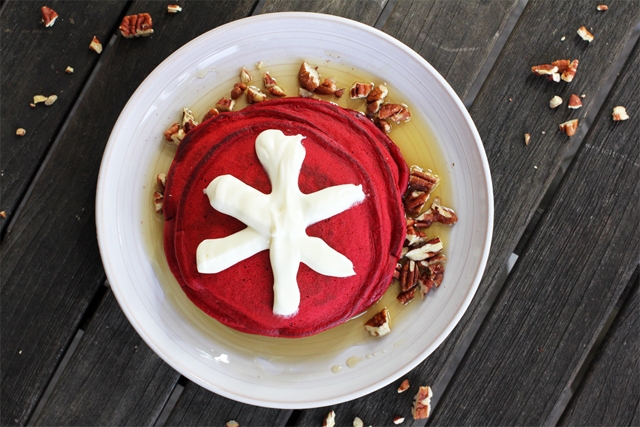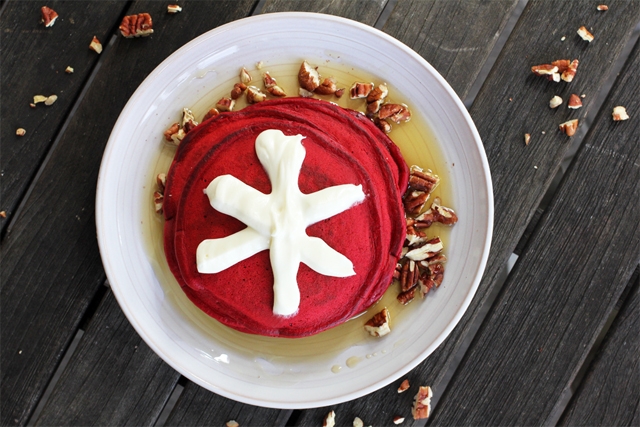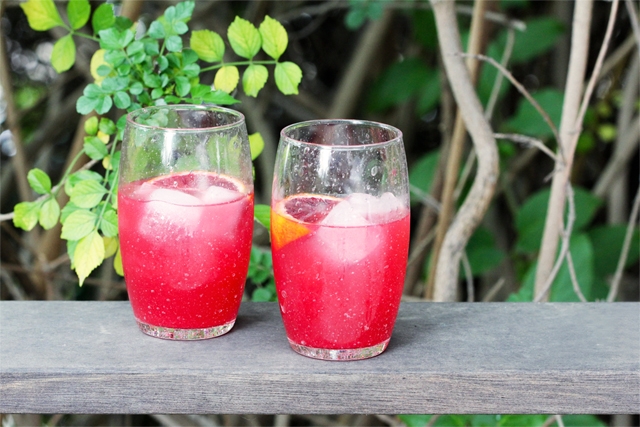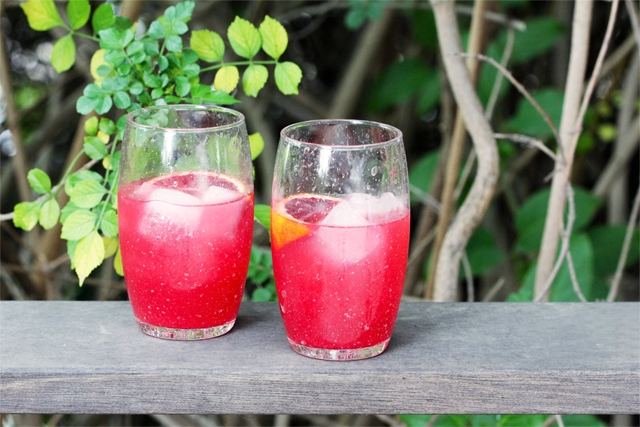 Bittersweet Blood Orange Salad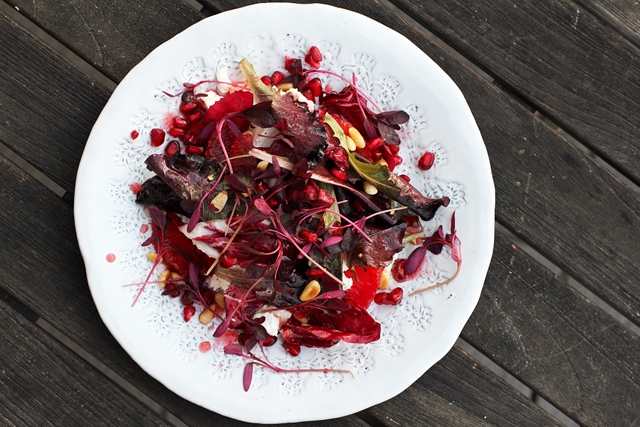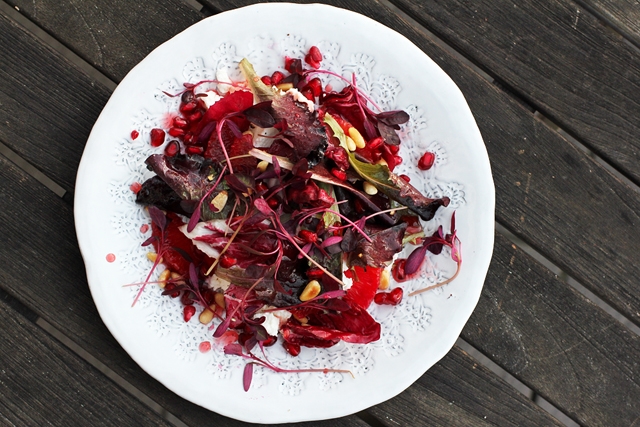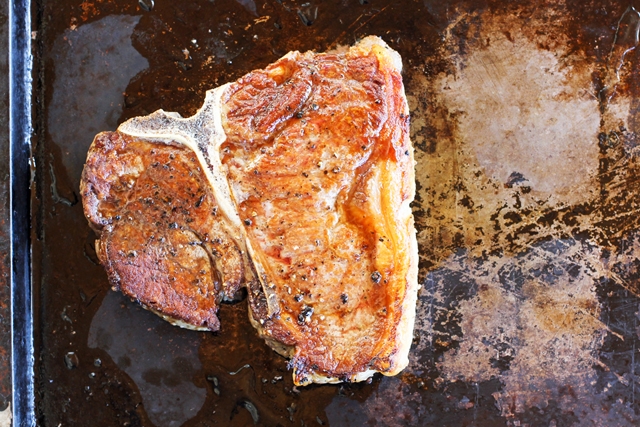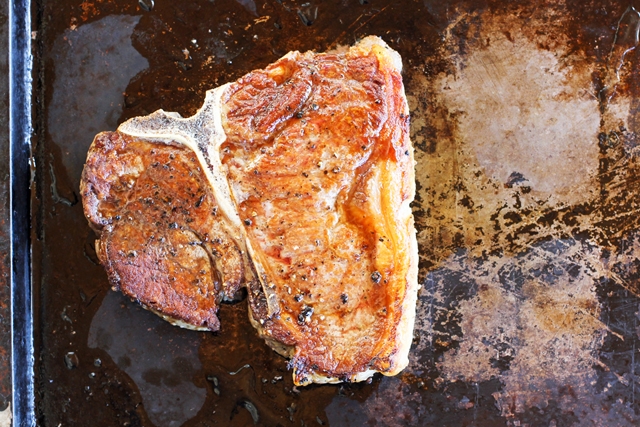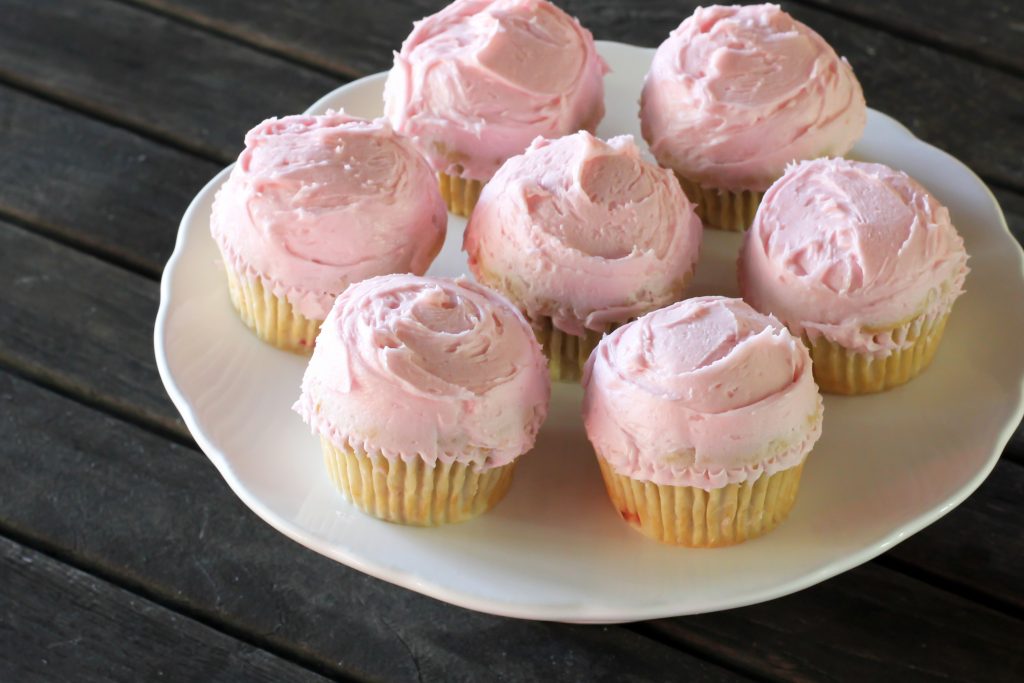 What are some of your favorite Valentine's Day recipes?  Please share below!
120