I've got a super easy recipe for you today.  Homemade Hollandaise.
This post may contain affiliate links.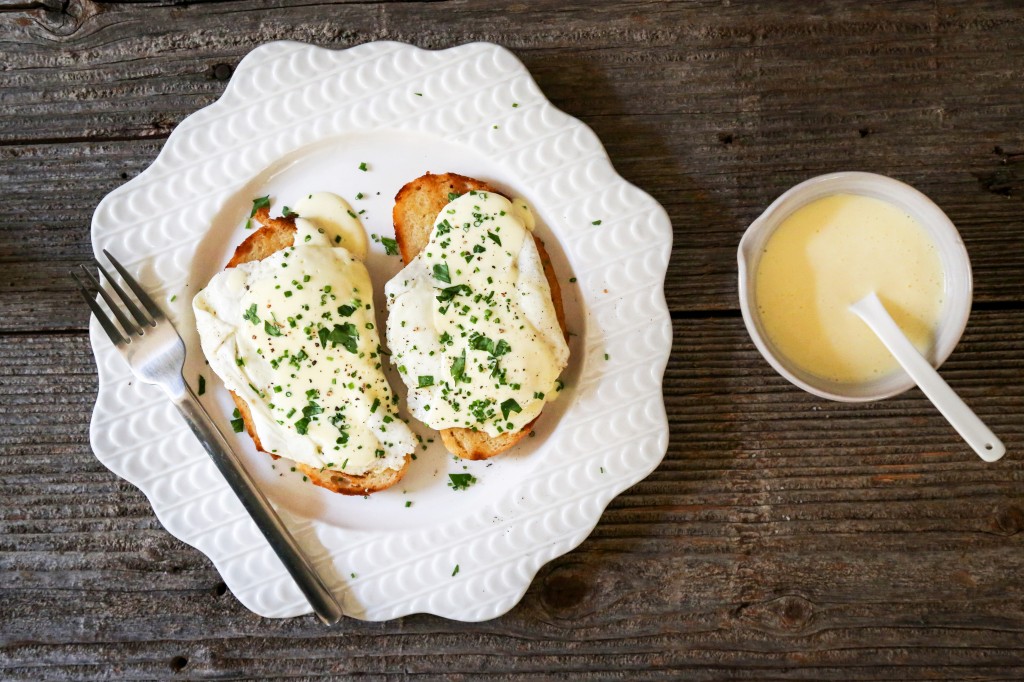 Normally, when one thinks of hollandaise (the sauce on eggs Benedict), easy is not the first word that comes to mind.  To make traditional hollandaise, you need to whisk egg yolks with lemon juice until thick.  You then place the bowl of yolks over simmering water, and stream in hot butter, whisking all the while.  The butter will eventually emulsify with the egg, forming a silky, rich sauce.  If the mixture gets too hot, the eggs will scramble, and the sauce will break.  If the butter is not hot enough, the sauce will never thicken up.  What I'm getting at here, is that the traditional way of making hollandaise is both tedious and prone to failure.
So how do we make this process easier and more foolproof?  First, forget the whisk and double boiler.  Second, get yourself and immersion blender, and a tall, narrow container. Similar to my recipe for Homemade Olive Mayonnaise, this process uses an immersion blender to emulsify the sauce in a matter of moments. The resulting hollandaise is just as creamy as one made using the traditional method. Without all the hassle of course. Continue reading for the recipe plus a video!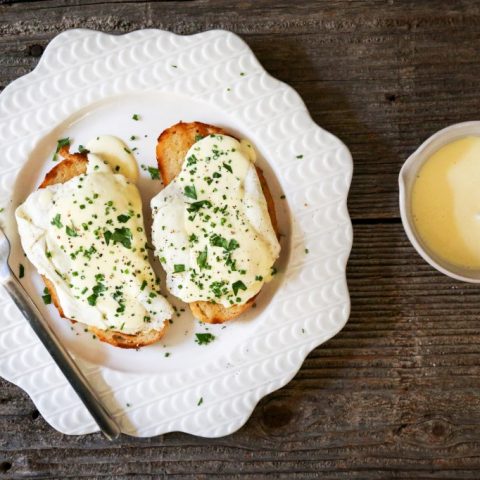 Easy Homemade Hollandaise
Recipe inspired by this
one
.
Ingredients
1

egg yolk

1

teaspoon

water

1

teaspoon

freshly squeezed lemon juice

Kosher salt

1

stick (1/2 cup / 4 oz. butter)

Special equipment: immersion blender, narrow container, microwave
Instructions
Place egg yolk, water, lemon juice and pinch of kosher salt in a tall, narrow container that fits snuggly around the head of the immersion blender [this detail is important, so don't skip it!].

Place butter in a measuring cup (or other container with a pour spout), and warm in the microwave until hot (about 1 minute). I did 3 20-second bursts to keep the butter from popping and sputtering. Timing will depend on your microwave. If you don't have a microwave, you can easily warm the butter up on the stove in a small saucepan.

Place the immersion blender in the tall, narrow container with the egg yolk, and start blending. With the blender running, slowly stream in the hot butter. The butter will eventually emulsify with the egg yolk, forming a thick, creamy sauce. Season to taste with additional salt.

Hollandaise will keep for 1 hour at room temperature, and cannot be made in advance.
Tried this recipe?
Tag @brandiego on Instagram so I can check it out!
0