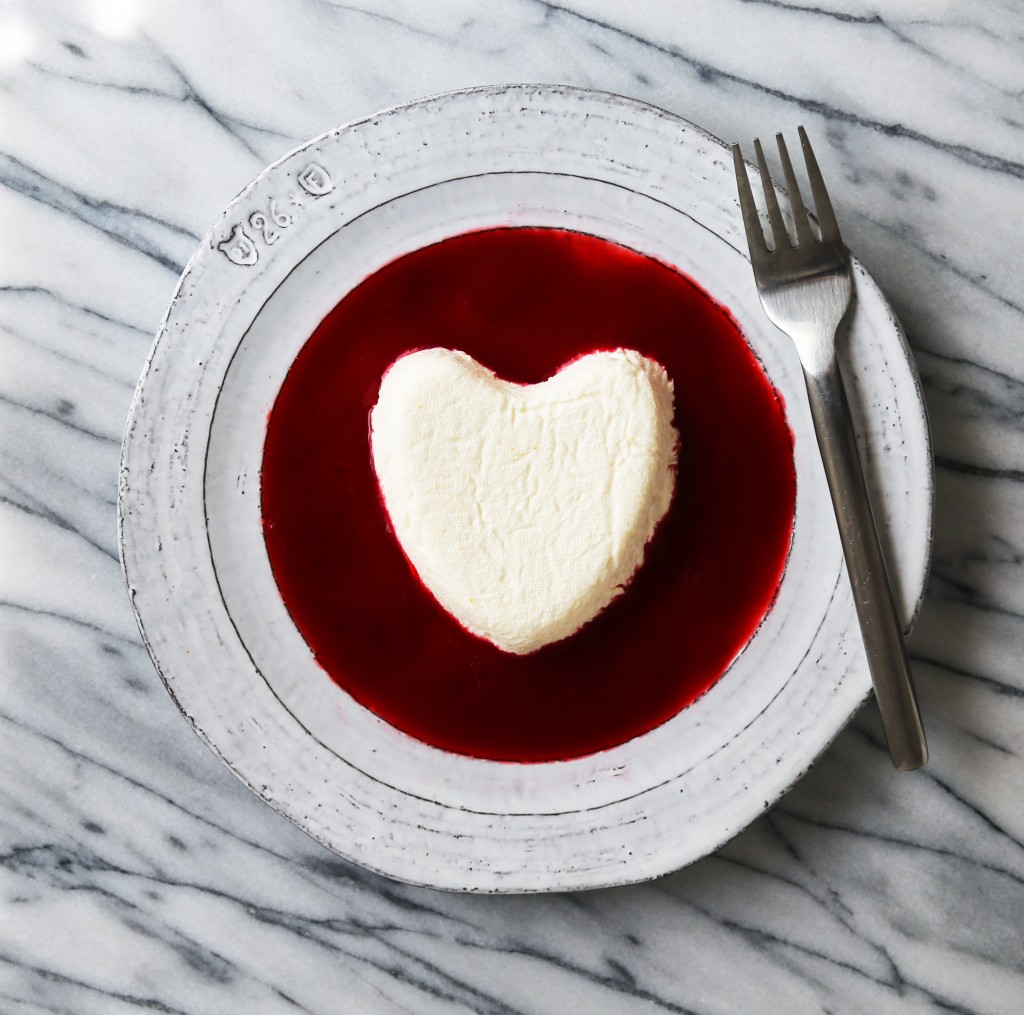 This post may contain affiliate links.
Valentine's Day is rapidly approaching, and I need to get my dinner menu in order.  I have some ideas in mind, but the only item set in stone is this Meyer Lemon Coeur à la Crème with Raspberry Sauce.  French for "heart with cream," Coeur à la Crème tastes similar to cheesecake, but with no crust and a lighter texture.  In this recipe, a mixture of cream cheese and sour cream is flavored with Meyer lemon, sugar and vanilla.  The mixture is then pressed into a special heart-shaped mold that allows moisture to drain off through a series of small holes.  After an overnight rest, the finished dessert is light, bright and wonderfully silky.  The accompaniment to this Meyer Lemon Coeur à la Crème is a sexy Raspberry Sauce flavored with Meyer lemon and St. Germain, an elderflower liqueur.
I first saw this French dessert while watching my favorite Food Network personality, Ina.  Denim-clad with collar popped, Ina was whipping up this Coeur à la Crème with Raspberry and Grand Marnier Sauce.  I remember being so impressed by the dessert, but equally put off by the fact that you needed a special mold to make it.  After doing a little research, I discovered that these molds are both cheap and readily available on Amazon.  Problem solved!  Continue reading for the recipe.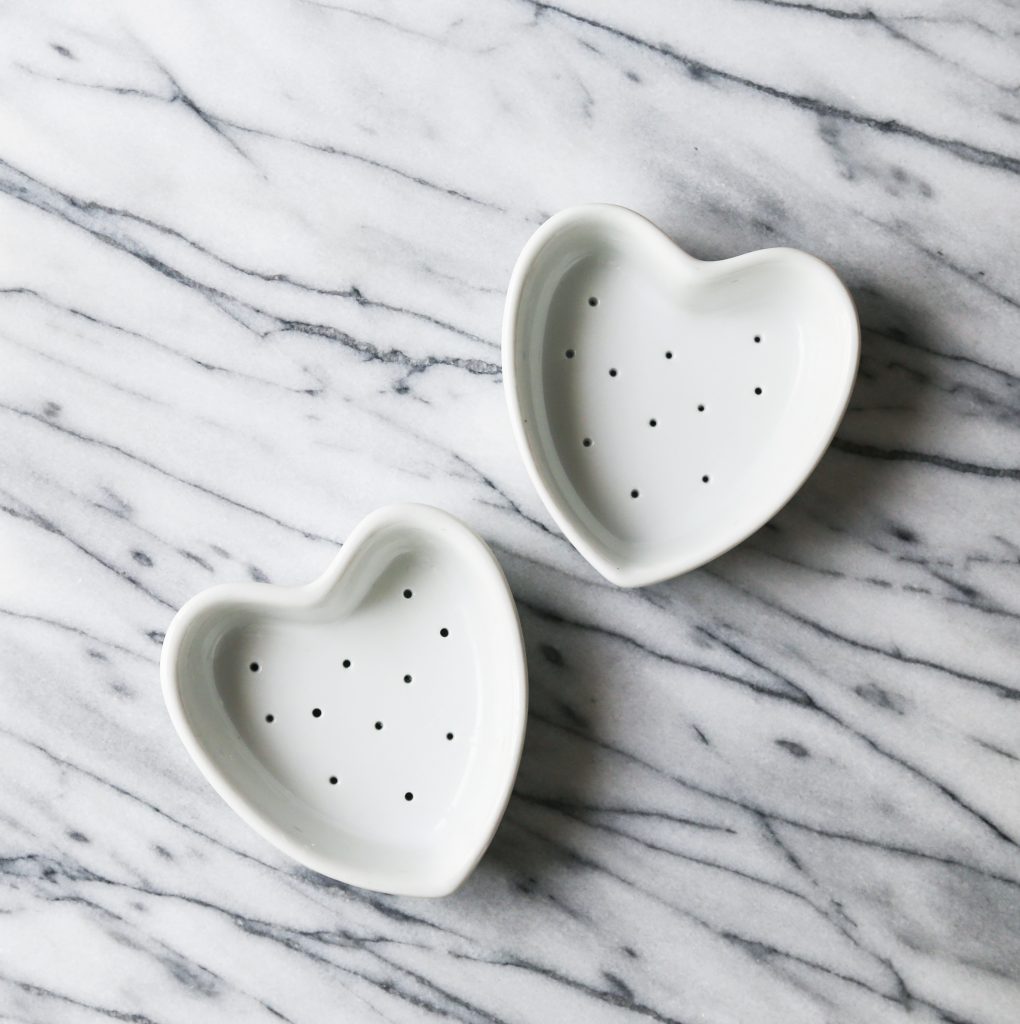 This recipe makes enough filling for four 4-inch Coeur à la Crème molds or one big 7-inch mold.  If you don't want to purchase these special molds, you can make this recipe in colander or mesh basket strainer.  The final dessert won't be heart-shaped though 😉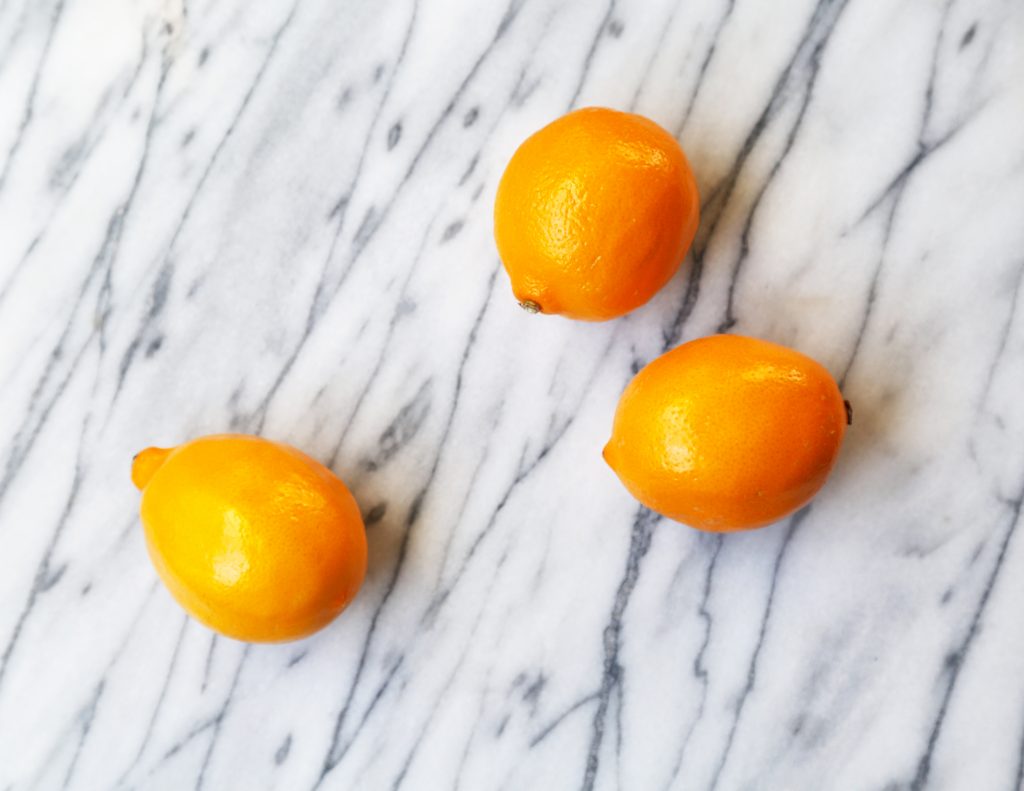 I use Meyer lemons to flavor the filling and the sauce here.  If you can't find Meyer lemons in your local market, simply use regular lemons.  Orange would also work well.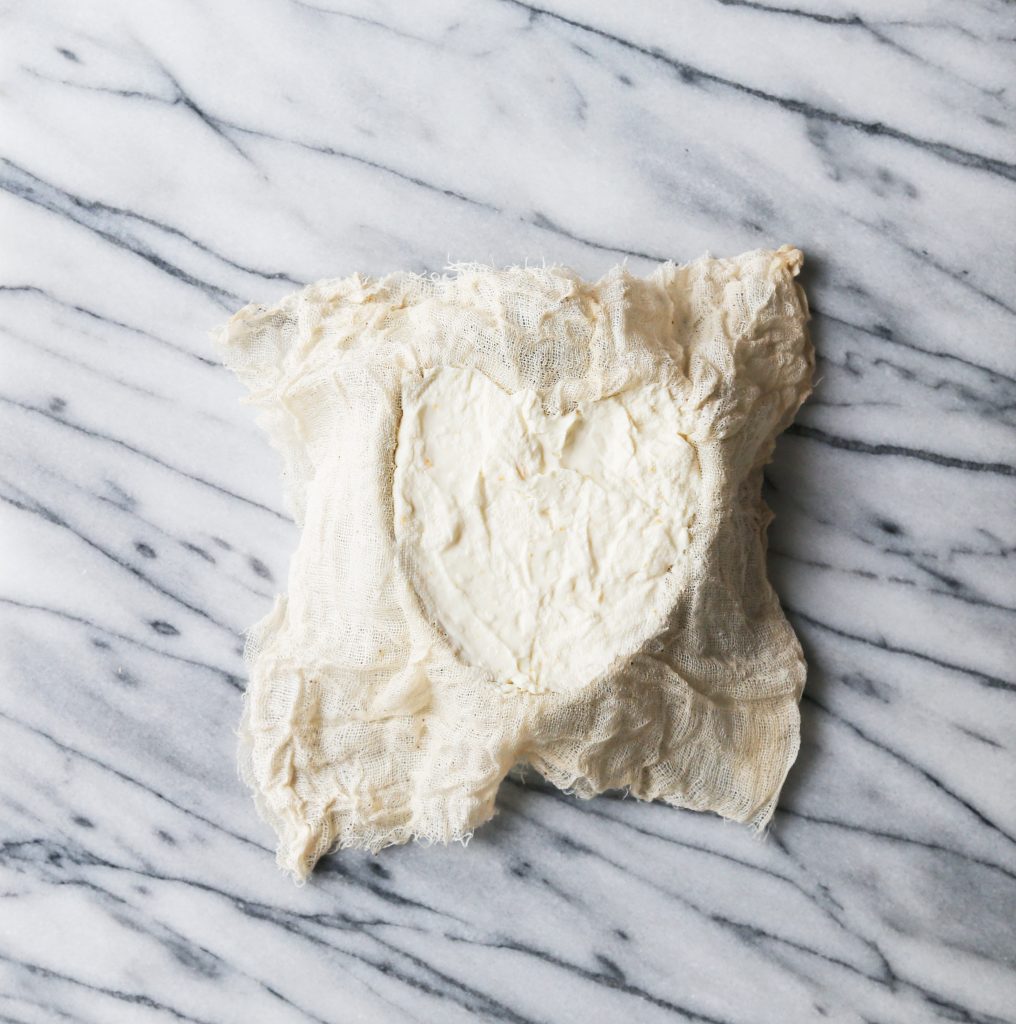 This dessert does required at least 5 hours of rest time in the refrigerator (up to 1 day), so plan accordingly.  I'll be preparing the hearts and sauce a day in advance to ease up my Valentine's Day workload.
Meyer Lemon Coeur à la Crème with Raspberry Sauce
Ingredients
For the Coeur à la Crème:
1

(8-oz.)

package cream cheese, at room temperature (this is important)

1

cup

sour cream

4

tablespoons

confectioners' sugar

Finely grated zest of 1 meyer lemon

Juice of 1 meyer lemon

1/2

teaspoon

vanilla extract

Pinch

of fine grain sea salt

Special equipment needed: 4 (4-inch) Coeur à la Crème molds, 4 (9x9-inch) squares of cheesecloth, stand mixer or hand mixer, fine mesh strainer
For the raspberry sauce:
2

cups

fresh raspberries

1/4

cup

water

3

tablespoons

sugar

2

teaspoons

meyer lemon juice, plus more to taste

1– 2 teaspoon St. Germain, optional

Special equipment needed: blender, fine mesh strainer
Instructions
To make the Coeur à la Crème:
Rinse each square of cheesecloth under cold water, then squeeze until just damp. Line each of the Coeur à la Crème molds with 1 square of cheesecloth.

Add cream cheese, sour cream, confectioners' sugar, meyer lemon zest and juice, vanilla and salt to the bowl of a stand mixer fitted with the paddle attachment (you can use a hand mixer here too). Beat on medium until smooth (about 4 minutes). Using a spatula, press the cream cheese mixture through a fine mesh strainer into a clean bowl, then divide among the prepared molds. Fold the cheesecloth over top to cover any of the exposed mixture.

Place the filled molds in a baking dish, cover with plastic wrap, and transfer to the refrigerator. Chill for at least 5 hours or up to 1 day.
To make the raspberry sauce:
Add raspberries, water, sugar and meyer lemon juice to a medium saucepan set over medium heat. Bring the mixture to a boil, then cook until the berries are soft (4 – 5 minutes), stirring occasionally. Transfer mixture to a blender or food processor, and purée, scraping down the sides if needed. Pour through a fine meshed strainer into a clean bowl. Stir in St. Germain and additional meyer lemon juice to taste. Refrigerate the sauce covered for up to 3 days.
To serve:
Peel away the cheesecloth covering the top of the molds, then turn each mold over onto a small plate. Carefully lift the mold up to release the Coeur à la Crème, and remove the cheesecloth. Finish by pouring the raspberry sauce around the Coeur à la Crème.
Tried this recipe?
Tag @brandiego on Instagram so I can check it out!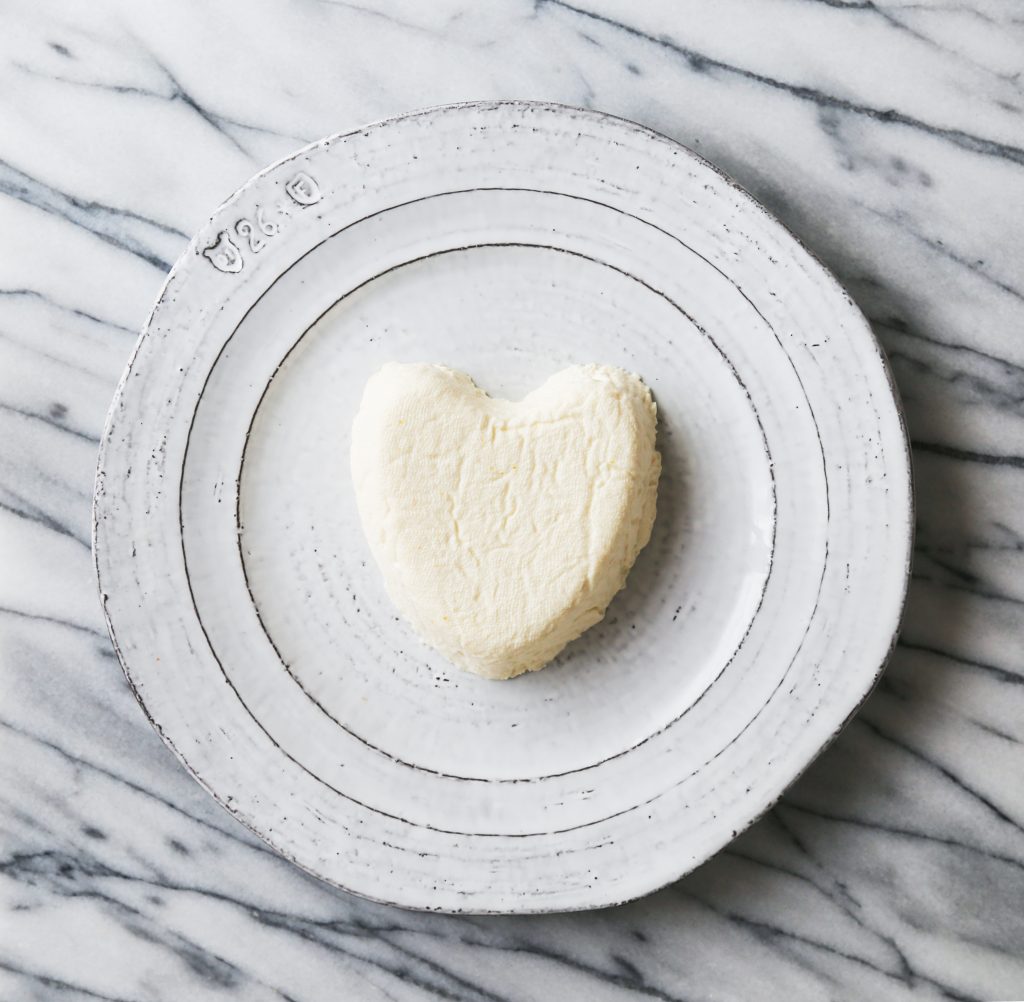 This recipe was originally featured in Pacific Magazine: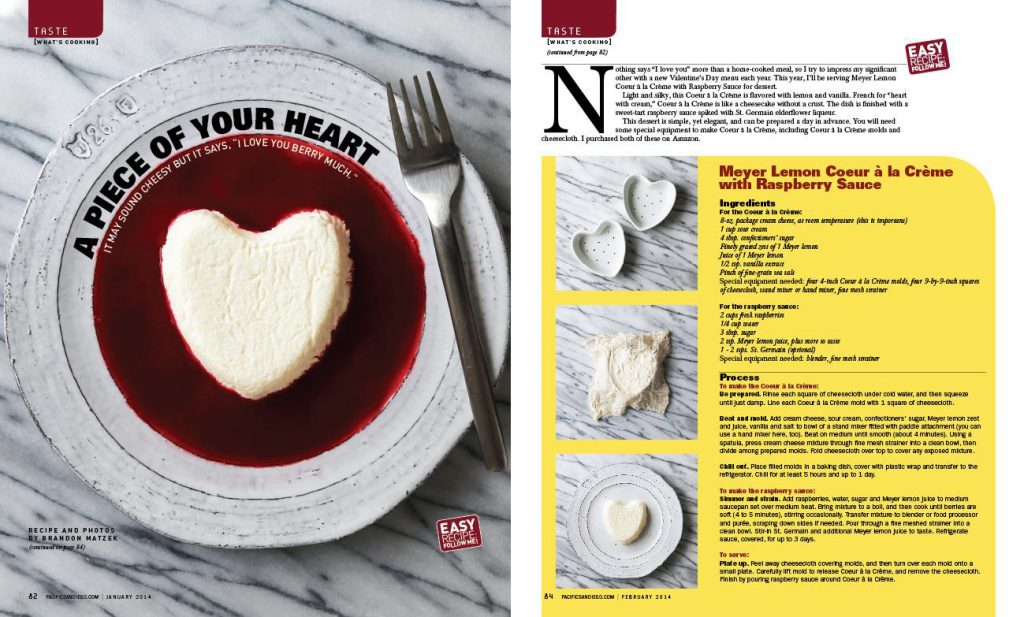 3