Jorge and I are in Charleston, South Carolina right now!!  So I'm going to keep this short today.
This post may contain affiliate links.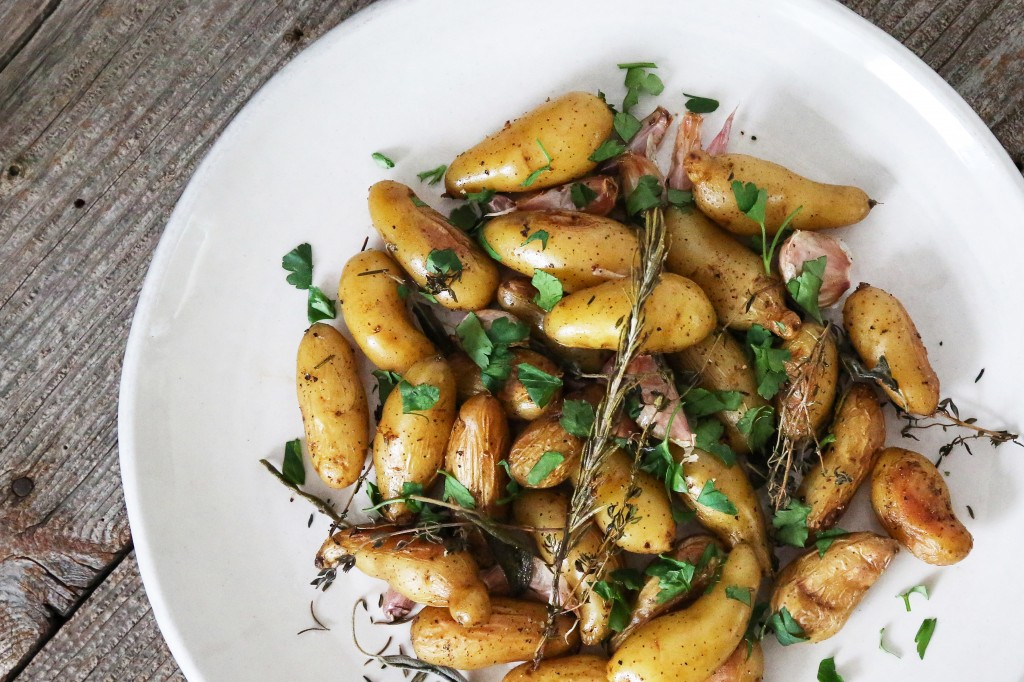 My recipe for Parchment Roasted Potatoes is super easy and super tasty.  Petite fingerling potatoes are tossed with whole garlic cloves, rich olive oil, kosher salt, black pepper, and several sprigs of rosemary, thyme and sage.  This flavorful mix is then wrapped up in a parchment packet, and roasted until tender, creamy and just golden.  Roasting potatoes in parchment locks in the aromas of the garlic and herbs, infusing more flavor into the small spuds.  The dish is finished with a fresh scattering of chopped flat leaf parsley.
I first made these potatoes back in 2012, and I've been making them at least once a month ever since.  On a busy weeknight, I can prep the parchment packet by the time the oven preheats.  I can prepare the rest of the meal while the potatoes cook.  So simple!  Continue reading for the recipe.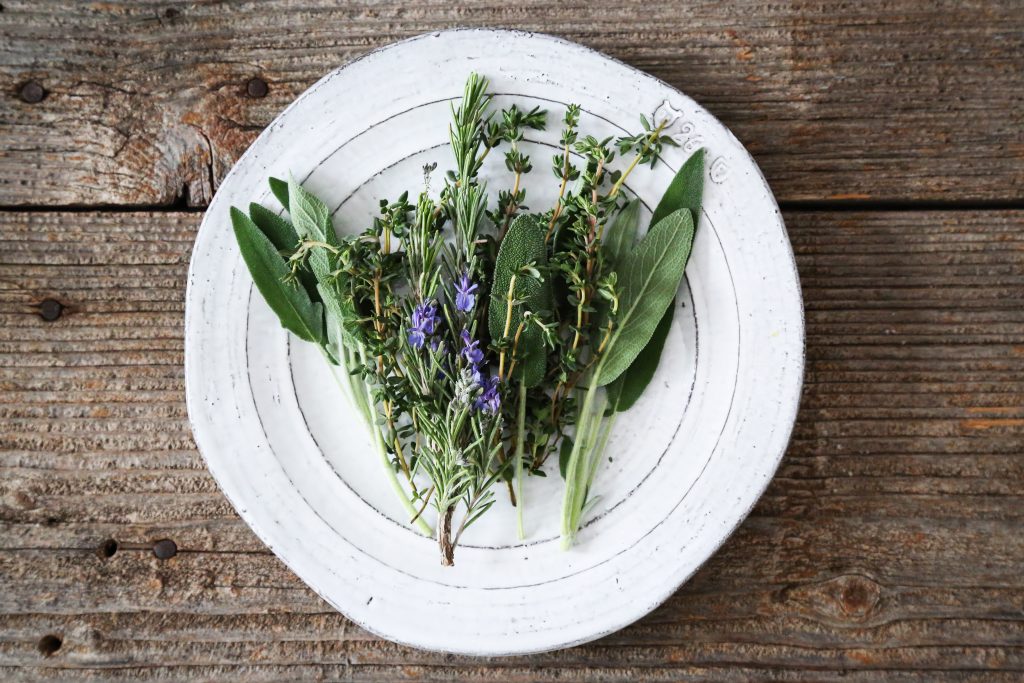 I use a mix of rosemary, sage and thyme here, but you could certainly use any combination of the three.  Or just use one herb and more of it!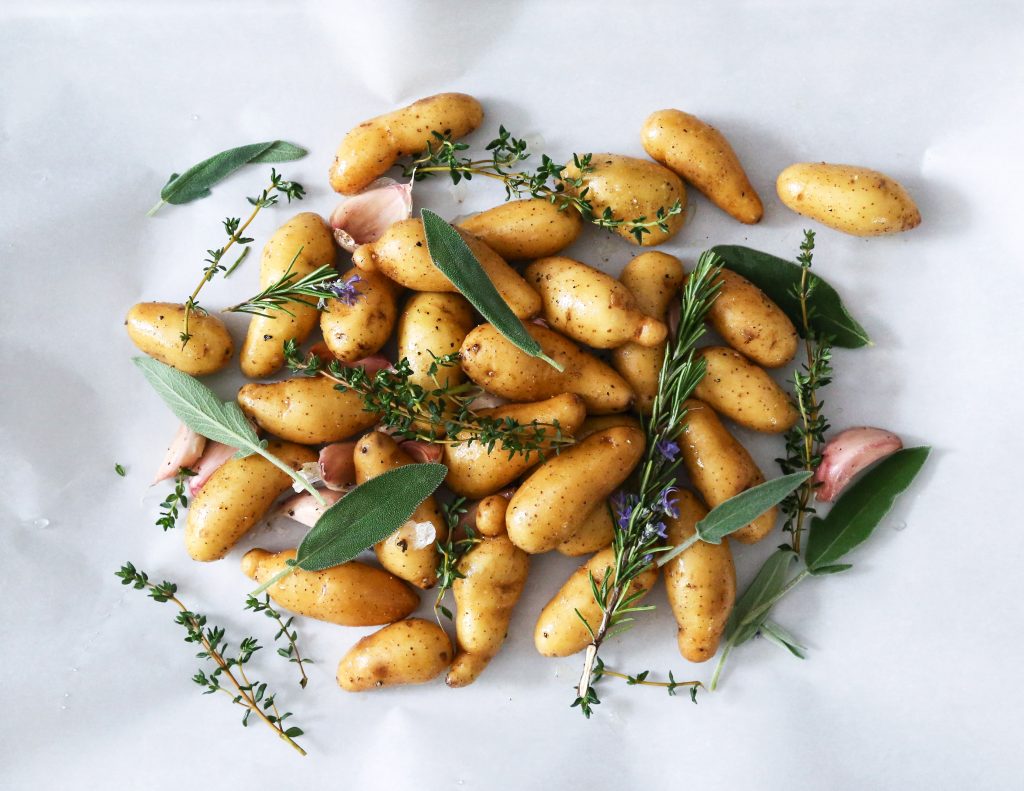 So pretty.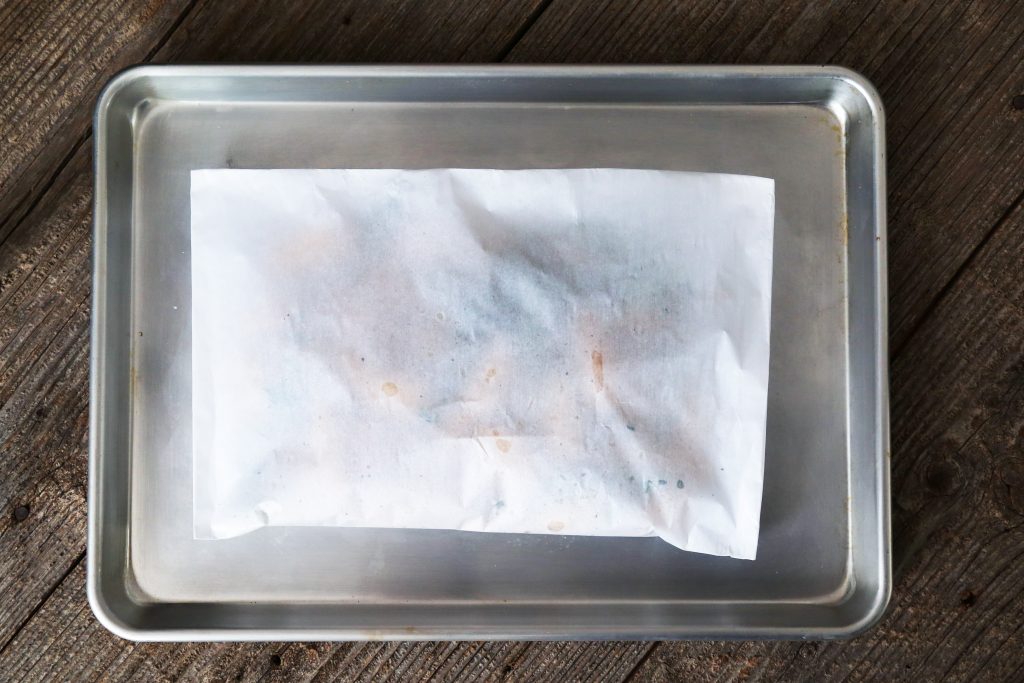 Here's an image of the parchment packet. Keep in mind that this doesn't need to be completely airtight. So don't go crazy trying to seal the edges perfectly (put the stapler down).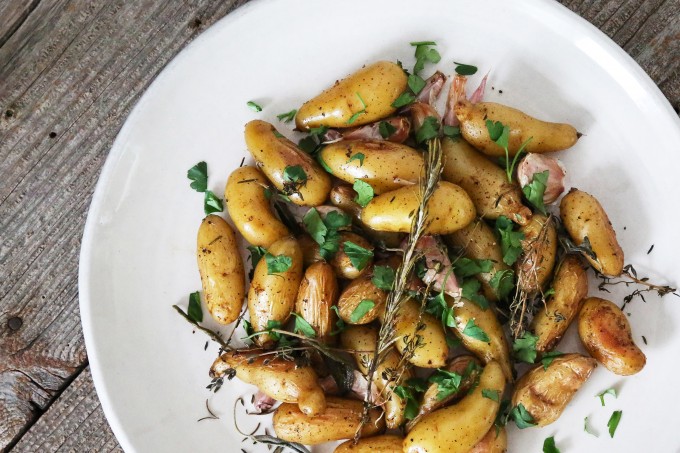 Parchment Roasted Potatoes
Recipe adapted from
here
.
Ingredients
2

pounds

fingerling potatoes, any dirt rinsed and well-dried

1

head of garlic cloves, separated but not peeled

1/4

cup

olive oil

Kosher salt

Freshly ground black pepper

1

sprig of rosemary

2 - 3

sprigs of thyme

2

sprigs of sage

2 - 3

tablespoons

chopped flat leaf parsley
Instructions
Preheat the oven to 400°F. Cut a large piece of parchment paper the same size as a rimmed baking sheet. Set aside.

Place potatoes and garlic in a large bowl, and drizzle over olive oil. Season with a few pinches of kosher salt and several turns of black pepper, tossing to combine. Tip out potatoes and garlic on to the center of the prepared parchment paper. Scatter rosemary, thyme and sage sprigs over top.

Fold the parchment in half over the potatoes (see photo above), then fold and crimp the edges underneath. I like to do the long edge first, then the sides. Don't worry if the seal is not completely airtight. Transfer the baking sheet with parchment packet to the oven, and cook until potatoes are tender and slightly browned (about 45 minutes).

Let the potatoes cool for 10 minutes inside the parchment before serving. Open the packet and sprinkle with chopped parsley.
Tried this recipe?
Tag @brandiego on Instagram so I can check it out!
Well that's it for now!  We will be back from Charleston on Sunday.  If you want to follow along with our adventure, come find me on Instagram. Thanks!
26