This post may contain affiliate links.
Jorge and I just got back from a spectacular trip to Charleston, South Carolina.  Thanks again for all of the recommendations.  Throughout the trip, we had a number of crazy delicious meals including dinner at FIG and Husk, and some damn good soul food at Martha Lou's Kitchen.
After a vacation where I practically ate my weight in butter and fried chicken, the first thing I was craving when I get back home to California was this Raw Kale Salad.  Gnarled shreds of lacinato kale are tossed in a bright dressing made of olive oil, lemon juice, garlic, black pepper, crushed red pepper, and grated Parmesan cheese.  The salad then sits for 20 minutes, so the dressing can break down the fibrous texture of the kale.  Finished with a drizzle of EVOO, a dusting of Parmesan, and several grinds of black pepper, this simple salad is healthy, hearty, and packed with incredible flavor.  The first bite will literally smack your taste buds.  Continue reading for the recipe.
I'll have to tell you that this Raw Kale Salad recipe is not just good for a post-vacation purge.  I like to prepare this salad at least once a week.  95% of the ingredients are usually in my pantry and fridge already, leaving just a last minute stop for a bunch of kale.
Raw Kale Salad can also be prepared several hours in advance.  I've even enjoyed it the next day!  So don't throw out any leftovers 😉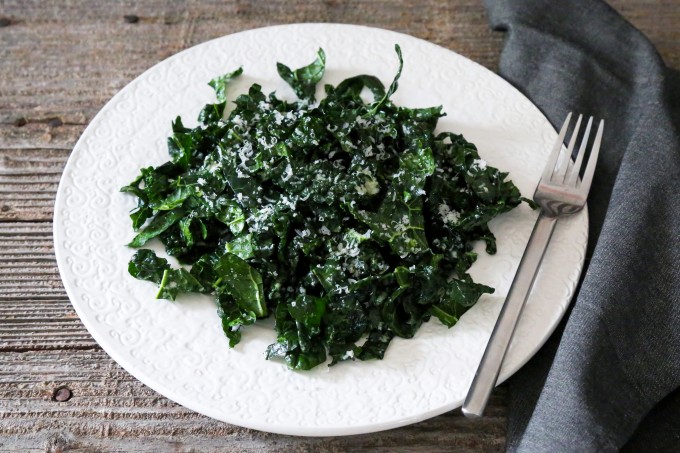 Raw Kale Salad
Ingredients
1

bunch kale (any type works here), rinsed and thoroughly dried

1/2

garlic clove

1/4

teaspoon

kosher salt, plus more to taste

3

tablespoons

extra virgin olive oil, plus additional for garnish

Juice of one lemon

1/4

cup

grated Parmesan cheese, plus additional for garnish

1/8

teaspoon

red pepper flakes

Freshly ground black pepper
Instructions
Remove the stem from each kale leaf and discard. Thinly slice kale leaves, and place in a large bowl.

Place 1/2 garlic clove and 1/4 teaspoon kosher salt in a small pestle and mortar, and crush into a paste. If you don't have a pestle and mortar, you can mince the garlic and salt together on a cutting board. Then, using the side of your knife, mash the garlic and salt until it turns into a paste. Transfer garlic paste to a small bowl, and add extra virgin olive oil, lemon juice, Parmesan cheese, red pepper flake, a pinch of kosher salt, and several turns of black pepper, whisking to combine.

Drizzle dressing over the sliced kale leaves, then work the dressing into the kale using your hands/fingers (also known as massaging the kale). Let the salad sit a room temperature for 20 minutes. Season to taste with additional kosher salt if needed. To serve, divide salad between four salad plates, and top each with a drizzle of olive oil, a sprinkling of Parmesan cheese, and a few extra grinds of black pepper.
Tried this recipe?
Tag @brandiego on Instagram so I can check it out!
12