I love it when a salad is as beautiful as it is delicious.  And this salad is a stunner.
This post may contain affiliate links.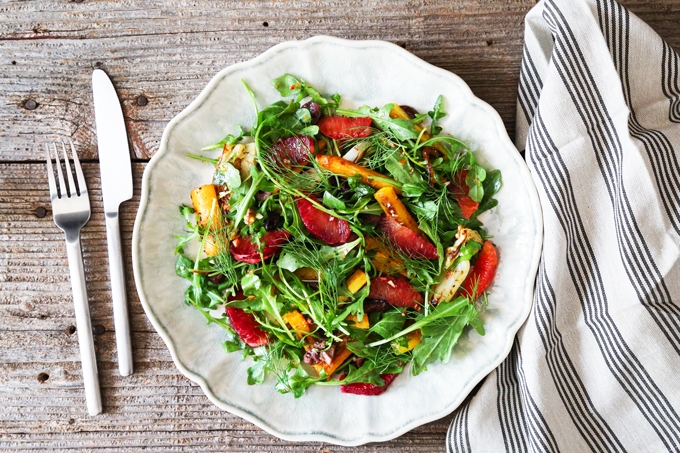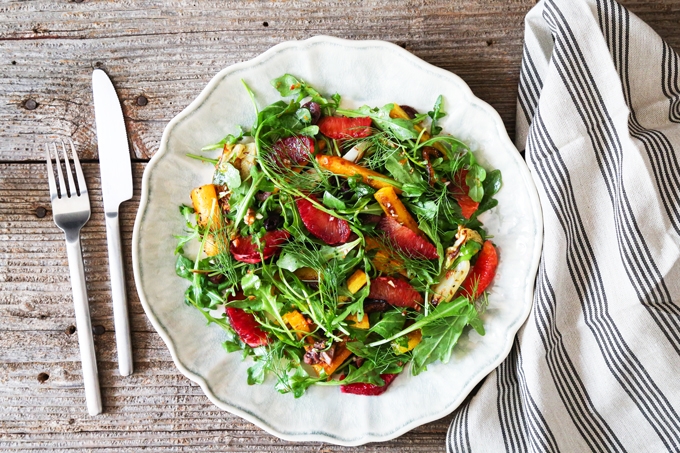 Ruby red and glistening, slices of blood orange cozy up with spiced carrot and fennel, salty olive bits, and wispy fennel fronds in a tangle of peppery arugula.  Before reaching the salad, the carrots and fennel are dusted with crushed cumin, coriander, fennel seed and cayenne pepper, then roasted until tender and caramelized.  The dressing here is a lemon vinaigrette spiked with garlic and blood orange zest.  My Roasted Carrot, Fennel and Blood Orange Salad is bold, spicy and incredibly satisfying.  This sophisticated salad would be perfect for a special occasion (Mother's Day or Easter brunch), or any evening you just want to treat yourself.  Continue reading for the recipe.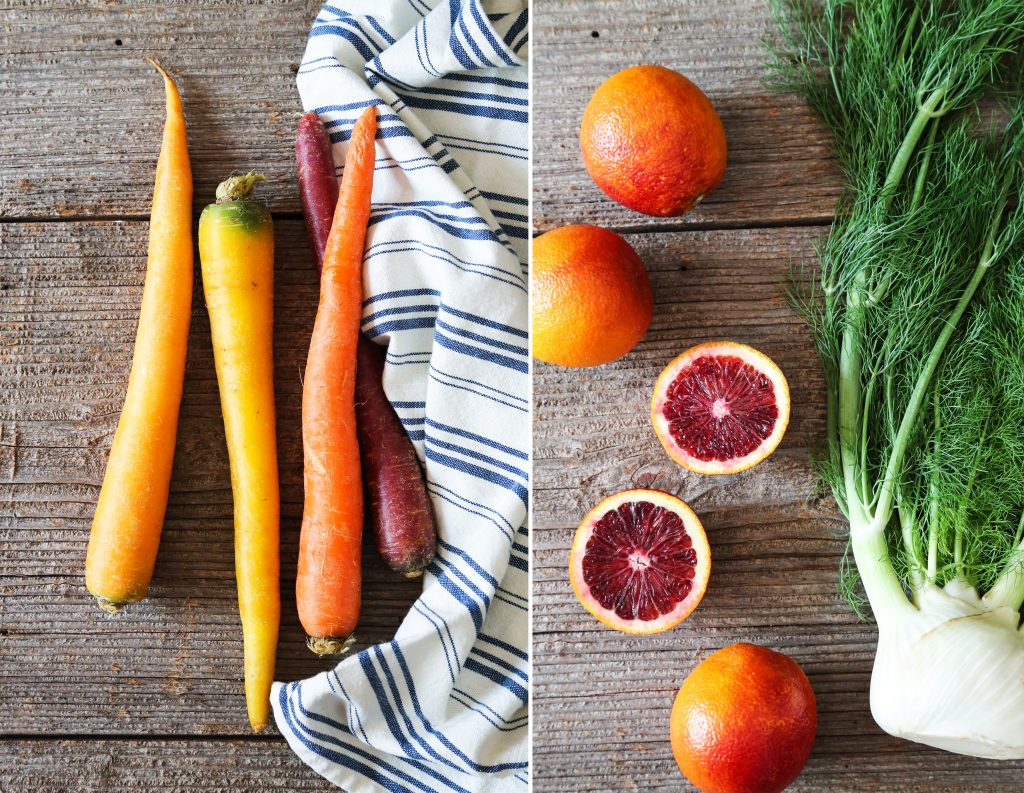 I used rainbow carrots for this salad, but you could certainly use regular carrots instead.  Blood oranges are in season now, so rush out, and get them while you can!  If you can't find blood oranges, regular oranges would work well here too.  Cara Cara oranges would be a nice substitute.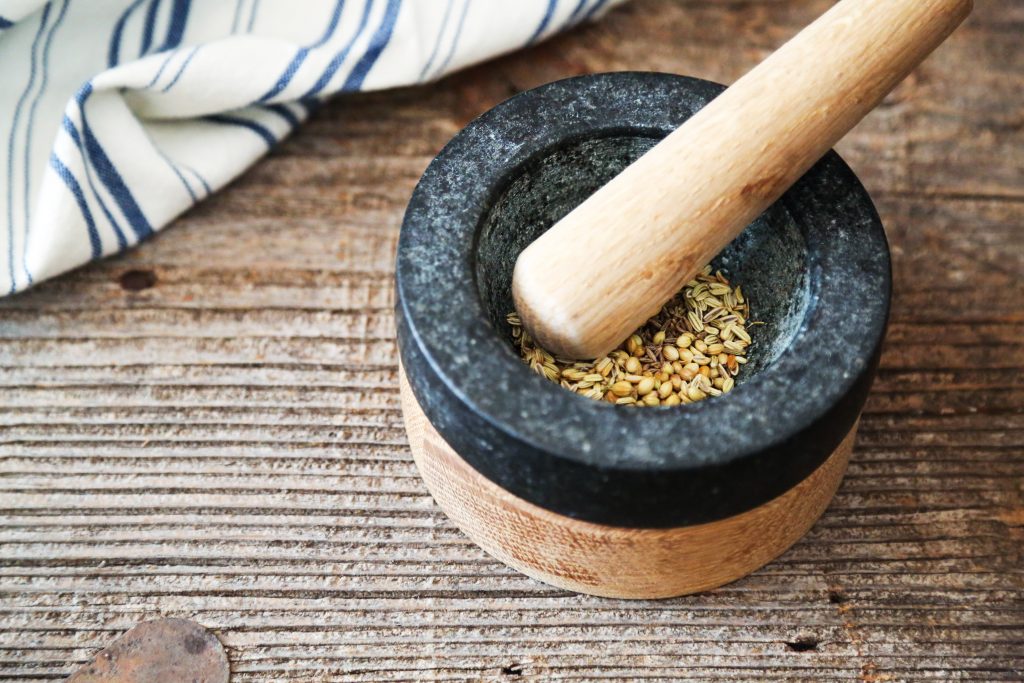 You'll want to crush the seeds with a pestle and mortar, the side of a knife or the bottom of a heavy pot.  Avoid using a spice grinder.  You don't want to over-process the spices here, grinding them too finely.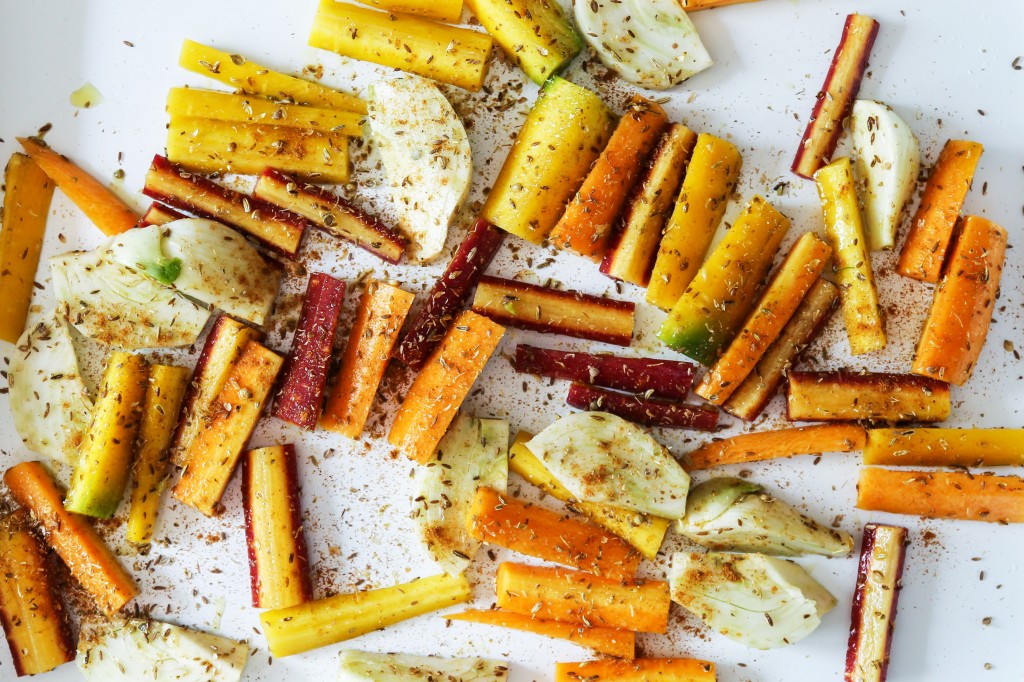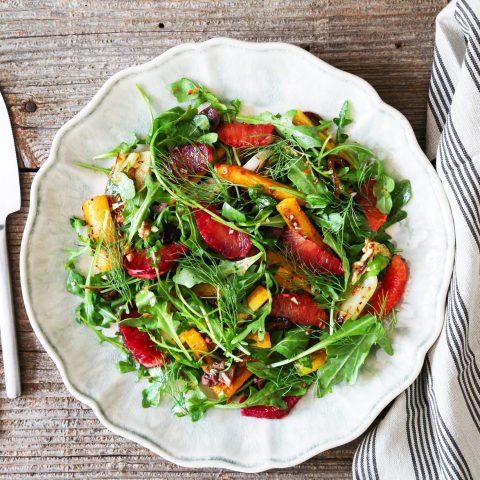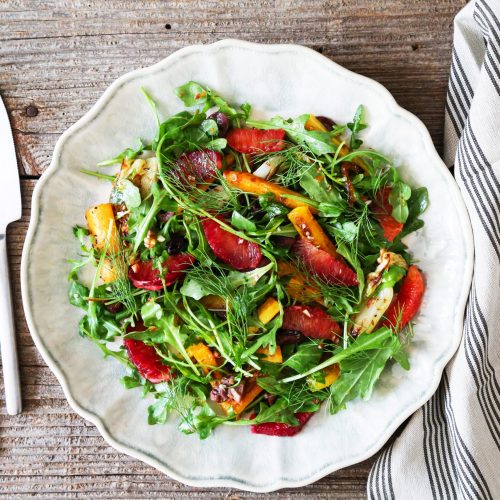 Roasted Carrot, Fennel and Blood Orange Salad
Recipe adapted from
here
.
Ingredients
1

pound

carrots (3 - 4 large), peeled and trimmed (I used rainbow carrots here - pretty but not necessary)

1

large fennel bulb, root end and stalks trimmed, fennel fronds reserved

1/4

cup

extra-virgin olive oil, divided (2 tablespoons for the carrots and fennel, 2 tablespoons for the dressing)

1

teaspoon

whole cumin seeds, lightly crushed

1

teaspoon

whole coriander seeds, lightly crushed

1

teaspoon

whole fennel seeds, lightly crushed

Kosher salt

Cayenne pepper

4

blood oranges

2

small garlic cloves, minced

2

teaspoons

fresh lemon juice, plus more to taste

2

cups

baby arugula

1/4

cup

pitted kalamata olives, roughly chopped
Instructions
Preheat oven to 425°F. Quarter each carrot lengthwise, and cut each length crosswise into 2-inch pieces. Cut fennel in half lengthwise, and cut each half into 4 - 5 wedges.

Place carrot and fennel in a medium bowl, and drizzle with 2 tablespoons extra-virgin olive oil. Sprinkle over 3/4 of the lightly crushed cumin, coriander and fennel seeds. Season with 2 pinches of kosher salt, then toss to coat and even distribute the spices. Transfer carrots and fennel from the bowl to rimmed baking sheet, and sprinkle with remaining crushed spices, another small pinch of salt, and a pinch of cayenne pepper. Place the baking sheet in the oven, and cook until carrots and fennel are tender and caramelized (20 - 25 minutes), tossing a few times to ensure even browning. Let the carrots and fennel cool completely before adding to the salad.

To make the salad dressing, finely grate the zest of 1 blood orange into a small bowl. Add garlic, lemon juice, 2 tablespoons extra-virgin olive oil, and a pinch of kosher salt, whisking to combine. Season to taste with additional kosher salt.

Next, supreme (segment) the blood oranges. To supreme a blood orange, cut off the top and bottom just until the pulp is exposed. Stand the blood orange up on one of the flat ends. Working from top to bottom, cut away the the peel and pith, following the curve of the fruit. Slice out each orange segment by cutting in towards the center of the fruit along the connective membranes. The segment should fall out on its own, but you can use your knife to help if needed. Repeat with remaining 3 oranges.

To assemble the salad, add carrots, fennel, arugula and black olives to a serving bowl. Gently toss in salad dressing. Taste, then add more kosher salt and lemon juice if needed. Scatter blood orange segments and fennel fronds over top.
Tried this recipe?
Tag @brandiego on Instagram so I can check it out!
3