Who wouldn't want a slice of this?
This post may contain affiliate links.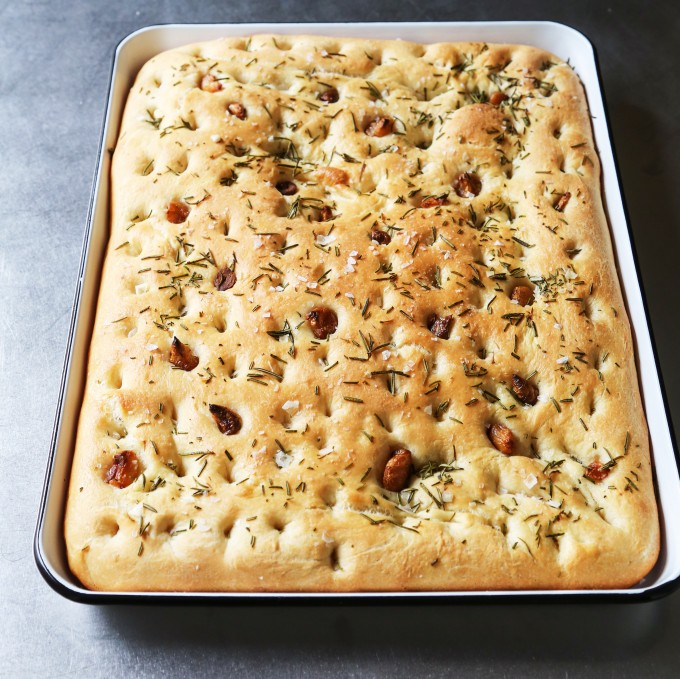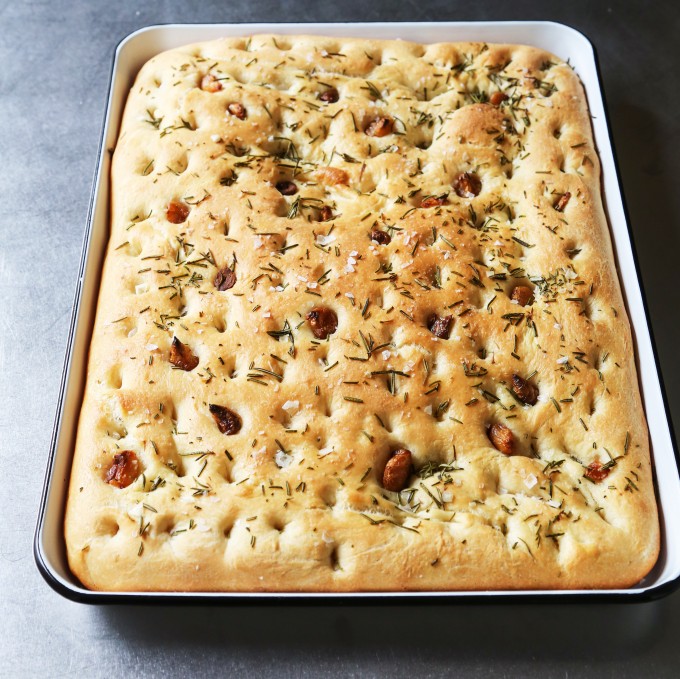 Herb-flecked and golden, this airy Italian bread is flavored with roasted garlic-infused olive oil.  Its dimpled, burnished surface dotted with nubs of caramelized garlic.  Each bite of my Roasted Garlic Focaccia with Rosemary is pure heaven for garlic-lovers.
For me, focaccia is one of the simplest breads to make.  I actually prepared my first focaccia ever when I was in high school!  In its most basic form, focaccia is made with olive oil, water, yeast, flour and salt.  The dough is then stretched into a wide, flat shape, and dimpled across the surface.  These dimples allow olive oil to reach the center of the bread, creating a moist texture.  After baking, the surface of the bread gets hard and golden, while the interior remains soft and light.
This focaccia recipe is made with olive oil that's been infused with an entire head of roasted garlic.  The aromatic oil is added directly to the dough, and is also used to brush across the top once the dough has been formed.  Nuggets of caramelized garlic are scattered across the surface of the bread, reinforcing flavor, and adding a satisfying textural element.  A sprinkling of fresh rosemary and crunchy sea salt to finish.  Continue reading for the recipe.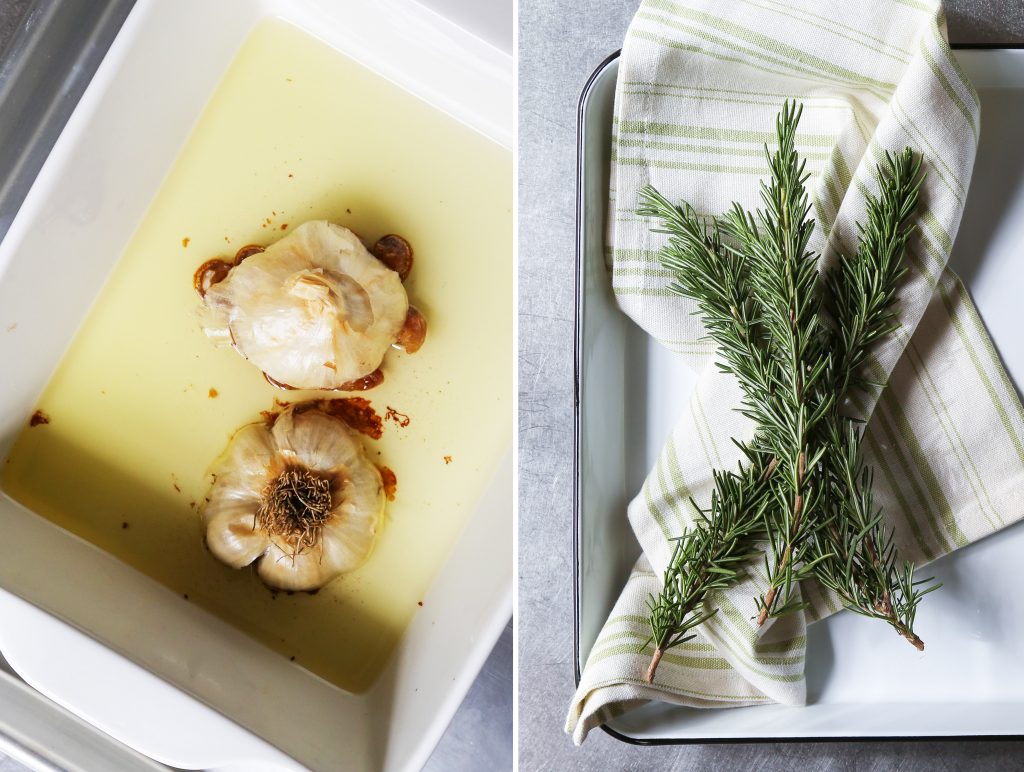 Be sure to use fresh rosemary here.  Dried just won't do.  Also, if your not a fan of garlic, we can no longer be friends.  Juuuuust kidding 😉  If your not a fan of garlic, you can simply make this recipe with regular olive oil.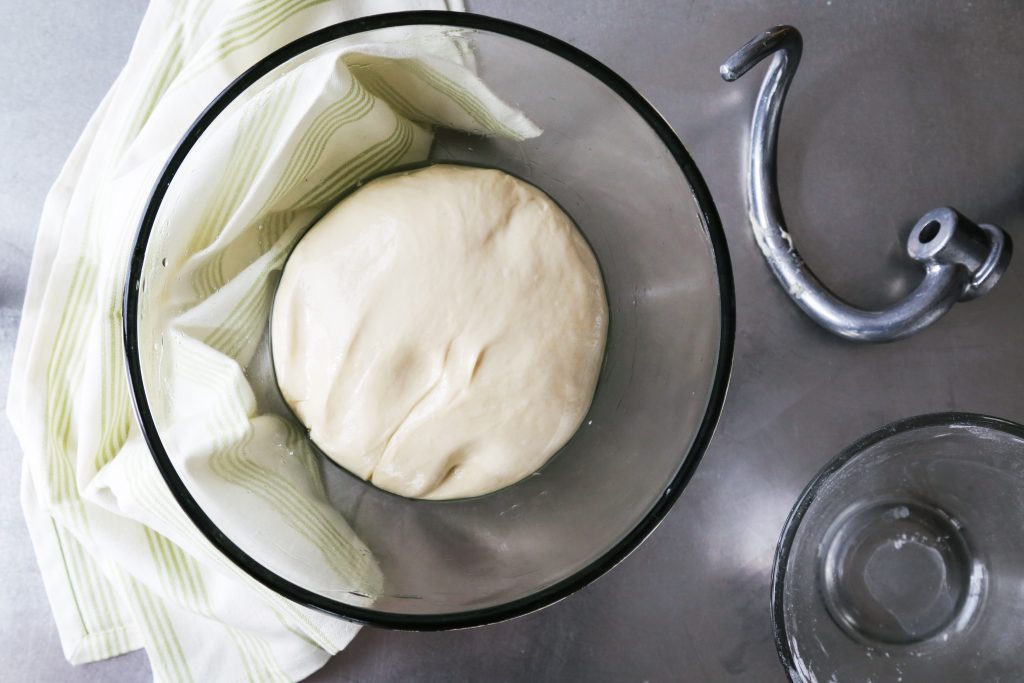 I am always amazed at the whole rising process.  That moment when you pull back the kitchen towel and you see the dough has double in size!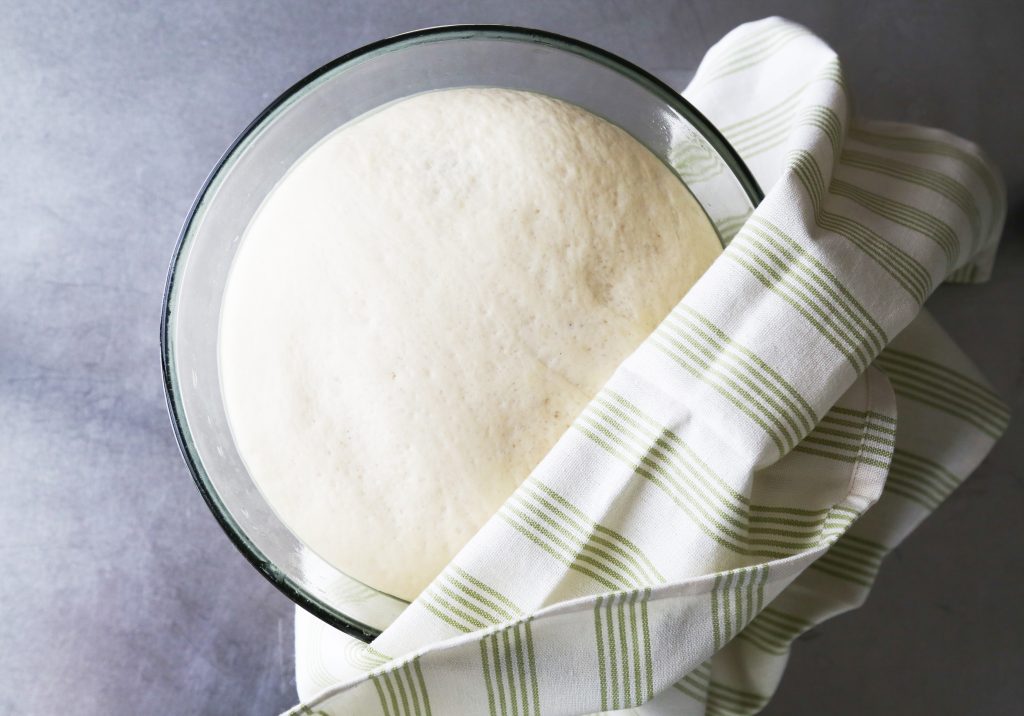 Don't be stingy with the olive oil here.  You want to see some of it pooling up in the little dimples around this surface.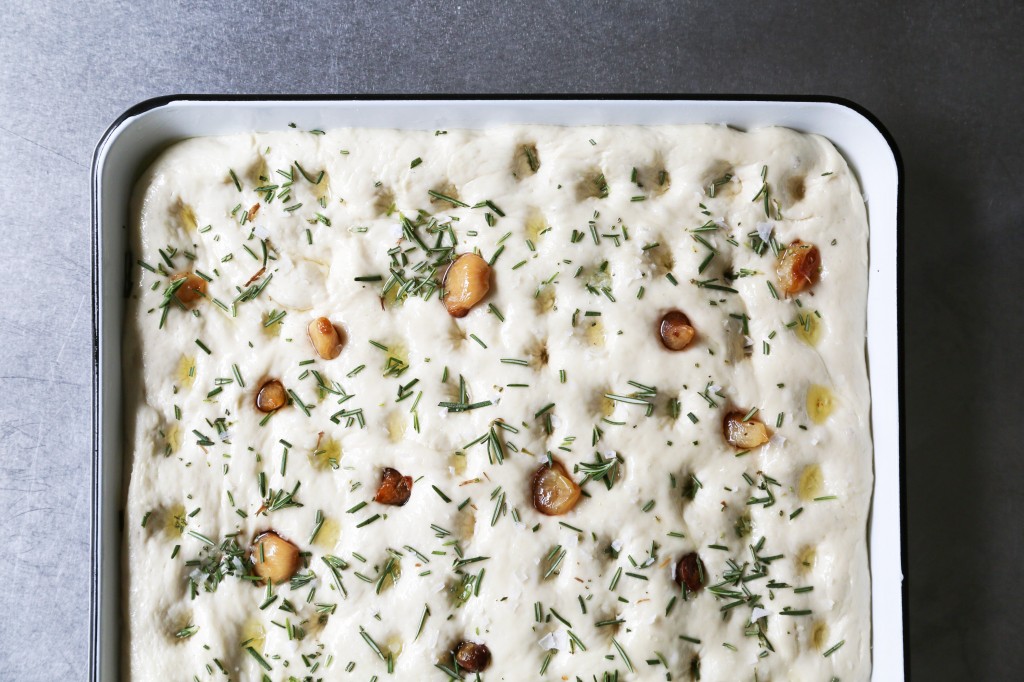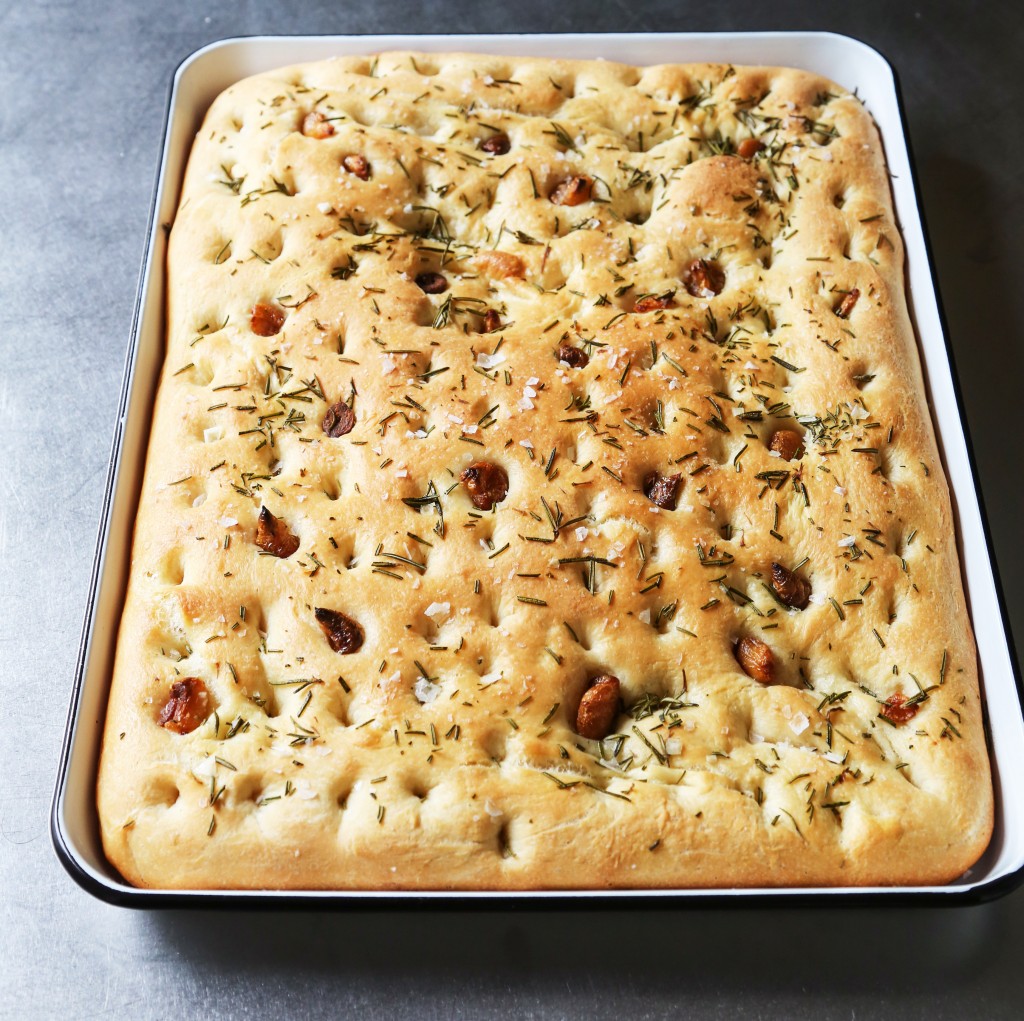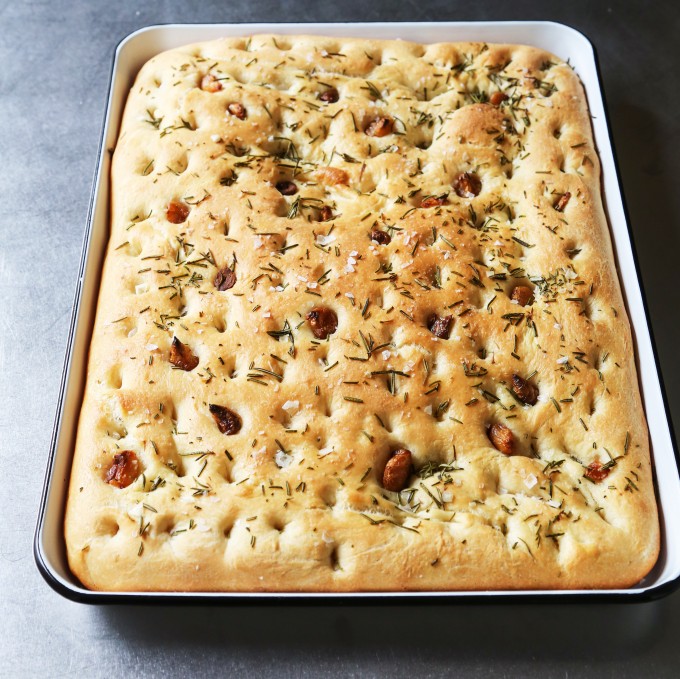 Roasted Garlic Focaccia with Rosemary
Ingredients
1/2

cup

olive oil

1

large head of garlic, cut in half widthwise

1

envelope (2 1/4 teaspoons) active dry yeast (not rapid rising)

1 3/4

cups

warm water

4

cups

white flour

2

teaspoons

fine grain sea salt

Just under 2 tablespoons coarsely chopped, fresh rosemary (from 3 – 4 sprigs)

Flaky sea salt
Instructions
Preheat the oven to 300°F and place a rack in the middle of the oven. Place olive oil in a small baking dish or oven-safe bowl. Add garlic halves cut side down, cover tightly with foil, then transfer to the oven. Cook until the garlic is tender and golden (45 minutes to 1 hour). Pour roasted garlic oil through a mesh strainer into a clean bowl. Carefully remove the roasted garlic cloves from the skin and reserve. Discard other solids. Let roasted garlic oil cool completely before using.

Rinse the bowl of a stand mixer with warm water, dry, then add yeast. Cover with 1 3/4 cups warm water, gently stirring to dissolve the yeast. Let sit for 3 – 5 minutes until the mixture starts to foam. Using the dough hook attachment, start the mixer on low, then add flour, salt and 2 tablespoons roasted garlic oil. When the dough starts to come together, increase the speed to medium. Stop the mixer periodically to scrape the dough off the hook. Mix until the dough is smooth and just a little sticky (8 – 10 minutes).

Add 2 teaspoons of roasted garlic oil to a large bowl, then add the ball of dough. Turn the dough in the bowl to completely coat it in oil. Cover the bowl with a kitchen towel, and place in a warm spot to double in size (about 1 hour 45 minutes). Add 1 teaspoon of roasted garlic oil to a rimmed baking sheet, spreading it around over the bottom and sides. Uncover and punch down the dough, and place on the baking sheet. Carefully stretch the dough out to the sides of the pan. Cover with a tea towel, and let rest in a warm spot for 30 minutes. While the dough is resting, preheat the oven to 450°F.

Uncover the dough, and dimple with roasted garlic oil-greased fingertips. Brush the surface with more roasted garlic oil, then dot with reserved roasted garlic cloves. Sprinkle surface with fresh rosemary and a few pinches of flakey sea salt. Place in the oven, and immediately turn down the heat to 375°F. Bake until golden brown (20 – 25 minutes). Transfer to a wire rack to cool slightly before eating.
Tried this recipe?
Tag @brandiego on Instagram so I can check it out!
Check out the original article in Pacific Magazine here:
38