April is one of my favorite months in San Diego.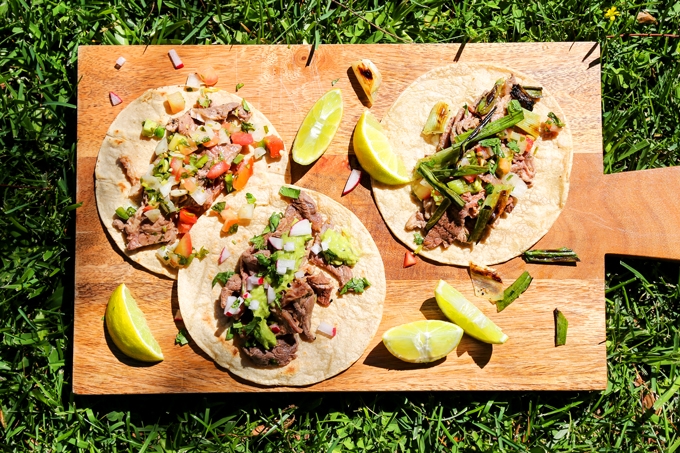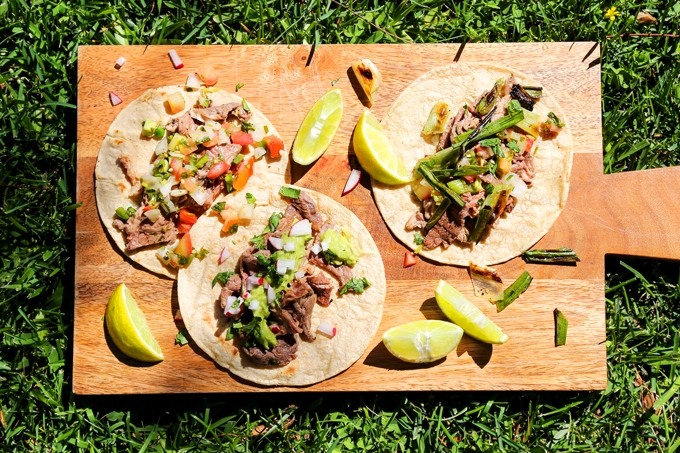 Often characterized by its warm to hot days, and crisp, vibrant sunsets, April in SD is just beautiful.  It's like a taste of summer months in advance.  I take every opportunity I can get to engage in backyard grilling, drink cocktails as the sun dips into the Pacific, and escape to the beaches on Coronado for an afternoon getaway.
Recently, I've been obsessed with making my own Carne Asada.  Spanish for "grilled meat," Carne Asada is a traditional Mexican dish, and recipes can vary greatly from region to region.  After asking several of my Mexican friends and co-workers how their families prepare Carne Asada, I came up with my own method, using different parts from each family recipe.  Thin steaks are marinated in a flavorful bath of garlic, jalapeno, cilantro, spices, citrus, vinegar, olive oil and Mexican beer for 4 to 8 hours.  The marinated beef is then thrown onto a searing hot grill, and cooked until tender and smoky.  The finished meat is incredibly flavorful with a bold citrus punch.  Continue reading for the recipe.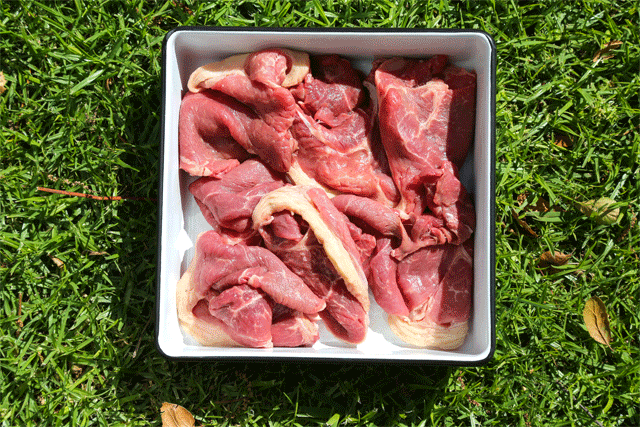 In this article, I'm showing the Carne Asada in taco form, but you could certainly use it in a burrito, or scatter over a plate of cheesy nachos.  If you plan on making Carne Asada tacos, I would recommend serving them with salsa, guacamole, chopped white onion, chopped cilantro, chopped radish, grilled scallions, and lime wedges.  Also, cold beers and margaritas are a must.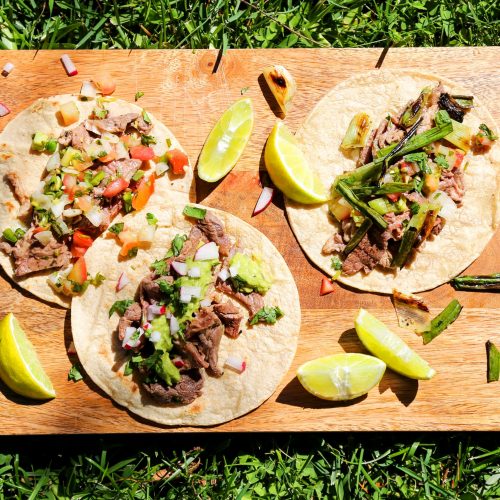 Carne Asada
Ingredients
5

garlic cloves, minced

1

jalapeno, minced

Handful of cilantro leaves, finely chopped

1

teaspoon

ancho chile powder (or any other chile powder)

1

teaspoon

ground cumin

1

teaspoon

Mexican oregano, crushed using your fingers

Juice of 2 limes

Juice of 1 orange

2

tablespoons

cider vinegar (or white vinegar)

1/2

cup

Mexican beer (I used Pacifico here)

1/4

cup

olive oil

Kosher salt

Freshly ground black pepper

2

pounds

thinly sliced shoulder steak (flank or skirt steak would work well here too)

1

white onion, peeled and sliced

1

orange, sliced
Corn tortillas for serving, heated up on the grill
Optional toppings: pico de gallo, guacamole, chopped cilantro, chopped radish, grilled scallions
Instructions
In a large bowl, combine garlic, jalapeno, cilantro, chile powder, cumin, oregano, lime juice, orange juice, beer, and olive oil, whisking to combine. Add salt and pepper to taste (I added several pinches of salt here). Add steak to a baking dish or large bowl, and tuck slices of onion and orange between the layers of meat. Pour marinade over the meat, cover, and let rest for at least 4 hours (or up to 8 hours).

Take the steaks from the refrigerator, and let sit for 30 minutes before cooking. Meanwhile, prepare an outdoor grill (charcoal or gas) to high heat. Transfer steaks from the marinade to the grill in an even layer. Sprinkle each steak with a little salt and pepper. Grill the steaks for 1 minute per side, turning once, until about medium-rare. The steaks shown here are very thin, so the cook time is quick. Larger, thicker steaks may take longer. Remove the steak to a cutting board, let rest for 5 minutes, then chop into bite-sizes pieces.

Place some of the chopped carne asada down the middle of a warmed tortilla. Add toppings to taste, and garnish with a lime wedge.
Tried this recipe?
Tag @brandiego on Instagram so I can check it out!