If you follow me on Instagram, this may look familiar.
This post may contain affiliate links.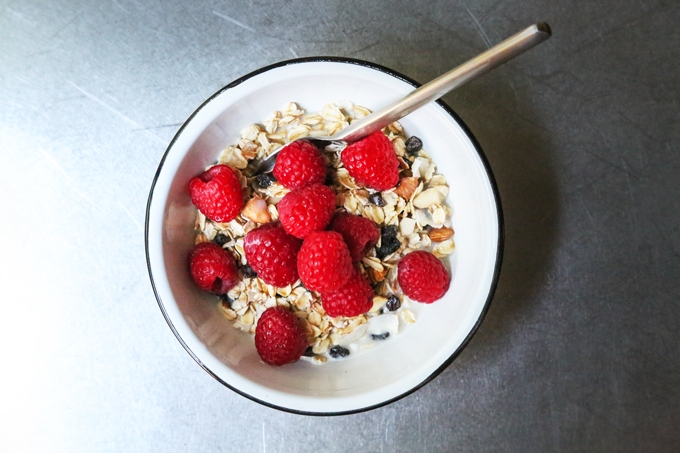 When I'm not eating chia pudding, this Cardamon Breakfast Cereal with Fresh Raspberries is my go-to for early morning eats.  Old-fashioned oats are mixed with freshly ground cardamom, sliced almonds, dried currants, and flaked coconut, then splashed with sweetened almond milk.  After a 5 minute hydrate, the cereal is finished with gloriously red raspberries.  If you are a fan of cardamom, each bite of this healthy breakfast cereal is pure heaven.  Raspberries and cardamom are a perfect match.
Aside from the flavor, three things I love about this cereal are its convenience, versatility, and cost.  I like to make a batch of homemade cereal on Sunday, so I can easily enjoy for breakfast throughout the week.  Also, most of the elements of this cereal can be switched out.  Don't like almonds?  Add pecans.  Can't find currants at your grocery store?  Try raisins.  Raspberries not in season?  Go for apples.  You could even sub in cinnamon for the cardamom.  Flavor combinations are endless!  Finally, this recipe is cheap.  Cereal in grocery stores is obscenely expensive.  There's no need for that.  Continue reading for the recipe.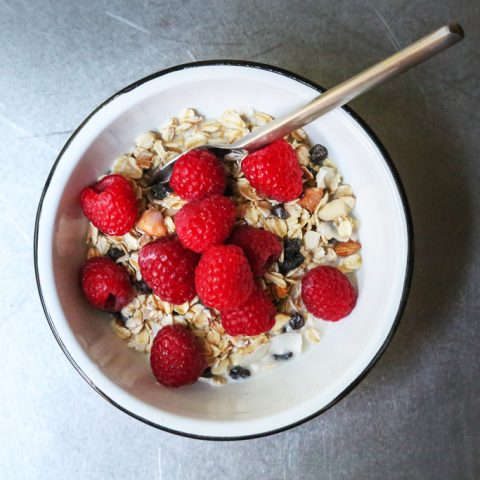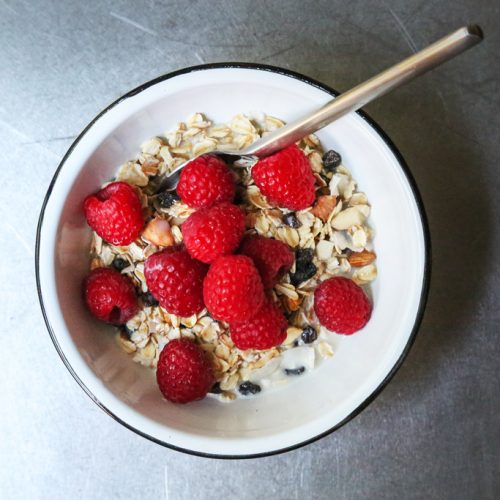 Cardamom Breakfast Cereal with Fresh Raspberries
Ingredients
3 1/2

cups

old-fashioned oats (not quick cooking)

1/2

teaspoon

freshly ground cardamom

1/2

cup

chopped almonds (you could toast them, but it's not necessary)

1/2

cup

dried currants

1/4

cup

flaked coconut

Kosher salt

3/4

cup

sweetened almond milk, per 1 cup of cereal

Handful fresh raspberries, per 1 cup of cereal
Instructions
Add oats, cardamom, almonds, currants, coconut, and a pinch of salt to a large bowl, stirring to combine. Store covered at room temperature for up to 2 weeks. You can store for longer, but the flavor of the cardamom will dwindle over time.

To serve, scoop 1 cup of cereal into a bowl. Pour over 3/4 cup almond milk, and let sit for 5 minutes (you can put the bowl in the fridge if you'd like). Top with a handful of raspberries, and enjoy!
Notes
* This cereal is unsweetened, so be sure to use sweetened almond milk (or another sweetened milk). If you want to use an unsweetened liquid, you'll need stir in some honey, sugar or agave nectar.
Tried this recipe?
Tag @brandiego on Instagram so I can check it out!
4